Signatures submitted in effort to recall Nevada senator
November 14, 2017 - 4:30 pm
Updated November 14, 2017 - 8:40 pm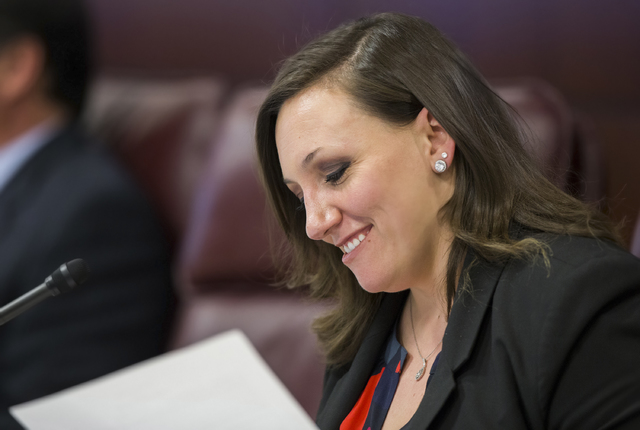 A group attempting to oust Democratic state Sen. Nicole Cannizzaro submitted enough signatures Tuesday to advance the recall process.
The recall committee turned in 16,875 signatures to the Clark County Registrar of Voters on Tuesday afternoon, two hours before the deadline to submit at least 14,975 signatures. Petitioners submitted the signatures for two other recalls the day before their respective deadlines.
Cannizzaro, who was elected in 2016, said in a statement that she is "not intimidated one bit by the shady special interests and desperate politicians behind this manipulation of the recall process."
"This plan to subvert the will of voters in my district has been an aggressive and dishonest smear campaign from day one, and I will be watching the signature verification process closely this week," Cannizzaro said. "I delivered for my constituents this past session when I passed laws to crack down on elder abuse, protect victims of domestic violence and put Nevadans back to work — and I will defend my record of results to anyone."
Next steps
The county registrar's office will next pull a random sample of 5 percent of the signatures to verify they were done by people who voted in the race during the 2016 election. The percentage of eligible voters found in that sample is extrapolated across the entire count to determine if it meets the count needed to force a special election.
The registrar's office will submit the count to the Secretary of State's office for verification. After that, the anti-recall organizers will have five business days to review the signatures and present any legal challenges.
That time also gives them the chance to convince people who put their names on the petition to have their signatures removed.
Clark County Registrar of Voters Joe Gloria said 1,273 signature removal petitions have been received, but it is not clear how many of those are eligible to be counted. Gloria said the secretary of state's office will make that determination. Whatever that number ends up being will be added to the threshold needed to force a special election.
As with the recall attempts of Sens. Joyce Woodhouse and Patricia Farley, it is unclear who is funding the efforts. There have been no publicly stated reasons for the recalls.
Neil and Claire Roth, who were two of the signers on the notice of intent to recall Cannizzaro, were present for the signature drop offs but declined to answer questions from a reporter. Ryan Hamilton, who works with the local GOP consulting firm j3 Strategies, also declined to answer questions.
Other recalls
The recall against Cannizzaro is the last of a trio targeting state senators filed this summer.
The first targeted Woodhouse, D-Henderson. The recall committee submitted enough signatures to force a special election, but the anti-recall effort filed a lawsuit Monday night claiming that more than 5,500 of the signatures submitted should be disqualified.
About 3,000 of those signatures came from people who were not eligible to sign, either because they were not a registered voter or did not vote in that race in 2016, the lawsuit says.
Recall foes also said more than 2,500 people submitted documents to the Secretary of State's office to have their signatures removed from the petition, with some saying they were misled or believe their signature may have been forged.
The recall that targeted Farley, an independent, fell short of the needed signatures. Petitioners needed more than 7,000 signatures, but only turned in about 2,000.
Democrats have also filed a federal lawsuit that seeks to stop the recalls before any elections can happen. A federal judge set a court date of Nov. 29 for oral arguments in that case.
Contact Colton Lochhead at clochhead@reviewjournal.com or 702-383-4638. Follow @ColtonLochhead on Twitter.