Sisolak emphasizes rental aid programs as eviction moratorium to end
Updated July 28, 2021 - 7:51 pm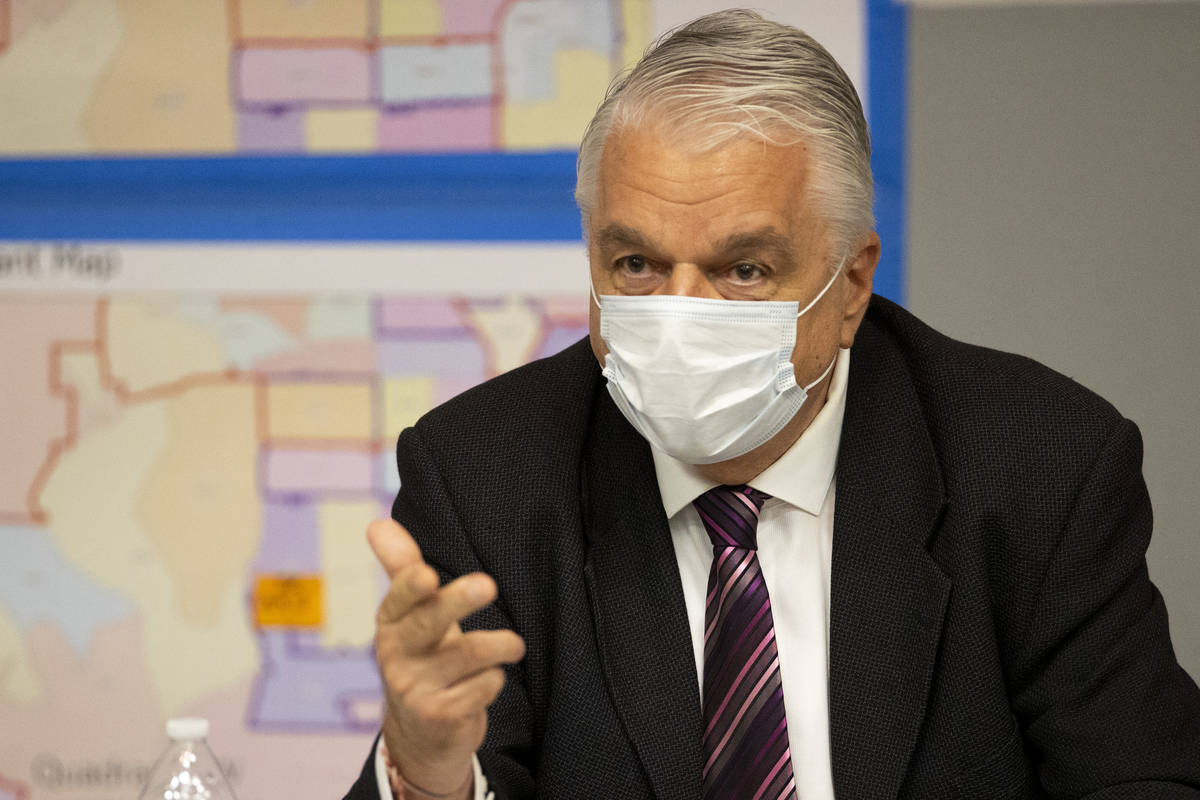 Gov. Steve Sisolak on Wednesday encouraged tenants to seek rental assistance, as thousands of Nevadans are expected to receive an eviction notice for nonpayment of rent once the federal eviction moratorium lifts Saturday.
"I want to be clear, if you are a renter you must apply for this assistance," Sisolak said during an afternoon press conference. "Filling out and submitting an application is the best thing you can do right now if you fear you may be evicted for nonpayment of rent."
Renters were repeatedly directed to apply for rental assistance during the virtual news conference because a pending application could delay the eviction proceeding thanks to the recently passed Assembly Bill 486.
The bill bolsters a number of tenant protections during the eviction process and also allows landlords to apply for rental assistance, an option that was only briefly available to them late last year.
"We have plenty of rental assistance money available through funds from the federal government, and there are dedicated people through all levels of government working to process those payments as quickly as possible," Sisolak said.
Renter help
Legal Aid Center of Southern Nevada Consumer Rights Project Attorney Aaron MacDonald told the Review-Journal earlier this week that if a renter receives an eviction notice, that person needs to file a response or could quickly face a lockout.
He also said tenants should apply for rental assistance — something Home Means Nevada President Shannon Chambers discussed during the news conference.
Chambers said applying for rental assistance can be done through the nonprofits website under The Renter Connect section, or by visiting therenterconnect.org. Nevadans can then apply for the CARES Housing Assistance Program under the county in which they reside.
Eligible applicants must show they've been impacted by COVID-19 such as a job loss or reduction in work hours and meet certain income requirements.
Kevin Schiller, Clark County's assistant county manager, said since June 2020 it has paid out about $165 million in utility and rental assistance to 90,000 households.
He also said that the county is processing about 800 to 1,000 applications a week though it has about 8,000 currently "in queue awaiting processing."
Meanwhile, Chambers said the landlord's rental assistance form will be available on its website on Sunday.
"While AB486 does provide some additional options for landlords, the process must start and end with the tenant and I can't emphasize that enough," she said.
That's because the bill still requires a tenant to be responsive even after a landlord applies for financial help on their behalf.
Under AB486, an eligible landlord must wait 60 days after applying so a housing or social service agency has time to contact the tenant. If the tenant doesn't respond to the agency or independently applies for rental assistance during that time frame, the landlord can receive the payment on the condition they not evict the tenant for 90 days, according to the bill.
It also notes only $5 million in federal funds have been allocated by the state toward paying landlords directly.
Delayed eviction
Renters are able to buy themselves extra time by applying for rental assistance at any point during the eviction proceeding.
Under AB486, tenants who have a pending rental assistance application will have their eviction stayed, or paused, until the application is processed. And should a landlord receive funds from their tenant's rental assistance application, the eviction case gets dismissed and the landlord is not allowed to evict the tenant for at least another 90 days.
The bill also requires all eviction hearings — not just for nonpayment of rent — to be placed into mediation for no more than 30 days, though local officials and tenant's rights groups say renters should elect the free service when filing a response to an eviction notice.
Sisolak said the program is another way to help avoid an eviction case.
"If rental assistance is available, a landlord can accept it and the tenant can remain housed and avoid a preventable eviction," he said. "If the tenant desires to move out, there can be an agreement on a move-out date with payment. The parties are free to work out any agreement that makes sense for them — declogging the court calendar and avoiding any evictions that may prevent a tenant from being able to re-rent a unit."
Chambers said Home Means Nevada has 86 mediators who are processing between 20 to 30 eviction cases a week.
"The more active and more participatory the tenant and the landlord are the more ability we have, as Gov. Sisolak's point, to declog the court system and to resolve these cases by providing rental assistance," Chambers said. "Or in some cases, coming to other agreements, maybe modification of rent or simply vacating the property."
Contact Subrina Hudson at shudson@reviewjournal.com or 702-383-0340. Follow @SubrinaH on Twitter.