Sisolak, ex-U.S. attorney general talk criminal justice reform
Updated September 6, 2018 - 10:51 pm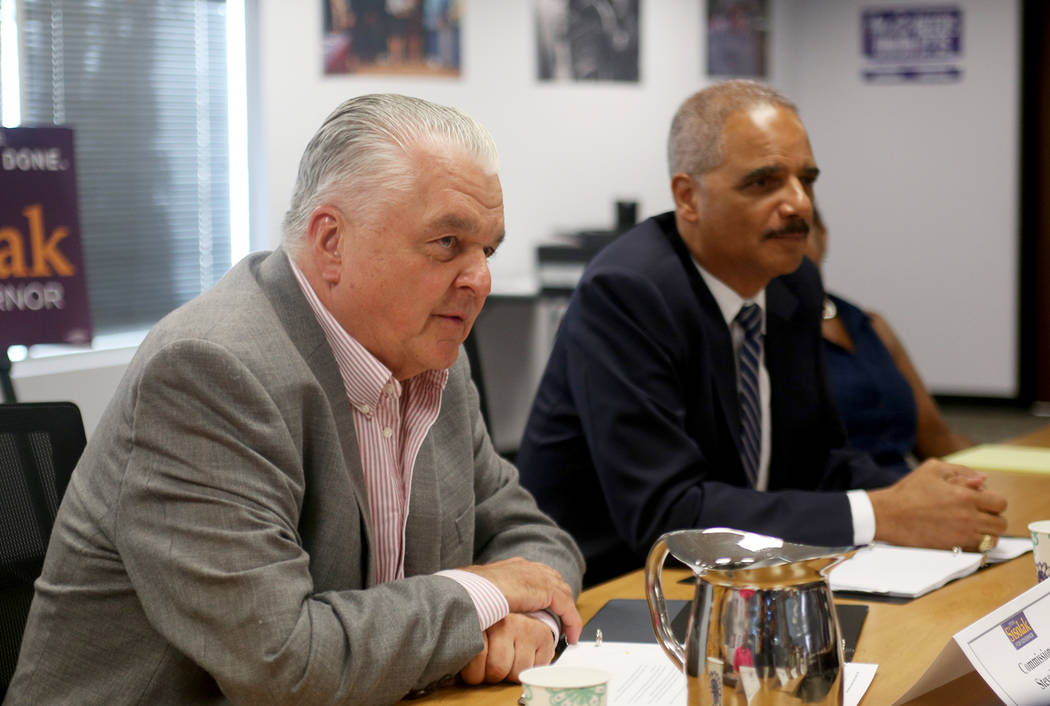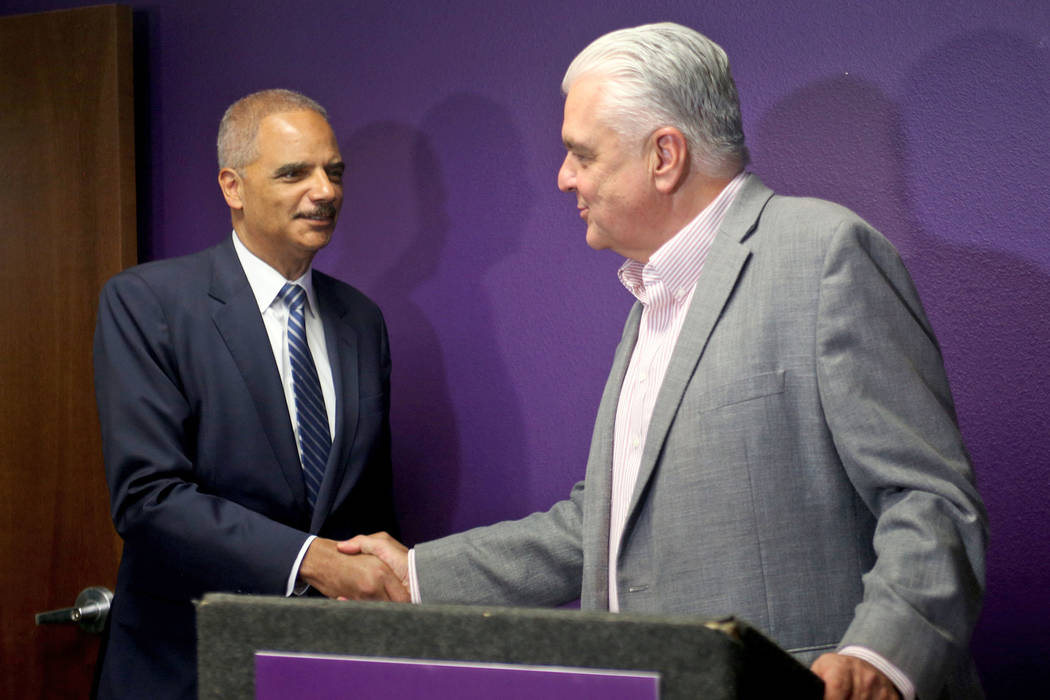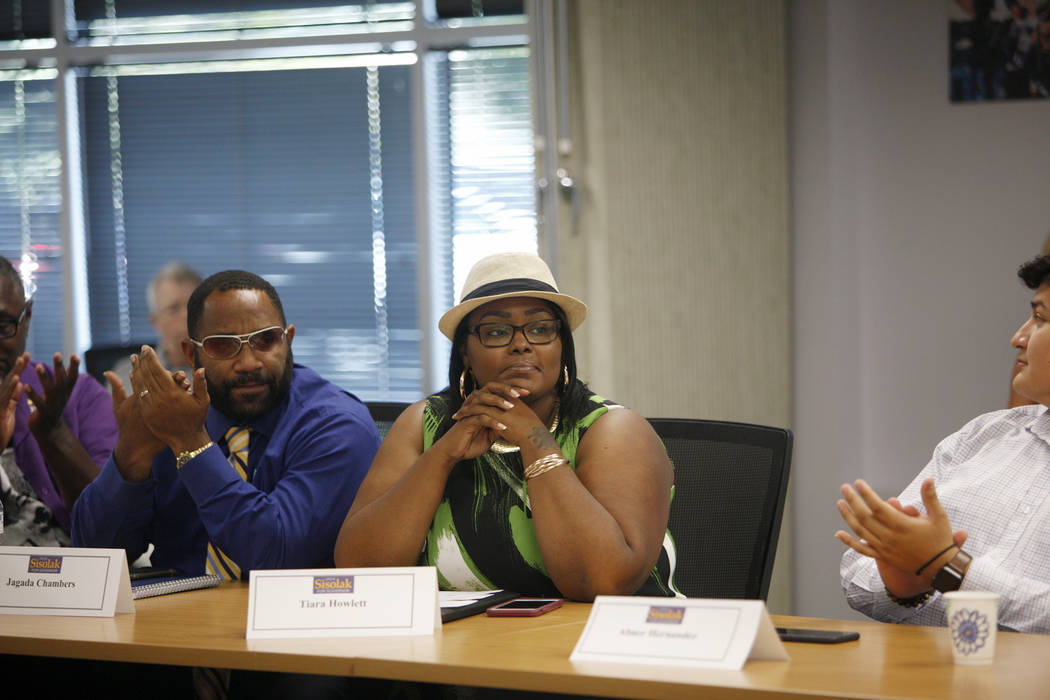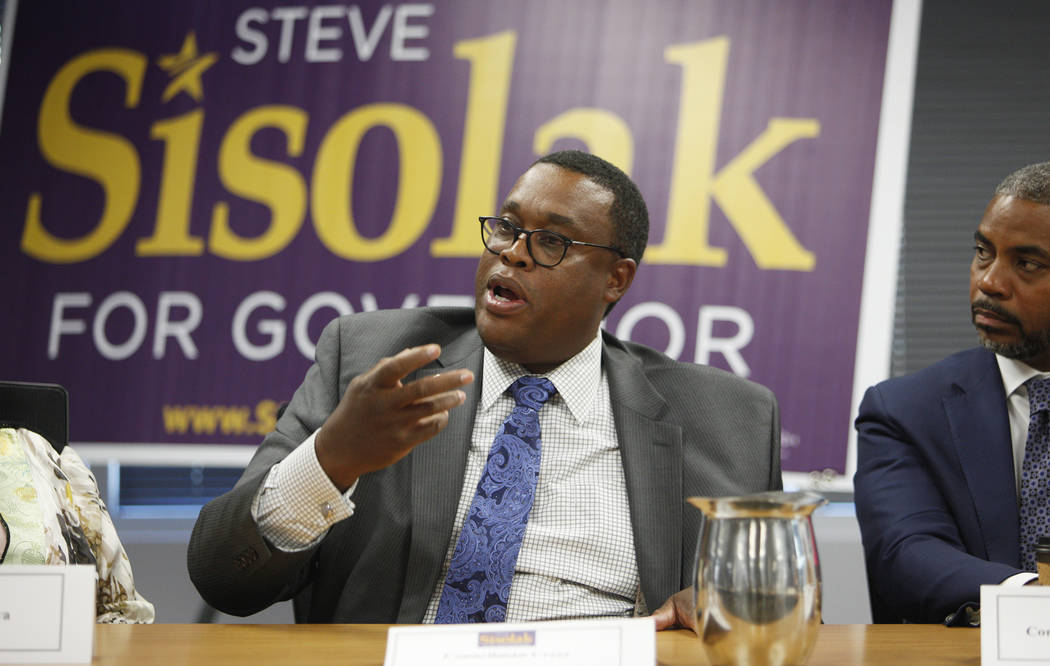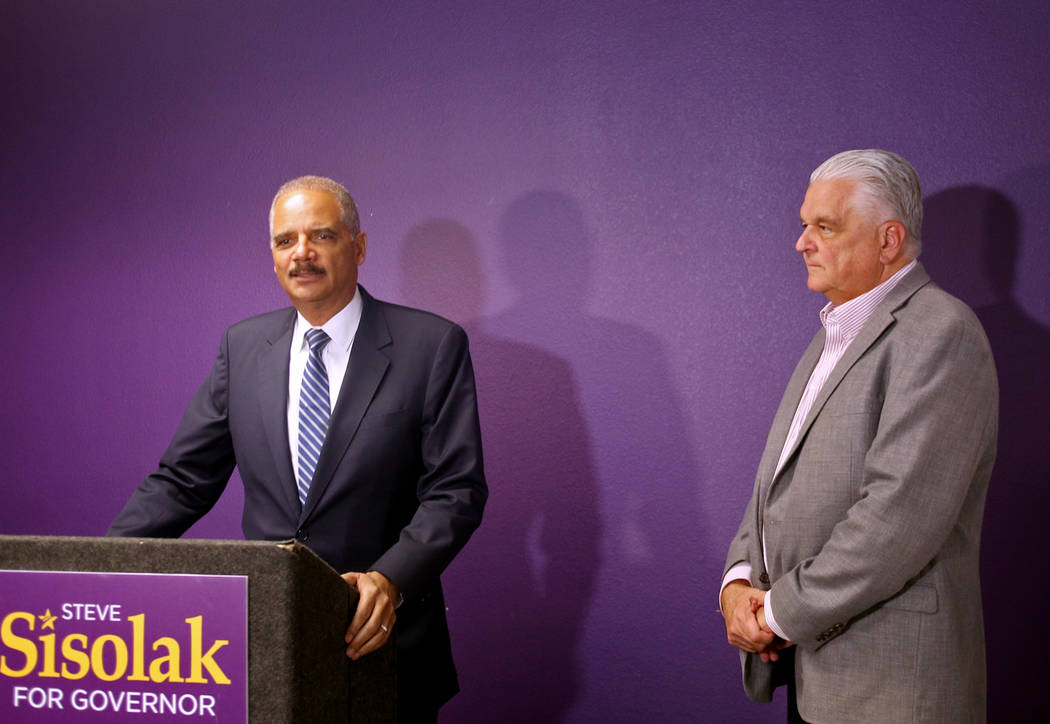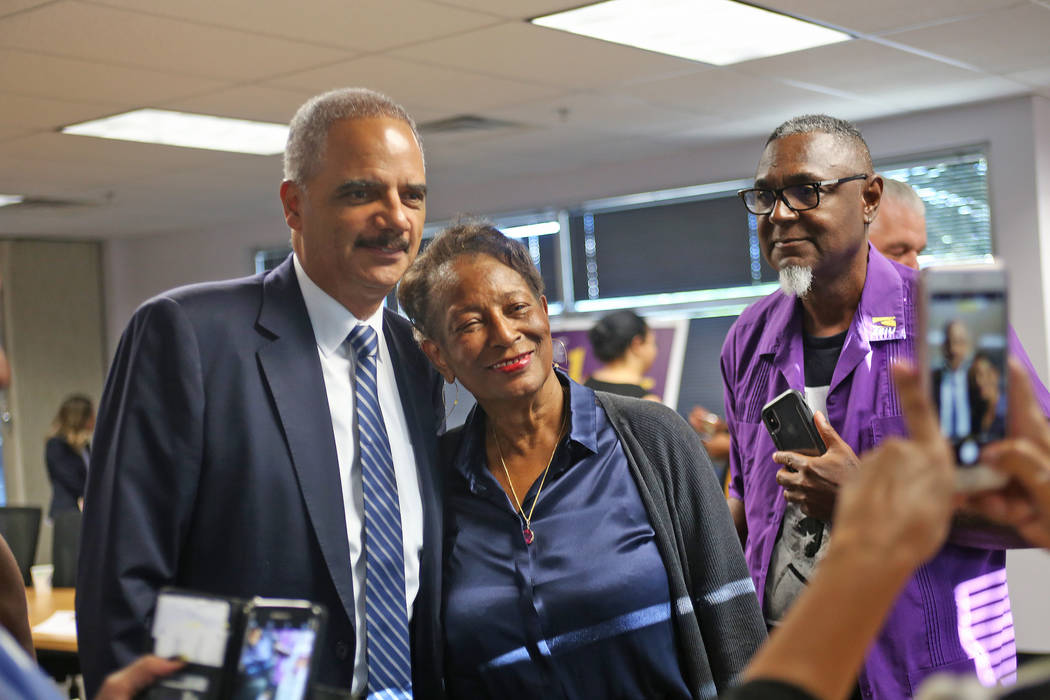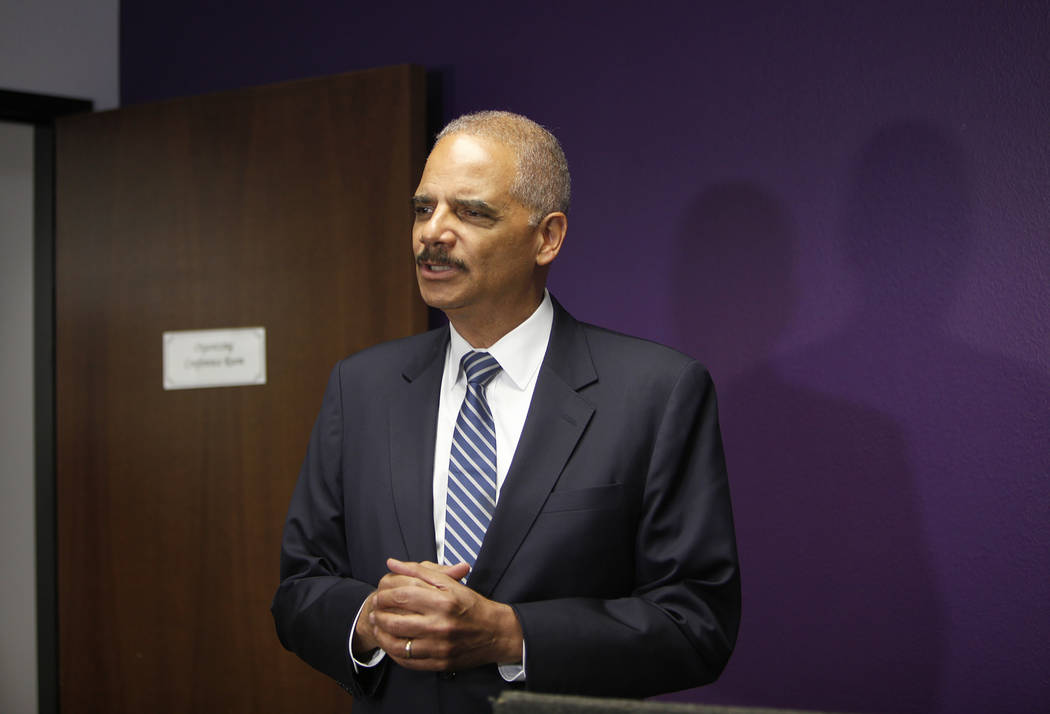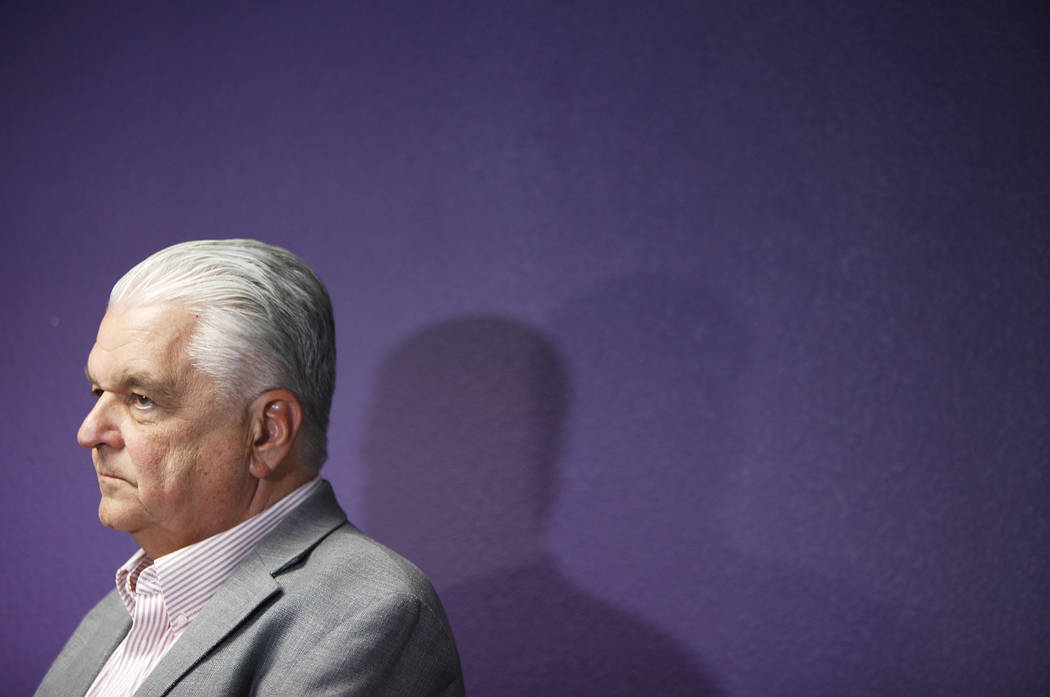 Former U.S. Attorney General Eric Holder and gubernatorial candidate Steve Sisolak discussed criminal justice reforms with community leaders Thursday evening in Las Vegas.
They talked about bail reform and reducing incarceration rates among other issues during a roundtable discussion Thursday evening at the Las Vegas offices of the Service Employees International Union Nevada Local 1107.
A fair criminal justice system is one that breeds respect and holds accountable those who commit serious crimes and those who prosecute them, Holder told the group of community members and leaders.
"Tough on crime" reforms foster disrespect in a justice system that already incarcerates too many people, Holder said. He touted his "Smart on Crime" initiative from his time as the head of the Department of Justice, an effort that targeted serious offenses and worked to fairly enforce laws.
"You can keep people safe while having a more fair criminal justice system," said Holder, who endorsed Sisolak for governor prior to the discussion.
Current justice system features such as cash bail hurt those who don't have the ability to pay their way out of jail, he said.
"That's just fundamentally wrong," Holder said.
In Washington D.C., defendants are not held behind bars because of an inability to pay, he said. Instead, defendants are held based on whether they are a danger to the community or a risk to skip a court date.
Sisolak said incarceration can cost someone a job or housing, which in turn can impact a defendant's family. Charge-stacking, or the practice of charging people with several counts in the hopes of securing a conviction, is particularly offensive and adds another layer to the problem, he said.
"Something needs to be done," said Sisolak, who is chairman of the Clark County Commission.
Responding to reporters after the discussion, Sisolak said he was "willing to go pretty far" in terms of bail reform, and that he would take a look at proposed reforms that came through the Legislature.
"That's something that I would certainly entertain on a minor offense that might be too severe," Sisolak said of eliminating cash bail in the state. He said he would "entertain" the idea of restoring voting rights for felons, but wouldn't support letting those in prison vote because they hadn't finished serving their sentences.
Sisolak also said he supports erasing misdemeanor marijuana convictions as well as the creation of an oversight committee to scrutinize the conduct of state prosecutors. New York Gov. Andrew Cuomo recently signed a similar bill into law.
Participants in the roundtable shared stories of personal hardship brought about by their experiences with the criminal justice system.
One woman, Leslie Turner of the Progressive Leadership Alliance of Nevada's mass liberation project, shared her story of an arrest for unpaid traffic tickets. She was pulled over for a broken taillight and jailed for a warrant. There she remained for more than a week, separated from her then-4-month-old son while her breast milk dried up.
"I just didn't have the money to pay my tickets," she said.
As part of her work, she and others have replaced taillights to help others avoid being pulled over by police and possible jail time. She said those adversely affected by the criminal justice system need to be included in the conversations on how to fix it.
"You cannot fix a system if you don't know how it's impacting the people on the ground that are living paycheck-to-paycheck, that are working minimum wage jobs, that are just trying to get by," Turner said.
Contact Mike Shoro at mshoro@reviewjournal.com or 702-387-5290. Follow @mike_shoro on Twitter.