Sisolak praises private sector COVID task force as it disbands
Updated June 23, 2021 - 7:26 pm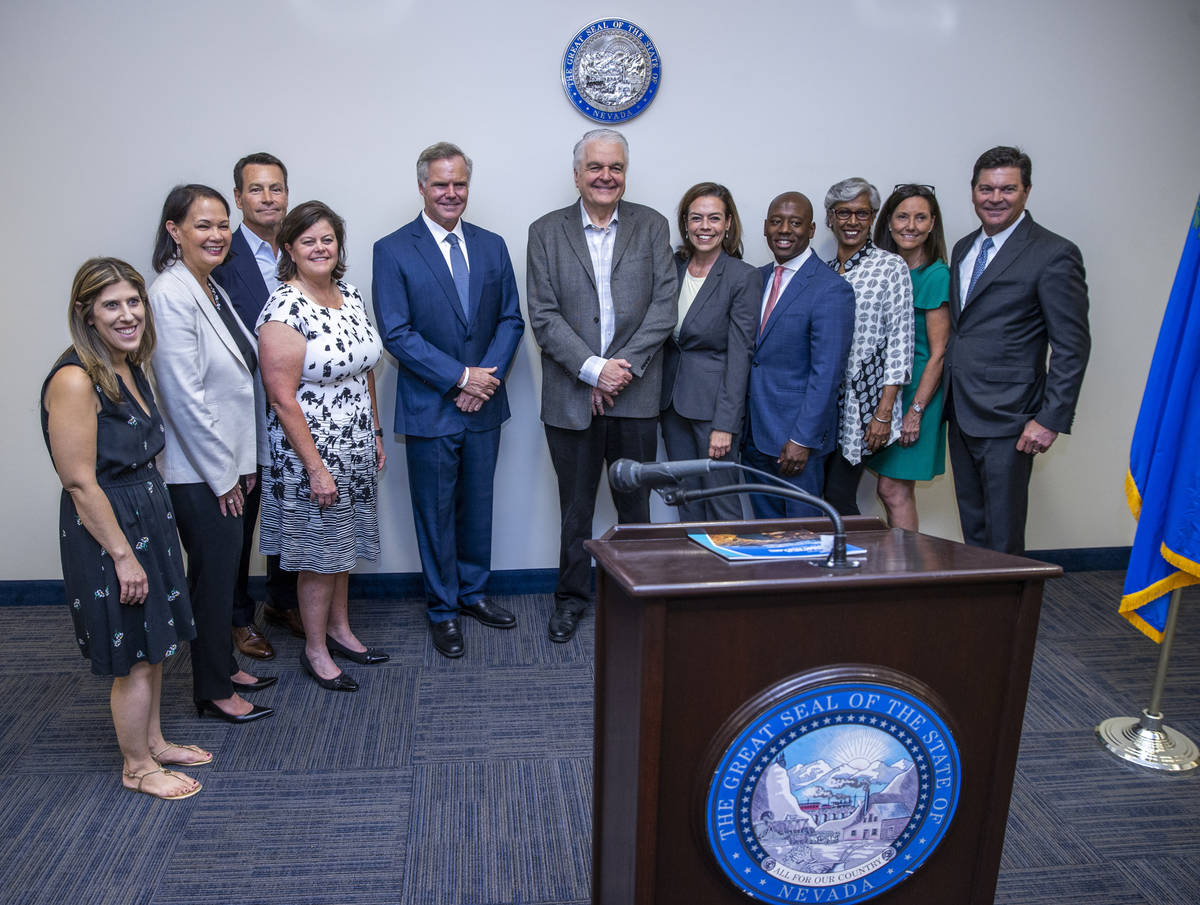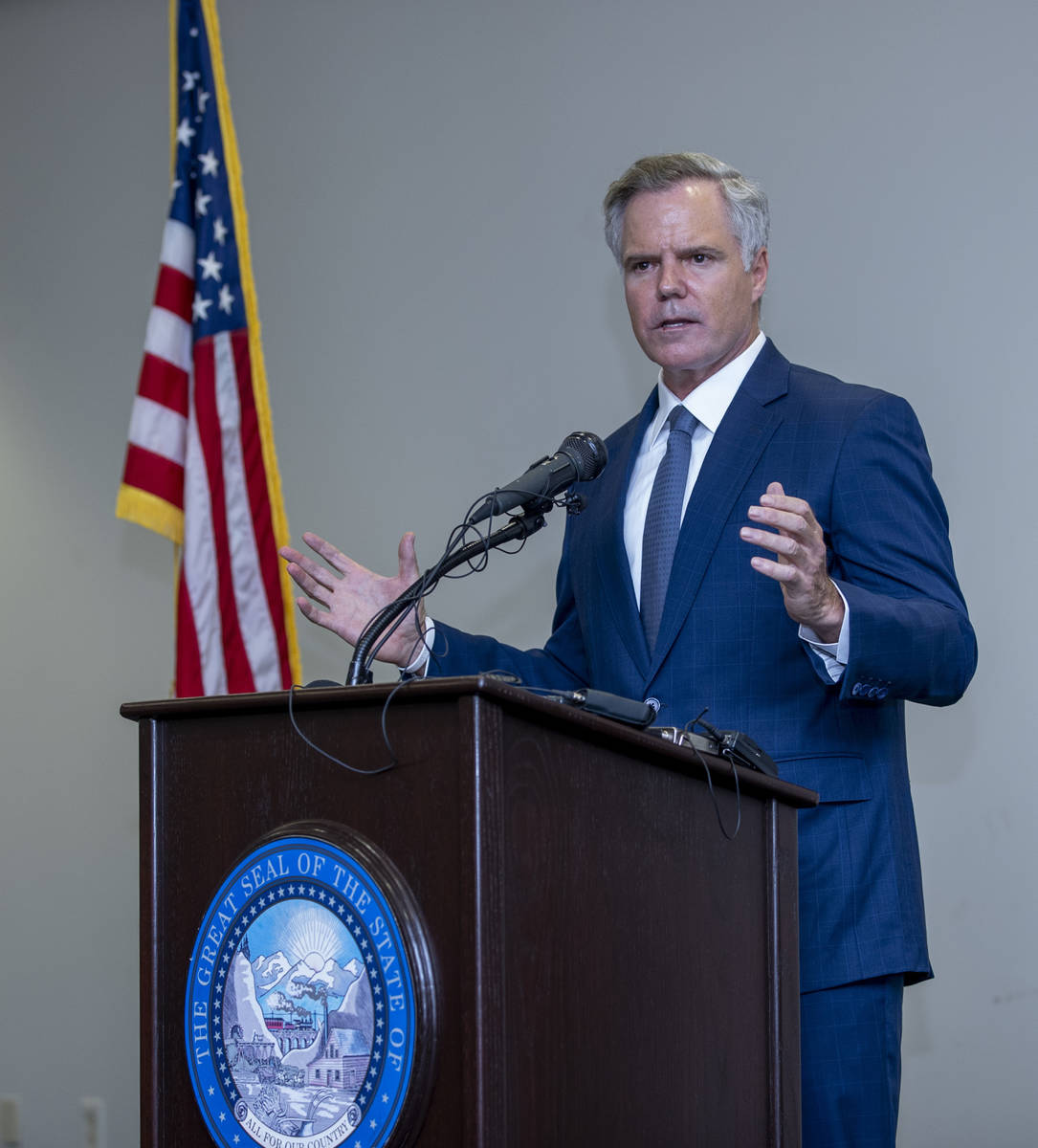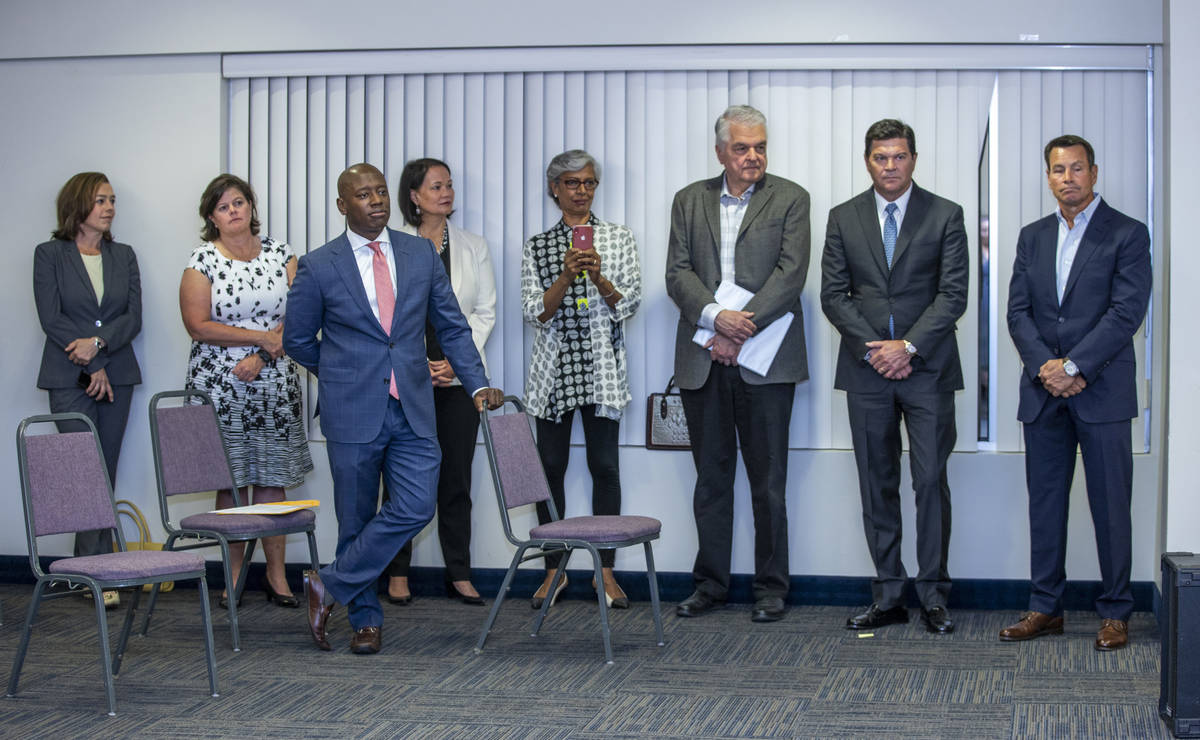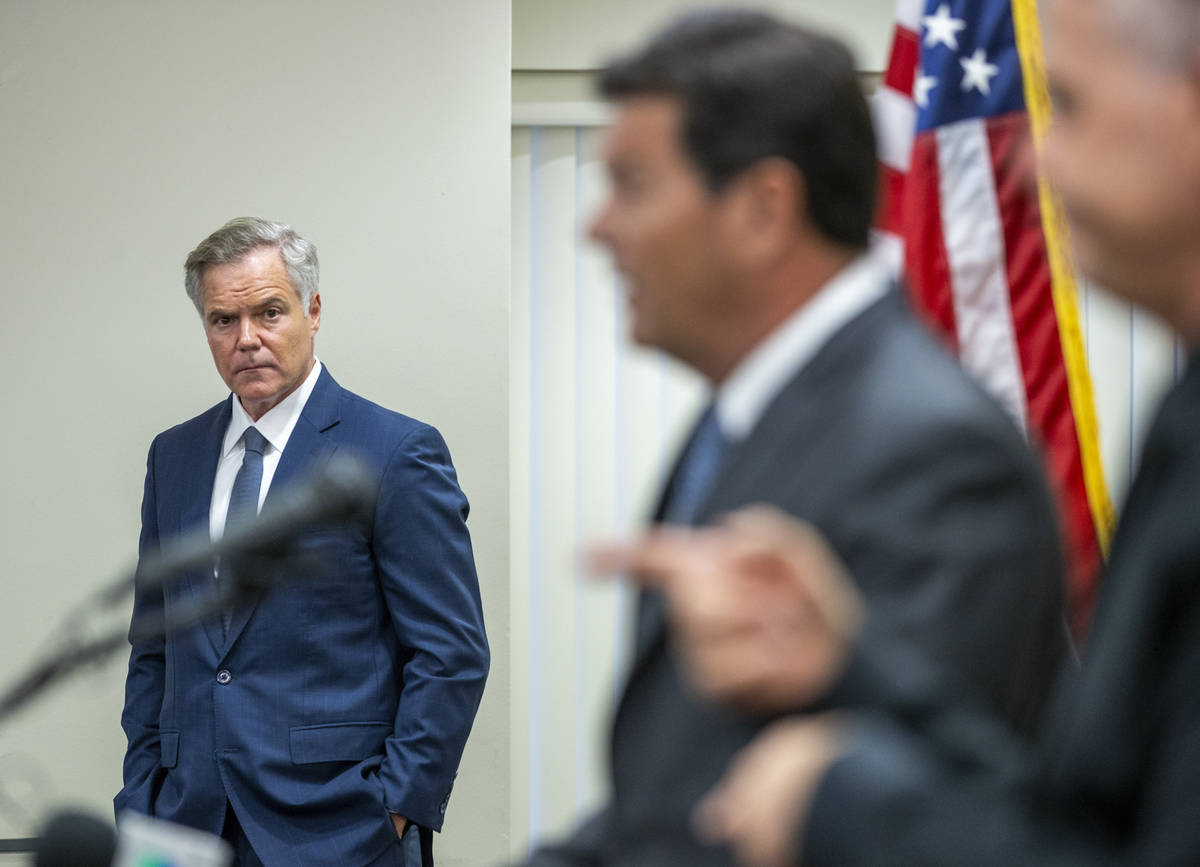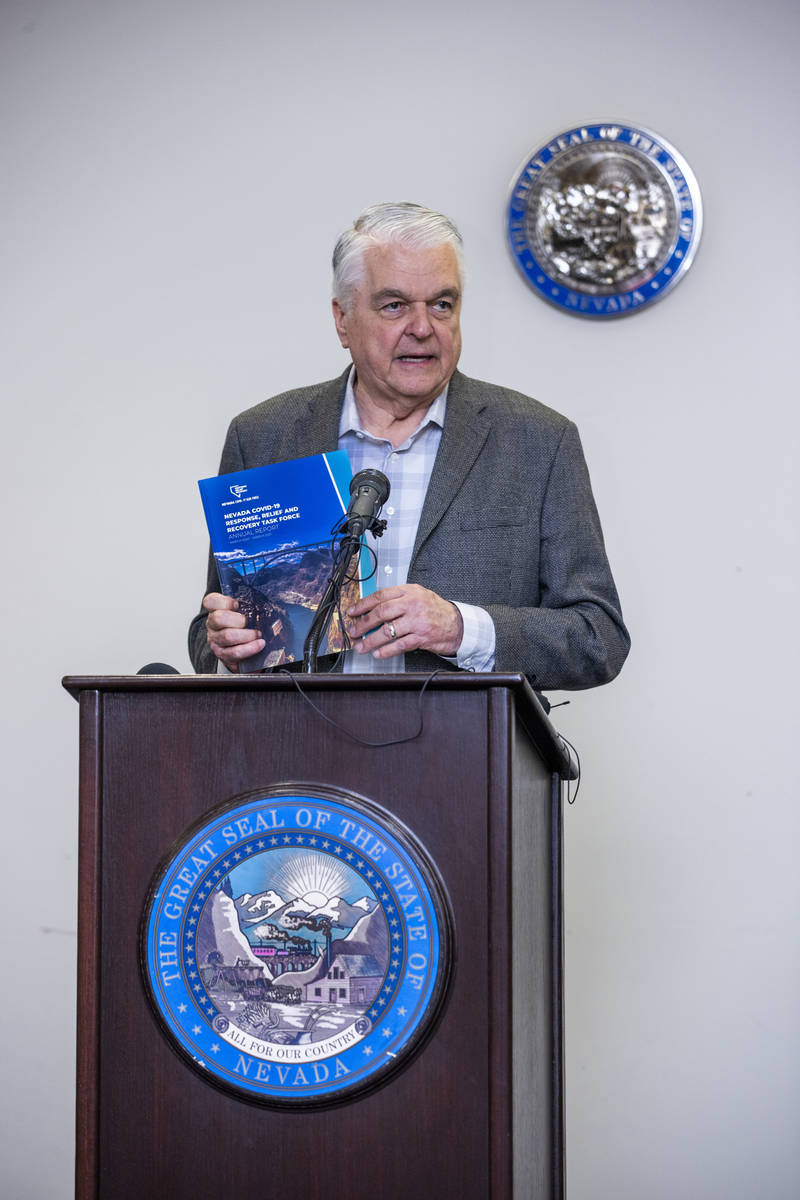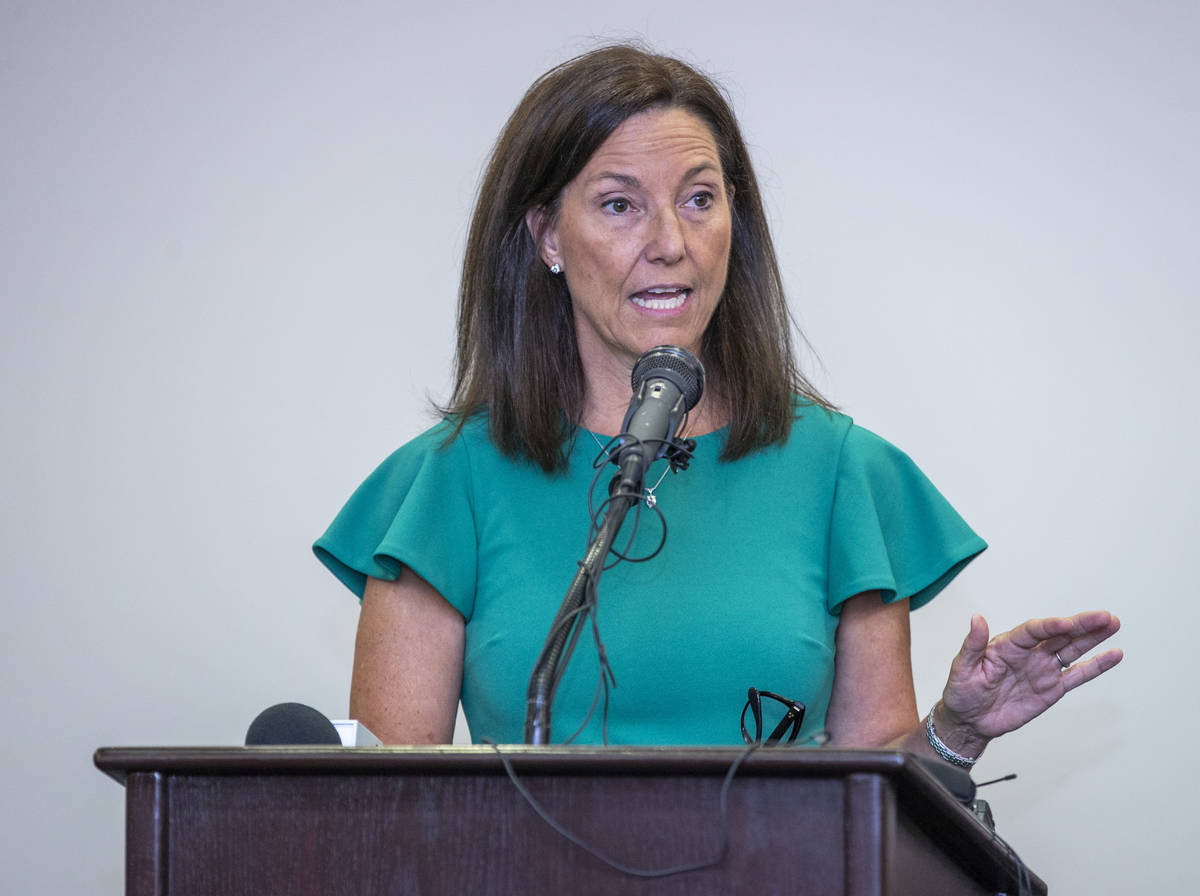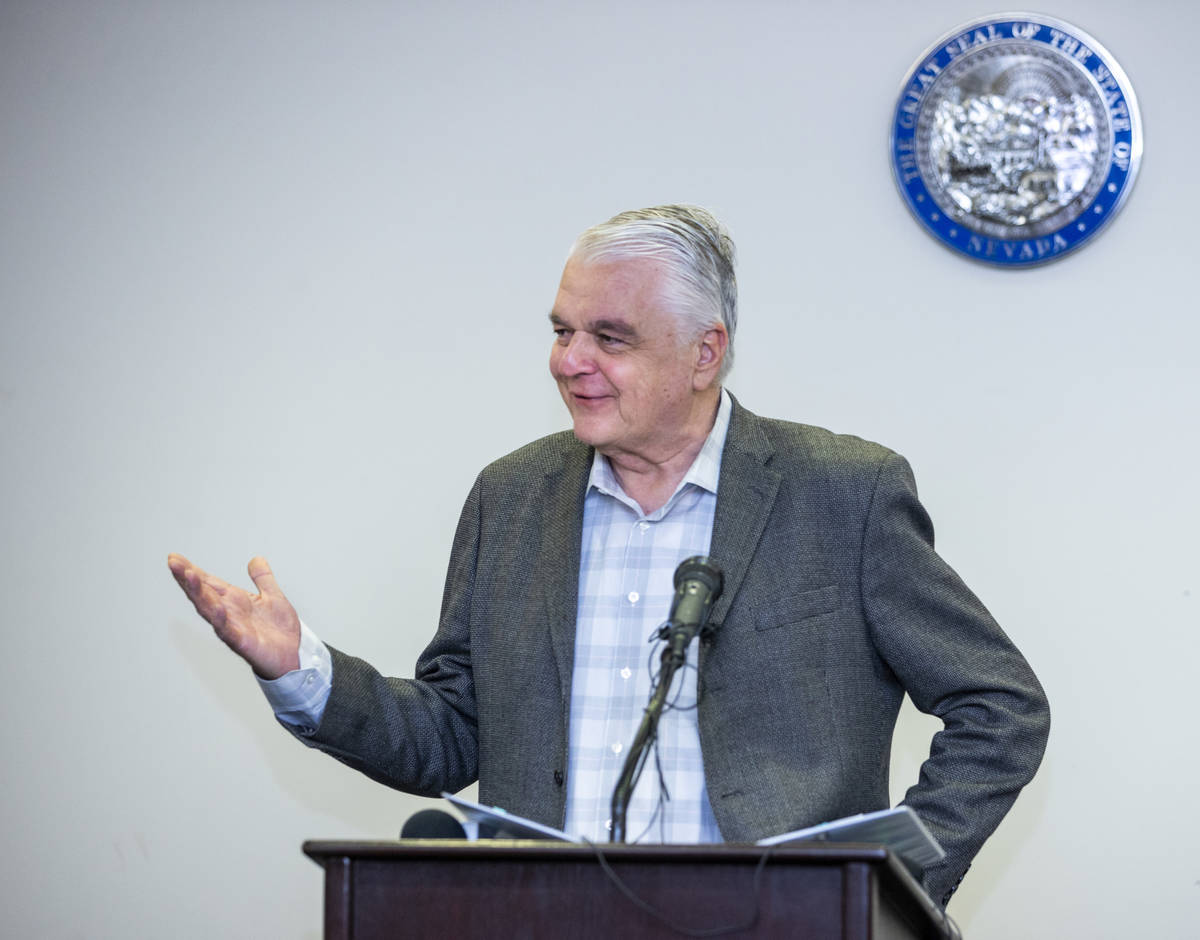 Gov. Steve Sisolak on Wednesday marked the disbanding of a Nevada COVID-19 private sector task force by praising the lengths to which it went to find personal protective equipment for medical workers and to increase coronavirus testing early in the pandemic.
"In March of 2020, none of us knew what toll this pandemic would take on the world, especially on the state of Nevada," Sisolak said at an afternoon news conference.
"We were deeply affected, but for all that we suffered, we had a distinct advantage in tackling our needs and shoring up our resources," he said. "The private sector is an advantage Nevada had that no one else did.
"They really stepped up at a time of need."
The task force formed by Sisolak quickly raised millions of dollars to purchase supplies and equipment, connect students with broadband and laptops and achieve other priorities, the governor said.
Also speaking at the news conference were task force chairman Jim Murren, former chief executive for MGM Resorts, and members Dr. Robert McBeath, president of OptumCare Mountain West Region, and Alex Dixon, president of PureStar, West Region.
At the beginning of the pandemic, "we were scared," Murren said. "We felt helpless. We felt hopeless. We didn't really quite know what this pandemic would do. And more importantly, we didn't know how we would survive."
He credited "these heroes of Nevada, who gave of themselves thanklessly and tirelessly and completely to help us get through this."
Securing supplies
Early in the pandemic, obtaining personal protective equipment, or PPE, for health care and other front-line essential workers became an urgent priority.
Gaming companies and other large employers in the state used their expertise and contacts around the globe to locate supplies, which had to be paid for up front, Murren said. The task force was able to raise $12 million in a week and a half.
"I remember talking to Mr. Adelson, God rest his soul, who gave us planes to go to China to get that PPE back here," Murren said in reference to Sheldon Adelson, chairman and CEO of Las Vegas Sands Corp., who died in January.
The task force purchased more than 2 million N-95 and KN-5 masks, 1.5 million gloves, 220,000 face shields, 2.6 million surgical masks, and 250,000 face coverings with the state flag, among other supplies, according to a report on its dealings.
The task force also assisted in providing supplies and equipment that allowed University Medical Center in Las Vegas to build a testing lab from the ground up, providing far faster results, Sisolak and Murren said.
Launching an app
The task force supported the development and marketing of a contact tracing app that allows users to receive prompt notification if they might have been exposed to someone testing positive for the virus who also had activated the app. Most of the hard costs of the COVID Trace app, built with technology that keeps the identity of users confidential, were funded by Las Vegas entrepreneur Andrew Pascal.
As of Tuesday, there had been more than 1.3 million activations of the app, said Shannon Litz, a representative of the Nevada Department of Health and Human Services.
Connecting kids
In July 2020, weeks before the start of the school year, state leaders sounded an alarm that assistance was needed in connecting more than 120,000 public school students with reliable internet service and a laptop to accommodate online learning.
The task force also took a leadership role in marshaling resources for the public-private partnership that included, among others, the Elaine P. Wynn &Family Foundation, Communities in Schools of Nevada and The Public Education Foundation.
By Sept. 15, 10 of the state's school districts confirmed that all students participating in distance learning had access to a device and internet. By Sept. 24, 96 percent of Clark County School District students had a reliable internet connection and 97 percent had a device.
By Jan. 5, 100 percent of students participating in online learning had access to a device and internet, according to the task force report.
"It's been a journey over the past year plus, but it's been inspiring," Murren said.
Donation controversy
The journey has not been without an element of controversy.
In mid-April of last year, the task force announced the acquisition of "vital testing materials for the State and the launch of a long-term scientific collaboration with the United Arab Emirates" in a deal that Murren, who had previous business ties to the UAE, helped to broker.
However, plans to collaborate on a coronavirus genomic study and a testing laboratory were dropped after a warning from U.S. diplomats and security officials.
They cautioned Nevada officials not to use the Chinese-made coronavirus test kits donated by the UAE over concerns about patient privacy, test accuracy and Chinese government involvement, according to a report by The Associated Press in October.
The governor's office advised University Medical Center not to use any of the donated 250,000 test kits as officials turned down the offered laboratory deal. A UMC spokesman told the AP that the hospital had used donated specimen collection kits, including swabs and tubes, but not test analysis kits.
The Review-Journal is owned by the family of Dr. Miriam Adelson, the majority shareholder of Las Vegas Sands Corp.
Contact Mary Hynes at mhynes@reviewjournal.com or 702-383-0336. Follow @MaryHynes1 on Twitter.