Sisolak says state reopening to 100% capacity by June 1
Updated April 13, 2021 - 8:20 pm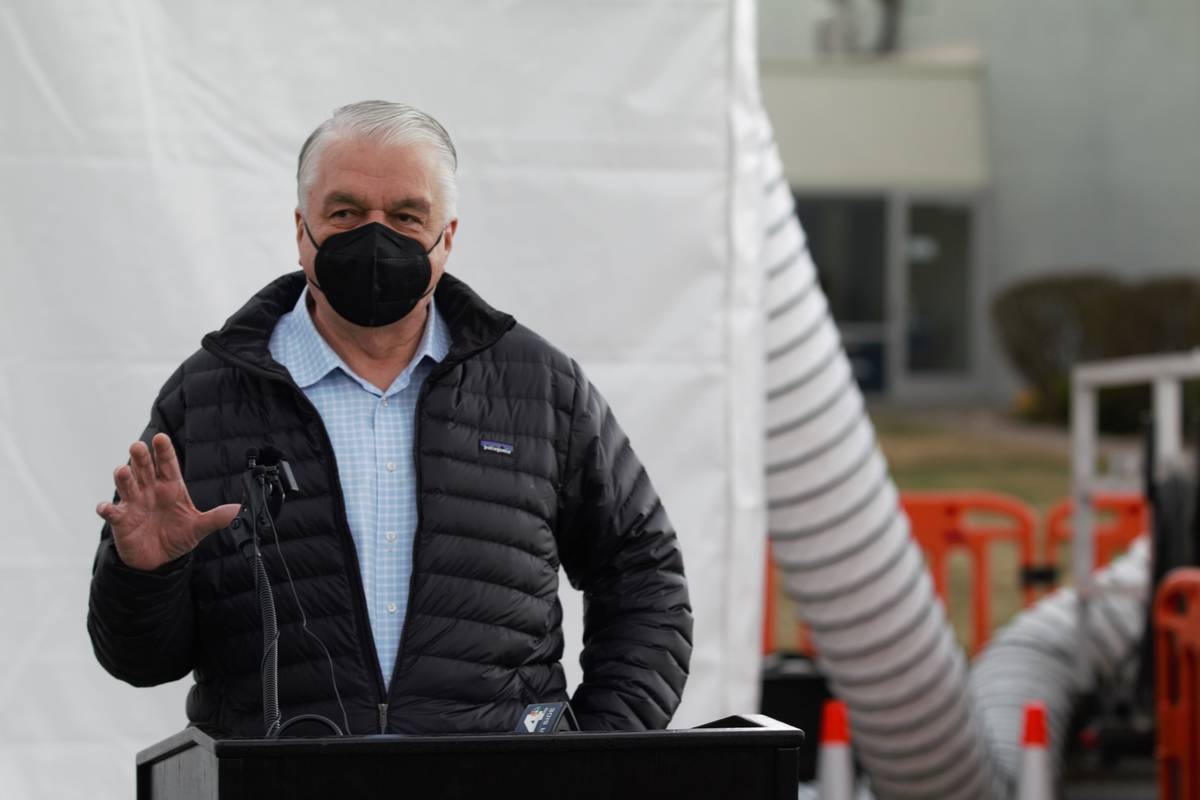 Nevada will lift all statewide social distancing mandates starting May 1, with the goal of reopening the entire state to 100 percent capacity by June 1, Gov. Steve Sisolak announced on Tuesday.
The requirement to wear a mask while in public will remain in place for an undetermined amount of time, however, and counties will not have the authority to override that, Sisolak said during a news conference in Carson City.
"After extensive conversations with state health officials, and with the goal to reopen to 100 percent capacity across Nevada by June 1, we will remove the statewide required social distancing mandate as of May 1," Sisolak said.
Starting May 1, there will no longer be a statewide requirement for businesses or other venues to keep customers 6 feet apart, which would allow them to reopen to their original capacity limits if or when local governments allow for that.
Sisolak cited a stabilization of most COVID-19 statistics combined with a continued increase in the number of Nevadans getting vaccinated as reasons for the more aggressive reopening approach, one which he said would aid in kick-starting the state's economy. Roughly 40 percent of Nevadans 16 years old and older have started the vaccine process, Sisolak said, and about one-quarter of all residents 16 and older are fully vaccinated.
"It's important to me that we protect our residents, we protect our workers and we also open our economy back up," Sisolak said. "I need to get conventions, I need to get events coming back into town, into this state. I need to get people back to work as a result of those. And I think these reopenings are going to make that a lot more realistic and a lot more speedy."
Locals taking over
The plan to transition mitigation authority to local governments starting May 1 remains in place, Sisolak said, adding that he understands that some local governments will choose to move to full reopening before June 1.
"To be clear, this does not mean that social distancing will no longer exist in the state, Sisolak said. "This just means that the state will no longer be setting the requirements — that authority will also now transition to the counties so they can make decisions based on what works best for their local jurisdictions."
As for the statewide mask mandate that is staying in place, Sisolak said that he does not have a specific date in mind for when the state could lift that.
Mayor Carolyn Goodman, who has butted heads with the governor at points during the pandemic while criticizing his restrictions as being too heavy-handed, said the timing of the announcement is "curious," suggesting it was a political calculation for Sisolak, who is up for re-election next year.
"The governor's speech sounds so much like other governors trying to hold onto their seats, one must wonder if these decisions are — or ever were — more about science or about politics," Goodman said in a statement.
Dr. Robin Titus, the minority leader of the Assembly, issued a remarkably similar statement.
"This is a political calculation amid the most progressive and partisan session in history," her statement reads. "Obviously, this is not based on the supposed science that we've been using for the past year and instead on re-election efforts."
Differing approaches
Some rural counties, many of which have been vocal critics of Sisolak's COVID-19 restrictions, look poised to reopen as soon as they're allowed. The Nye County Commission last week voted unanimously to direct staff to allow businesses to open at 100 percent capacity and fully open all local government facilities.
But Nevada's urban counties of Clark and Washoe are planning a more tempered approach once local government takes control of mitigation measures.
The Clark County Commission is scheduled to vote on a reopening plan during a meeting next Tuesday that it will submit to the state for approval. That plan includes some smaller changes, such as increasing the number of people allowed at a restaurant table from six to 10 and the reopening of buffets and nightclubs if social distancing is in place.
Authority over COVID-19 mandates for gaming facilities and schools will be handed over to the state's Gaming Control Board and local school districts, respectively, starting May 1.
For Nevada's economy, reopening to full capacity by summer could be a major shot in the arm as it works to ramp back up the tourism and gaming sectors.
"Southern Nevada's tourism industry took another important step forward with Gov. Sisolak's confidence Las Vegas can safely allow full occupancy at all venues starting June 1," said Las Vegas Convention and Visitors Authority President and CEO Steve Hill.
Hill has pointed to June 8's opening of the World of Concrete trade show as an important milestone for the conventions, meetings and trade show industry.
"The wide availability and rapid administration of vaccines will allow our valued events industry to reconvene with confidence and in its entirety. Las Vegas will continue providing the gold standard for health, wellness and safety precautions for the benefit of its workforce, the community and our visitors," Hill added.
A Caesars Entertainments spokesperson looked forward to the reopening date. "We are grateful for Governor Sisolak's continued, thoughtful leadership and are heartened by his goal to reopen Nevada at 100 percent capacity by June 1. We strongly encourage all Caesars Entertainment Team Members to get vaccinated and are continuing to provide free and convenient COVID-19 vaccines."
Cirque acrobat Steven Bland, 51, called Tuesday's news "fantastic," citing that 95 percent of his friends were unemployed and ready to return to show business.
"I'm pretty confident most of us want to work," he said.
Kevin Mills, co-owner and senior director of the Omelet House restaurant in Las Vegas, said the announcement of 100 percent capacity by June 1 "is a welcome relief for restaurateurs."
"It's the best news of the day," said Elizabeth Blau, co-owner of Honey Salt on Rampart Boulevard and Buddy V's Ristorante at the Grand Canal Shoppes. "I think it is a collective sigh of relief from restaurateurs and chefs across the state of Nevada."
Blau said she appreciated the fact that restaurateurs have received ample notice about the ramp-up, which hasn't been the case in some previous phases.
But both said their next challenge is staffing their restaurants to meet the 100 percent level.
"There's a real labor crisis," Blau said. "We can't find employees." She said she had talked to colleagues whose patios weren't open to allowed limits, and they said it was because they didn't have sufficient staff.
"I'm at a loss," Mills said of the shortage. "I don't understand why the labor pool has dried up like it has. In the past, we put stuff on Twitter and Facebook and the R-J and Indeed and we've gotten a pretty good response. We've done all of that, including the Spanish-language newspapers, and we've gotten no applications. We've put signs on the doors, put inquiries out to people in our industry."
Henderson resident Ellie Dolan, 39, said she feels that by June, every Nevadan who wants to get the vaccine will have had the opportunity to get it, so the state should be able to safely reopen. Dolan will receive her second dose this week.
"If everyone has had a chance, there's no reason not to open one or two months after everyone was eligible," she said.
Contact Capital Bureau Chief Colton Lochhead at clochhead@reviewjournal.com. Follow @ColtonLochhead on Twitter. Review-Journal staff writers Rick Velotta, Heidi Knapp Rinella, Sabrina Schnur and Shea Johnson contributed to this story.