Solar energy poll results called warning for Nevada legislators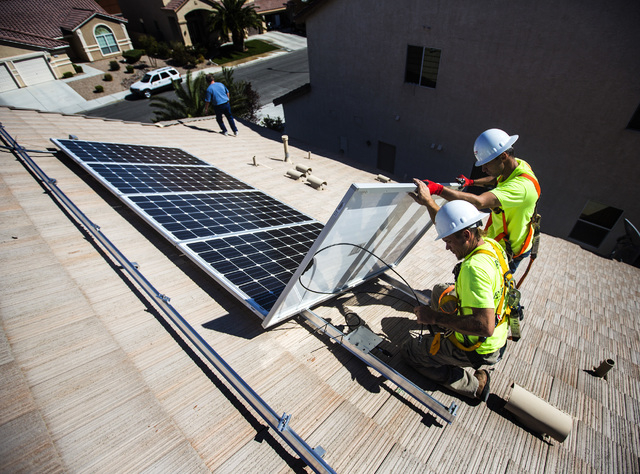 CARSON CITY — A poll of 300 likely Nevada voters suggests that state lawmakers could suffer at the polls come election time next year if they do not support expanding rooftop solar efforts through a net metering program.
The poll, conducted by WPA Opinion Research by telephone on April 20-21, was paid for by the Alliance for Solar Choice, a coalition of rooftop solar companies operating in Nevada that wants the state's 3 percent net metering cap raised by the Nevada Legislature.
The poll also shows strong support for solar energy efforts and net metering, where rooftop solar customers get a credit from the power company for excess energy they produce.
NV Energy, which operates as Nevada Power in Southern Nevada, is fighting the effort by rooftop solar companies to raise the cap, said Bryan Miller, vice president of public policy and power markets for the rooftop solar company Sunrun Inc.
"As much as NV Energy is asking for a political favor, this is not a political favor for politicians," he said.
"This is political suicide for politicians."
The strong support for net metering among voters is because Nevada is blessed with an enormous solar resource and they view rooftop solar as a positive, Miller said.
Without an increase in the net metering cap, the rooftop solar industry will leave Nevada, eliminating 6,000 jobs, he said.
The power company says the cap might be reached early next year, but the rooftop solar group says the cap could be reached as early as this summer.
NV Energy officials argue that net metering customers are subsidized by other ratepayers.
They also argue that rooftop solar would be viable without the subsidy, which is worth about 7 cents a kilowatt hour.
Miller said a study commissioned by the Nevada Public Utilities Commission and released last year found no significant effect from net metering on other power customers.
He also said that the rooftop solar industry will not survive without net metering.
NV Energy just doesn't want the competition, he said.
The issue remains at a stalemate in the state Legislature.
Miller said the poll results could help move the net metering effort forward.
The poll found the following:
■ Nearly three-quarters of likely voters would be less likely to re-elect their legislative representative if they failed to support a raise in the cap. Republicans, representing 34 percent of those polled, were 69 percent less likely; Democrats, representing 41 percent, were at 80 percent; and independents, representing 25 percent of those polled, were at 72 percent.
■ Seven in 10 likely voters support Nevada's net metering policy, with Republicans at 70 percent, Democrats at 71 percent and independents at 69 percent.
■ More than four in five of likely voters, 84 percent, have a favorable impression of solar energy. Republicans were at 75 percent, independents at 87 percent and Democrats at 91 percent.
The poll has a margin of error of plus or minus 5.7 percentage points.
Miller said rooftop solar also uses no water, a boon to Nevada in this time of severe drought.
Failing to raise the cap would move the state away from efforts to reduce consumption, he said.
The poll makes clear that lawmakers run the risk of alienating voters if they don't raise the cap, which needs to be set at a minimum of 6 percent, he said.
"Some political favors are too expensive," Miller said. "Ultimately politicians have to listen to the people who put them into office."
Contact Sean Whaley at swhaley@reviewjournal.com or 775-687-3900. Find him on Twitter: @seanw801.