Some hiccups during voting in Nevada primary election
Updated June 12, 2018 - 7:22 pm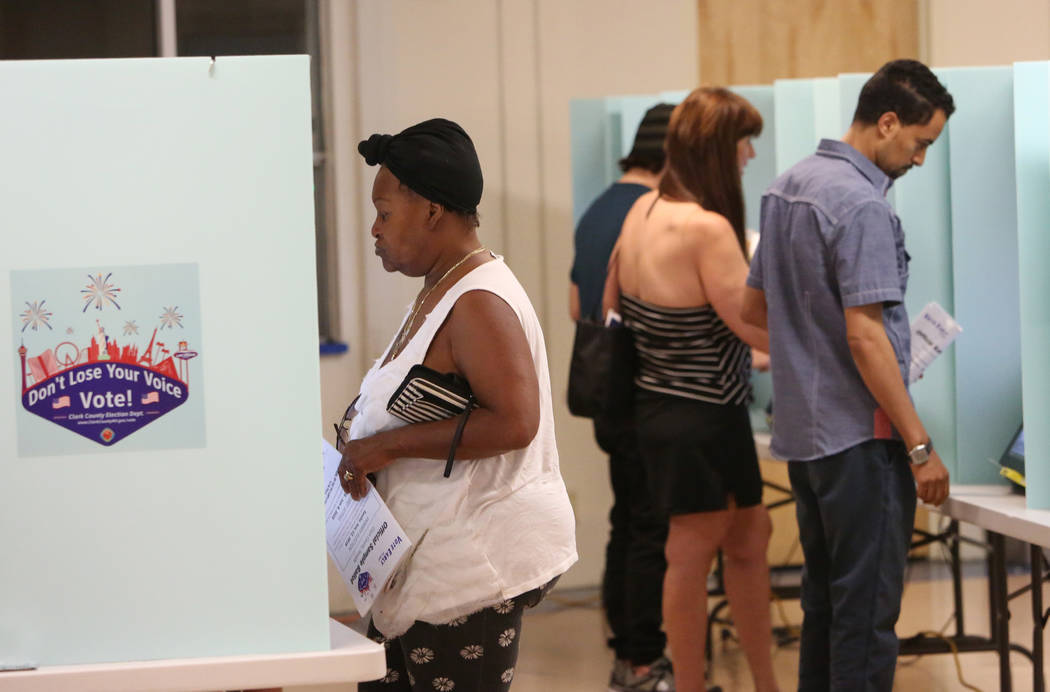 Nevada's first primary election using a new statewide system included some hiccups but largely went smoothly.
Some voters reported equipment problems at voting centers Tuesday. Nevada secretary of state spokeswoman Jennifer Russell said there appeared to be "isolated incidents reported in polling sites in Clark and Washoe counties.
"The State has followed up on every report and action has been taken in every instance to address the reported issues," Russell said in an email. "Every voter who has reported machine errors has been able to cast a ballot today."
Polls closed at 7 p.m.
An hour later, team leaders from each precinct started arriving at the Department of Elections in North Las Vegas. A brown SUV from Sedway Middle School was the first precinct to deliver votes to the department on Trade Drive.
The team leaders wearing yellow vests were applauded by county workers each time they brought in their new records.
"Woo-hoo!" said a county worker in a blue T-shirt that read "Don't Lose Your Voice. Vote!"
Cheyenna French, 33, who has lived in Las Vegas for 18 years, served as team leader at French Elementary School. It was her third time being involved in the election cycle.
"Setting up with the new system was a little hectic in the morning. We had to refer to the manual more this year than previous years," she said. "But the last stop, bringing it here, was quick, easy and fast."
From there, the votes were counted in a backroom by about 10 county employees, guarded by at least two officers from the Metropolitan Police Department.
For the first time in a statewide election, registered residents could cast their ballot at any voting center in their county.
At Meadows Mall, Petra Rosas stopped at the booth outside Sears to cast her vote. She had just gotten off her shift at McDonald's, so the new rule that she could vote at any center made it easier to have her voice heard. She was joined by her 24-year-old son, Wilmer, who said he also voted.
"It's one of my rights as a citizen," Rosas said in Spanish, "to make changes for the people who can't."
Rosas, 49, immigrated to the United States from Mexico and became a citizen in 2012. She said she hoped to use her vote to help make it easier for others to immigrate.
At the Pearson Community Center in North Las Vegas, Robert and Delores Millner said voting went smoothly.
Delores Millner, 75, who has lived in Las Vegas since 1958, said she will vote "as long as I have my strength."
"I remember when they wouldn't even let blacks vote," she said. "I believe in coming out and voting."
At the Green Valley Library in Henderson, 29-year-old teacher Shaquida Vergo said voting took just two minutes.
"I might not be a very political person, but I do want my voice heard," she said.
Poll workers there said they had no problems with voting machines.
That wasn't the case everywhere.
Volunteers and voters at the Trails Community Center in Summerlin said they experienced computer problems shortly after voting opened. In some instances, the personal information of a voter checking in on one machine would show up on a tablet that another voter was using, they said.
There also were reports of ballots with candidates already selected when they appeared on screens. A caller to the Review-Journal reported seeing that issue at the Sawyer Building in Las Vegas. He said a volunteer told him to uncheck the preselected names and check his preferred candidates.
The Reno Gazette-Journal reported that a technical error caused problems at two polling places for up to half the people who voted in the first two hours Tuesday morning.
Washoe County Registrar of Voters Deanna Spikula told the newspaper that the machines malfunctioned because the time programmed on voting cards didn't match the time on voting tablets.
One polling location manager, Scott Kabrin, said they expect to have the kinks worked out before the general election in November.
Candidates were out and about as well.
James Ohrenschall, a Democrat running for state Senate in District 12, stood outside the Parkdale Community Center in a suit and tie despite an extreme heat warning.
He said he'd seen a "steady stream" of people voting and had spoken with many of them.
"It's been so great seeing so many Democrats coming out to vote," he said. "I'm really optimistic that vote centers will increase turnout."
Glenn Roark, 71, said he voted last week but on Tuesday he waited to the side of the location at Meadows Mall for his son to cast his. The longtime Las Vegas resident said he makes it to the polls every year.
"Just the satisfaction of doing it, voting, is worth it," he said. "I did my share."
Shortly before 4 p.m., more than 53,300 voters had cast ballots, according to the county Elections Department, ranging from a low of 20 at the Moapa Tribal Administration Building to a high of 1,280 at Centennial Center.
More than 178,000 Nevadans had cast ballots during early voting.
Contact Robert Johnson at rjohnson@reviewjournal.com or 702-380-4538. Follow @RobJ_RJ on Twitter. Contact Katelyn Newberg at knewberg@reviewjournal.com or 702-383-0240. Follow @k_newberg on Twitter. Review-Journal staff writers Rio Lacanlale and Nicole Raz and the Associated Press contributed to this report.