State Sen. Mark Manendo urges witness to change story in sexual harassment probe
Updated June 23, 2017 - 10:19 am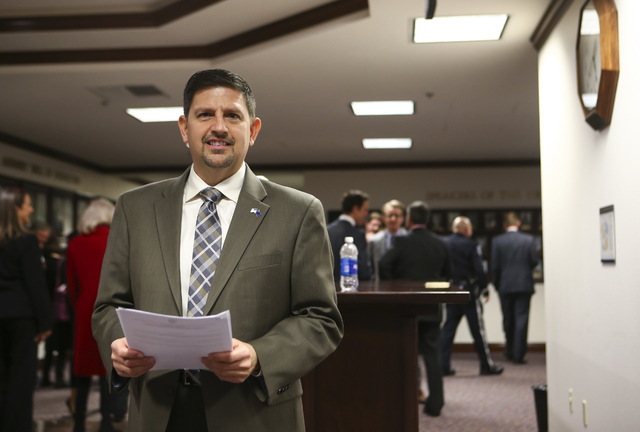 Embattled state Sen. Mark Manendo, the focus of a broad and growing sexual harassment investigation, has contacted a witness and urged her to change her story.
The woman — who spoke with the Review-Journal on the condition that her name be withheld — said Manendo asked her in a telephone call to contact investigators and change her testimony to exonerate him. He also repeatedly texted her, asking if she'd done as he asked, she said.
More recently, Manendo, a Las Vegas Democrat, has texted the woman asking to meet her in person, she said. Those texts came even after investigators learned of his attempts to get her to change her testimony, and after Manendo had been asked to cease all contact.
Senate Majority Leader Aaron Ford, D-Las Vegas, hired the Van Dermyden Maddux law firm of Sacramento, Calif., in early May to investigate after he received complaints of sexual harassment by Manendo during the 2017 legislative session. The firm was supposed to have finished its work before the session ended June 5, but it was unable to do so because more complaints came to light during the investigation, Ford said on the Senate floor.
Manendo was stripped of the chairmanship of the Senate Transportation Committee and publicly admonished on the Senate floor by Ford on June 5, the final day of the session. The Legislature also adopted new joint standing rules in the final minutes of the session that outline stricter guidelines prohibiting sexual harassment and making the filing complaints easier.
Working at the Legislature
The woman, who first met Manendo while working as an aide during the 2013 Legislature, says she didn't come forward on her own. Investigators contacted her after another witness in the probe gave them her name.
"I really don't want to be the star of this show," she said. She identified herself as a Democrat.
She says she bears no ill will toward Manendo, despite a negative encounter with the senator in 2013. She returned to work in Carson City in 2015. She said Manendo was friendly and flirtatious with her, but she told him she had a boyfriend at that time.
She also said she never felt as if her job was in jeopardy because she rebuffed Manendo's advances.
But after the woman had been interviewed by investigators in May, she got a phone call asking her to call Manendo, who then tried to persuade her to tell investigators a different story. According to her, Manendo suggested she tell them she'd confused him with her ex-boyfriend and that he was innocent of any wrongdoing.
She said she rejected the gambit as preposterous and did not contact investigators. Manendo repeatedly texted her, asking if she'd done as he asked, but she demurred in answering.
Around that time, she confided in her employer, who also worked in Carson City, about Manendo's calls and texts. Her employer told her the contact was improper and reported it to Ford. Her employer — whose name is also being withheld to avoid identifying the woman — said Ford said he'd contact Van Dermyden Maddux and report what had happened.
Shortly thereafter, Manendo began texting the woman anew, asking who she worked for, apparently having learned that the woman's boss had complained about his contact.
According to the texts, which were shared with the Review-Journal by the woman's employer, Manendo asked "what company do you work for?" When the woman responded, "my friends [sic] … company," Manendo persisted: "What is the name of the company you [sic] friend has?"
On June 4, the penultimate day of the Legislature, Manendo texted to ask her once more if she'd contacted investigators, adding "please do so now."
And as recently as this week, Manendo texted to suggest they meet in person, asking what part of town she lived in. She said she spoke with the law firm's investigator, who told her Manendo had been told not to contact any of the witnesses in the case prior to his most recent texts.
"I was trying to be nice," she said, explaining why she kept communicating with Manendo via text, although she acknowledged that she didn't want to be contacted by him about the matter any further.
Manendo didn't return a call and an email seeking comment. His attorney, Richard Wright, declined to comment, saying the rules governing the investigation limit what he can say.
In a statement released when the investigation was announced, Wright said, "My client Senator Mark Manendo was informed that a harassment complaint was received and will be discreetly investigated by an independent investigator pursuant to Joint Standing Rule 20. He has not been told the specifics of the allegations. Senator Manendo will cooperate and has retained me to provide legal counsel. All aspects of the investigation are confidential and he has been directed to not speak publicly about it. We remain confident that he will ultimately be exonerated."
A call to senior associate attorney Justin Kochan of Van Dermyden Maddux seeking comment on the investigation was not returned.
Official actions
In a statement, Ford said "those allegations will be considered in the entire context of the investigation and inform any consequences meted out upon conclusion of the investigation."
On the closing day of the 2017 session, Ford read a statement into the journal of the Senate, publicly admonishing Manendo, saying he'd "developed a reputation of harassing and intimidating young women at the Legislature and engaging in conduct that makes them uncomfortable, and I believe his conduct has had a negative impact on the working environment within the Legislature."
"The senator from District 21's [Manendo's] conduct, whether intentional or not has caused many complaints to be brought to me this session, alleging an intimidating, hostile and adverse working environment," Ford continued, saying the investigation would continue after the Legislature adjourned.
"Nevertheless, I am making this statement as an admonishment to the senator from District 21 for using his position in a manner that has caused others to feel uncomfortable and for engaging in conduct that I believe to be unbefitting of a senator," Ford said.
It's unclear what punishment could be imposed on Manendo if the investigation justifies any action. Both houses of the Legislature have the power to discipline members — and even expel them with a two-thirds majority vote — but the Senate would have to be in session for that to happen. Gov. Brian Sandoval would have to summon the Legislature into a special session for that purpose, or the Legislature would use its own powers to call a special session to do so.
Manendo, a former assemblyman first elected in 1994, is serving his second term in the Senate and is eligible to run for a final, third term next year.
Contact Steve Sebelius at SSebelius@reviewjournal.com or 702-397-5276. Follow @SteveSebelius on Twitter.
History of allegations
State Sen. Mark Manendo has faced allegations of harassment before. In 2003, when he was an assemblyman, he was accused by two interns who worked for then-Assemblywoman Dawn Gibbons, R-Reno, of harassment. One of those interns later married former Associated Press reporter Ben Kieckhefer, who went on to win election to the state Senate and serves alongside Manendo to this day.
In that 2003 incident, Gibbons claimed Manendo repeatedly asked her what it would take for the interns to date him and said in front of other lawmakers that one of the young women "has the kind of body you want to go to bed with."
Democrats initially said they would only investigate if either of the women filed a complaint. Democrats later initiated an investigation anyway. It was inconclusive. However, during the 2005 session, Manendo was removed as chairman of the Assembly Government Affairs Committee. He never served as a committee chairman again in the lower house.