State Sen. Smith resting after brain surgery
February 7, 2015 - 3:32 pm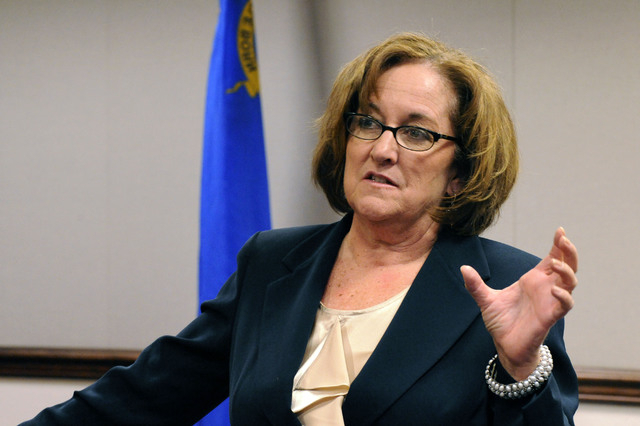 Nevada Sen. Debbie Smith was awake, talking and eating Saturday at a Houston hospital, one day after undergoing surgery for a brain tumor.
Smith's daughter, Erin Marlon, told the Review-Journal that Smith could be released from Houston's M.D. Anderson Cancer Center as early as Sunday or Monday.
"She's still a little groggy," Marlon said on Saturday afternoon. "We're just taking it minute-by-minute."
Whether Smith, D-Sparks, is released this week depends on her reaction to her surgery. Some patients remain hospitalized for up to two weeks after such an operation while others can be released within two days, said Marlon.
But regardless of when Smith is released, she still plans to return to the Legislature, according to her daughter.
A biopsy was taken during Smith's operation to determine whether she will need additional surgery. The family expects to know the results of the biopsy within five to seven days.
"The most important thing to all of us is that we just focus on her," Marlon said.
Smith, D-Sparks, announced last weekend she was seeking expert medical treatment out of state and would miss opening day of the 2015 legislative session that began Monday.
The next day she revealed she had been diagnosed with an operable brain tumor and was being treated at M.D. Anderson Cancer Center in Houston.
Smith was elected to the Senate in 2012 and serves as assistant minority leader.
She has said she hopes to return to the Legislature when her doctors give her permission.
On Thursday alternates were assigned to fill in on the Finance, Health and Human Services, and Natural Resource committees during her absence.
Well-wishers can send notes to Smith at her Carson City office, 401 S. Carson St. 89701, leave a message at 775-684-6800 or send an email to Smith's secretary, Laureen Garcia: Laureen4Debbie@aol.com.
This is a developing story. Check back for updates.
Review-Journal writer Sandra Chereb contributed to this report. Contact Chris Kudialis at ckudialis@reviewjournal.com or 702-383-0283. Find him on Twitter: @kudialisrj.

RELATED STORIES
Gov. Sandoval details new business fee plan to fund Nevada education reform
Say what? A guide to legislative language
6 legislative committees to watch in 2015
What a difference two years makes!
Southern Nevada to get most road funding over next 4 years, legislators told
Five (other) big issues for the 2015 Nevada Legislature
5 people to watch in the 2015 legislative session
Nevada Legislature 2015 … by the numbers
Nevada lawmakers hear about prison growth, aging woes
Sandoval proposes big boost in Nevada education funding
Sandoval proposes $7.3 billion spending plan for Nevada
New year could bring big changes in state
See all of our coverage: 2015 Nevada Legislature.