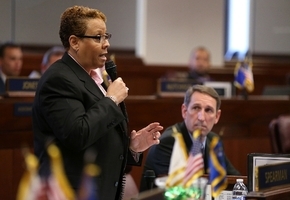 CARSON CITY — A controversial constitutional amendment that would allow gay marriage in Nevada was amended Friday to include language to guarantee that religious organizations would not have to perform such unions.
The amendment to Senate Joint Resolution 13 passed the Senate on an 11-10 vote, with all Democrats in support and all Republicans opposed.
The amended version of the measure will come back to the Senate for final approval on Monday before moving on to the Assembly, where it is expected to have an easier time gaining passage. The Assembly has 27 Democrats and 15 Republicans.
The new language was proposed to ensure full support from Senate Democrats.
Both Senate Majority Leader Mo Denis and Sen. Justin Jones, who are Democrats and members of the Church of Jesus Christ of Latter-day Saints, told the Review-Journal on Wednesday that they wanted religious protection language included in the resolution.
The church is opposed to the proposed constitutional amendment.
The resolution, if passed twice by the Legislature and then by voters in 2016, would legalize gay unions in Nevada.
The Senate vote was the first test of the proposal.
The new religious protection language, proposed by Sen. Patricia Spearman, D-North Las Vegas, was considered by voice vote.
But when Lt. Gov. Brian Krolicki could not determine whether there were enough votes in support, he called for "a division of the house."
Those in support stood, and all 11 Democrats rose. All 10 Republicans then rose in opposition.
The proposed new language states: "Religious organizations and clergy have the right to refuse to solemnize a marriage and no person has the right to make any claim against a religious organization or clergy for such a refusal."
Senate Minority Leader Michael Roberson, R-Las Vegas, had no comment after the vote.
Sen. Greg Brower, R-Reno, said lawmakers did not have much time to review the new language, which was one reason for his no vote.
Brower said he will have to review the language more thoroughly before deciding how to cast his final vote.
"I'm not sure that it goes far enough to protect the religious interests that it addresses," he said. "We're rushing things along a little too much around here right now."
Denis said the issue is not about his personal views but about letting voters weigh in on the gay marriage debate. The new language satisfied his concerns about religious freedom, he said.
"For me this is about: should we allow the voters to vote on this," Denis said.
Tod Story, interim executive director of the American Civil Liberties Union of Nevada, praised the vote moving the resolution forward and the new language.
"It's always been our position at the ACLU of Nevada that equality under the law should be extended to same-gender couples," he said. "They should have the freedom to marry."
But Story said he was also pleased with the new language, which would protect religious groups and the clergy by allowing them to make decisions according to their doctrines about which couples they will marry.
SJR13 received some heavyweight support Friday from the Nevada business and gaming communities.
A group called Nevada Business Leaders on Marriage Equality, including Elaine Wynn, Sig Rogich, Monte Miller and MGM Resorts International, voiced support for marriage equality.
"To be competitive, a state must create an equitable, fair and respectful environment for all of its citizens. For this reason — among others — it is vitally important that Nevada lawmakers enact marriage equality soon," the group's release said in part. "Marriage equality would strengthen the workforces of Nevada employers, who know there is no substitute for employees with diverse backgrounds and experiences."
The group said it also promotes economic development.
"The Nevada Legislature should act now," the group said. "It's the pro-jobs, pro-growth thing to do. It's the right thing for Nevada."
Contact Capital Bureau reporter Sean Whaley at swhaley@reviewjournal.com or 775-687-3901.