Steve Sisolak sworn in as Nevada's 30th governor — VIDEO
Updated January 8, 2019 - 7:44 am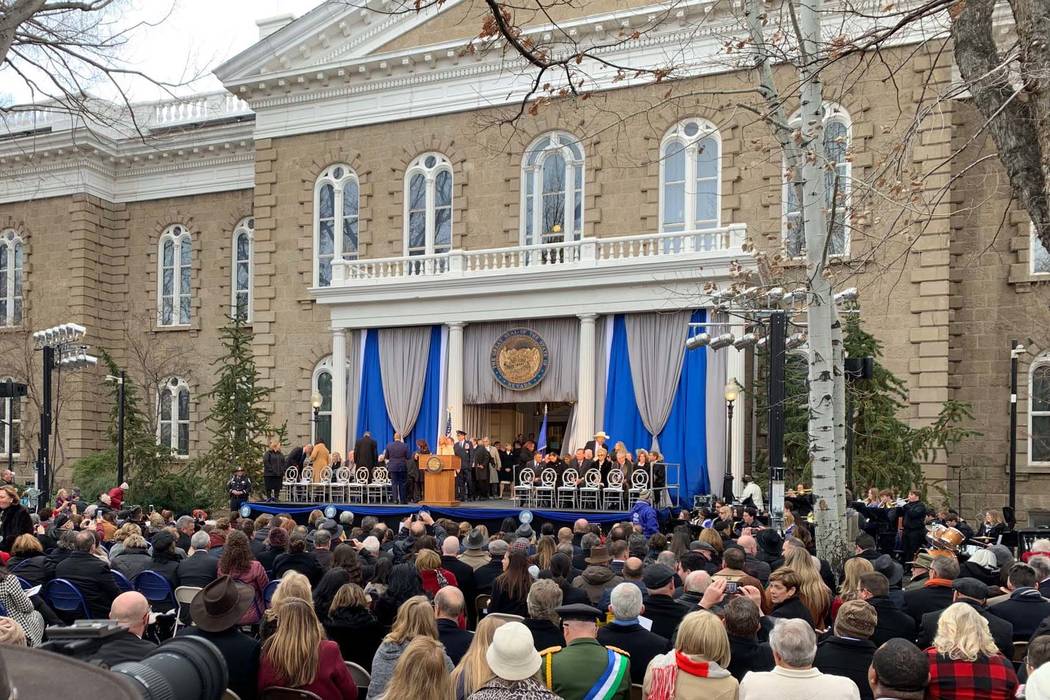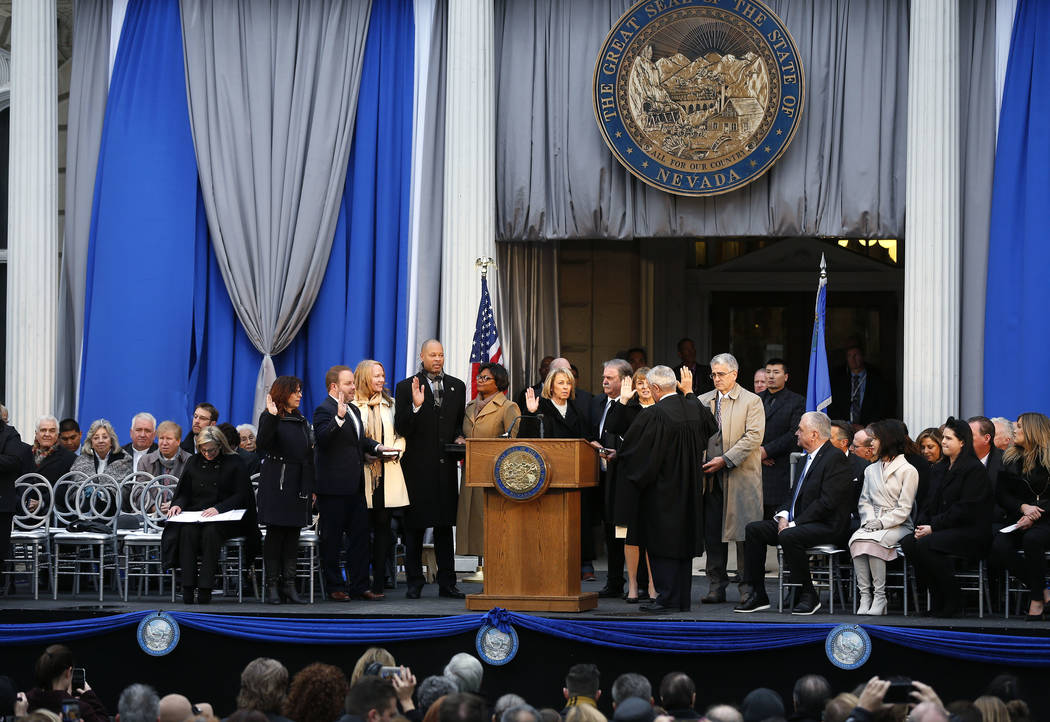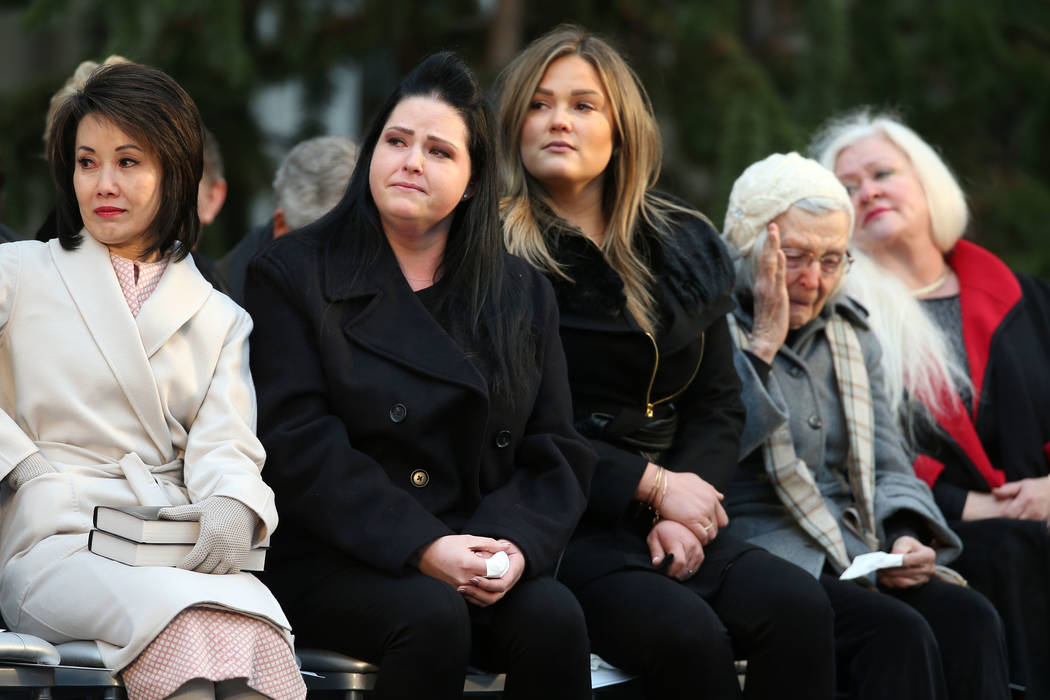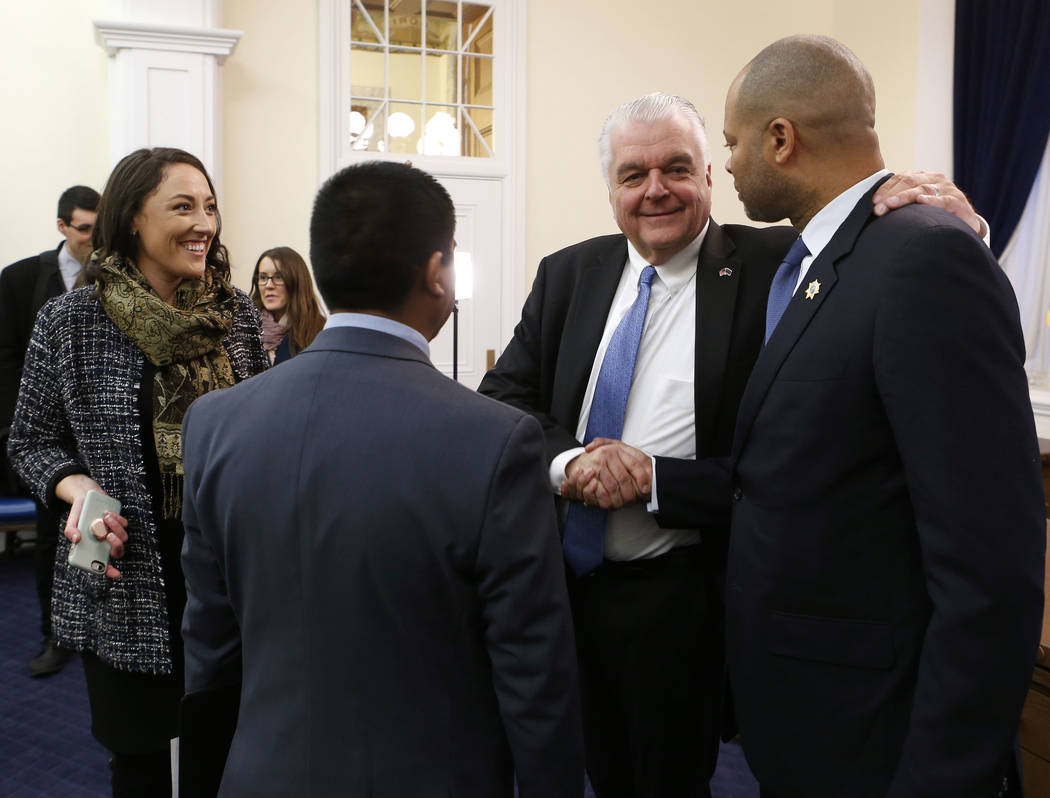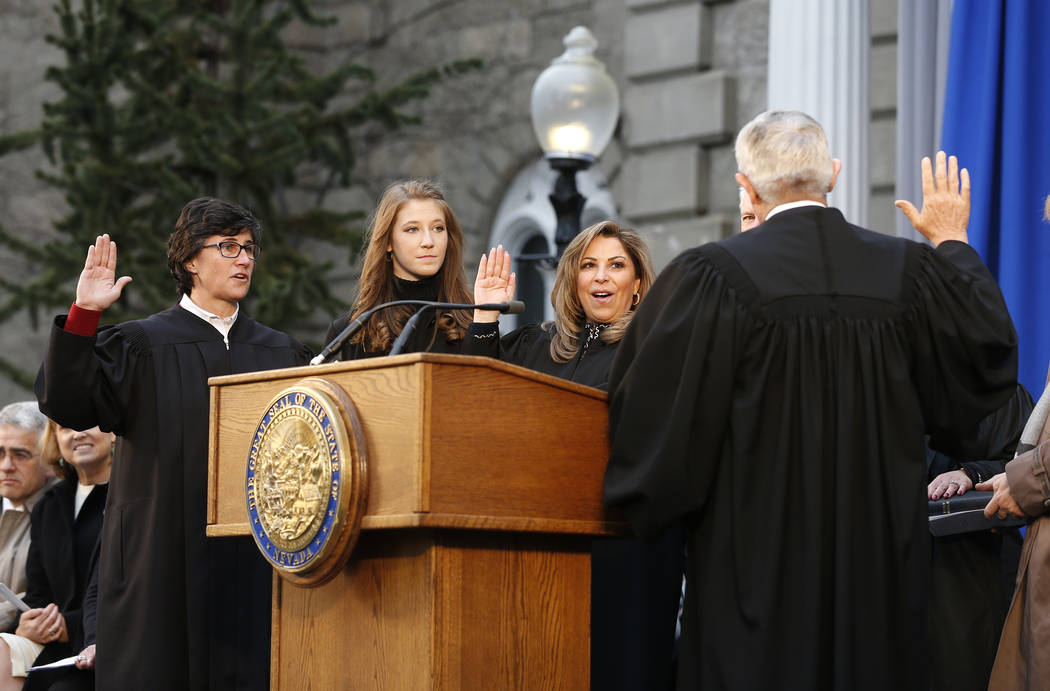 CARSON CITY — Steve Sisolak was sworn in as Nevada's 30th governor Monday under overcast skies and following a weekend of snow on the steps of the state Capitol in Carson City.
Also taking the oath of office were other statewide constitutional officers and Supreme Court justices.
Sisolak was emotional throughout the speech, recounting paying his way through UNLV business school by weighing quarters at a casino, then starting his first business.
"I was lucky — I had a world-class education, people who believed in me and the chance to make mistakes and try again," he said. "Every Nevadan willing to work hard deserves that same chance. That's why I'm here — to bring opportunity back within reach and do what I can to repay the state that has given me so much."
Sisolak recounted stories of inspiring people he met on the campaign — a teacher at Costco buying breakfast bars for her students and a water-truck driver at the UNLV-Raiders stadium site grateful for his first job in 18 months.
He also spotlighted people living on the margins — like an elderly couple splitting their blood pressure medication because they couldn't afford two co-pays.
"It's a loving gesture. But it's also a tragedy, a travesty," he said. "No one should have to ration off their medicine or skip doctor visits. Or be forced into bankruptcy because of an unexpected illness."
The new governor spoke of Nevada's rebound from the Great Recession — thanking his predecessor, Brian Sandoval, for his state stewardship during that time — and described a state now "investing in renewable energy, health care, electric vehicles, high tech and other promising new industries."
And Sisolak spoke of the resilience of citizens in the wake of the October 2017 mass shooting at the Route 91 Harvest music festival in Las Vegas, where 58 people died.
"We were broken on 1 October, but I've never been more proud to be a Nevadan than as I was that day," he said. "That's what I mean when I say we're one Nevada. We hail from all walks of life, but we come together, over and over again, to make one another better. And we have each other's backs.
Sisolak concluded soon after, saying: "No matter where you come from, how much money you make, your gender, race, religion, or who you love — we are one Nevada, with a common purpose and a shared vision."
The ceremony was over in less than hour, with a reception that followed behind the Capitol in the state archives building. The governor signed his first executive order, to create a sexual harassment task force, before joining the reception.
"We intend to send a clear message that sexual harassment and discrimination has no place in Nevada," he said. "We want to make it a reality that our state employees must lead the way in this regard."
The new governor also took a question about the apparent weekend suicide of death row inmate Scott Dozier, telling reporters he had spoken with Sandoval over the weekend and was awaiting results of an investigation into the death.
Asked about his show of emotion during the ceremony, he said: "This job is extremely important to me. I tend to wear my emotion on my sleeve and it was proud day for Nevada, I think, and for me particularly."
Newly elected Attorney General Aaron Ford, Lt. Gov. Kate Marshall, Controller Catherine Byrne, Treasurer Zach Conine and returning Secretary of State Barbara Cegavske were sworn in as a group before the governor. All but Cegavske are Democrats, marking the first time in 28 years that the party has control of the executive branch in addition to both houses of the Legislature.
The inauguration ceremony also saw the swearing in of Supreme Court Justices Elissa Cadish, Abbi Silver and Lidia Stiglich.
Contact Bill Dentzer at bdentzer@reviewjournal.com or 775-461-0661. Follow @Dentzernews on Twitter.
In office
Several people on Monday were sworn in to their offices in Nevada's executive branch and the Supreme Court.
Governor: Steve Sisolak
Lieutenant Governor: Kate Marshall
Attorney General: Aaron Ford
Secretary of State: Barbara Cegavske
Treasurer: Zach Conine
Controller: Catherine Byrne
Supreme Court: Elissa Cadish, Abbi Silver, Lidia Stiglich