Tarkanian, Lee appear headed for November showdown
Updated June 13, 2018 - 1:27 am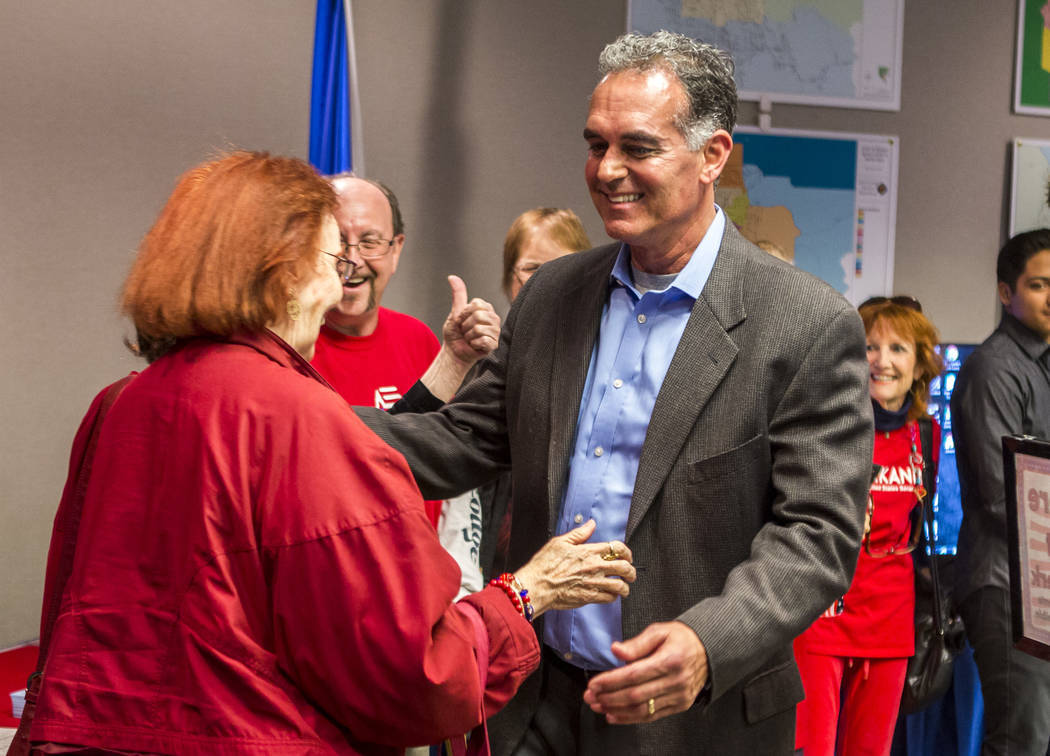 Democrat Susie Lee and Republican Danny Tarkanian are headed for a November showdown in Nevada's 3rd Congressional District, one of the state's most competitive federal districts.
Lee, 51, a nonprofit and education leader, garnered 67 percent of the vote with 100 percent of precincts reporting. None of the other candidates — Rick Hart, Jack Love, Guy Pinjuv, Steve Schiffman, Eric Stolz and Michael Weiss — reached 10 percent of the vote.
Tarkanian, who dropped out of the U.S. Senate race in March at the request of President Donald Trump, faced eight primary opponents Tuesday, including state Sen. Scott Hammond and former TV reporter Michelle Mortensen.
Tarkanian captued 44 percent of the vote, while Mortensen got 25 percent and Hammond 17 percent.
Several dozen Tarkanian supporters gathered at his campaign office near the airport to munch on pulled pork sliders and watch the early returns. Tarkanian celebrated the victory but said he's already focused on the race in November.
"I'm feeling very good. A 17-point lead is hard to overcome," Tarkanian said after early voting results were posted. "We're relieved and now we're looking forward to moving on and beating Susie Lee in November."
The Republican businessman, who has closely aligned himself with Trump, has run for office in Nevada six times, including runs for state Senate, secretary of state, U.S. Senate and two House districts. In 2016, Tarkanian won the GOP primary for Congressional District 3 before losing to Jacky Rosen in the general election. Rosen, a Democrat, is leaving the House seat to run for U.S. Senate against GOP Sen. Dean Heller.
Lee on Tuesday gathered with dozens of supporters at her campaign office in Summerlin. As of May, Lee had raised $1.4 million and landed endorsements from U.S. Sen. Catherine Cortez Masto, former Vice President Joe Biden, Rep. Dina Titus and former Sen. Harry Reid. Tarkanian raised $1.2 million and has gotten endorsements from Trump, Attorney General Adam Laxalt and the National Association for Gun Rights.
Lee said Tuesday that she is "proud that voters trust (her) to deliver fresh leadership."
"Southern Nevada voters have shown tonight that they want leadership in Washington that delivers real results for working families, like fighting for lower health care and prescription drug costs, investments in education, especially vocational training, and attracting quality jobs that pay the bills," Lee said. "I have spent my career delivering real results, whether it was providing critical services to Las Vegas' homeless population or addressing the dropout crisis as president of Communities in Schools."
Tarkanian's campaign said that for November, he'll focus on the differences between him and Lee.
"There is a huge difference between me and Susie Lee politically, and I'm going to talk about those differences," said Tarkanian. "Susie Lee is in favor of open borders. I believe we should have secure borders. Susie Lee is in favor of sanctuary cities. I don't believe we should have sanctuary cities."
Contact Ramona Giwargis at rgiwargis@reviewjournal.com or 702-380-4538. Follow @RamonaGiwargis on Twitter.