Teachers union files initiative to raise Nevada's gaming tax
January 14, 2020 - 10:29 am
Updated January 14, 2020 - 5:52 pm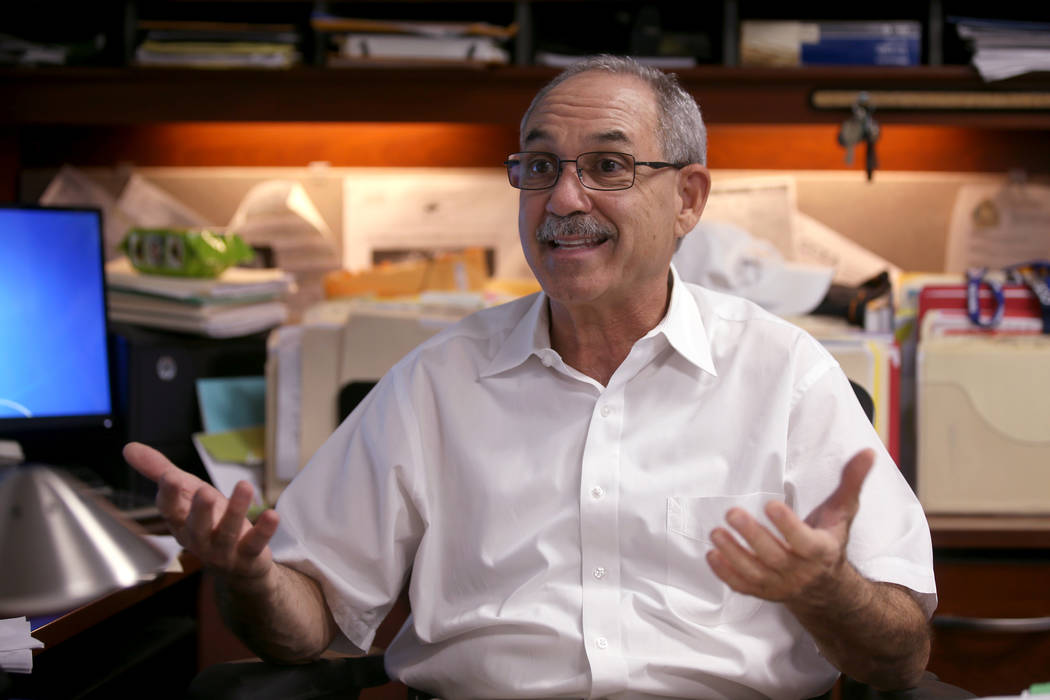 CARSON CITY — Clark County's teachers union has filed a voter initiative that would raise more than $300 million in annual revenue for the state by raising taxes on the state's largest, most profitable gaming establishments.
The union, in discussing the measure Tuesday, said it also planned a second voter initiative that could raise nearly four times as much, which would go directly to the state's K-12 schools. John Vellardita, executive director of the Clark County Education Association, said in an interview the tax would target an industry other than gaming, but was not on marijuana.
The gaming tax initiative would add a fourth tier to the state's gaming tax, placing a levy of 9.75 percent on all monthly gross revenue of more than $250,000. Currently, the three-tiered tax tops out at 6.75 percent on all monthly gross revenue of more than $134,000.
Taxes for smaller establishments — which pay 3.5 percent on gross revenue of up to $50,000 per month, 4.5 percent on gross revenue between $50,000 and $134,000 — will remain unchanged. The third tier of 6.75 percent would now apply to monthly gross revenue of between $134,000 and the new $250,000 threshold, where the new 9.75 percent tax would kick in.
The measure would go to the 2021 Legislature, which could pass it into law. If lawmakers decline, however, the measure would go on the ballot in 2022 and take effect the following year.
Its sponsor is Nevadans for Fair Gaming Taxes, a new political action committee under the auspices of the Clark County Education Association. Vellardita said the measure could raise $315 million annually that would go into the state's general fund.
"We think that gaming can contribute more to the state revenues," he said Tuesday. "It has the lowest tax in the country and even with this increase it still would be below the national average. We don't think it will hurt the industry. We think the public supports it."
The last increase in the state's gaming tax came in 2003 during another legislative standoff over funding for Nevada schools
Gaming and tourism, the state's largest industry, employs roughly 358,000 people as of November, about one in every four Nevadans, according to the Bureau of Labor Statistics. The Nevada Resort Association, which represents 70 gaming resorts in the state, says the total number of direct and indirect jobs is approximately 450,000.
In the state's 2018 fiscal year, according to figures compiled by the trade group, the state's hospitality industry paid $1.5 billion in taxes, or 39 percent of the $3.8 billion in taxes collected by the state. Of that total, more than $700 million of that came from gaming taxes.
In a statement, the association said the proposed increase, equal to 44 percent overall, would "be very damaging to the state's economy, job creation, capital investment and future economic development."
"Let's be very clear, the gaming industry has consistently supported a broad-based business tax to support public education and has a long history of investing in and supporting our schoolchildren," the statement read. "As Nevada's largest industry, we generate nearly $68 billion annually for the state's economy, pay almost 40 percent of the state's general fund revenue and support more than 450,000 jobs statewide. Unfortunately, one of the teachers' unions has chosen a path of higher pay at the expense of tens of thousands of other jobs throughout the state."
Second tax measure coming
Vellardita said a second teachers-backed initiative to be proposed this week could generate $1.1 billion annually, with the proceeds flowing directly to K-12 education. He declined to elaborate on that proposal prior to its filing.
"We know that we have to invest in K-12 to have an educated workforce and to diversify our economy," he said. Since the 2008 recession, he said, "We have not seen any kind of diversification and we still rank last in the country in our K-12 education."
Clark County School District Superintendent Jesus Jara declined to comment on the union's proposal at a presentation of the district's Student Equity and Access Commission, which released a report on inequities in the district on Tuesday.
"As superintendent of Clark County schools, there are some things we need to internally do different, and if things aren't working, we reallocate dollars," Jara said. "So there's some things internally that we can do that address some of these failure points (in the commission's report.)"
In addition, Jara said, the district would look to the county to help fund access for preschool education, and to public-private partnerships for other education initiatives.
But in an interview with the Review-Journal, Vellardita said the point of the initiative was to generate much more revenue for schools, not just fixes achieved by reallocating money.
The $1 billion target figure comes from studies that have consistently placed Nevada last in the nation for education funding, Vellardita said, adding that the union looked at funding sources that would be able to match that scale and dedicate most of the funds to education.
"The two initiative approach is a strategy on our part designed to find the kind of funding that can reach those levels," Vellardita said.
Big money, big changes
Vellardita also said he believes the sum would make for dramatic changes in Nevada, including reducing class sizes for teachers, caseloads for school counselors, purchasing supplies for classrooms and addressing the issues that lead to teacher attrition.
He estimated the district would need more than $370 million more per year to reduce class sizes to state-mandated ratios, a figure based on a 2018 study by the union that determined the district would need to hire 3,882 more teachers to reduce classroom sizes to those levels.
He said the district would need more than $40 million per year just to fill its 600 or so vacancies, and $30 million were it to give every teacher a 1 percent raise. (Using the union's 2017 average salary cost of $79,883, filling around 600 vacancies would costs about $47 million. To give each of the district's 18,779 licensed personnel a 1 percent raise would cost about $15 million using the same average salary figure provided by the union.)
Along with reducing class sizes and offering professional development programs, providing economic security to teachers would make an impact on retention and recruiting, Vellardita said, noting that 1,700 teachers leave the district every year for other jobs.
"They can't worry from year-to-year whether they'll have enough money to make ends meet," Vellardita said.
Asked whether the gaming industry could sustain the increase in a period of decline, Vellardita pointed to the impacts of the 2008 recession in Nevada, which was hit hard due to a lack of diversity in an economy that depended heavily on gaming and mining.
He added that in the years of recovery, leaders discussed the importance of attracting new industries by better educating the workforce, but that those conversations have since stalled.
"We think the gaming industry can't afford not to do this," Vellardita said. "It's in our state's strategic interest to improve our education system so that our economy can grow."
Contact Bill Dentzer at bdentzer@reviewjournal.com or 775-461-0661. Follow @DentzerNews on Twitter. Contact Aleksandra Appleton at AAppleton@reviewjournal.com or 702-383-0218. Follow @aleksappleton on Twitter.
Nevada Gaming Tax Initiative by Las Vegas Review-Journal on Scribd