Think tank: 370,000 Nevadans could lose health insurance with repeal of Affordable Care Act
January 5, 2017 - 3:10 pm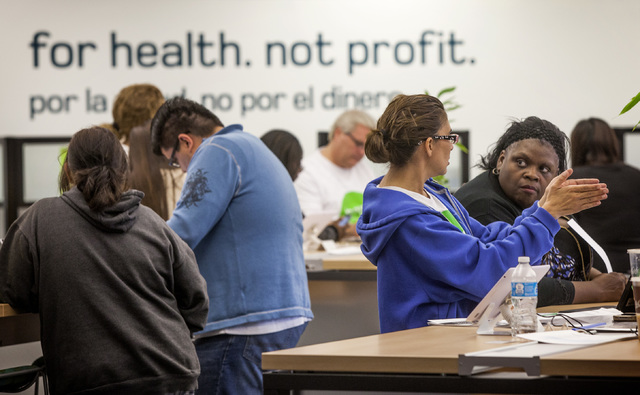 CARSON CITY — Roughly 370,000 Nevadans would lose health insurance by 2019 under tentative Republican plans to repeal the Affordable Care Act, an independent think tank said Thursday.
The Center on Budget and Policy Priorities, in a conference call with reporters, said the number of uninsured people in Nevada would jump to more than 760,000.
Republicans in Congress have made repealing President Barack Obama's signature legislation a priority and have pledged to replace it, though details are sketchy.
The Senate intends to vote next week on a budget reconciliation bill that could start the repeal process. As conceived, it would immediately eliminate tax penalties on individuals who don't have coverage or large employers who fail to provide it, and do away with federal funding to states for expanding Medicaid eligibility.
It would also end federal subsidies for income-eligible individuals who purchase insurance through exchanges.
Edwin Park, the center's vice president for health policy, said the cumulative consequences would be a "virtual collapse" of the insurance market.
The center, using estimates compiled by the Urban Institute, projects Nevada would lose $312 million in federal marketplace spending in 2019 and $3.5 billion over the next 10 years. For Medicaid, the loss is estimated at $1 billion in 2019 and $12.9 billion from then until 2028.
Gov. Brian Sandoval was the first Republican governor in the nation to expand Medicaid coverage under the health care law to include childless adults who meet income eligibility.
More than 650,000 Nevadans are covered by Medicaid, many of them newly eligible. For the first three years of the Affordable Care Act, the federal government covered 100 percent of those costs. Beginning this year that percentage drops to 95 percent.
Administration officials have estimated covering Nevada's increased cost for Medicaid and Nevada Check-Up — a low-cost insurance program for low-income children — will cost the state about $150 million in the upcoming two-year budget cycle.
Nevada's entire Medicaid budget is about $6.4 billion. The bulk of that is paid by the federal government, with $1.1 billion coming from the state general fund.