Titus settles up Stanley Cup wager on Golden Knights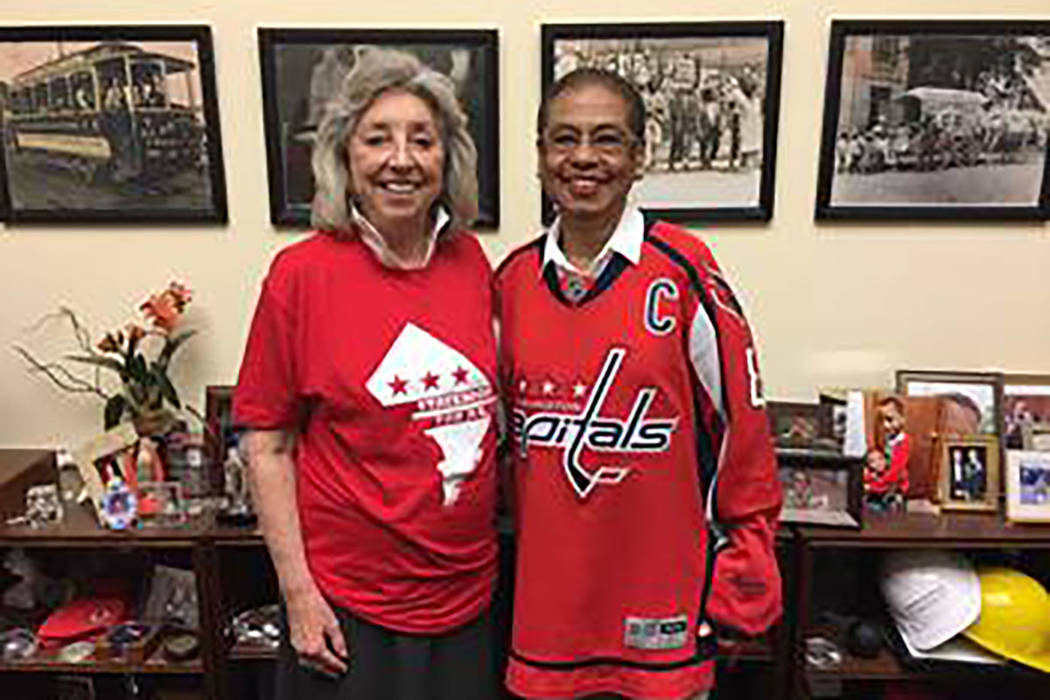 WASHINGTON — Congressional Democratic colleagues from Las Vegas and the District of Columbia met Thursday to square up a hockey wager on the Stanley Cup Finals between the Capitals and Golden Knights.
Rep. Dina Titus, D-Nev., donned a T-shirt emblazoned with a D.C. statehood slogan to honor her loss in the bet with Eleanor Holmes Norton, the district's non-voting delegate to the House of Representatives.
"Despite her already public support for D.C. statehood, I was delighted to see Dina and her staff 'rocking the red' in 'Statehood for D.C.' shirts," Norton said.
Titus also delivered a gift basket to Norton that included playing cards from a casino, Las Vegas gifts and mementos and tastes from Ethel M Chocolate Factory and CraftHaus Brewery.
The Capitals defeated the Golden Knights 4-1 in a best of seven games Stanley Cup series on June 7.
Titus congratulated Norton and the Capitals for their championship, and praised the Golden Knights for beating insurmountable odds in reaching the title series as an expansion team.
"Today I'm proud to stand with the 700,000 residents of Washington, DC, in support of statehood and will continue to fight until this injustice is righted," Titus said.
The District of Columbia is under the jurisdiction of Congress. Granting statehood would give residents of the city voting representation in Congress and direct control over local operations.
If Norton had lost the bet, she had pledged continued opposition to nuclear waste storage at Yucca Mountain in Nevada.
Yucca Mountain was designated by Congress in 1987 as the site for permanent storage of the nation's nuclear waste despite local opposition.
The two colleagues said their causes were both cases of federal overreach.
Contact Gary Martin at gmartin@reviewjournal.com or 202-662-7390. Follow @garymartindc on Twitter.