Top Democratic candidates for Nevada governor debate in Las Vegas
Updated May 22, 2018 - 10:19 am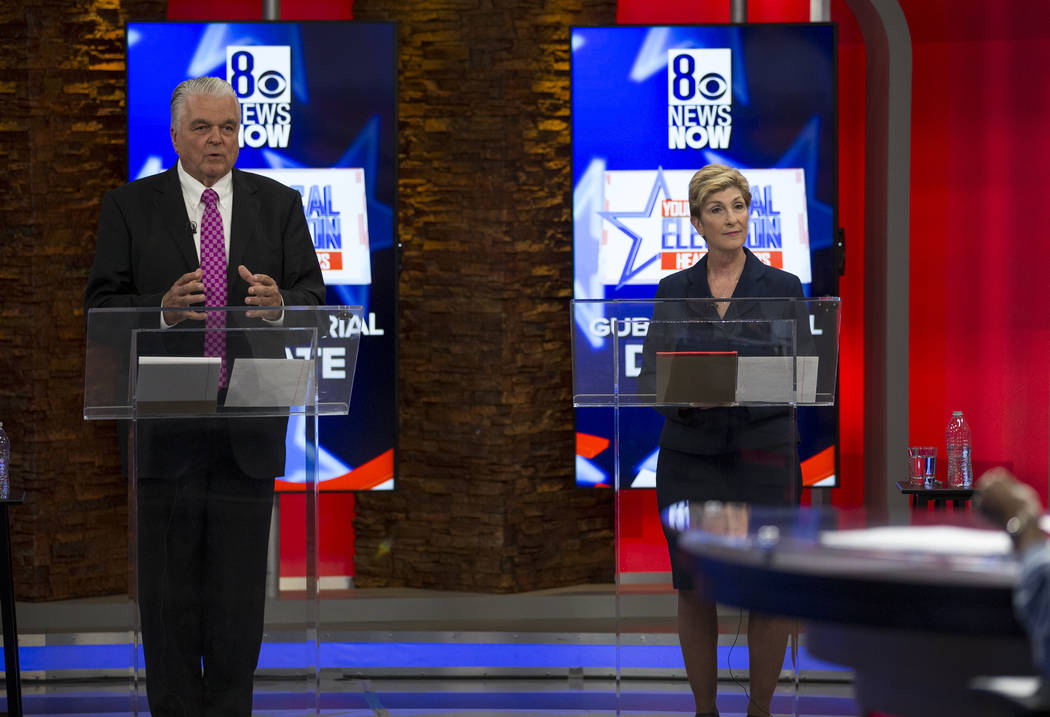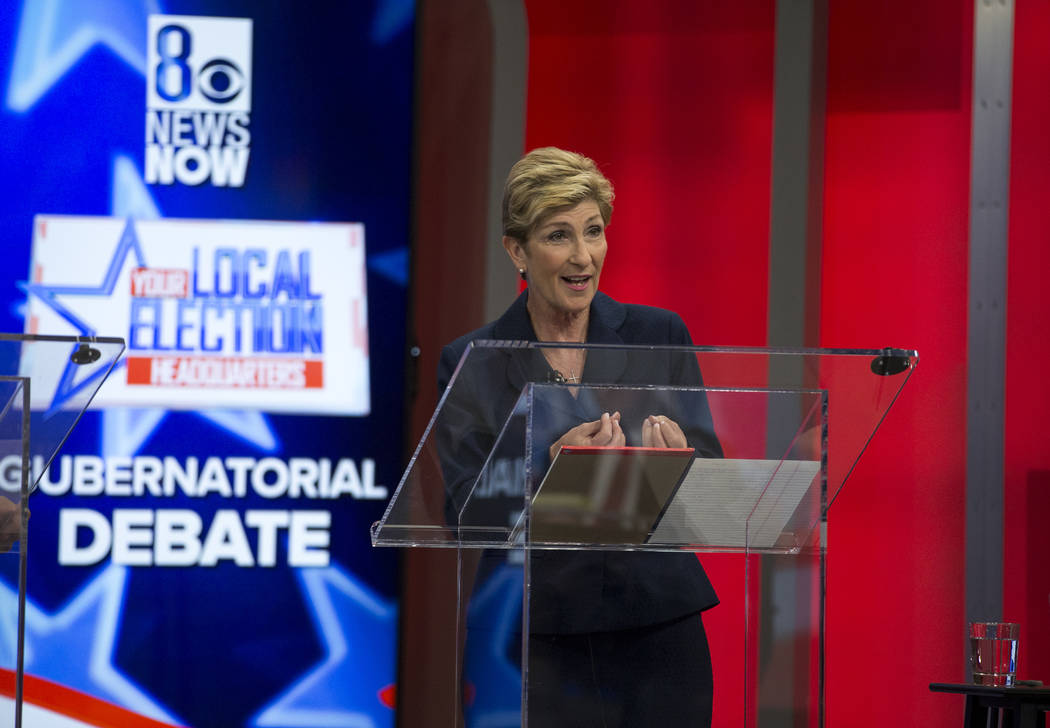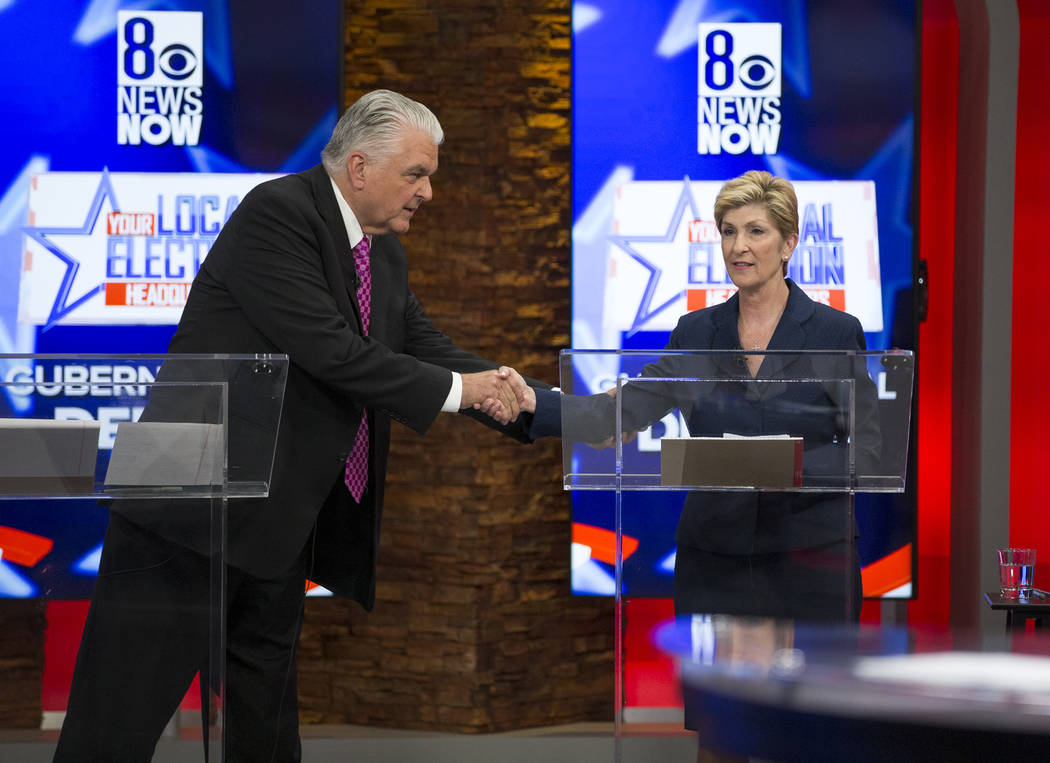 Nevada's two leading Democratic governor candidates turned up the heat during a debate Monday, jabbing each other on campaign finance, gun control and the minimum wage.
The hot topics drove a wedge between the two hopefuls, further aligning the candidates with the moderate and liberal wings of the Democratic Party just three weeks before the primary election.
Clark County Commissioner Steve Sisolak supports raising the pay floor from the current $8.25 an hour but doesn't want a large increase right away. Raising the minimum wage to $15 too quickly "will put small businesses out of business," he said.
"Minimum-wage jobs were never meant to support a family or provide for a person's well-being," Sisolak said during an hourlong televised debate hosted by KLAS-TV, Channel 8, in Las Vegas. "If you raise everyone to $15, then people making $15 have to go to $20, and $20 to $25 … It would cripple our economy."
Sisolak also supports a "carve-out," a system in which employers can pay less than minimum wage to workers who get tips.
Sisolak's more liberal opponent and colleague on the commission, Chris Giunchigliani, said she would never support that.
Giunchigliani said she and her mother worked as waitresses for decades, and she wants to see wages raised to $15 soon.
"I do support a $15 wage, and that's not enough for families," Giunchigliani said. "They reinvest those dollars back into the system and generate more than what we're paying them."
Sisolak and Giunchigliani both said they support measures to ban assault rifles and bump stocks and enforce background checks. Giunchigliani blasted Sisolak for accepting money from a gun company and receiving an "A-minus" grade from the National Rifle Association.
Sisolak said his positions on gun control have evolved over the past 20 years, and he criticized Giunchigliani for taking money from strip clubs and brothels.
When asked to raise their hands if they promised to not raise taxes as governor, neither candidate moved. Giunchigliani said she's a "budget hawk" and would find ways to prioritize funding for education, mental health and cultural programs. Sisolak said "everything is on the table" and that the state has to increase revenue.
Both candidates fielded uncomfortable, personal questions that made them wince. Sisolak, who voted as a county commissioner to award grants to the nonprofit Nevada Partnership for Homeless Youth, was asked whether he should have disclosed that he was dating a woman who worked there before voting.
Sisolak said he's "proud" to support the organization, both personally and through his role as a county commissioner. Disclosure of the personal relationship was not required, he said.
"I was not married to the individual. We were not engaged. There was nothing like that," he said. "I didn't think it was significant, it was material."
Giunchigliani was asked whether she regrets hiring her late husband as a consultant and paying him through her campaign.
"My husband was the best political mind in the state of Nevada," she said, adding that he used the money to pay other contractors and that the couple did not share a checking account. "I was a client, just like Steve Sisloak was a client."
Both candidates said they'd beef up the state's sexual harassment policies in the aftermath of accusations involving powerful Nevada figures such as casino mogul Steve Wynn and U.S. Rep. Ruben Kihuen. Both also said they support raises for educators and smaller class sizes.
Contact Ramona Giwargis at rgiwargis@reviewjournal.com or 702-380-4538. Follow @RamonaGiwargis on Twitter.