Trump to meet with House Republicans ahead of immigration votes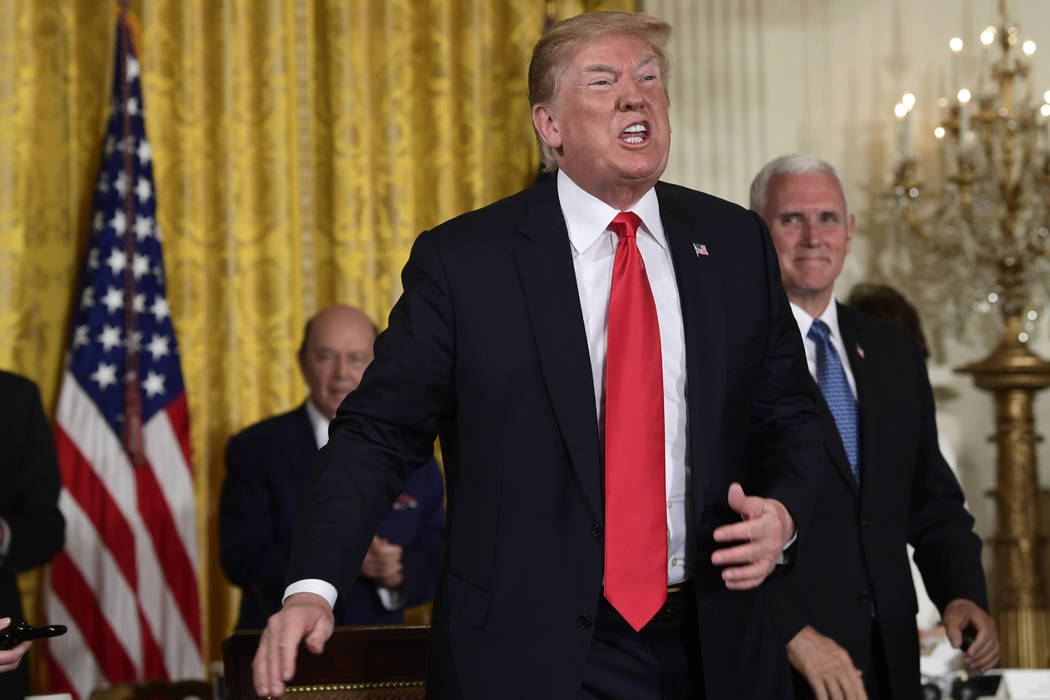 WASHINGTON — President Donald Trump will meet with Republicans on Capitol Hill Tuesday as House GOP leaders continue to tamp down a rebellion among their ranks on immigration and ahead of votes on bills designed to appease centrists in their party.
House Speaker Paul Ryan, R-Wis., said he plans to allow a floor vote on two bills, one a conservative measure that offers temporary protection for Dreamers, immigrant youth brought into this country illegally.
The other bill is a compromise between conservative and moderate Republicans that would provide a path to citizenship for the roughly 800,000 Dreamers eligible nationwide, including 14,000 in Nevada, in exchange for $25 billion to build a wall on the Southwest border.
Ryan and House GOP leaders have worked with the administration to craft legislation that the president would sign into law — including his controversial wall between the United States and Mexico.
"A country without borders is not a country at all," Trump said at the White House on Monday.
Trump called on Democrats to negotiate with Republicans on immigration policy to forge consensus and concede to his demand to build a wall — a campaign pledge that excited supporters but has been met with resistance in Congress.
Neither bill before the House addresses the controversial practice of separating children from their parents at the border, a result of a Trump administration "zero-tolerance" policy rebuked as inhumane by Democrats and Republicans alike.
Ryan was pushed to offer the Republican caucus a chance to vote on immigration legislation after 23 GOP lawmakers broke rank and signed a discharge petition with Democrats, forcing GOP leadership to act.
One of the Republicans who signed the petition was Rep. Mark Amodei, R-Nev., who said he did so out of frustration that leaders were not allowing members to vote on the issue. He credits the petition and Republicans for pushing leaders to act.
"My what a difference 215 signatures make," Amodei quipped.
Although Amodei is leaning toward the compromise bill, he said both could be subject to change through amendments before the House votes.
Neither bill changes the administration's policy on separating families at the border, an initiative launched by Attorney General Jeff Sessions and the Department of Homeland Security.
Rep. Dina Titus, D-Nev., said the bills do little for Dreamers, "all the while Republicans have turned a blind eye to the children and families being ripped apart at the southern border thanks to the Trump administration's 'zero-tolerance' policy."
The House is scheduled to vote on the two bills later this week. The one favored by conservatives and written by Rep. Robert Goodlatte, R-Va., would offer temporary protection from deportation for those eligible for the Deferred Action for Childhood Arrivals, or DACA, an Obama-era program ended by Trump.
The compromise bill includes green cards for DACA-eligible recipients and a path for citizenship for an estimated 1.8 million undocumented immigrants, in exchange for $25 billion in wall funding.
Both bills would cut legal immigration levels for applicants and asylum seekers.
Trump clouded the issue last Friday when he said he would not sign the compromise bill. The White House later put out a statement saying the president misspoke and supports both House bills.
It's unknown whether either can garner enough votes to pass in the House.
House conservatives, led by Rep. Mark Meadows, R-N.C., head of the House Freedom Caucus, said conservatives would find the compromise legislation hard to support because of the citizenship provision, termed an "amnesty" by many hard-line Republicans.
Moderate Republicans, particularly those with large Hispanic or minority populations, have called for protection from deportation for DACA-eligible youth, many of them brought here as children and educated in the United States.
Efforts to reach a compromise on DACA or Dreamers failed in the Senate earlier this year after Senate Majority Leader Mitch McConnell, R-Ky., called a series of votes on immigration proposals.
Contact Gary Martin at gmartin@reviewjournal.com or 202-662-7390. Follow @garymartindc on Twitter.