Trump touts achievements, urges Nevadans to vote at Las Vegas rally
Updated September 20, 2018 - 9:52 pm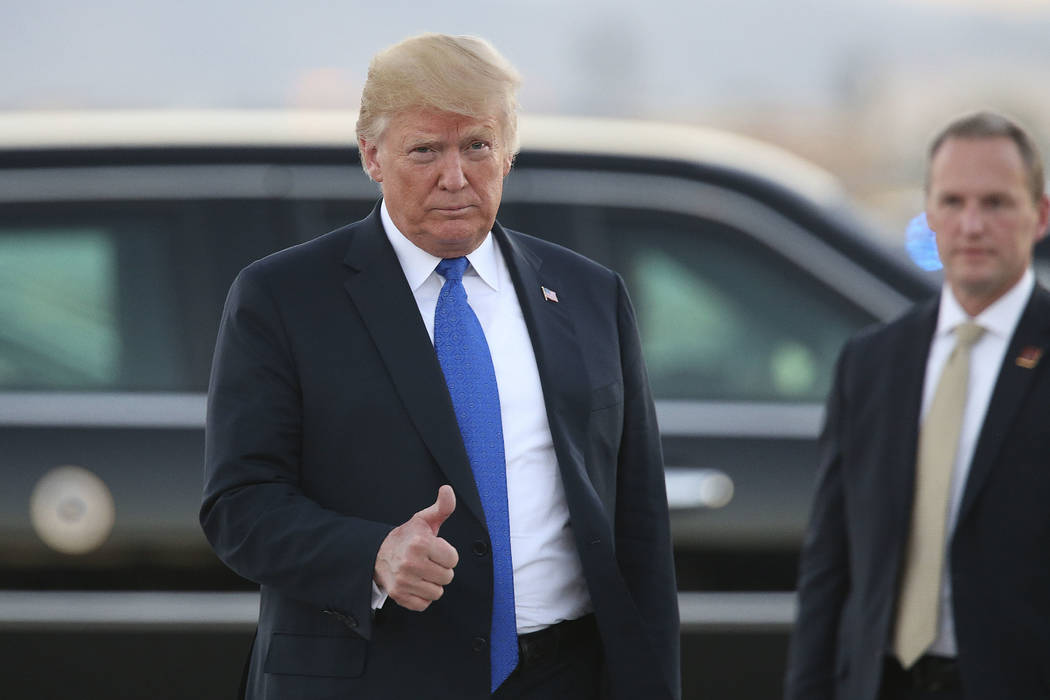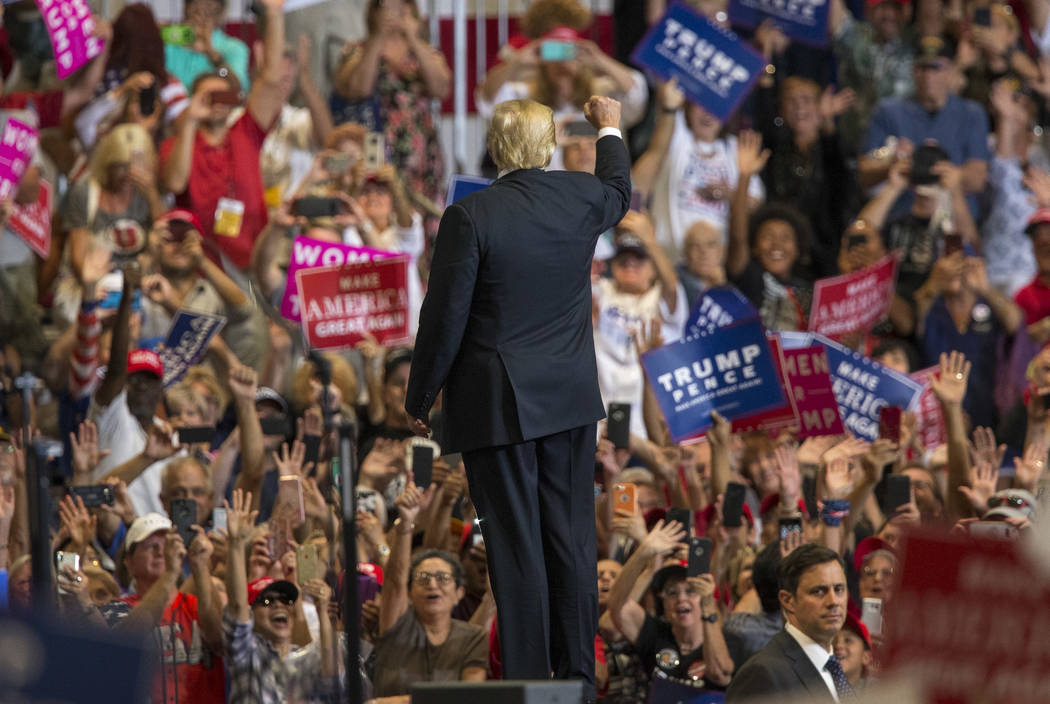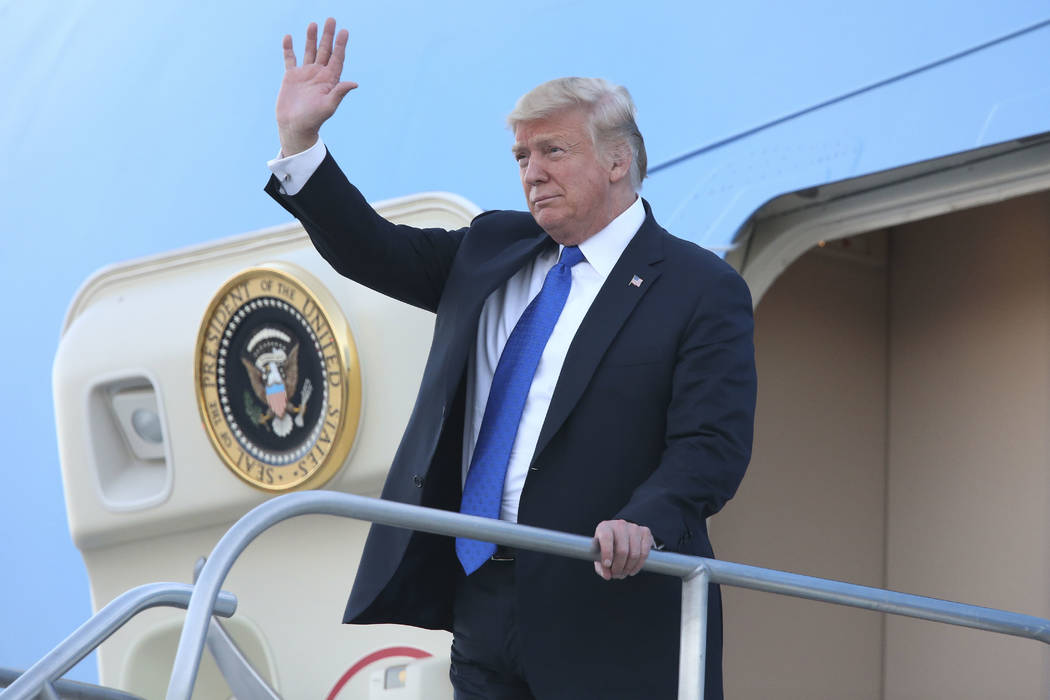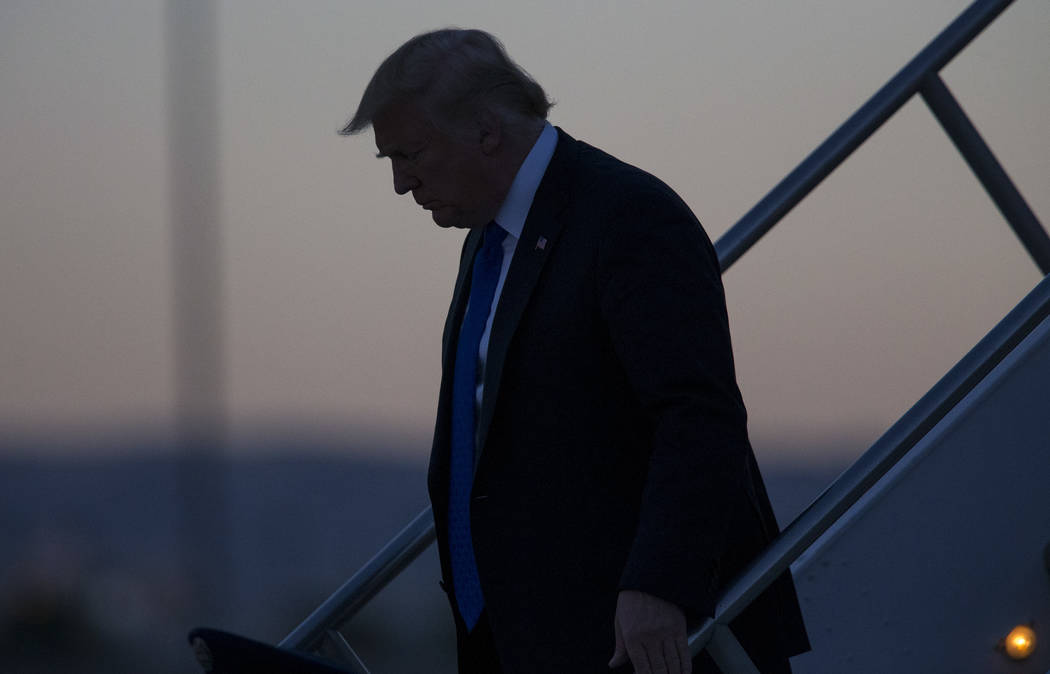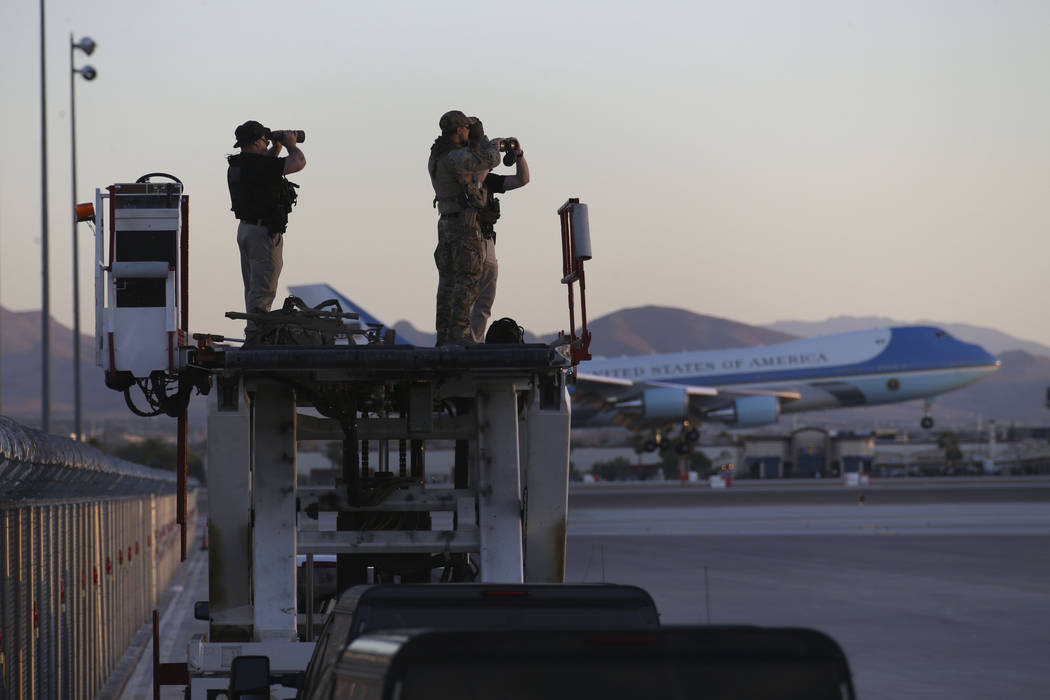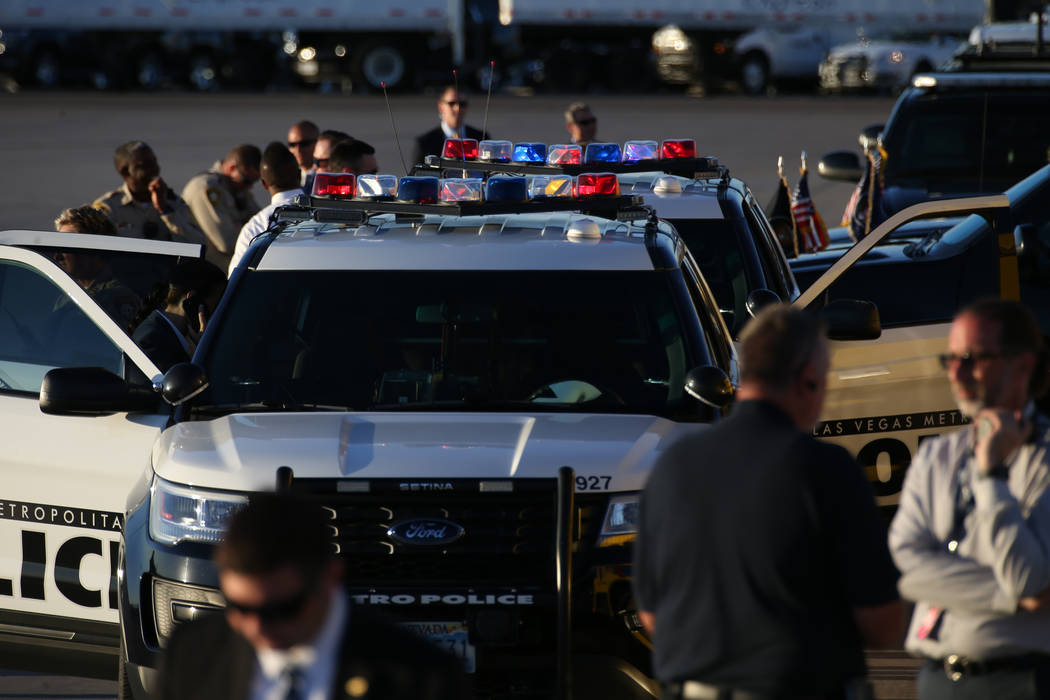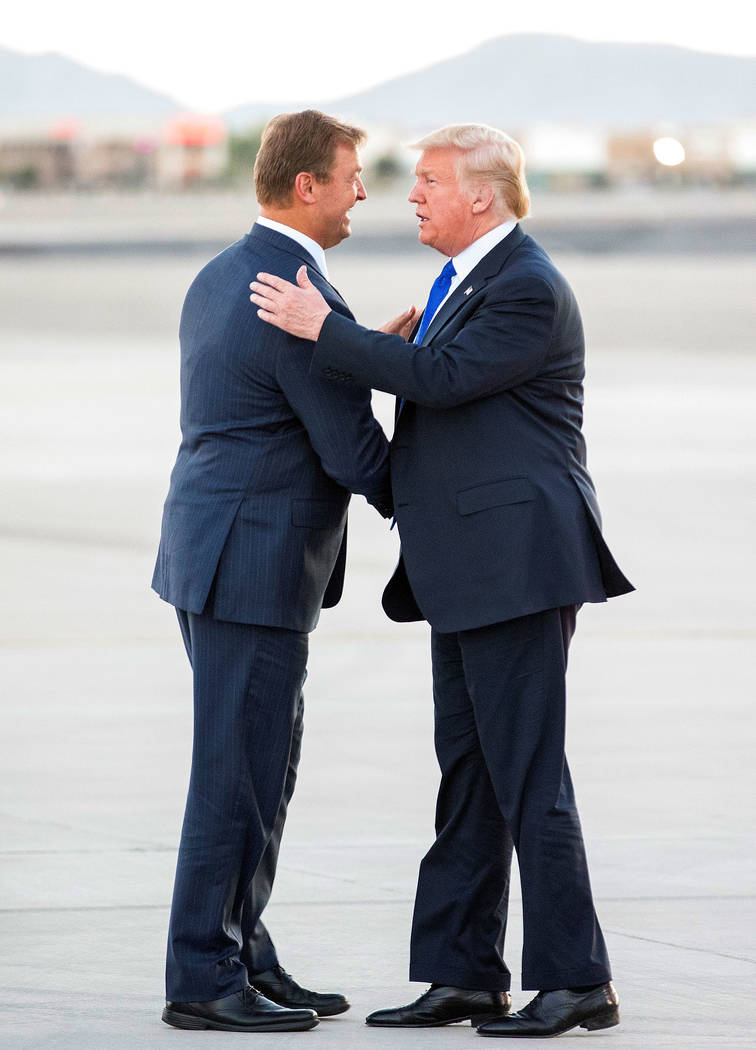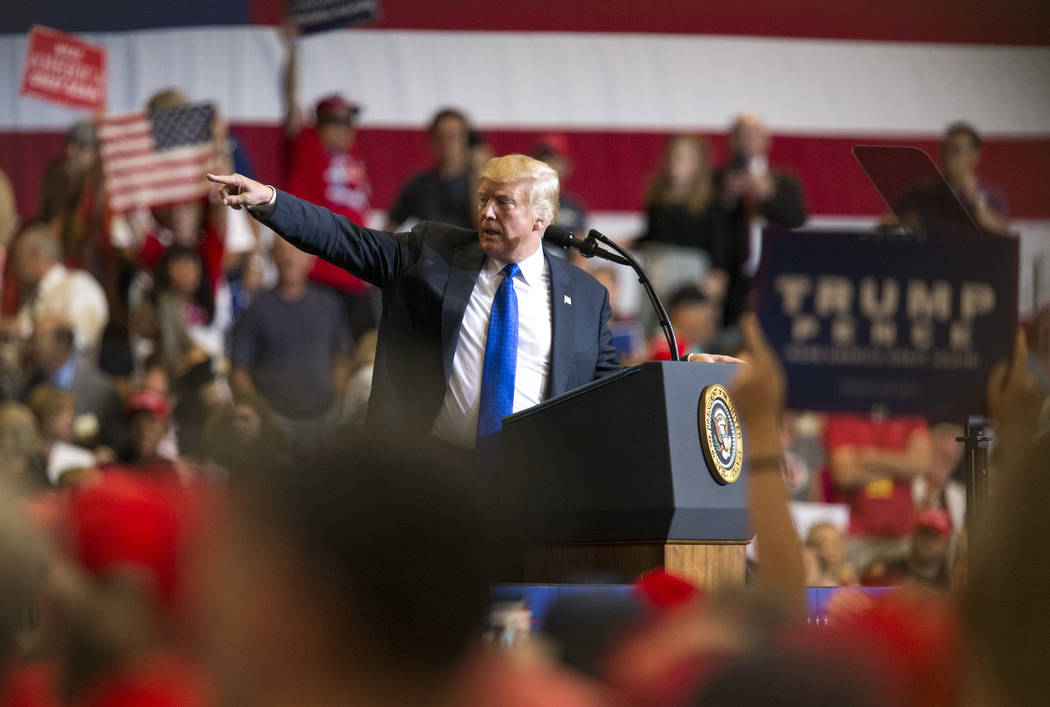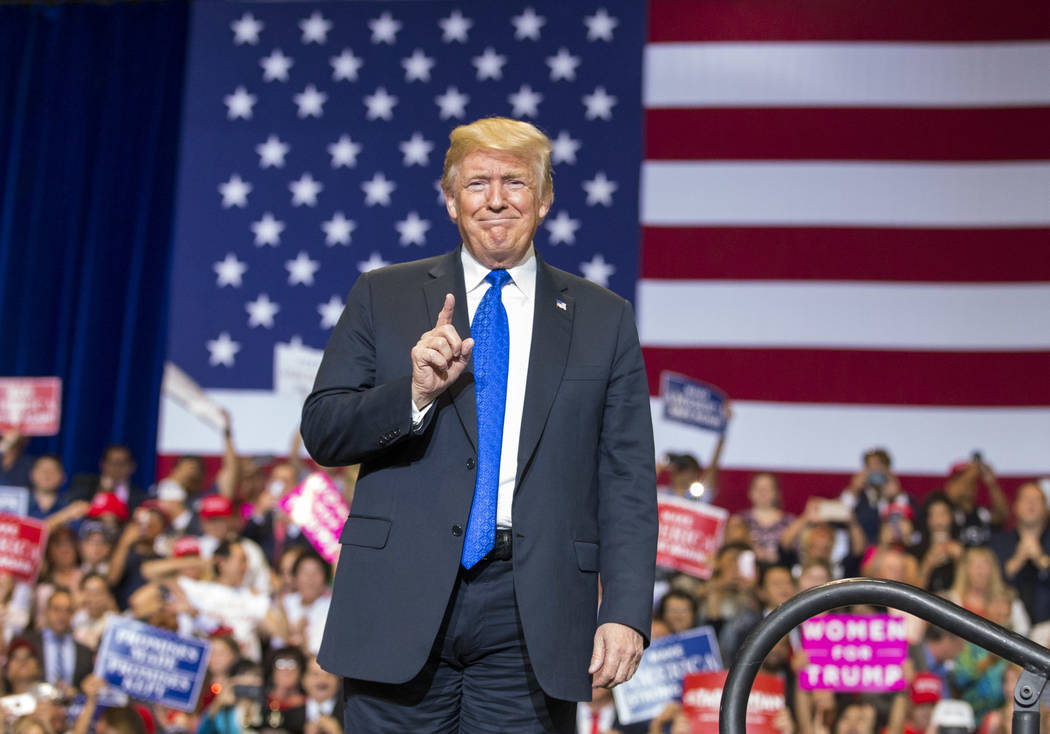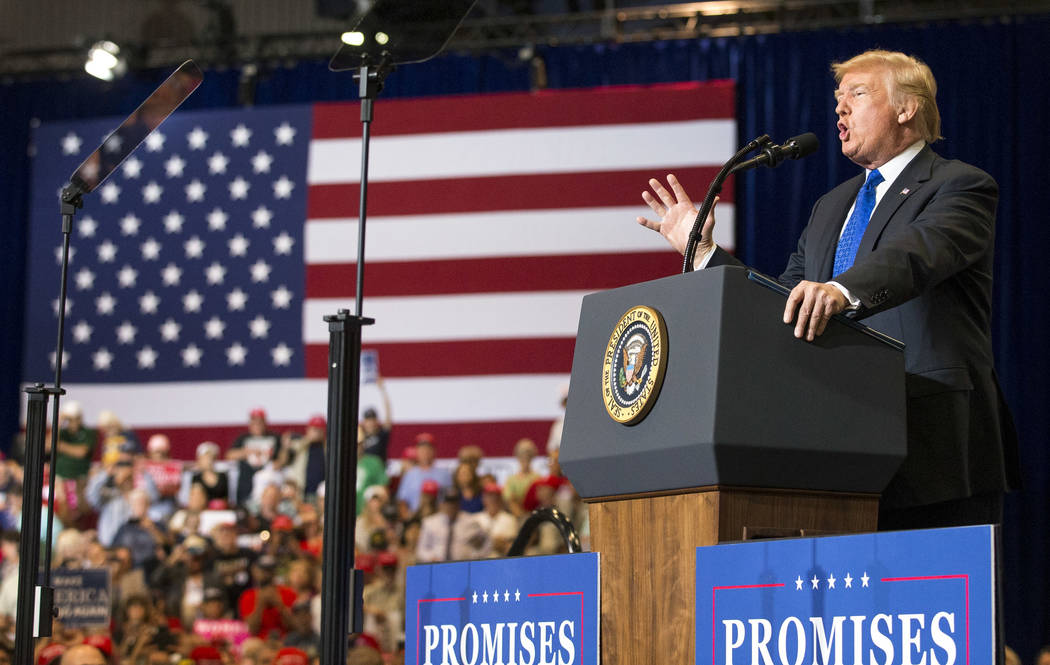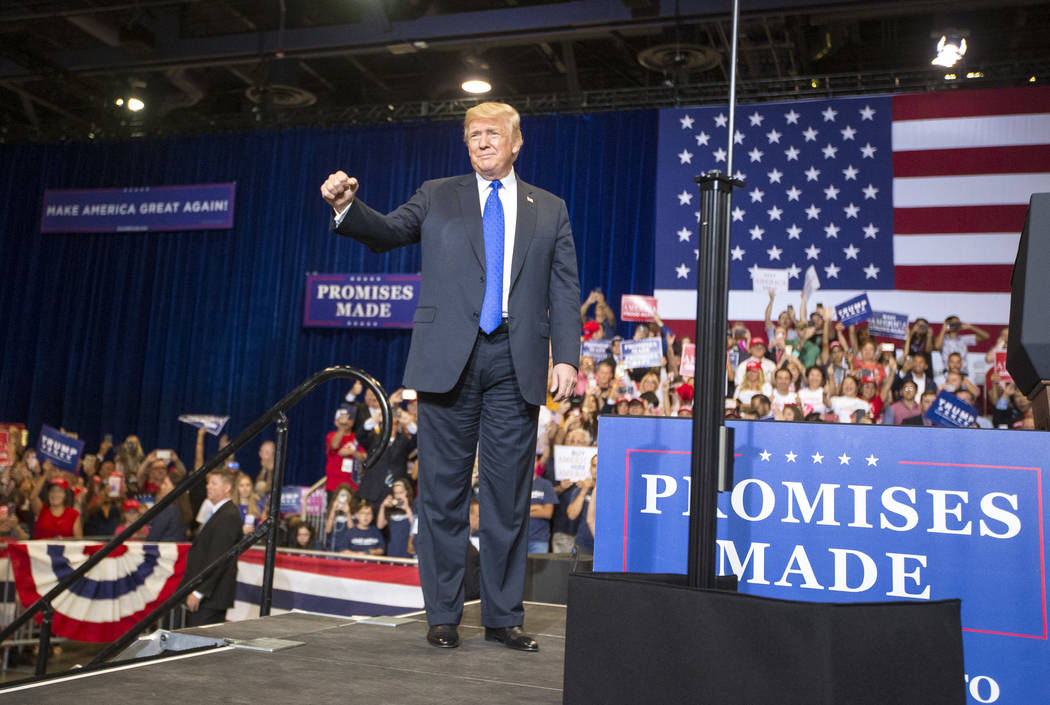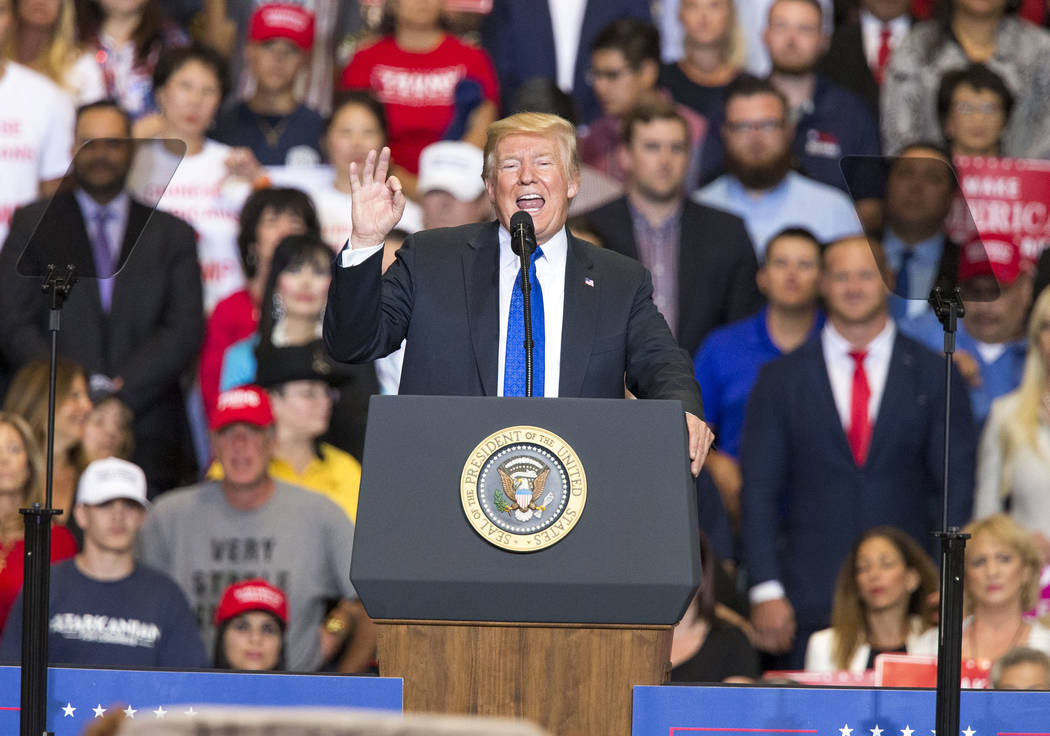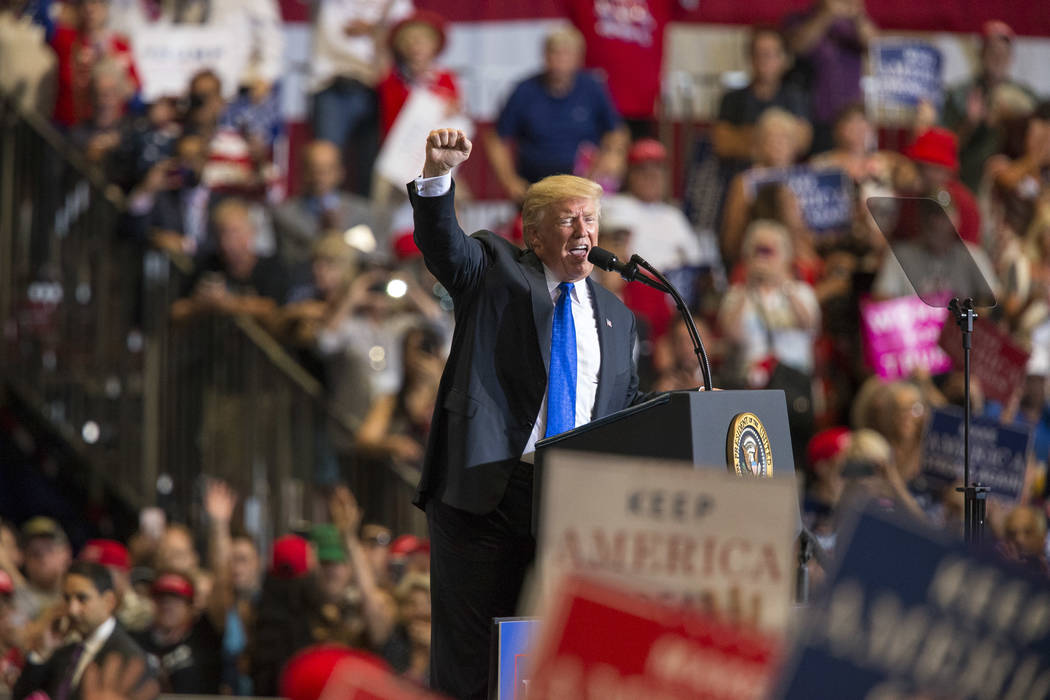 President Donald Trump sought to energize Republican voters in Las Vegas on Thursday, just weeks ahead of a midterm election where Nevadans could determine if Republicans maintain control of Congress.
"I'm thrilled to be back in Nevada," Trump declared during the Make America Great Again rally at the Las Vegas Convention Center. "We love Nevada."
Air Force One touched down shortly after 6:30 p.m. at McCarran International Airport, where Trump was greeted by a small entourage of first responders as well as Sen. Dean Heller, the only GOP senator up for re-election in a state won by Hillary Clinton in 2016. The two greeted each other warmly before heading to the convention center.
At the rally, Trump told his enthusiastic audience, "This is an incredible time for our country. America is winning again."
He ticked off a number of accomplishments achieved during his two years in office. He said jobless claims are at a 49-year-low, and he noted that the Dow Jones Industrial Average set another record Thursday.
In addition, Trump said, "We are rebuilding our military. We are crushing the terrorists, and we are taking care of our veterans."
Trump urged audience members to get out and vote for Republican candidates in the Nov. 6 midterm election to keep Democrats from taking control of Congress and derailing his agenda.
Democrats need to flip 24 seats to take control of the House. Meanwhile, Republicans hold a 51-49 margin in the Senate.
"You've got to vote," Trump admonished his supporters. "We need more Republicans."
More than once, Trump reminded the crowd that early voting in Nevada starts Oct. 20.
"We need every Nevada patriot to go out and vote," he said.
Support for four candidates
Trump specifically urged support for four Republicans — Heller, congressional candidates Cresent Hardy and Danny Tarkanian and gubernatorial candidate Adam Laxalt.
Trump and Heller have walked a rocky road over the last two years, a point the president acknowledged Thursday.
"We started out we weren't friends. I didn't like him, he didn't like me," Trump said of Heller. But then they started to work together, respect each other, like each other and "love each other."
Now, he said, voters can be sure "Dean Heller is going to be with us every time."
For his part, Heller said it has been "an honor to work with you in putting Nevadans back to work."
Recent polls show Heller in a statistical tie with his Democratic challenger, U.S. Rep. Jacky Rosen, whom Trump has dubbed "Wacky Jacky."
"A vote for Wacky Jacky," Trump said, "is a vote for the extreme agenda" of House Minority Leader Nancy Pelosi, D-Calif., and Senate Minority Leader Chuck Schumer, D-N.Y. "She's going to do whatever Pelosi and Schumer tell her to do."
Trump warned the crowd that Rosen voted against his tax cut bill, in favor of sanctuary cities and against the Veterans Accountability Act. "How do you do that?"
"Grow up, @realDonald Trump," Rosen tweeted in response.
Grow up, @realDonaldTrump.

Chip in now >> https://t.co/ssmYmyNPeR https://t.co/Q3oBrk25Yj

— Jacky Rosen (@RosenforNevada) September 21, 2018
"President Trump came back to Nevada to fundraise for my opponent and attack me with petty insults because he knows Dean Heller will be his rubber stamp in the Senate, and I won't," Rosen said in a statement.
Earlier Thursday, the Trump campaign announced its endorsement of Heller, calling him "strong on immigration, border security and support for our veterans."
"With the Trump agenda on the line in the midterms, and the threat of our great American comeback being thwarted by the Democrats, we need Dean in the Senate more than ever," campaign senior adviser Lara Trump said in a statement.
Trump previously tweeted his support for Tarkanian, who faces Democrat Susie Lee in the race for Rosen's 3rd Congressional District seat.
"He's shown such incredible stamina and loyalty, we've got to get him to win this race," Trump said at the rally.
Trump also urged voters to elect Hardy, who is battling Democrat Steven Horsford in the open 4th Congressional District.
Kavanaugh controversy
The trip to Las Vegas comes as controversy surrounds Trump's Supreme Court pick, Brett Kavanaugh, who seemed likely to sail through confirmation until Christine Blasey Ford, a California professor, accused him of sexually assaulting her sometime in "the early 1980s" when they were both high school students.
Trump brought up Kavanaugh briefly. "I'm not saying anything about anybody else," he said in a reference to his unusual restraint in addressing a female accuser, "but I'm going to tell you Brett Kavanaugh is one of the finest human beings you'll ever have the privilege of knowing."
Rosen, Trump suggested, would not be likely to vote to confirm Kavanaugh if she were senator, "but with Dean, we can count on him."
On a Wednesday conference call, Heller referred to the Ford allegations against Kavanaugh as a "little hiccup," according to The New York Times.
In a tweet, Rosen said: "Unbelievable: Senator Heller just dismissed a credible sexual assault allegation as a 'hiccup.' "
Heller, in a statement Thursday, said he does "not believe sexual assault allegations of any kind are a hiccup."
Friday morning Trump is scheduled to sign three "minibus" spending bills at the North Las Vegas VA Medical Center.
In keeping with the president's preference to bed at one of his high-end properties, Trump and White House staff will overnight at the Trump International Hotel.
Contact Debra J. Saunders at dsaunders@reviewjournal.com or at 202-662-7391. Follow @DebraJSaunders on Twitter.
Related
Donald Trump thrills supporters at Las Vegas rally