Vaccine shortage forces inoculation slowdown in Nevada
Updated January 22, 2021 - 5:52 pm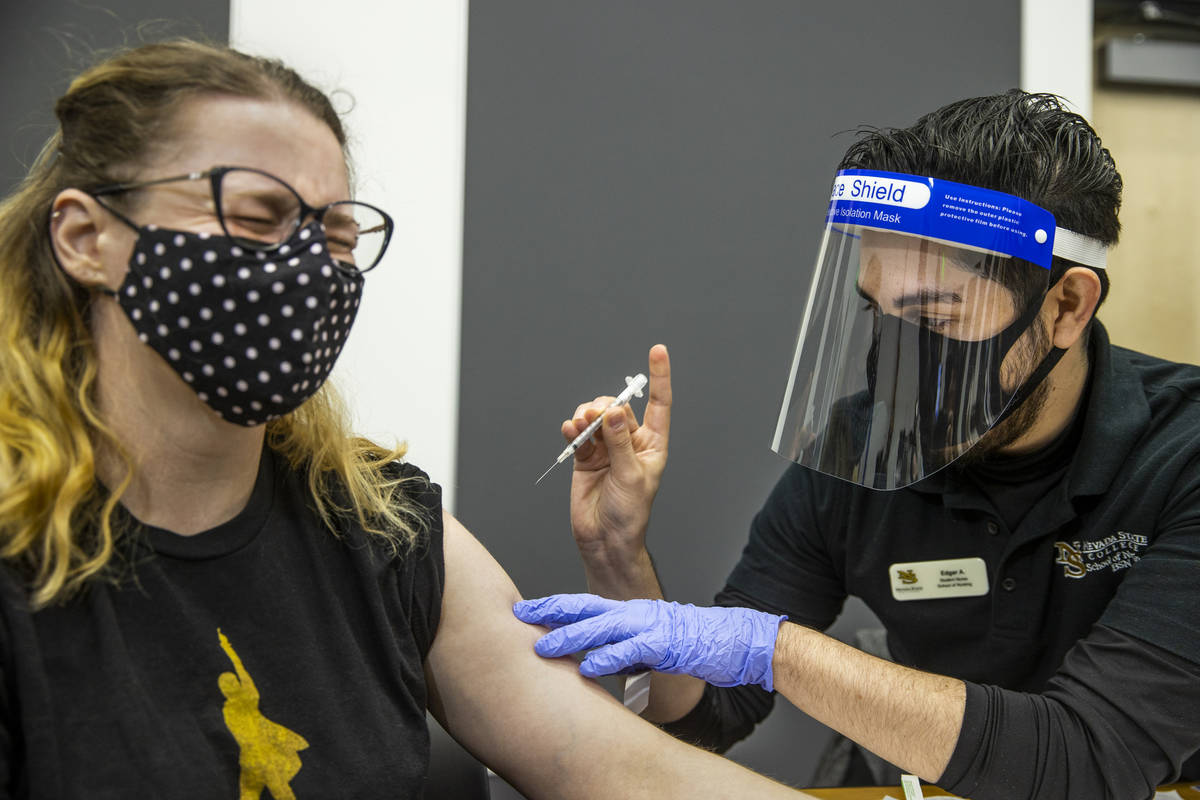 Vaccination sites in Southern Nevada are scaling back COVID-19 inoculations as the state continues to receive very limited doses from the federal government, state officials said Friday.
"Many vaccination sites are having to scale down because of the limited allocation we are set to receive next week," Candice McDaniel, a bureau chief with the Nevada Department of Health and Human Services, said during an online press briefing.
The shortage played a role in the temporary closure this weekend of the largest site in the state, Cashman Center in downtown Las Vegas. It also has contributed to the scramble for limited appointments as well as the postponement of some appointments.
Now that the Cashman site has been tested, local officials "want to make sure that, with the allocation that they have available, that their local partners get an opportunity to run their programs, as well," Caleb Cage, who directs the state's COVID-19 response, said of the closure.
The state in recent weeks has received 36,000 doses of vaccine per week from the federal government, officials said. Yet Clark County alone now has the capability to administer 92,000 doses per week, Cage said.
The allocation from the federal government is "not enough to meet our needs or our capacity at the state level," he said.
Henderson appointments postponed
Another sign of shortage: The city of Henderson was notifying people on Friday who were scheduled to be inoculated at a Sun City Anthem site during the first half of February that their appointments had been postponed.
One such email stated that according to the Southern Nevada Health District "demand is temporarily outpacing their supply for the COVID-19 vaccine."
"SNHD has assured us that there are enough vaccinations for appointments scheduled Jan. 25-31 at Sun City Anthem," the email stated. The site is vaccinating only people 70 and older.
"If sites not operated by the health district are scheduling appointments in advance and through February, they will need to be aware that everything is contingent on the amount of vaccine that we are receiving," district spokeswoman Jennifer Sizemore said in an email.
Limited supplies
Nevada is currently ranked second to last in doses per capita distributed to states, according to the Centers for Disease Control and Prevention. It also is second to last in shots administered per capita, which states officials have blamed on reporting lags.
On Friday, state officials said that more than 137,000 doses of vaccine had been administered across the state, including 2,000 second doses. Both of the vaccines currently in use in the U.S. require two doses. On Wednesday, state spokeswoman Shannon Litz said in an email that the state had received 212,200 doses to date.
Clark County had received 83,200 vaccine doses and administered 60,632, the health district said the same day.
During a news briefing Wednesday, the health district's acting chief health officer, Dr. Fermin Leguen, said he expected available doses to be administered by the weekend.
The Cashman Center site administered 15,323 vaccinations during its first week of operation, which ended Friday, Clark County spokeswoman Stacey Welling said in an email. The by-appointment-only site is scheduled to reopen Monday.
County officials said that the site would be tightening controls after the Review-Journal reported that some people leaving the site after getting shots said they had no appointments and had not been required to show identification verifying their age or occupation.
The squeeze on the vaccine supply has intensified as a result of new occupational groups becoming eligible for the vaccine.
The newly eligible include teachers, child care workers, essential public transportation workers, court officials, elected officials and their staff members and many other employment groups dubbed collectively as "frontline community support."
Contact Mary Hynes at mhynes@reviewjournal.com or 702-383-0336. Follow @MaryHynes1 on Twitter.