War with Nevada Democrats has many Roberson bills left hanging
Updated March 25, 2017 - 10:57 pm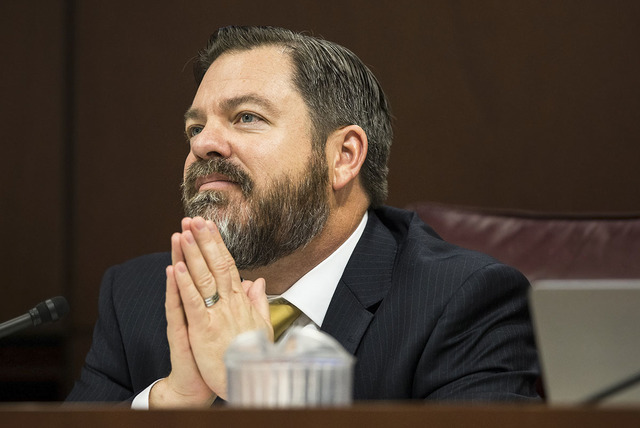 CARSON CITY — It's good to be the king. Or, in the case of the Nevada Legislature, the majority.
Just ask Senate Minority Leader Michael Roberson. The Henderson Republican has introduced 17 bills this session, seven under his name and 10 as minority leader.
The issues in the measures range from voter ID to appointing the members of the Clark County School Board.
Except for Senate Bill 334, which addresses misconduct by dentists, not one of his new measures has been scheduled for a hearing.
Senate Joint Resolution 17, a Roberson-sponsored measure to amend the state constitution to implement a crime victim's rights measure called Marsy's Law, has had a hearing and a favorable vote in the Senate Judiciary Committee. It passed in 2015 and needs to pass again this session to go to voters in 2018.
Roberson, the majority leader in 2015, said Friday that he has "no expectations" that his bills will be heard.
"This Democrat-led majority Legislature is pushing the most anti-business, anti-law enforcement and anti-family agenda in state history," Roberson said. "So I am not surprised that they are not eager to hold hearings on many of my pro-business, pro-law enforcement and pro-family bills. That's OK. My job is to do everything I can to wreck their extreme and irresponsible agenda."
Democrats are in control of both houses, and they are moving forward with their agenda, rather than taking time to hear many GOP-backed bills.
Contact Sean Whaley at swhaley@reviewjournal.com or 775-461-3820. Follow @seanw801 on Twitter.
IGNORED AGENDA
Here are some of Senate Minority Leader Michael Roberson's bills:
SB381: Appointing the Clark County School Board
SB380: Expanding a lobbyist gift ban to local government officials and the judiciary
SB333: Prohibiting sanctuary cities
SJR7: Transferring public lands to Nevada
SB297: Creating a new hybrid public employees retirement plan
SB298: Requiring people who apply for public assistance to take a drug test
SB424: Requiring voter ID