Well-known candidates pursue Nevada's No. 2 office
October 12, 2018 - 8:20 pm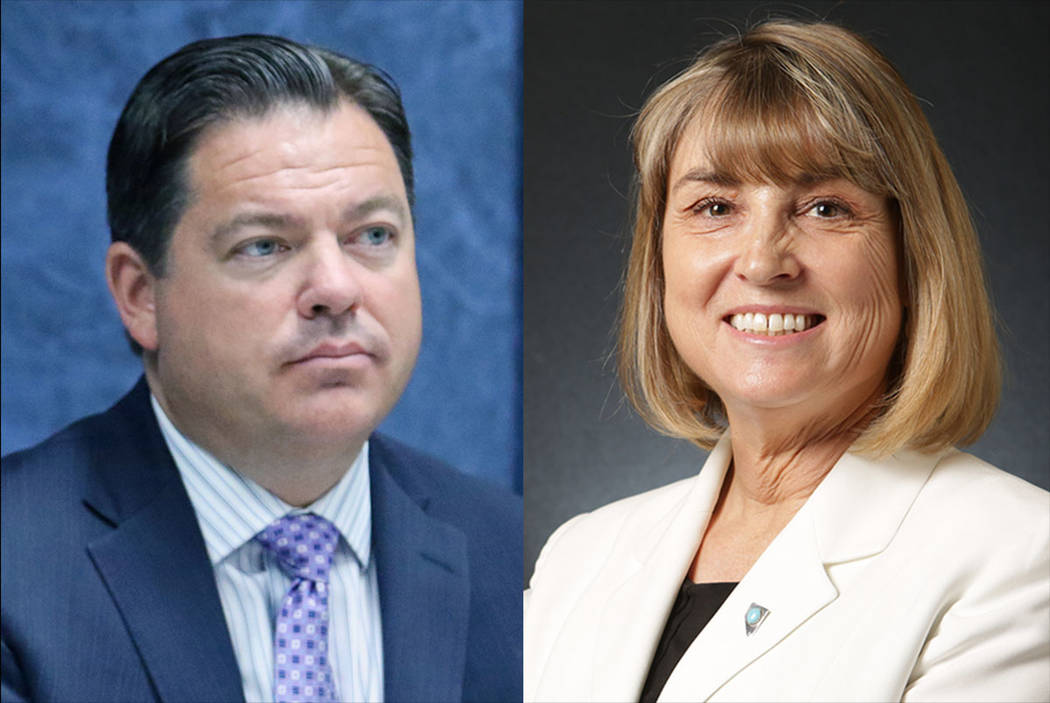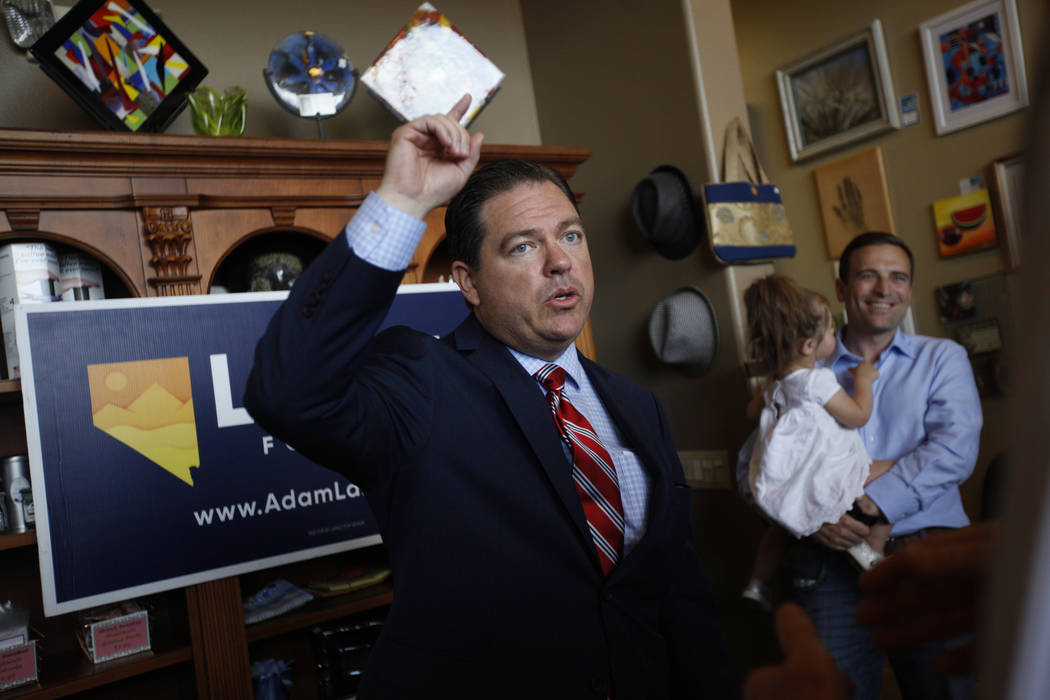 The top two candidates for Nevada lieutenant governor would agree on this: The statutory powers and duties of the post might be narrow in scope, but the job is what you make it.
With that in mind, each office seeker — and both are established figures in state politics, well-known to observant voters — easily pivots away from discussing the actual job to raise issues outside the purview of the office, such as education and health care policy.
It's not a dodge, though : A key role for the state's No. 2 elected official, depending on which party holds the governorship, is either to ride shotgun on the governor's agenda, marshaling support for it when needed and representing the executive branch in the Senate, or help lead the opposition for the party out of power.
Republican Michael Roberson, a business lawyer and the current Senate minority leader, hails from the south — Henderson, in predominantly Democratic Clark County. Democrat Kate Marshall, a former state and federal prosecutor and two-term state treasurer, is from Reno in the state's more conservative north.
The two, along with two perennial third-party candidates, are running to succeed Lt. Gov. Mark Hutchison, who is not seeking re-election.
All four candidates answered questions about their candidacy and their objectives for the Review-Journal's voter guide.
The office has been held by a Republican for three decades. Elected in 1986, Democrat Bob Miller held the post until he became governor in 1988. Democrats hold the enrollment edge among the state's 1.5 million voters, 38 percent to 22 percent, with 34 percent of voters unaffiliated and minor parties comprising the rest.
The lieutenant governor's duties, beyond serving as acting governor when the state's chief executive is away, include presiding over the Senate and voting to break ties; chairing the state commission on tourism; and serving on state boards governing transportation, economic development and audits.
Roberson, 48, touts his leadership role and experience in the Senate — where Democrats hold an 11-9 edge (with one independent). He cites his efforts on education and economic development and lays claim both to outgoing Gov. Brian Sandoval's moderate legacy and governor hopeful Adam Laxalt's prospective agenda, which is far more conservative.
That's no mean feat given the ocean of difference between the two Republicans — Sandoval has declined to endorse Laxalt — but perhaps is testament to Roberson's political skill and nimbleness.
"I think there is a real role for me to continue pushing education and economic development issues as lieutenant governor and continue to use my legislative experience as president of the Senate," Roberson said, adding, "The Laxalt agenda is going to be a continuation in many ways of the Sandoval agenda."
Marshall, 59, also touts her government experience, noting she took over as the state chief financial officer in 2007 "right at the time that the housing bubble burst."
"If there's anything that I realized during that time it's that the economy is very critical to how the state's doing," she said. "The lieutenant governor is really focused on economic development. For me it's natural progression to go from finance to economic development."
Roberson, a Kansas native who's lived in Nevada for 18 years, was elected to the Senate in 2010 and reelected in 2014. He lost in the 2016 Republican primary for Nevada's 3rd Congressional District.
Office achievements
Roberson said education and economic development are "inextricably linked" and cited his involvement in efforts to restructure the state's economic development programs and offerings. He touted his support for bringing energy and automotive company Tesla to the state along with ride-hailing companies Lyft and Uber, as well as building a stadium in Las Vegas for the Raiders.
On education, he cited his support for enacting a 2015 business tax package that provides $1.5 billion to fund K-12 education and a restructuring plan for the Clark County School District, the fifth-largest in the country. Despite opposition to that plan from some district stakeholders, Roberson runs with the backing of the district's teachers union.
Marshall was elected state treasurer in 2006 and reelected in 2010. She lost the 2014 race for secretary of state and a 2011 special election for the 2nd Congressional District. She earlier served as senior deputy attorney general and created the state's antitrust division.
Among her achievements as treasurer, Marshall, like Roberson, pointed to business-, consumer- and education-friendly initiatives. She cited creation of a state college savings account program for students, reforming state accounting and contracting procedures, and a 2010 financing plan that reduced the recession-fueled federal unemployment insurance tax burden on state businesses. The state at the time owed the federal government $800 million in unemployment insurance benefits.
Faulting the opposition
Roberson blamed Marshall for a $50 million state investment loss when brokerage firm Lehman Brothers went bankrupt in 2008. A third-party bank made the investment that led to the loss.
The state recovered $24 million through bankruptcy proceedings and bond sales, recouping the rest over time by taking a minuscule return from the state's overall investment portfolio — a fraction of 1 percent — to amortize the balance .
Marshall in turn said Roberson was too partisan, citing his role in a 2017 recall effort against two Democratic state senators from Las Vegas. The recall petitions were invalidated by a judge in April, but an appeal is pending.
Citing the ongoing litigation, Roberson said the recall was a "citizen-led effort" but added, "I have not been shy in saying that I support those recalls, and that hasn't changed." He added that major initiatives he backed, on issues such as education and taxes, had been enacted with bipartisan support.
That said, he raised the partisan banner to warn of potential Democratic gains on Election Day, criticizing what he called the "extreme partisan liberal agenda that was pushed last session by Democrats" that prompted 41 vetoes by the governor, the state's second-most ever.
"We have to have a Republican governor and a Republican lieutenant governor to serve as a backstop against that kind of agenda," Roberson said.
Marshall stressed her ability to work as a "consensus builder" whose background as a federal prosecutor gave her experience protecting consumers and wrangling with large corporations. Growing up the daughter of Mexican Teamster in San Francisco taught her the importance of education, she said, and that average people "shouldn't be treated as second class."
She also said her bout with breast cancer two years ago made health care a priority issue for her, though not one "directly tied to the lieutenant governor's office," adding that she would serve as a voice for her party's caucus in the statehouse.
Contact Bill Dentzer at bdentzer@reviewjournal.com or 775-461-0661. Follow @Dentzernews on Twitter.
Back on the ballot
Two third-party contenders in the Nevada lieutenant governor's race are perennial candidates whose objectives go beyond their longshot office bids.
For Janine Hansen, the Independent American party's candidate, the race provides a platform for promoting the party's limited-government principles and holding the Republican party's feet to the fire.
"We win without winning," Hansen said. "We're putting pressure on the Republican party to return to their roots. We're putting pressure on them to move to limited constitutional government, and without us that wouldn't happen."
Ed Uehling of Las Vegas, a frequent libertarian candidate running this year as an independent, hopes to tap into disaffection among both Democrats and Republicans tired of "being dictated to by their parties." As an independent presiding over the Senate, he could cast the occasional tie-breaking vote free of pressure from either group, he said.
The vote of a Democrat or Republican "will be predetermined," Uehling said. "My vote won't be."
Hansen, 66, a lifelong Nevada resident who now lives in Elko, said there "needs to be an alternative to Socialist Party A and Social Party B — the Democrats and Republicans." She criticized both for backing a 2015 tax increase that raised $1.5 billion for education.
Hansen also opposes a tax measure that would reset depreciation on a property when it is sold, resetting any associated reduction in property taxes at the same time. The measure passed the legislature in 2017 and will come to the statehouse again for a vote in 2019 before potentially going before voters in a 2020 referendum.
Uehling, 78, said he remembers the earliest days of Las Vegas, starting when Bugsy Siegel opened the Flamingo Hotel in 1947. He said the state has failed to keep pace with other tourist destinations and should be seeing double what it now receives in annual tourist dollars.
Back at the start, "Tons of tourists were coming and sleeping in their cars because there weren't enough hotels rooms. My parents would host people in their house," he said. "That's what I want to have happen. I want to bring so many tourists that they have to sleep in people's houses."