Will harassment scandal mean 'political oblivion' for Ruben Kihuen?
December 4, 2017 - 7:41 pm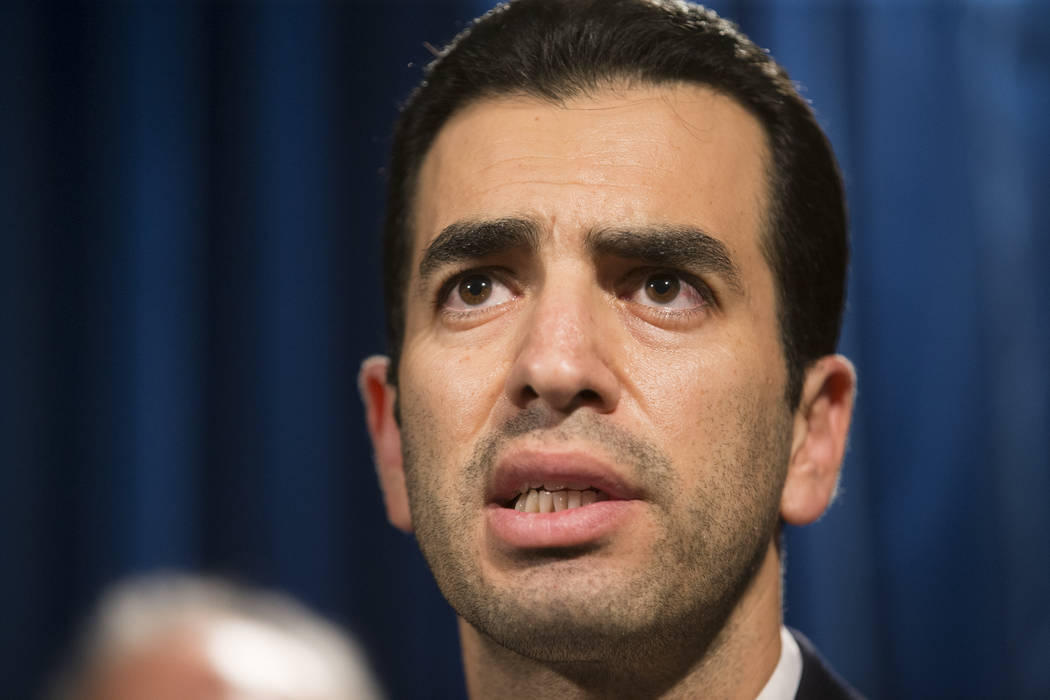 With Nevada Rep. Ruben Kihuen becoming the latest congressman embroiled in sexual harassment allegations, his once-rising political star may have come to a halt.
Numerous Democratic Party leaders have called for his resignation, but — although he has not said so publicly — Kihuen appears to be unwilling to step aside.
But for a 37-year-old whose "entire life has been wrapped up in the profession of politics," quitting might not be the only option, said Larry Sabato, founder and director of the Center for Politics at the University of Virginia.
"All you need is a re-election to say that the voters have forgiven," Sabato said.
BuzzFeed reported Friday that Kihuen, who is unmarried, harassed and made sexual advances toward his 25-year-old campaign finance director, identified only as Samantha. She left the campaign because of Kihuen's behavior, according to BuzzFeed.
Kihuen's office did not return requests for comment on Tuesday.
Campaign season
The accusations come as the 2018 campaign season is set to heat up that could make re-election much more difficult — if Kihuen gets past the June primary.
"I don't think he survives this at all, whether he steps down or continues," said former Nevada Assemblywoman Lucy Flores.
Flores, who now lives in California, finished second to Kihuen in the 2016 primary for the 4th Congressional District, garnering 26 percent of the votes to Kihuen's 40 percent.
"If he decides to try to serve out his term, I think it's really disappointing," Flores said. "People want accountability. There should be no difference between an elected official and anyone else who has been accused and has credible allegations."
'Political oblivion'
The BuzzFeed report spurred calls for Kihuen to resign from House Minority Leader Nancy Pelosi, Democratic Congressional Campaign Committee Chairman Ben Ray Luján, D-N.M., and Nevada Democratic Rep. Jacky Rosen.
"He's facing political oblivion," Sabato said.
Elected to the Nevada Assembly at the age of 26, Kihuen's charisma and public image propelled his rising stardom in the Democratic Party. He served two terms in the Assembly before jumping to the Senate in 2010. And last year he successfully unseated incumbent GOP Rep. Cresent Hardy to make the leap to Congress.
But some, like Flores, question whether Kihuen's political rise was more due to close ties to former Senate Majority Leader Harry Reid, who considered Kihuen a protégé and endorsed him, rather than his legislative chops. Reid could not be reached for comment Monday.
"There's been a heavy investment of time and lots of money to get him elected to various offices," Flores said. "There wasn't anything Ruben did in his political career that was difficult."
Flores pointed specifically to Kihuen's performance in the 2011 session of the Nevada Legislature — when he was one of two lawmakers to not introduce a single bill — and said he seemed more interested in being at the gym or in front of television cameras than working on legislation.
"He was always more concerned about getting his reps in than actually being a rep," Flores said.
Re-election chances slimmer
If Kihuen does refuse the calls to resign, Sabato said his chances are retaining his seat in 2018 will take a hit, but he's not doomed to defeat.
Nevada's 4th District leans Democrat in voter registration, but has flipped between Republican and Democrat in each of the past three elections.
Before the allegations, Sabato said, Kihuen seemed like a shoo-in to retain the seat. Now he will have to fend off political newcomer Amy Vilela in the primary, and possibly Las Vegas City Councilman Stavros Anthony in the general election.
Anthony could not be reached for comment Monday and his campaign declined to comment.
But now, things will likely come down to whether major Democratic donors will donate to a candidate ensnared in sexual harassment allegations at a time when more and more politicians have been accused of such behavior.
Sabato pointed to U.S. Senate candidate Roy Moore, an Alabama Republican who has been accused of sexual assault by nine women, including some who were teenagers at the time of the alleged misconduct.
Despite the accusations, Moore is favored to win the special electionto replace former Sen. Jeff Sessions, who resigned from the seat after being nominated for U.S. attorney general. Moore's chances were likely helped with an endorsement Monday from President Donald Trump.
"If you have someone elected after a credible allegation of child molestation, all bets are off. I don't know what would sink anyone," Sabato said. "In the old days, you were facing oblivion and you accepted it. Today, you can beat oblivion."
Contact Colton Lochhead at clochhead@reviewjournal.com or 702-383-4638. Follow @ColtonLochhead on Twitter.