Nevadans remember George H.W. Bush
Updated December 1, 2018 - 10:06 pm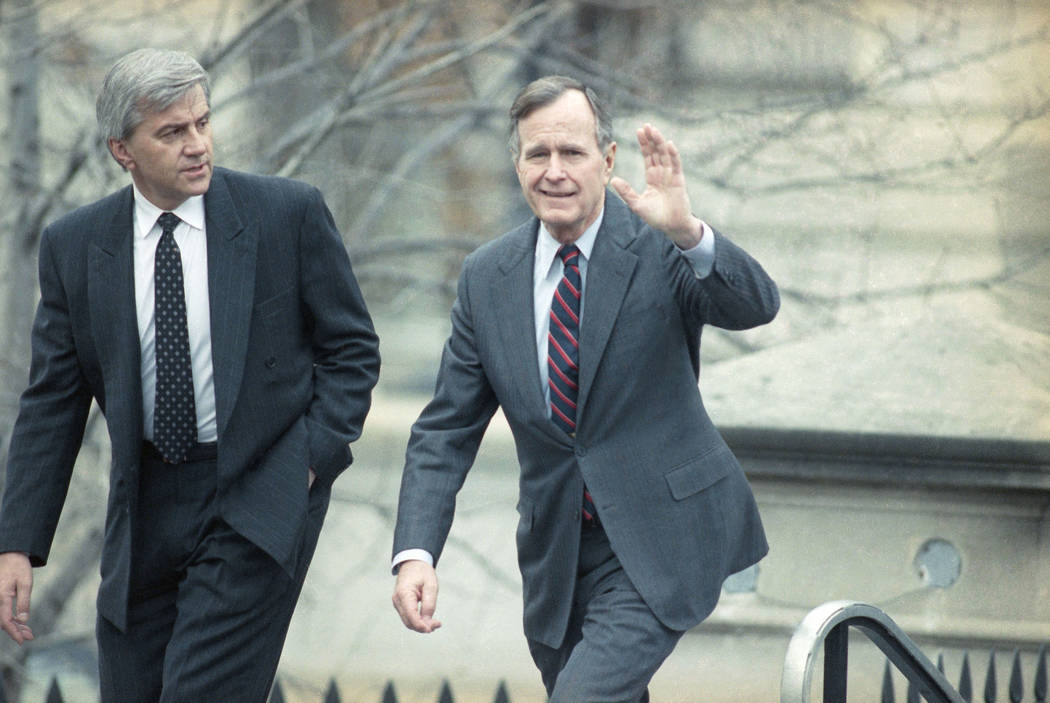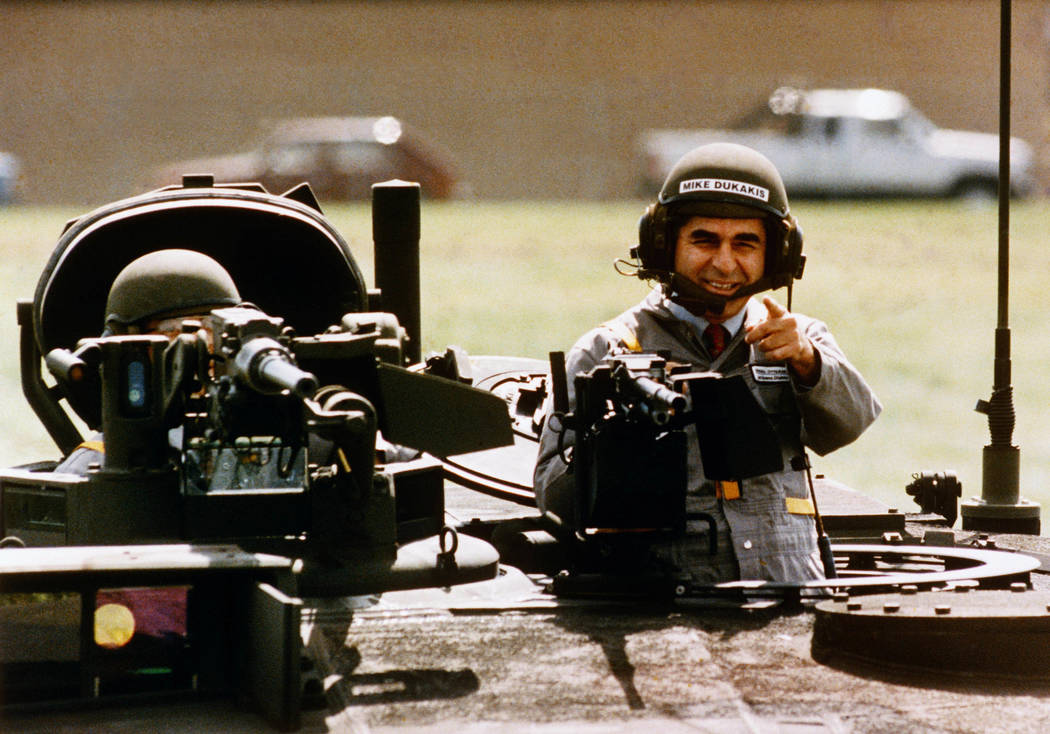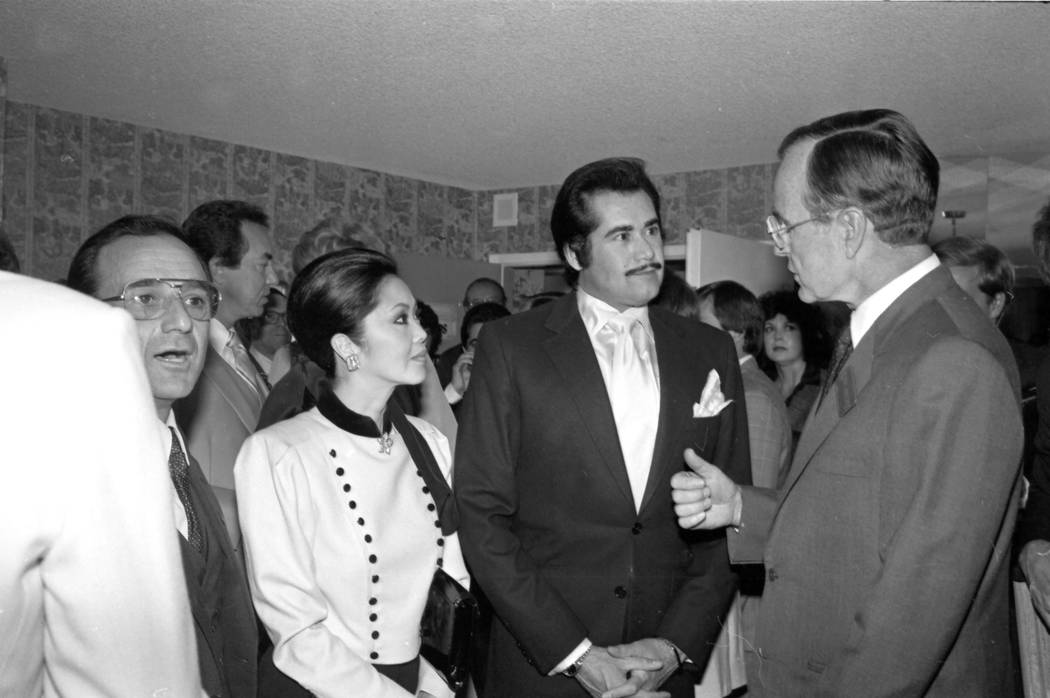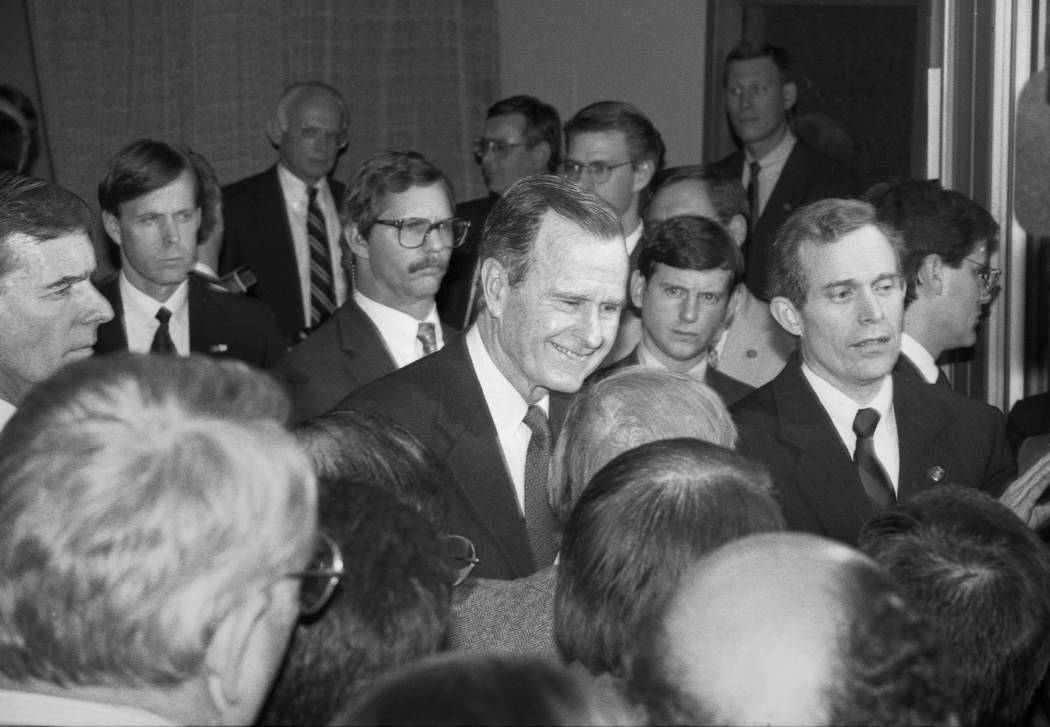 WASHINGTON — Nevada joined the nation in mourning the loss of George H.W. Bush on Saturday, a president who developed deep friendships and ties in the state and gave an emotional boost to a Las Vegas charitable organization that helps adults with intellectual disabilities.
Most people learned of his death the next morning, which prompted an outpouring of public sentiment for the president who presided over the fall of the Soviet Union and the liberation of Kuwait in the Gulf War.
Las Vegas businessman Sig Rogich, a Bush confidant and former U.S. ambassador to Iceland, developed a strong bond with the president over a lifetime of Air Force One travel, martinis and golf that helped benefit Nevada.
"We developed a friendship, and we never lost it," Rogich told the Las Vegas Review-Journal in a telephone interview.
Rogich was part of the "Tuesday Team," a group of advertising consultants for the Reagan-Bush presidential campaign, and later the Bush-Quayle campaign that developed TV ads attacking Democratic rival Michael Dukakis' record on crime and punishment and one showing Dukakis riding in a tank.
Rogich recalled first seeing a news segment showing Dukakis in the tank on TV while he was hosting a party at his Washington, D.C., apartment. Late that night, he said, he wrote a commercial and took it to the campaign's creative director, Jim Weller, the next day.
Later, Rogich said, he looked at the polling numbers and expressed that maybe the campaign shouldn't run the ad.
"I thought we could win on our own without it," he said. "I wanted the president to take office on a high note."
Fan of the state
After the election, Rogich brought Bush to Nevada.
"He loved the state," Rogich said. "He came several times as president."
On one occasion, Rogich took him to Opportunity Village, a not-for-profit charity in Las Vegas that assists adults with mental disabilities through vocational training, employment and other programs.
Opportunity Village made the campaign buttons for the Reagan-Bush campaign and the Bush-Quayle campaign.
He was met by entertainer Wayne Newton, said Linda Smith, Opportunity Village vice president of philanthropy and associate executive director.
Bush tied up Las Vegas traffic for hours, staying longer at the facility than planned and meeting with everyone, including those who were intellectually incapable of knowing who the president was or the importance of his position.
"He was absolutely wonderful," Smith said.
That visit in the early 1990s, Rogich said, gave the charity another significant boost. Bush was so taken by the mission and the operation that he helped secure support from a significant donor.
"He helped us that day," Rogich said.
And he was helpful on other matters in Nevada.
"The president took a lot of pride in the fact that he was helpful here in our state," Rogich said.
During his term in office, Bush signed into law the Truckee-Carson-Pyramid Lake Settlement Act, a bill by Sen. Harry Reid, D-Nev., that settled a long-standing dispute over water apportionment from the Truckee and Carson rivers.
The law ended a century of conflicting demands, provided certainty of water supply for municipal and agricultural users, enhanced conservation efforts for threatened and endangered species in Pyramid Lake and improved wetlands in the Lahontan Valley.
'An American patriot'
Reid was one of the multiple public officials from both sides of the aisle who spoke with fond memories of the late president.
Although from different parties and with different political philosophies, Reid said Bush "was one of the most qualified people ever elected president, and above all, he was among the most decent."
"He was kind, generous and determined to do the right thing for his country," Reid said in a statement.
Sen. Dean Heller, R-Nev., called Bush an "American patriot." Sen. Catherine Cortez Masto, D-Nev., said the late president was pragmatic but also a "man of principle."
President Donald Trump designated Wednesday a national day of mourning for Bush.
A memorial service at the National Cathedral will be held before the body is sent to a funeral in Texas.
Prior to the services, the president's body will lie in state under the Capitol rotunda.
Trump said he would send Air Force One to Texas to bring the president's body to Washington. Trump said it is "a special tribute that he deserves very much."
Presidential comportment
Rogich said he traveled "five, six, seven thousand miles on Air Force One" with President Bush to foreign countries and every U.S. state. Rogich said Bush had a sense of decorum.
"I never saw him less than presidential," he said.
He also liked jokes and gags.
"We shared a good martini on occasion," Rogich recalled. "And we always shared a lot of laughs."
Bush would also come to Vegas, while he was in the White House and after, to visit friends and to relax.
"We did see some shows and we did play some golf," Rogich recalled.
They played Shadow Creek Golf Course, Spanish Trail Country Club and others.
When the energy secretary came to an administration meeting to complain about Rogich's advocacy against the Yucca Mountain Nuclear Waste Repository, the tiff between the two was relayed to Bush.
"He just told me to stick to my guns, or something like that," Rogich recalled.
"I love him," Rogich said. "He had a great sense of humor and a deep passion."
The Cold War ended during Bush's presidency. The Berlin Wall came down. Bush, a World War II bomber pilot, was commander in chief during the Gulf War, leading an international coalition with great support by the American people.
Bush's popularity topped 91 percent after the war, before a declining economy and third-party candidate H. Ross Perot helped Democrat Bill Clinton defeat the Republican incumbent in the 1992 presidential election.
Personal touch
As he left the White House, Bush left a handwritten note to Clinton in the Oval Office, humble and heartening words of support for the new president.
"I will never forget the handwritten letters he wrote me when I did something he deemed worthy of a few generous words," Reid recalled. "He was known throughout his career for sending these types of personalized notes to people, and I will always cherish the ones he sent to me."
Contact Gary Martin at gmartin@reviewjournal.com or 202-662-7390. Follow @garymartindc on Twitter.
Related
For Mr. Las Vegas, George H.W. Bush was just a phone call away
Joe Biden praises UNLV as law school celebrates 20 years
A cocktail called 'Avenger' leads to Ruvo, Bush friendship
George H.W. Bush to lie in state at Capitol Rotunda
Trump declares period of national mourning to honor Bush