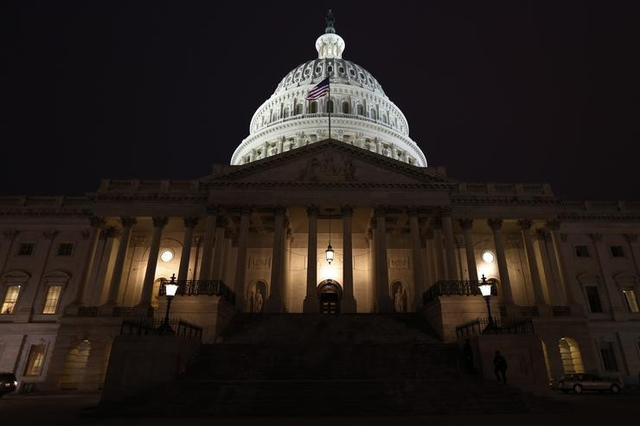 Nevada's newly elected congressional delegation was in Washington this week, where members blended into the most ethnically diverse freshman class in history and prepared for legislative issues to be dealt with early next year.
The 115th Congress is expected to tackle tax reform and Medicare overhaul as well as President-elect Donald Trump's election promises to strengthen immigration reform, deport more undocumented immigrants and dismantle the Affordable Care Act, known as Obamacare.
Republicans continue to hold majorities in the Senate and House, but Nevada helped contribute to a new makeup of both legislative chambers. Catherine Cortez Masto, a former Nevada attorney general, will become the first Latina to serve in the U.S. Senate when she is sworn in come January.
Cortez Masto was handpicked by Democratic Leader Harry Reid, who is stepping down after three decades in the Senate.
Reid's departure deflates the cachet and clout of the Nevada congressional delegation, now made up of more junior members who lack the leader's power that was instrumental in steering funding to the state and protecting programs in it.
But Reid picked his successor in Cortez Masto and worked to help her defeat U.S. Rep. Joe Heck, R-Nev., in a bruising political fight.
In addition to being the first Latina in the Senate, Cortez Masto also joins three other women who were elected: California Attorney General Kamala Harris, U.S. Rep. Tammy Duckworth, D-Ill., and New Hampshire Gov. Maggie Hassan.
Cortez Masto said she wants to put an "end to partisan politics and end the gridlock in Washington"
"We have too many problems facing our state and our nation to continue the partisan games in Congress," she told the Review-Journal.
"But I want to make clear, I will also be one hell of a check and balance on Donald Trump and anyone who uses hateful, divisive rhetoric or champions legislation that goes against the interests of the people of Nevada," Cortez Masto said.
Among the more than 50 incoming new members in the U.S. House is Ruben Kihuen, a Democrat who will be the first Latino to represent Nevada, according to the National Association of Latino Elected and Appointed Officials.
Kihuen is an immigrant from Mexico and was a former Reid staffer before he became a rising Democratic star in Nevada.
All told, there will be 34 Latino members in the U.S. House, up from 29.
"The Latino turnout surge was real in election 2016,'' said Arturo Vargas, the association's executive director, who pointed to "a historic showing from Latino voters in states like California, Florida and Nevada."
Kihuen knocked off incumbent U.S. Rep. Cresent Hardy, R-Nev., in the November election.
Kihuen and Jacky Rosen, a Democrat elected to the open seat vacated by Heck, were in Washington this week for orientation for new lawmakers.
Nevada's newest members will join U.S. Reps. Dina Titus, a Democrat, and Mark Amodei, a Republican.
The Nevada congressional delegation flipped from majority Republican to majority Democrat.
Despite party affiliation, all lawmakers, including Republican U.S. Sen. Dean Heller, have vowed to block any effort to open Yucca Mountain as a nuclear waste repository.
When it comes to Yucca Mountain, Rosen said, it "is dead and needs to stay dead."
"I will not support any effort to reopen it," she said through a spokesman.
Meanwhile, new House members learned to navigate the tunnels of the U.S. Capitol and the myriad office buildings this week while waiting for committee assignments from reshuffled panels with new chairmen and ranking members.
Titus was elected by the House Democratic Caucus to serve as a regional member on the Democratic Steering and Policy Committee, which will determine which House panels incoming lawmakers will be assigned.
She said she wants the party to be "be more responsive to the needs of rural and small-town America" and will push for Nevada members to get the committee assignments to better serve their districts.
And House Speaker Paul Ryan took an early opportunity to remind the incoming class of lawmakers to bridge partisan divides as they assume their new roles.
Ryan lightheartedly told them that no matter their party affiliation: "Our fight is not with each other. It's with the Senate."
Contact Gary Martin at gmartin@reviewjournal.com. Follow @garymartindc on Twitter.
SEND-OFF FOR REID SET FOR THURSDAY
Hillary Clinton and Vice President Joe Biden will headline a send-off for Senate Minority Leader Harry Reid on Thursday as the Nevada Democrat ends his 30-year run in the chamber.
With Congress aiming to end the legislative session this week, Reid's last big day in office will conclude at a gala in the Kennedy Caucus Room at the Russell Senate Office Building in Washington, according to advisers.
The tribute will include speeches from Clinton and Biden and two senators who have figured prominently in Reid's 12 years as Democratic leader: Majority Leader Mitch McConnell, R-Ky., Reid's longtime sparring partner, and Charles Schumer, the Jewish Democrat from Brooklyn who became best friends with the soft-spoken Mormon from the tiny mining town of Searchlight.
The event will include the unveiling of Reid's portrait, which will hang in the Capitol corridors near the Senate chamber.
— The Washington Post