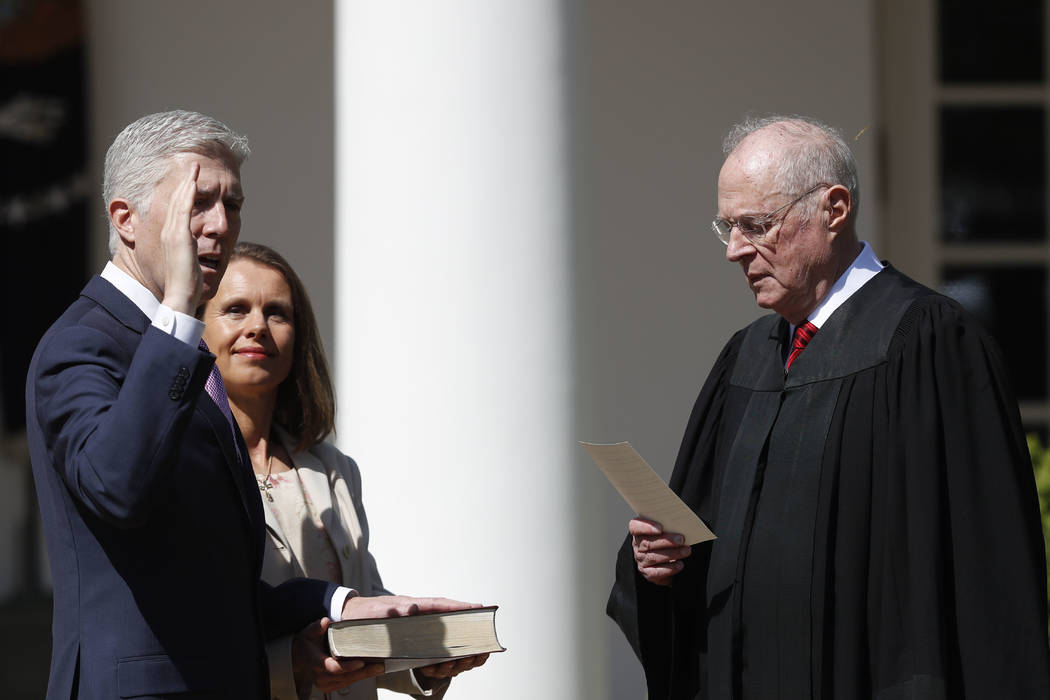 WASHINGTON — Monday probably was President Donald Trump's best day in the White House to date.
In the Rose Garden, U.S. Supreme Court Justice Anthony Kennedy administered one of two oaths taken by Neil Gorsuch to make him the newest, youngest associate justice on the top court. Surrounded by sunshine, fans of Gorsuch and tulips in full bloom, the president talked of Spring providing "the perfect backdrop for this joyful gathering of friends" who are "in a process of reviewing and renewing and also rebuilding our country."
The Gorsuch confirmation, which returns the Supreme Court to a slim, but decisive 5-4 conservative majority, was a clear win for Trump, who crowed, "And I got it done in the first 100 days."
But that wasn't the end of it. Morning TV shows played clips of Washington Post columnist David Ignatius opining that Trump had restored "the credibility of American power" by ordering a missile strike on a Syrian air base to make good on former President Barack Obama's pronouncement that Syria's use of chemical weapons against its own people would constitute crossing a red line. Senate Minority Leader Chuck Schumer, D-N.Y., also called the missile strike "the right thing to do" while House Minority Leader Nancy Pelosi, D-Calif., praised Trump's "proportional response to the regime's use of chemical weapons."
On Syria, Trump actually trumped Obama by acting on Obama's criteria, not his own.
The previous week Trump met with Chinese President Xi Jinping, Jordan's King Abdullah and Egyptian President Abdel Fattah al-Sisi in successful meetings that delivered good press. And over the weekend, Trump made use of his Twitter account, but there were no Tweet storms, no unforced errors.
For one morning on day 81, Trump's baggage was not in the forefront. Gone were the failure of Trump's American Health Care Act (despite the GOP's hold on Congress), the travel bans struck down by the Ninth Circuit Court of Appeals, the Trump tweets that accused Obama of wiretapping Trump Tower and the overly personal feuds Trump has waged with critics such as actress Merryl Streep. For one morning, Trump had a taste of what it is like to be a president with victory under his belt.
Can Trump turn his administration around?
From the Rose Garden, American Conservative Union head Matt Schlapp heralded Gorsuch's confirmation as a victory in which conservative groups and GOP political strategists managed to work together — a strong outside game and inside game, Schapp noted, is "huge."
Miles away, Nevada State Democratic Party spokesman Stewart Boss was unimpressed. His opinion: "A stolen Supreme Court seat and airstrikes in Syria with no coherent military strategy to back them up won't prevent Trump's first 100 days from going down in history as an unparalleled disaster." Boss likened the administration to "a dumpster fire" that will hurt Republicans candidates in 2018.
Ethics and Public Policy Center senior fellow Henry Olsen came out in the middle. "He's had a very good 96 hours," Olsen said. "The question is, what does it mean going forward?"
"Gorsuch is about as much of a home run as you can get," Olsen added, but the Syrian strike is "not the same as making a coherent foreign policy that isn't necessarily a one-off." (Polls show voter support for the Syrian strike, but little appetite for a long-term conflict with ground troops.)
"To turn things around, you have to know where you're going," Olsen added, and possess a "singularity of purpose" and focus to reach the goalpost.
The fact that Trump used his Twitter account judiciously also does not sway Olsen, who is the rare political prognosticator who predicted Trump could win in November. Trump has behaved on Twitter for days at time before, Olsen responded. "I'll think it's a pattern if it holds up for while."
Contact Debra J. Saunders at dsaunders@reviewjournal. com or 202-662-7391. Follow @DebraJSaunders on Twitter
RELATED
Senate confirms Neil Gorsuch to Supreme Court
Republican senators trigger 'nuclear option' to clear way for Gorsuch vote