'Personality conflict' shakes up North Las Vegas City Hall
January 10, 2018 - 11:20 am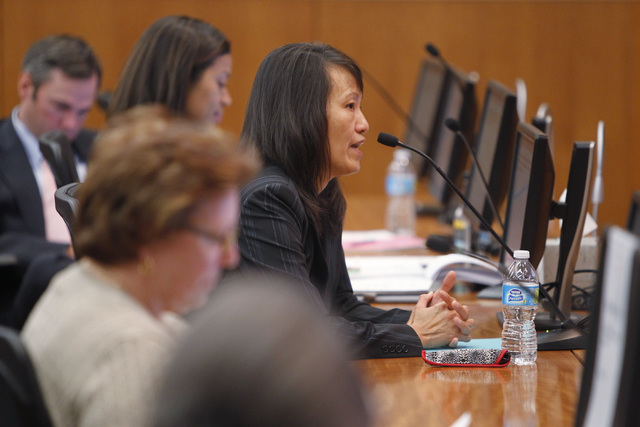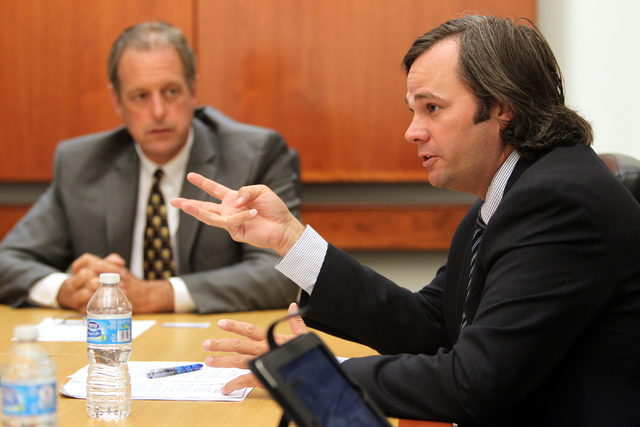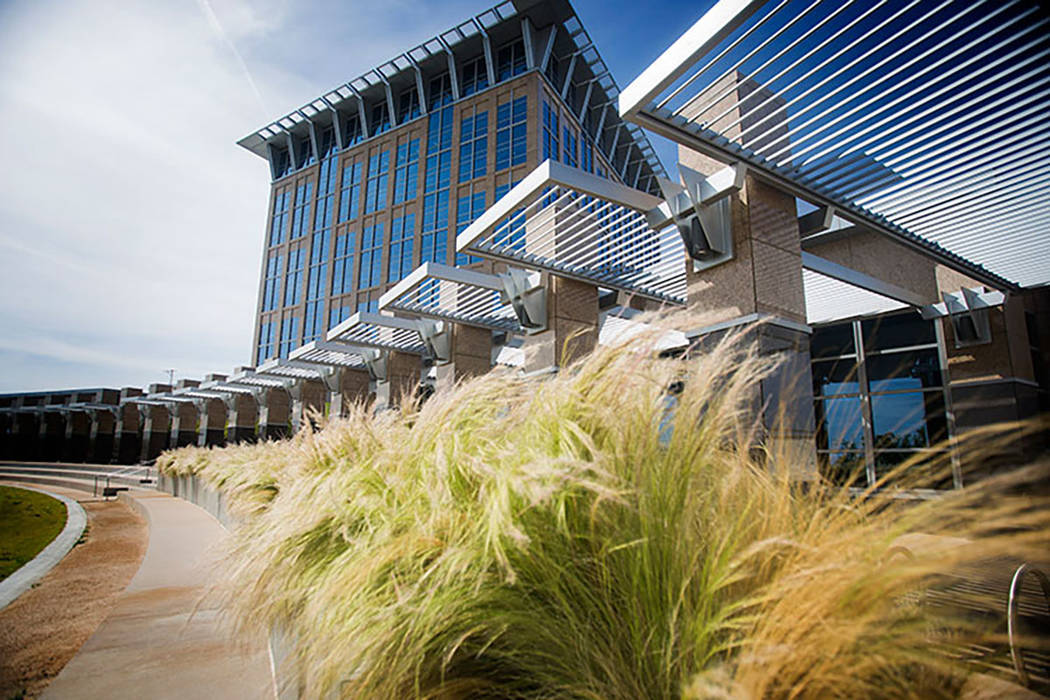 North Las Vegas City Manager Qiong Liu left the job Wednesday, one day after she insisted on firing Assistant City Manager Ryann Juden amid long-simmering tensions between the two.
As Liu exits City Hall, the City Council on Jan. 17 will consider whether Juden should be named acting city manager.
City officials did not immediately disclose how much money Liu will receive as compensation, but characterized her departure as a "30-day administrative leave, followed by retirement" from North Las Vegas.
Wednesday morning, before Liu's resignation was formally announced, Mayor John Lee characterized the issue between the former city manager and Juden as a "personality conflict."
"In a moment of passion, Qiong just got frustrated and decided that she was in a leadership position and she made that decision, but it was not a decision that anyone else was conferred with," said Lee, who is considering whether to run for the U.S. House seat held by Rep. Ruben Kihuen. "She most likely will move on to other opportunities, and we're working to do that right now."
City Council members Isaac Barron, Pamela Goynes-Brown, Scott Black and Richard Cherchio did not return phone calls seeking comment.
In a memo obtained by the Las Vegas Review-Journal, Liu on Tuesday told city staffers and the City Council that she fired Juden following a discussion lasting more than two hours. Liu said she was told by Juden that the council had decided that her services were no longer needed because she had reported a "disruptive situation" between the pair.
"His statement is troubling as it seems to indicate a violation of City's charter and policies and possibly of the open meeting laws, as a majority of the Council members were not even aware of the attempt to force me out let alone having a consensus on the issue without a public meeting," Liu wrote in the memo.
Liu signed a letter Wednesday rescinding her statements about Juden, city officials said.
Lee said the dispute stemmed from a disagreement over how to fund infrastructure projects at the Apex Industrial Park, where city officials are attempting to draw warehousing and industrial businesses.
In her memo, Liu said Juden's proposed funding options and withholding of information on a "spurious" water line agreement could have harmed the city's fragile finances and "cause major procedural as well as legal challenges."
Muddled history
Liu also stated that appointing Juden was "the biggest mistake that I have made over the past 4-plus years leading the executive team." She characterized his presence as bringing "widespread fear" and damage to City Hall, and that she "tolerated his lack of productivity or interest" in doing his job.
Liu had also accused Juden of interfering with city elections, undermining her authority and the efforts of department directors and engaging in "inappropriate communications" with labor unions and political sponsors.
"Considering Ryann's recent involvement in efforts to have me removed, with him as my replacement, his termination at this time could be seen as being retaliatory," Liu wrote in the City Council memo. "However, my failure to address his unacceptable performance in the past and allow him to remain in the position to this point was in deference to Mayor Lee."
Juden denied the accusations and pointed to a Sept. 14, 2017, work evaluation written by Liu characterizing him as a "believer of progressive governance" and a "strategic thinker."
"I'm committed to moving the city forward and there are great days ahead," Juden said Wednesday. "It's unfortunate that some people saw the need to try and distract with personal attacks, but I'm not going to do that."
Shortly after working on Lee's successful bid for mayor in 2013, Juden followed him to City Hall to work as his chief of staff.
He was appointed assistant city manager in August 2015, but controversry followed when a pair of former employees claimed Lee acted outside the scope of his office to influence the hiring of several workers, including Juden.
The Nevada Commission on Ethics issued a decision in March 2016 determining that Lee did not violate the state ethics law, but noted there was "sufficient credible evidence" the mayor acted outside the scope of his office to influence city hiring.
"What has transpired recently provided solid evidences that (Juden) has failed to change from a private political visor to a government administrator, despite my best efforts to help him do so," Liu wrote in her memo.
Liu was appointed as city manager in November 2014, when North Las Vegas was nearly taken over by the state amid a severe financial deficit.
During Liu's first performance evaluation in September 2016, Lee said that the city manager's leadership was 'exemplary" and that it was a "joy" to work with her on bolstering the city's finances.
Liu was scheduled to undergo another performance evaluation Jan. 3, but the matter was delayed to the next City Council meeting scheduled for Jan. 17. That same day, the council will decide whether Juden should take her job temporarily.
Lee insisted that Liu is taking it upon herself to consider resigning.
"This had nothing to do with me," Lee said. "I value both of them."
Contact Art Marroquin at amarroquin@reviewjournal.com or 702-383-0336. Find @AMarroquin_LV on Twitter. Review-Journal writer Sandy Lopez contributed to this story.