President Biden targets July 4 to get America 'closer to normal'
Updated March 11, 2021 - 10:34 pm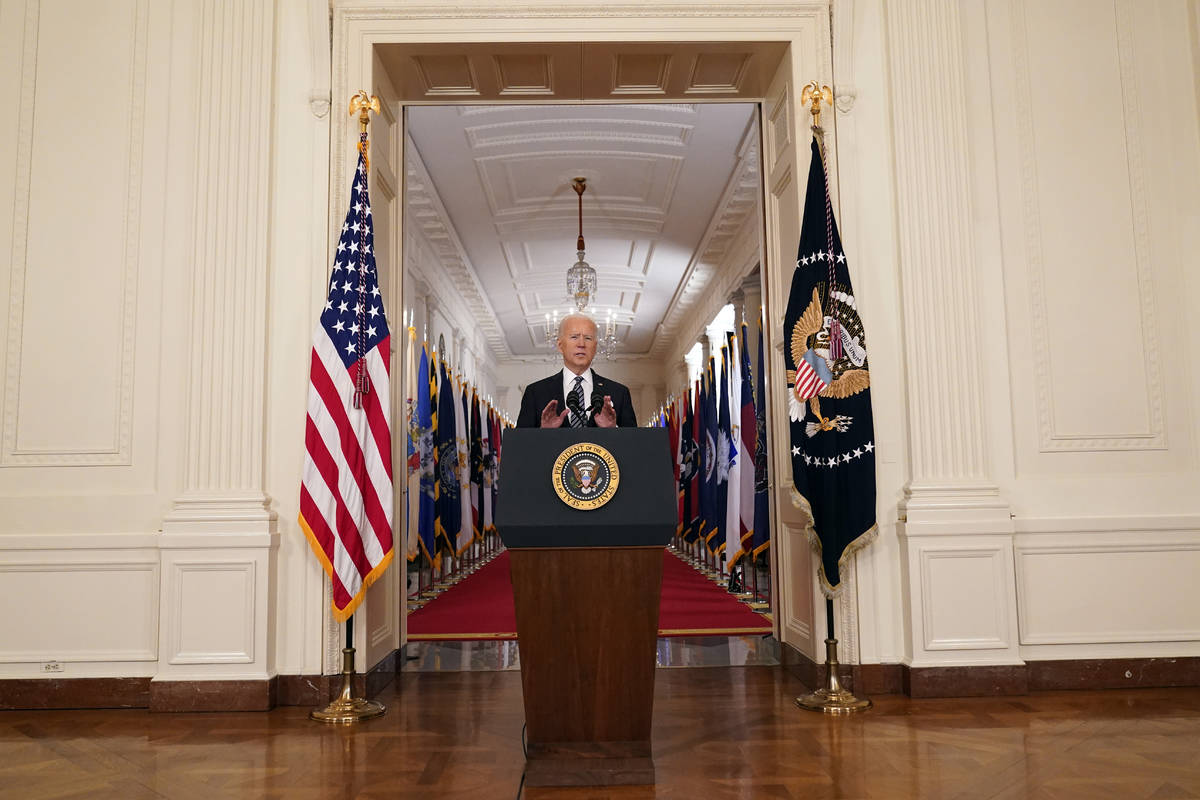 WASHINGTON — President Joe Biden offered hope to a weary nation Thursday on the one-year anniversary of the coronavirus pandemic with a pledge to step up vaccinations so that family gatherings could resume by the Fourth of July.
Biden used his first televised, prime-time address as president to honor the thousands who have died and recognize the sacrifices Americans have made.
"We all lost something," Biden said of the collective suffering that confronted the country.
But he directed every state to have every adult American eligible for vaccination by May 1, with the hope of a return to some sense of normalcy by July 4 barbecues with family and friends.
"Finding light in the darkness is an American thing to do," Biden said in his 24-minute address.
The president also touted the $1.9 trillion rescue package that he signed into law just hours earlier, his legislative priority passed by Congress without Republican support and just 51 days after his inauguration.
The speech was largely seen as the kickoff by the White House to sell the historic achievement Biden said would boost the economy and ramp up production and distribution of vaccines.
Speaking from the East Room in the White House, the president urged Americans not to let up in the fight against COVID-19 that has killed more than 527,000 nationwide, including 5,080 Nevadans.
There have been 30 million cases of COVID-19 in this country since March 11, 2020, when the World Health Organization declared the coronavirus a pandemic. Nevada has seen 297,765 cases throughout the state.
Next steps to fight COVID
Biden also laid out the next steps the country needs to take to continue to beat back infections.
Community vaccination centers in states would double the number of people inoculated to 2 million per day, a new website would help people find vaccination locations and funds from the rescue package would provide the means to safely reopen schools.
Active-duty troops would be called on to deliver the vaccinations and more pharmacies would be enrolled to reach the May 1 goal.
Testing and research would also continue to combat emerging variants of the disease.
The president called on Americans to continue to socially distance, wear masks and practice good hygiene to continue the progress made.
"This is not the time to let up," Biden said.
Biden sharpened the time frame of inoculating 100 million people by the end of his first 100 days: "We're not only going to meet that goal, we're going to beat that goal."
Contrast with Trump
Biden's aggressive moves followed the Trump administration, which critics said was too slow to respond to the pandemic. The former president downplayed the seriousness of the virus and made claims about remedies that lacked scientific basis of fact.
Biden pointed those blunders out. He said that a year ago the virus was met "by denial" and that in addition to the loss of family and friends, Americans "lost their faith in government."
But Trump administration officials launched Operation Warp Speed, which is credited for the fast development of vaccines in use today. Republicans were quick to claim that success today was built on that effort, and Trump himself released a statement taking credit.
Congressional Republicans supported legislative relief bills in Trump's final term, but Biden's rescue package was met by stiff opposition from GOP lawmakers because of sticker shock over the $1.9 trillion price tag.
Senate Minority Leader Mitch McConnell, R-Ky., called the legislation the most "haphazard" way to spend federal funds to fight the pandemic, and House Minority Leader Kevin McCarthy, R-Calif., said the amount of funding would create $4.1 trillion in new debt.
McCarthy said because of Operation Warp Speed and diligent work of health workers, "Americans from all walks of life patiently and responsibly worked to contain the spread of the virus."
But, McCarthy added, with the rescue package, "President Biden squandered those achievements."
Something for everyone
Biden, at the bill signing, offered a rebuttal.
"This historic legislation is about rebuilding the backbone of this country and giving people in this nation — working people and middle-class folks, the people who built the country — a fighting chance," Biden said.
Democrats championed the legislation that gives $1,400 in direct payments to people making less than $75,000 and $2,800 for couples earning under $150,000. Those checks could start going out as soon as this weekend.
Increased tax credits for families with children and other aid for housing, child care and schools would eventually lift many families out of poverty, Biden said.
The rescue package extends federal unemployment assistance of $300 a week past Labor Day, provides loans for small businesses and targets communities hit hard by the collapse of the travel and tourism industries — including Nevada — with $750 million in grants.
Biden and Democrats included $350 billion for states, cities and tribes. Other funds in the package could go to schools and transportation systems and projects, like the Regional Transportation Commission of Southern Nevada and McCarran International Airport.
Nevada reaction
Gov. Steve Sisolak said the package will provide "much needed relief and assistance for hundreds of thousands of Nevada families."
Democrats in the Nevada congressional delegation, Sens. Catherine Cortez Masto, Jacky Rosen and Reps. Dina Titus, Susie Lee and Steven Horsford all voted for the package.
Titus credited Biden for pushing the plan through Congress.
"Due to his laser-like focus on the crises we face, the ambitious American Rescue Plan is law and help is on the way for Nevadans," Titus said.
Biden's speech is the first attempt to tout the legislative success and the federal assistance needed to step up vaccinations to put the country back on track.
Vice President Kamala Harris will travel to Las Vegas on Monday and Denver on Tuesday to champion the relief package. Biden and Harris are traveling to Georgia on Friday.
Nevada, Colorado and Georgia were key to Biden's presidential victory, and Georgia elected two senators and flipped the Senate to Democratic control, which was key to passing the package.
Biden said the trips would help him talk directly to the people. In his speech he asked Americans to do their part to reach the goal of family gatherings by the Fourth of July.
"I need you to get vaccinated," Biden said.
Contact Gary Martin at gmartin @reviewjournal.com. Follow @garymartindc on Twitter.