President Trump, first lady meet victims, heroes in Las Vegas
October 4, 2017 - 8:08 am
Updated October 4, 2017 - 10:45 am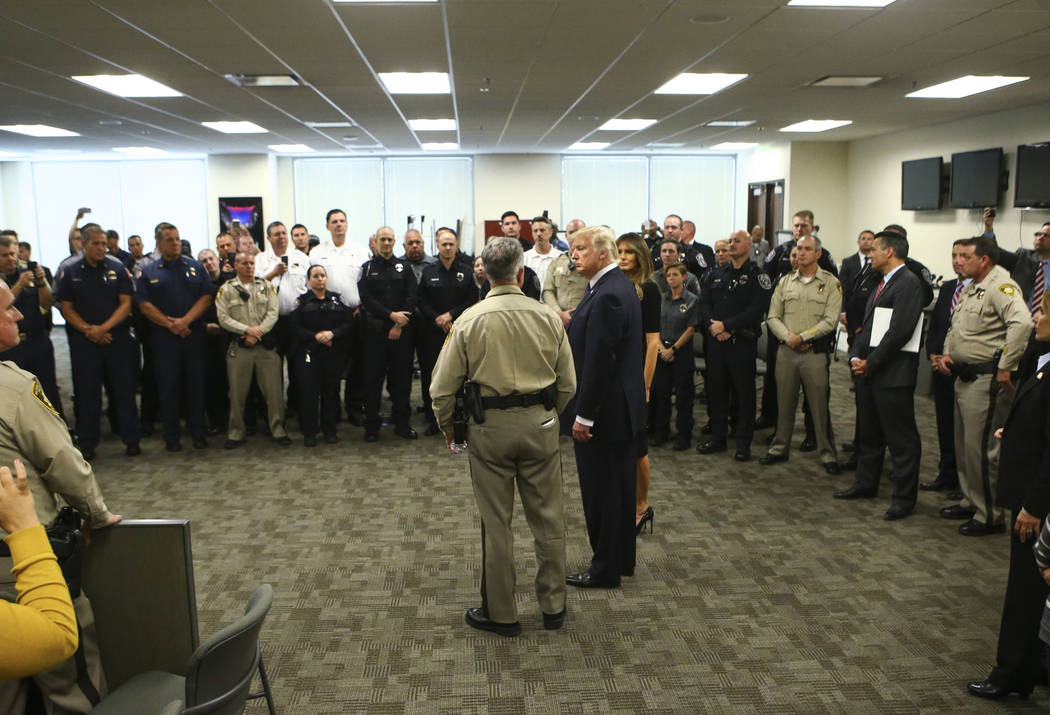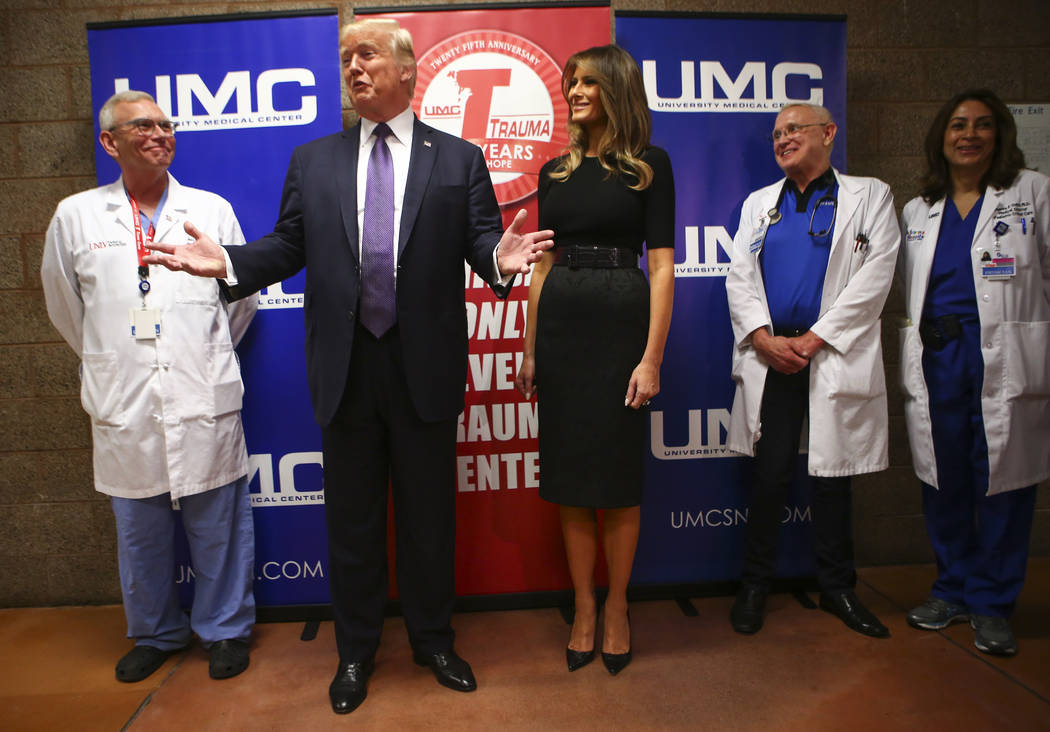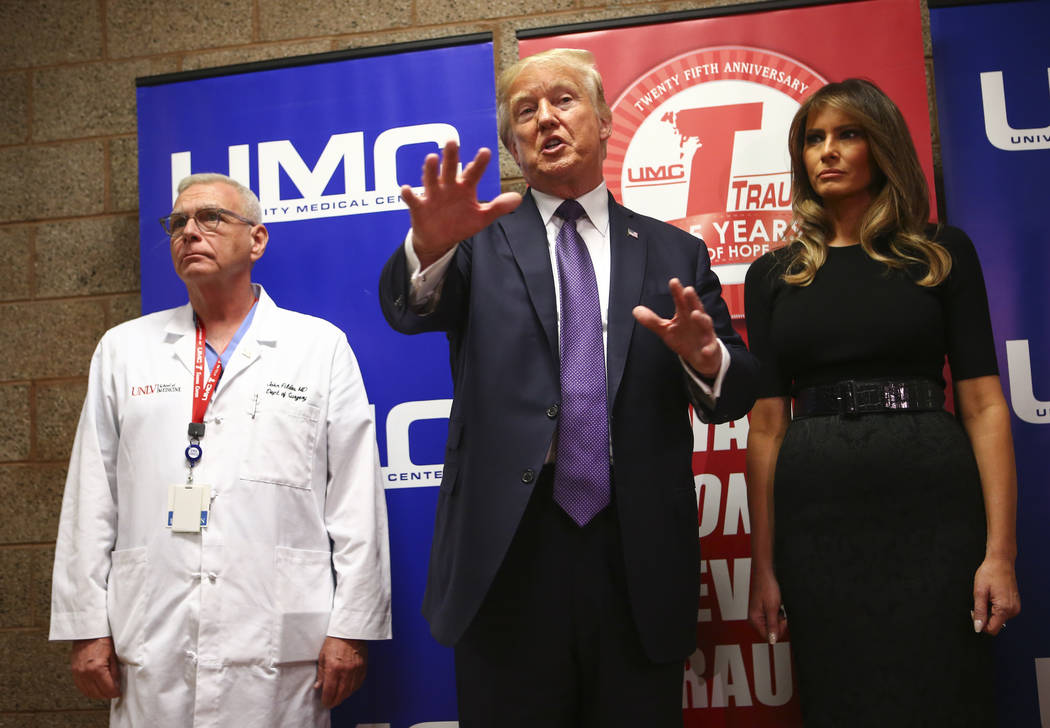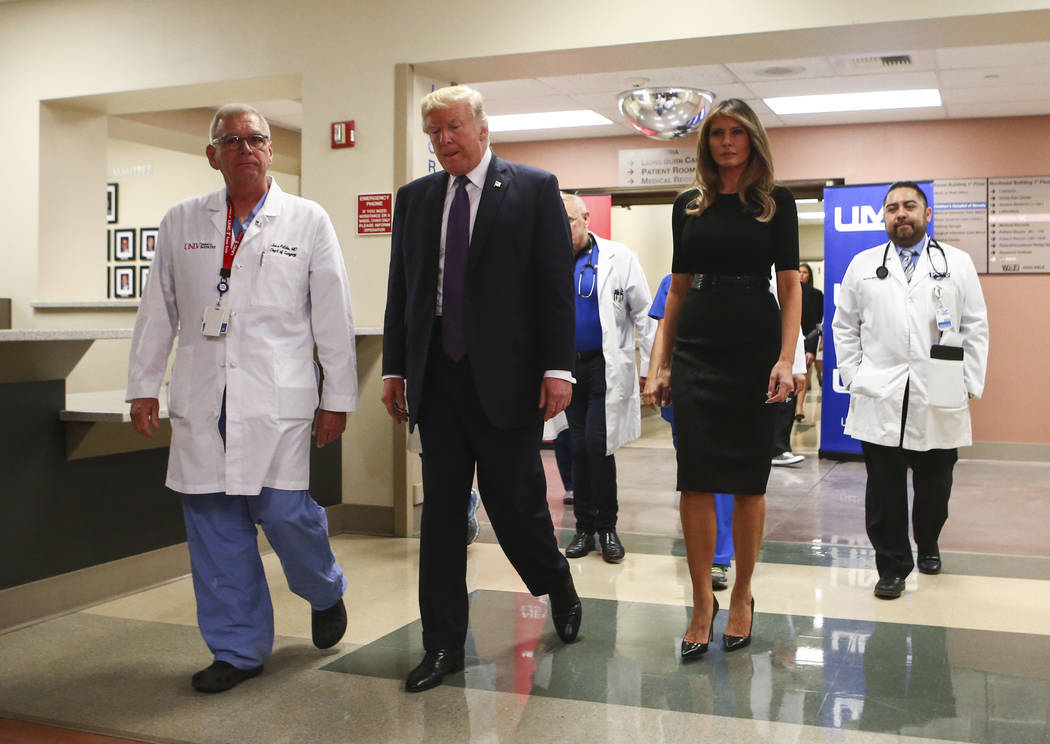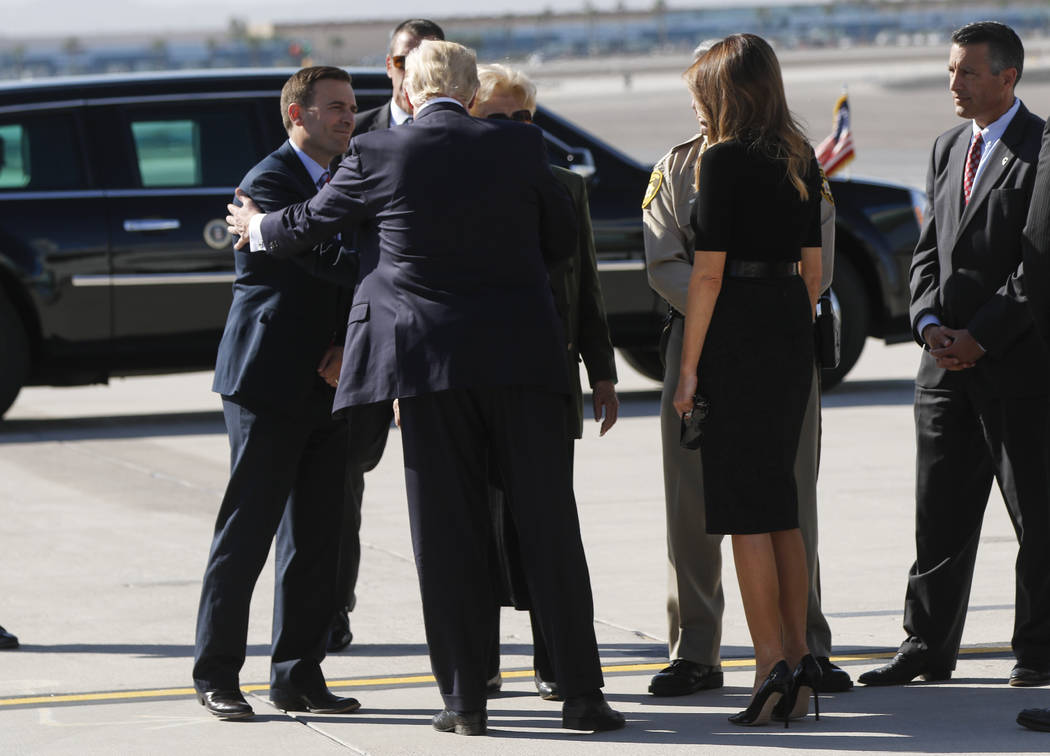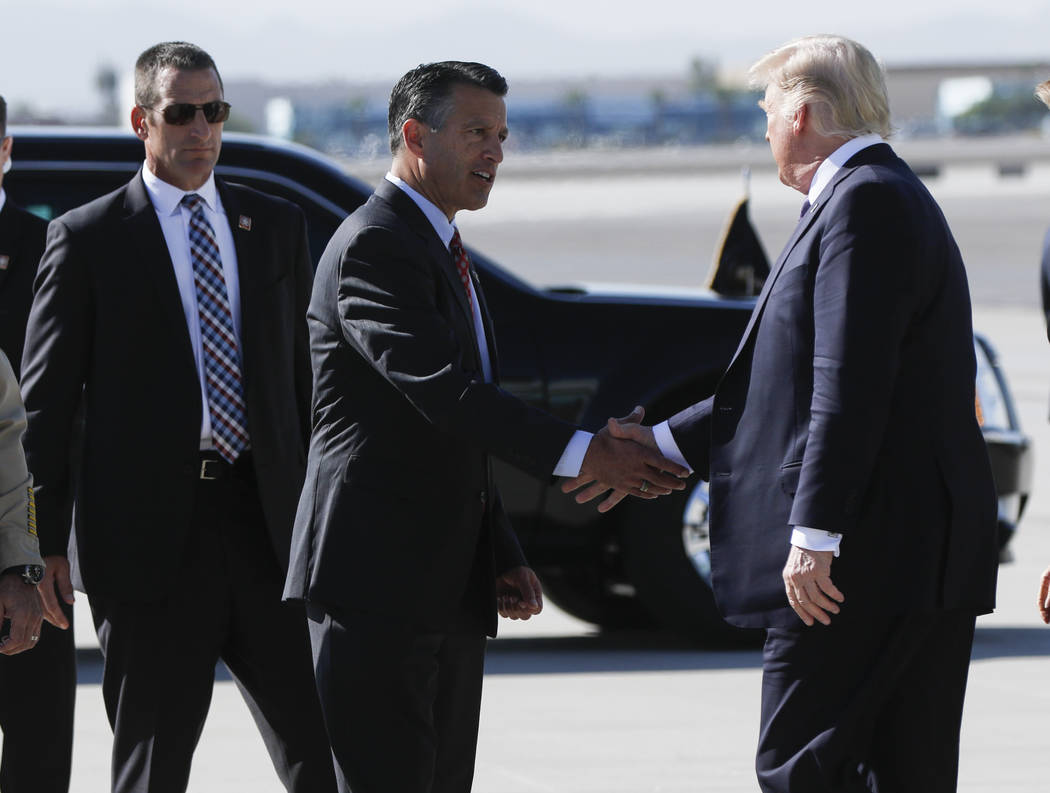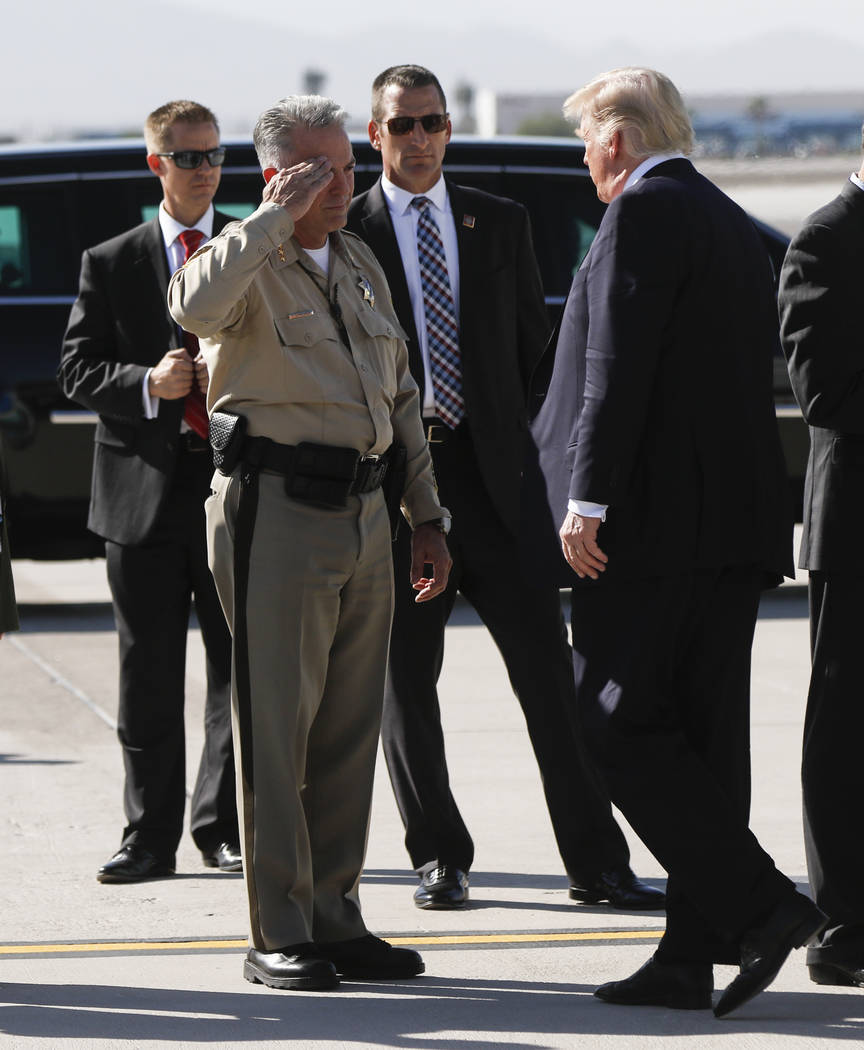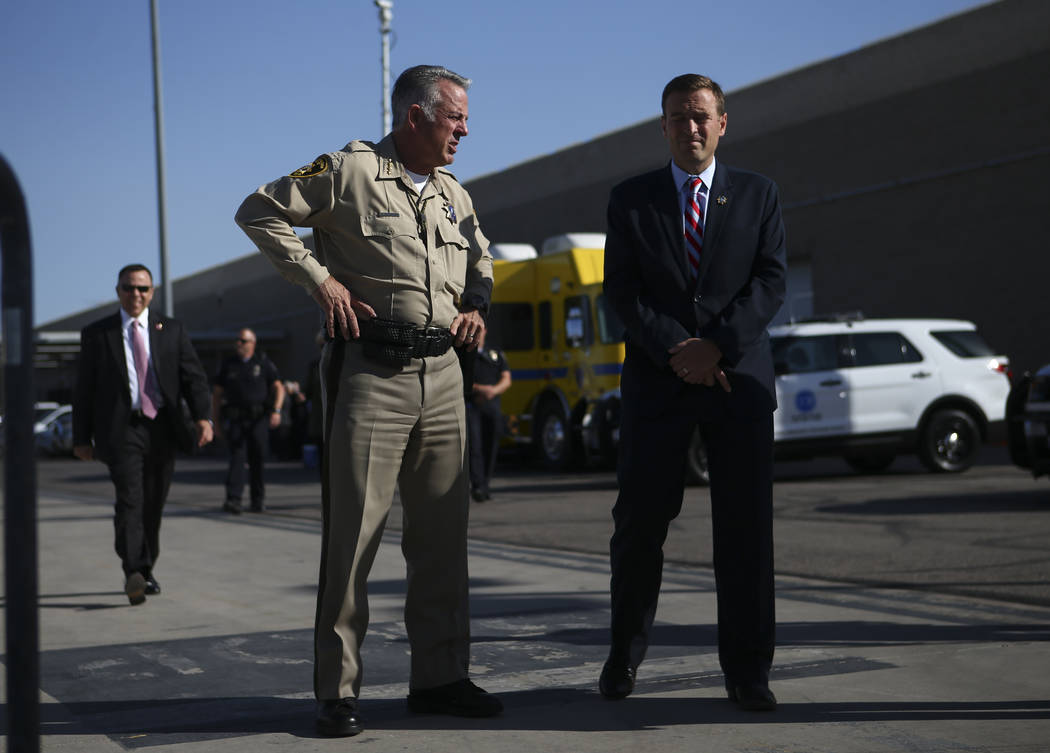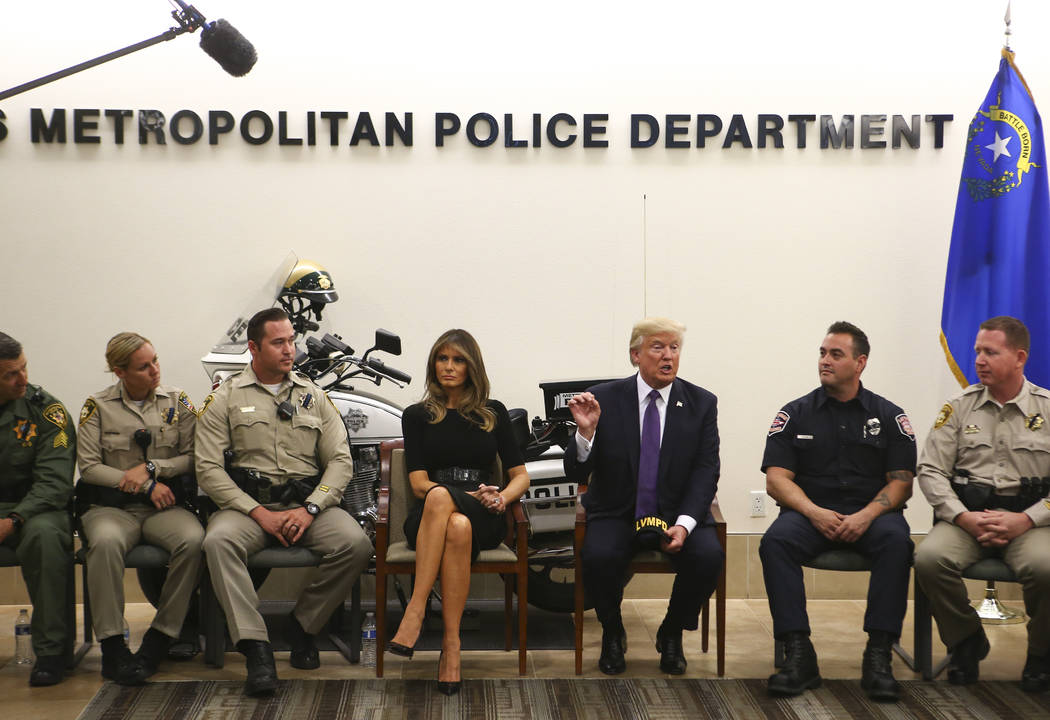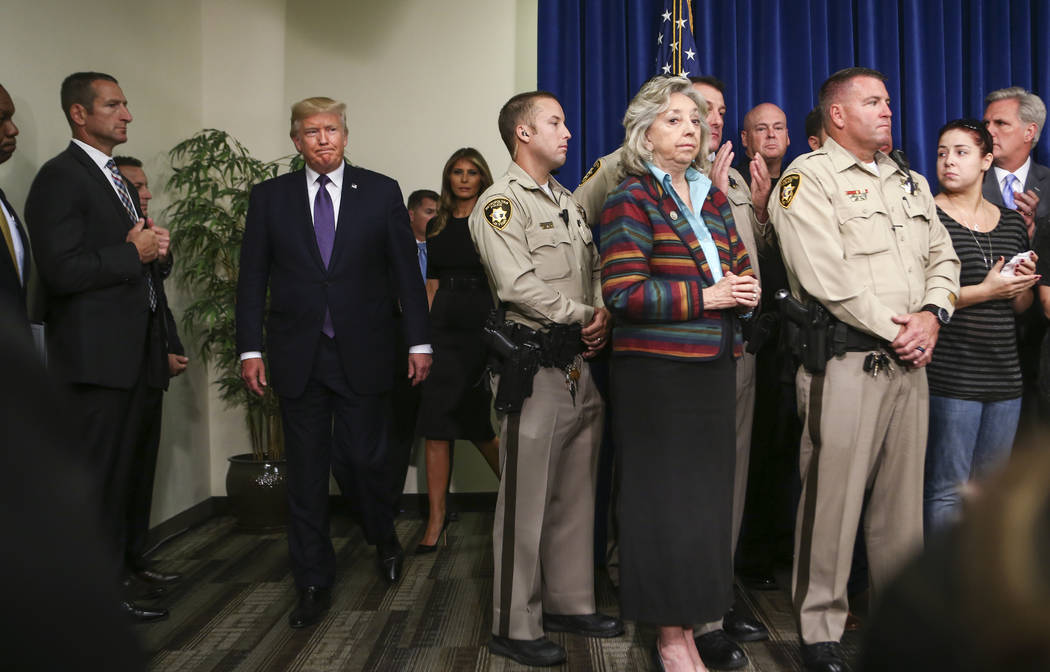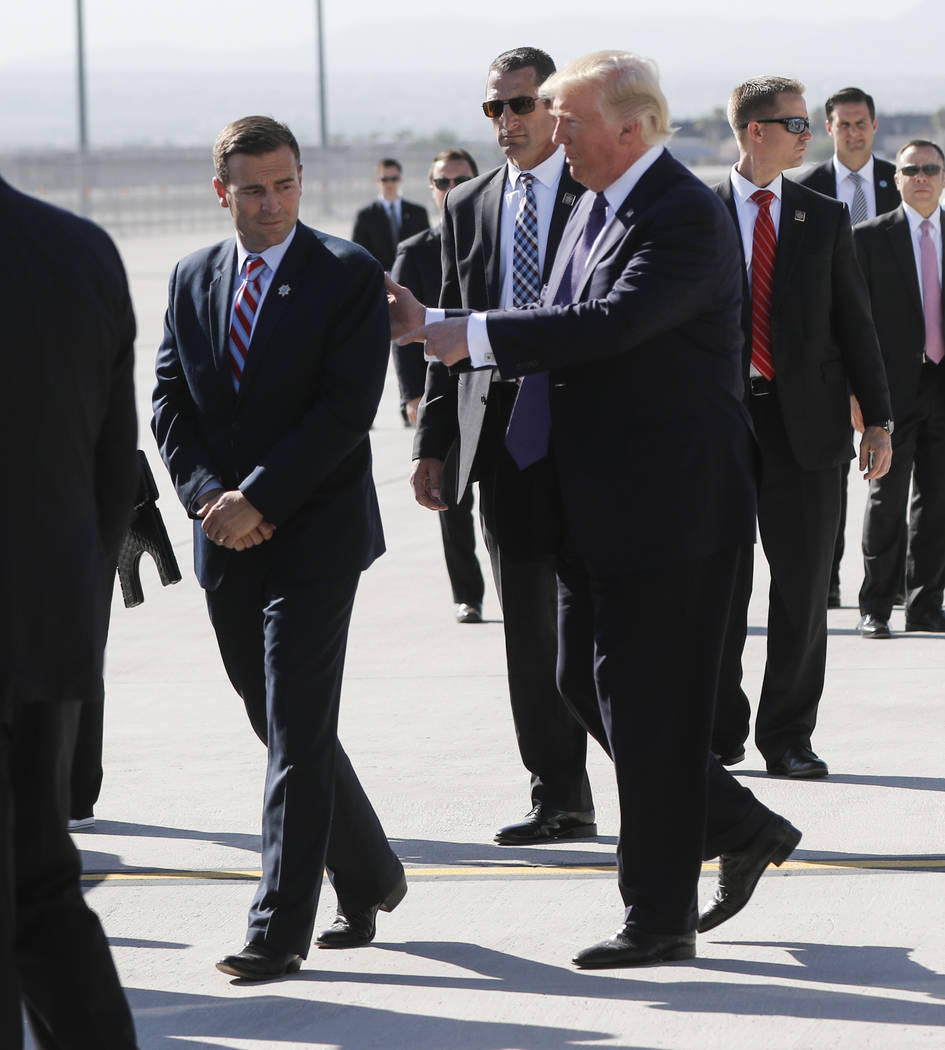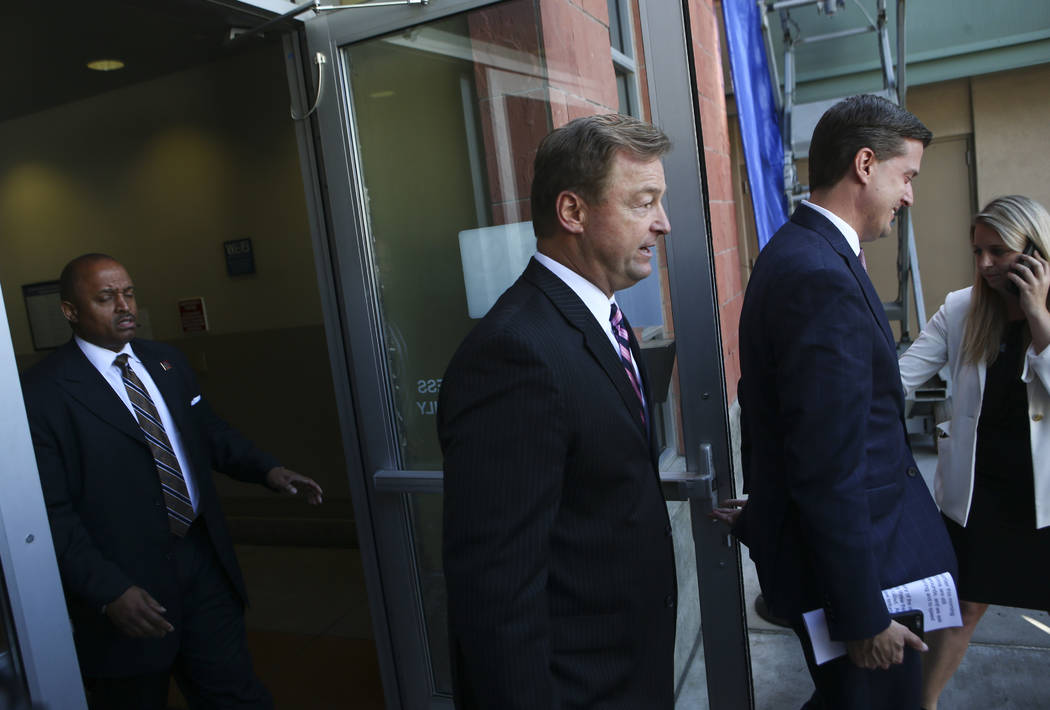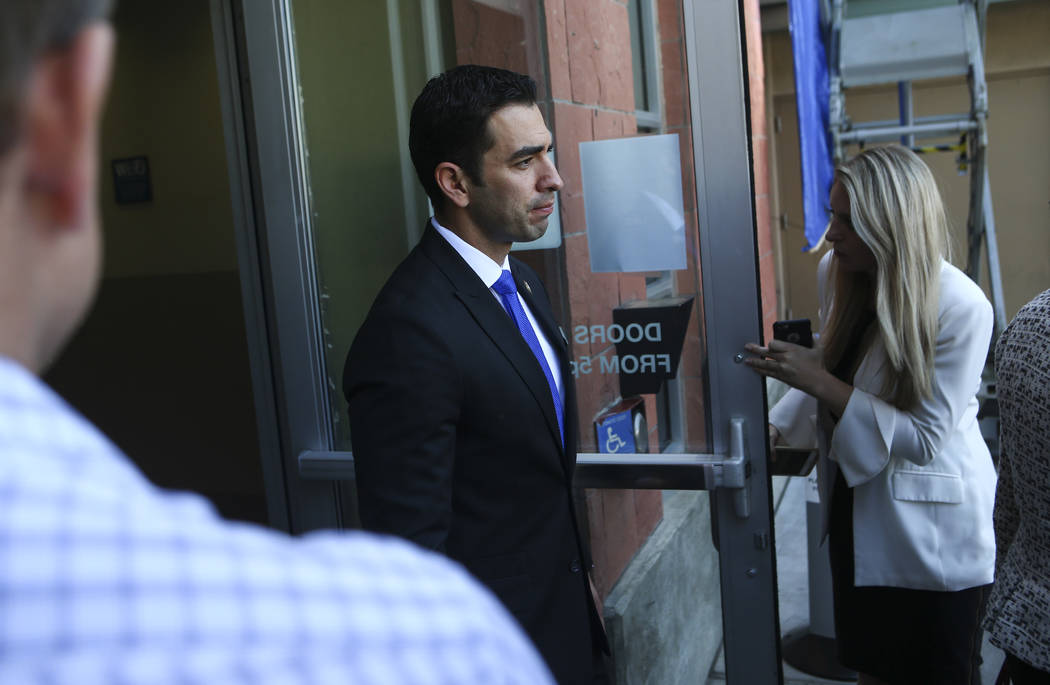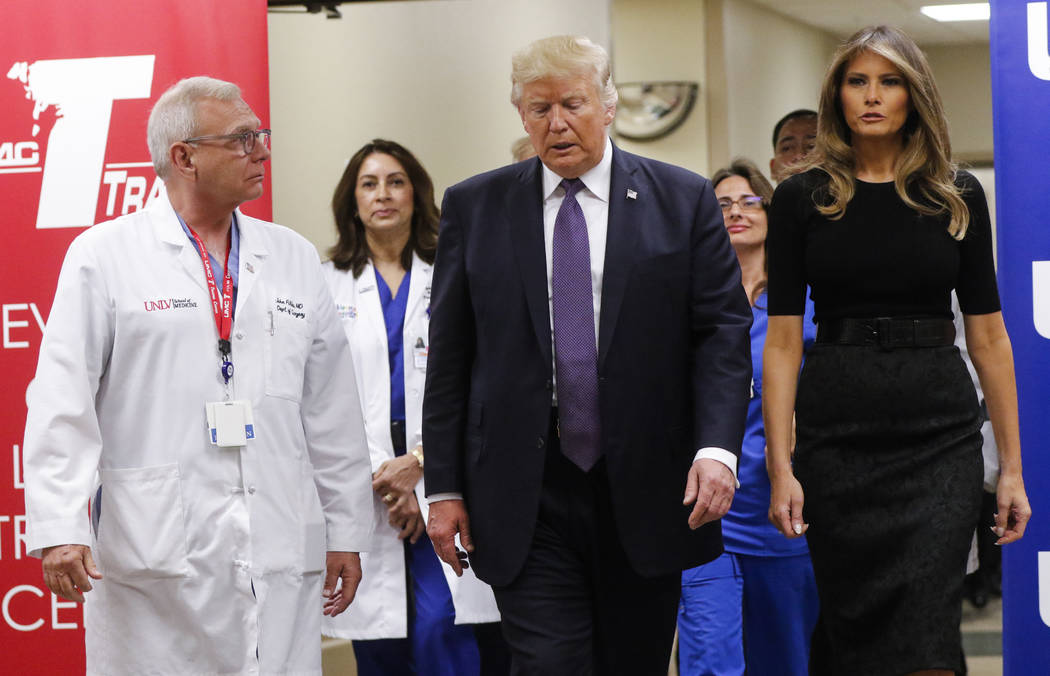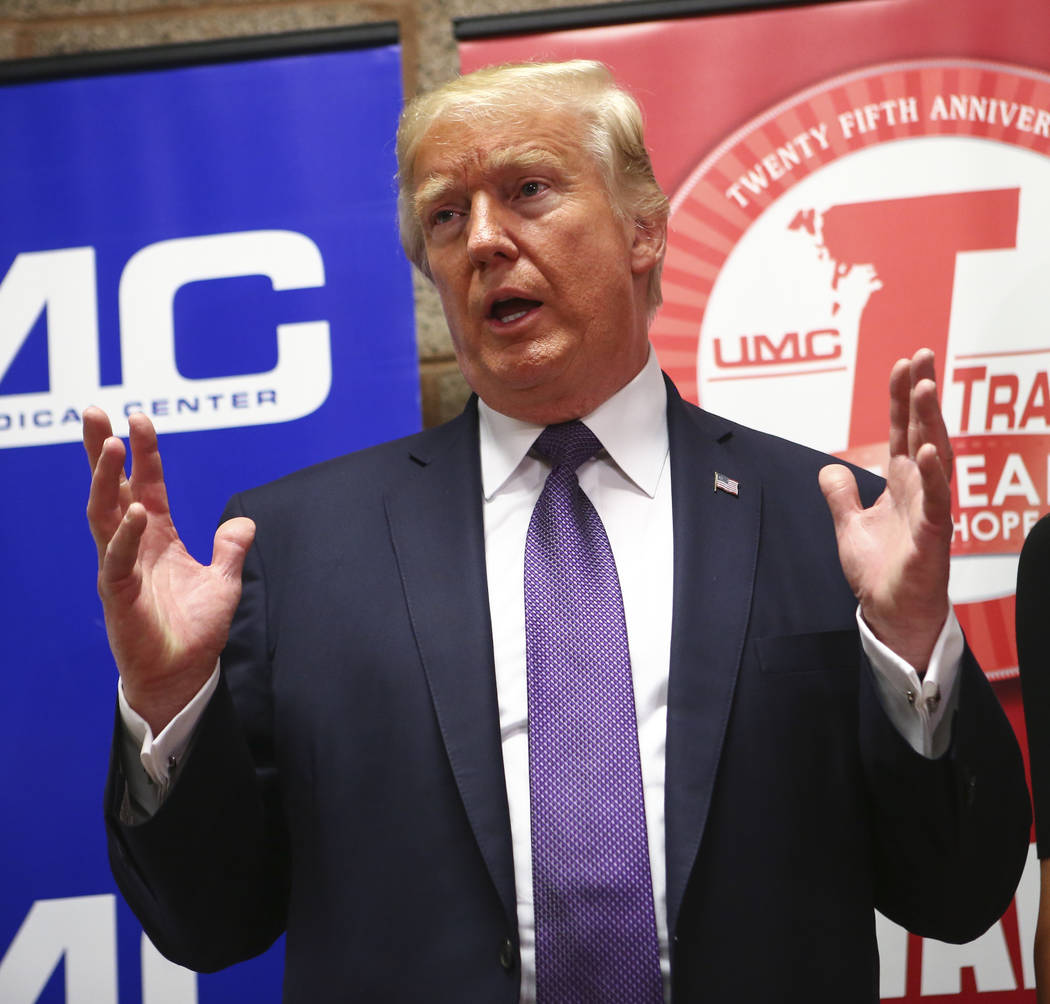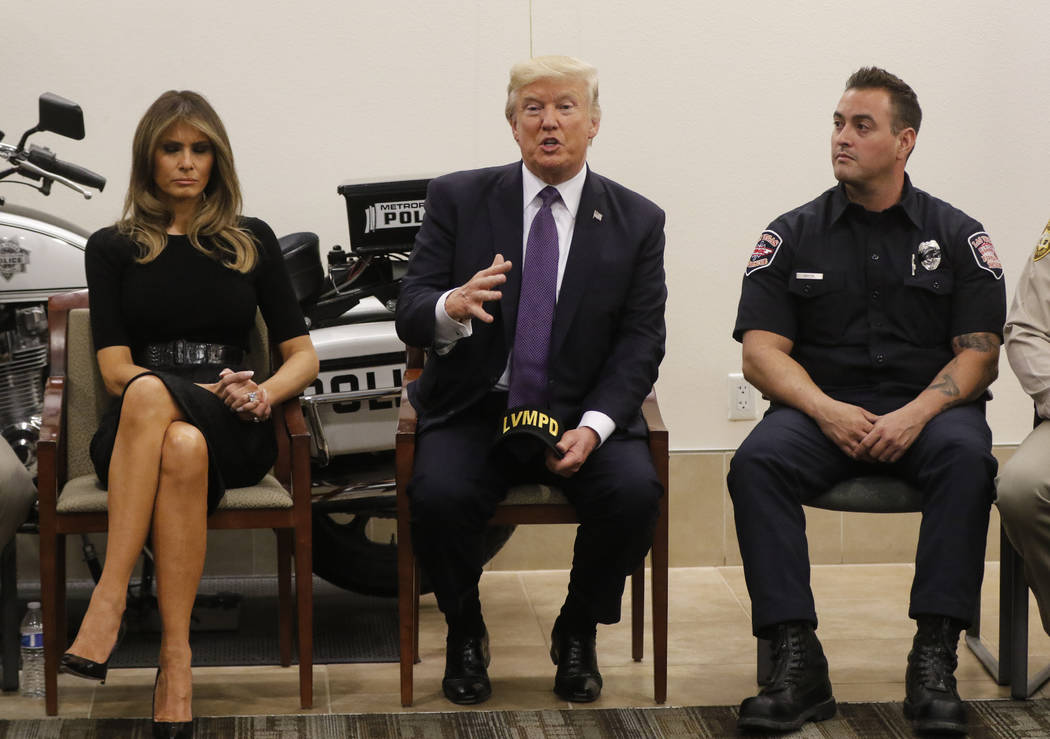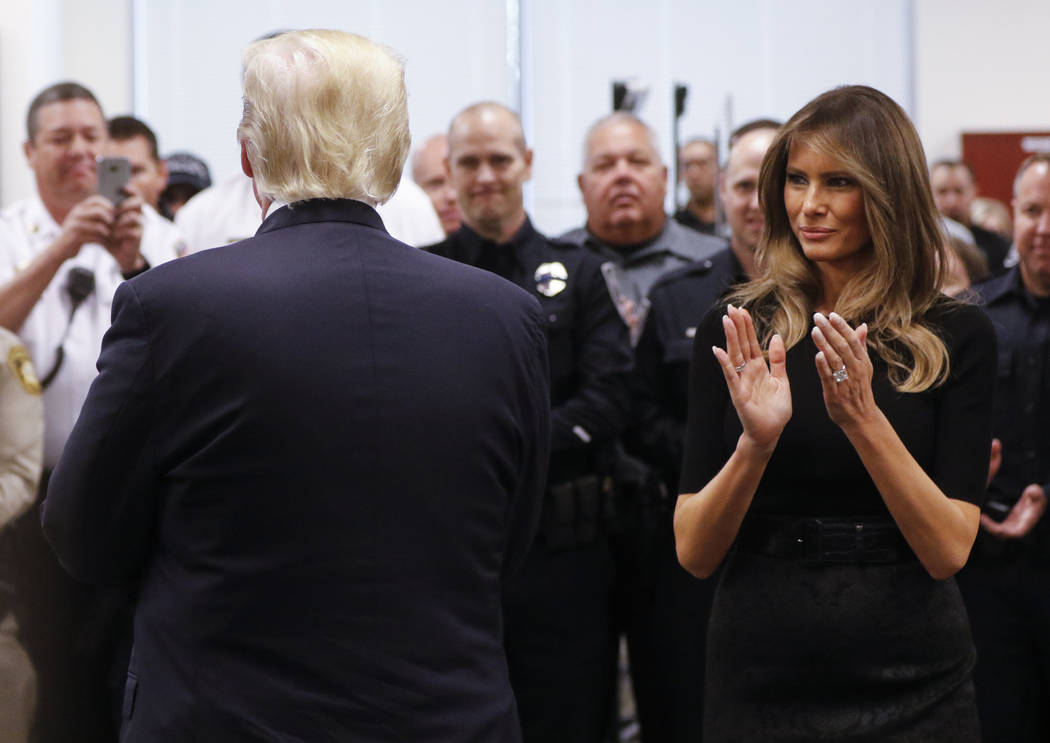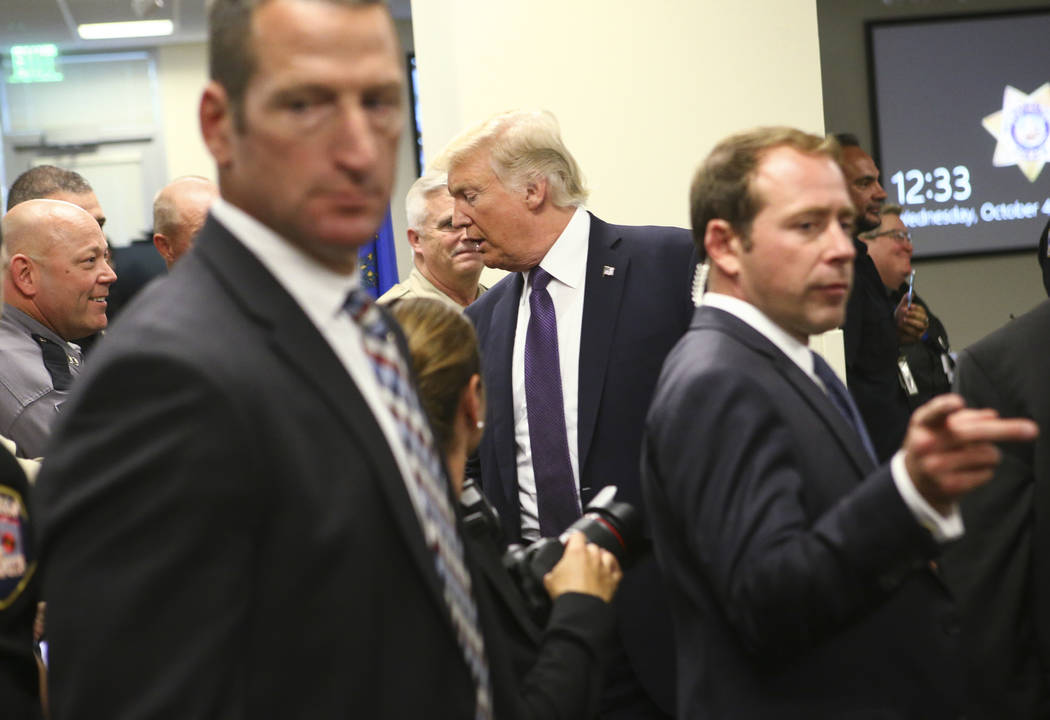 President Donald Trump and his wife, Melania, met privately Wednesday in Las Vegas with victims and heroes of Sunday's mass shooting on the Las Vegas Strip, praising the "love and courage" that prevented an even-worse tragedy.
In the first stop of their whirlwind visit, the Trumps met with patients recovering at University Medical Center.
"I met some of the most amazing people," the president said after the private tour of UMC. "We met patients that were absolutely terribly wounded. And the doctors, the nurses, all of the people at the hospital have done a job that's indescribable. It makes you very proud to be an American when you see the job that they've done."
The president noted that many of the wounded were heroes themselves, saying "they were badly wounded because they refused to leave. They wanted to help others because they saw people going down all over."
After the meetings at UMC, the president and first lady traveled to Metropolitan Police Department headquarters and spoke with first responders and civilians who helped out in the aftermath of the shooting — an event the White House labeled the "heroes meet and greet."
'You are not alone'
Afterward, in remarks to pool reporters and Metro police officers, the president spoke of unity in the face of tragedy.
"Many families tonight will go to bed in a world that is suddenly empty. The people they so dearly love were torn away from them forever," Trump said.
"Our souls are stricken with grief for every American who lost a husband or a wife, a mother or a father, a son or a daughter. We know that your sorrow feels endless. We stand together to help you carry your pain. You're not alone. We will never leave your side."
Trump singled out three heroes to join him during his remarks — Metro officers Tyler Peterson and Tana Gurule and civilian Aaron Stalker.
Trump said Peterson was on his second day on the job when the shooting began but nonetheless joined other officers "rushing between flying bullets to clear the fairground and save lives."
Gurule, he said, was off-duty and attending the concert. "Although she was unarmed, as soon as the shooting began, she threw on a yellow police vest and began evacuating victims," he said.
Stalker, a veteran, rushed to the scene to search for his loved ones, but then began evacuating other injured concertgoers using "plastic barriers as gurneys to carry the injured to transportation."
Trump noted that the mother of Stalker's girlfriend was among the wounded. "She is still in the hospital, and we are all pulling for her," he said."
Sandoval introduces Trump
Nevada Gov. Brian Sandoval also spoke, introducing the president and thanking him for his support.
After the Metro event, the presidential motorcade returned to McCarran for the Trumps' return flight to the White House.
The Trumps made their rounds in Las Vegas less than three days after gunman Stephen Paddock, 64, shot into the crowd at the Route 91 Harvest Festival country music concert Sunday evening, killing 58 people and wounding more than 500 others.
The president made brief comments on the shooting as he left the White House early Tuesday, telling reporters, "Well, it's a very sad thing. We're going to pay our respects and to see the police who have done really a fantastic job in a very short time. And yeah they're learning a lot more. And that'll be announced at the appropriate time. It's a very, very sad day for me, personally. Thank you."
Air Force One, bearing the president, the first lady and their entourage, touched down at McCarran International Airport about 9:40 a.m. Others officials on the flight included Nevada Republicans Sen. Dean Heller and Rep. Mark Amodei as well as House Majority Leader Kevin McCarthy.
Sandoval, Attorney General Adam Laxalt, Las Vegas Mayor Carolyn Goodman and Clark County Sheriff Joe Lombardo were among the state and local officials on hand to greet them.
En route to UMC, they passed the Mandalay Bay hotel, which Paddock used as his sniper perch. The windows from which the shooter fired were not visible to the motorcade.
Bystanders lined the route, taking pictures.
Contact Briana Erickson at berickson@reviewjournal.com or 702-387-5244. Follow @brianarerick on Twitter. Review-Journal White House Correspondent Debra J. Saunders contributed to this report.
'Very humbled and very proud'
Among the first responders who met President Donald Trump at Las Vegas police headquarters Wednesday was Nevada Highway Patrol Trooper Travis Smaka.
Smaka, a lifelong Las Vegan who escorted a pickup truck carrying bodies to University Medical Center after the shooting, said he was honored to meet the president.
"I'm deeply patriotic and it'll be something I take with me the rest of my days," he said outside police headquarters. "I was very humbled and very proud to be here."
— Blake Apgar