Report: No clear answers on Nevada electricity rates if Question 3 passes
Updated July 23, 2018 - 11:05 am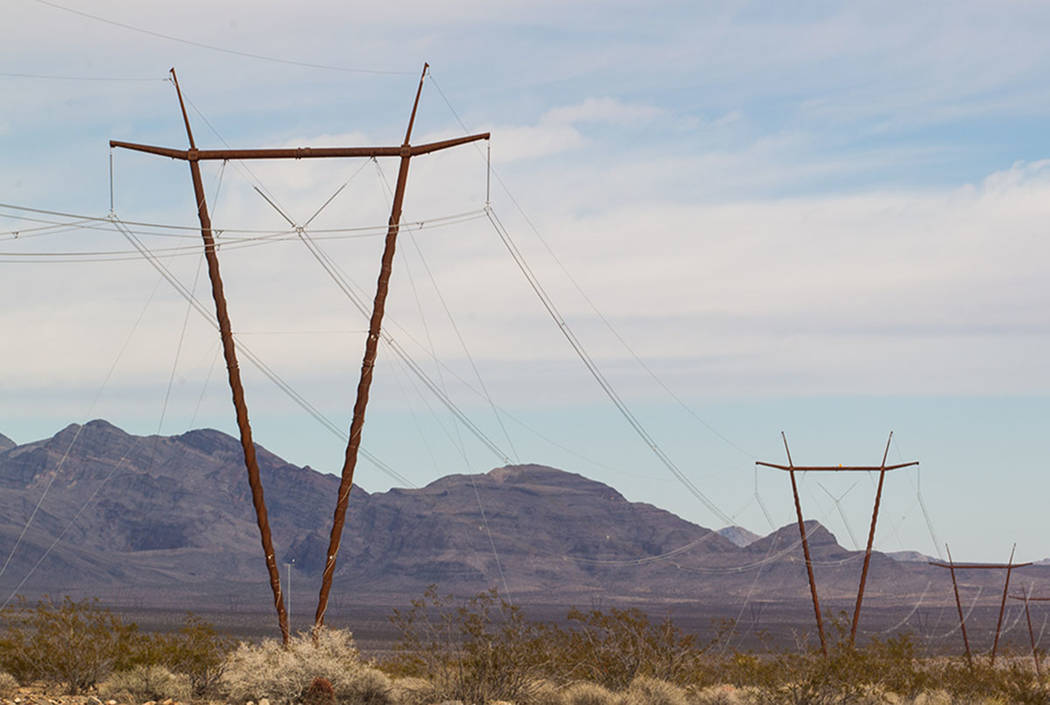 CARSON CITY — It's too difficult to predict whether Nevadans' electricity rates would go up or down in an open energy market under Question 3, a local think tank said in a report released last week.
Opponents and proponents of Question 3, the Energy Choice Initiative that would do away with the state's energy monopoly in favor of retail choice, have argued at length about whether the proposed constitutional amendment would bring higher or lower electric bills for Nevadans.
The Guinn Center sought to try to answer that question for voters. The group reviewed federal energy data, conducted more than two dozen interviews and analyzed research from other states that have restructured their energy markets.
But what it found was a complicated issue without an easy answer.
"Many Nevadans likely want to know what will happen with their electricity rates," the report's executive summary states. "This report finds that this question cannot be answered with any certainty, because there are too many variables that interact with one another even to produce a reasonable forecast or projection of what may happen to rates under restructuring in Nevada."
Both sides of the Question 3 fight latched onto parts of the report to bolster their claims.
"The facts are that in deregulated states, average residential electricity rates are 30 percent higher than they are in Nevada, and, as the Guinn Center concluded, Nevada would no longer be able to protect consumers from rate increases if Question 3 were to pass," said Tracy Skenandore, spokeswoman for the No on 3 campaign.
Meanwhile, the group supporting the measure, Yes on 3, highlighted the finding that states with lower natural gas prices tended to have lower open-market rates.
"Question 3 will create competition and lower Nevadans' energy bills," said Jon Wellinghoff, policy adviser for the Yes on 3 campaign. "This report highlights the benefits states with energy choice see, particularly with respect to natural gas prices in lowering the cost of energy to consumers."
Mixed results
The report notes that other states that have restructured their energy markets "experienced mixed results."
"Across multiple states, many consumers have been enticed by low teaser rates offered by electric suppliers to sign up for variable-rate electricity contracts, but were unaware that their bills could increase at any time, and often did, as market conditions changed," the report concludes.
A report issued in May by the Nevada Public Utilities Commission said Nevadans' electricity bills would likely increase for at least a decade if Question 3 passes, in large part because of billions of dollars of stranded NV Energy assets for which ratepayers would be on the hook.
Question 3 supporters disagreed with that conclusion as well as the appropriateness of a regulatory body taking a position on a ballot question.
The Guinn Center report notes that those stranded costs could influence rates, especially if rates are not capped or frozen.
Another major takeaway from the report: The PUC "likely would no longer be able to able to intervene to protect consumers against higher rates, as that could undermine the intent of the initiative petition."
Not an immediate change
Implementation also could be tricky, the report says.
First, Nevada would be the only state to restructure its market by amending its state constitution.
Of the 15 other states that have, 14 did it through state Legislatures, while New York did it through a regulatory order issued by its Public Service Commission.
Question 3, if passed, would require the restructured market be put in place by July 1, 2023 — or less than five years after passage. Pennsylvania, the report noted, took 16 years to implement energy choice.
One of the other key issues the two sides of the Question 3 fight have argued over is what will happen to clean energy projects in Nevada, with opponents of the measure saying it will only damage those efforts.
But the Guinn Center report concluded that "increased renewable energy (solar) generation assets may come online regardless of whether Question 3 passes."
The Review-Journal is owned by the family of Las Vegas Sands Corp. Chairman and CEO Sheldon Adelson.
Contact Colton Lochhead at clochhead@reviewjournal.com or 775-461-3820. Follow @ColtonLochhead on Twitter.
Related
Energy choice backers say Nevada plan would lower electric bills
Governor's task force member blasts PUC report
Campaign 2018: Latin Chamber opposes Nevada energy choice measure