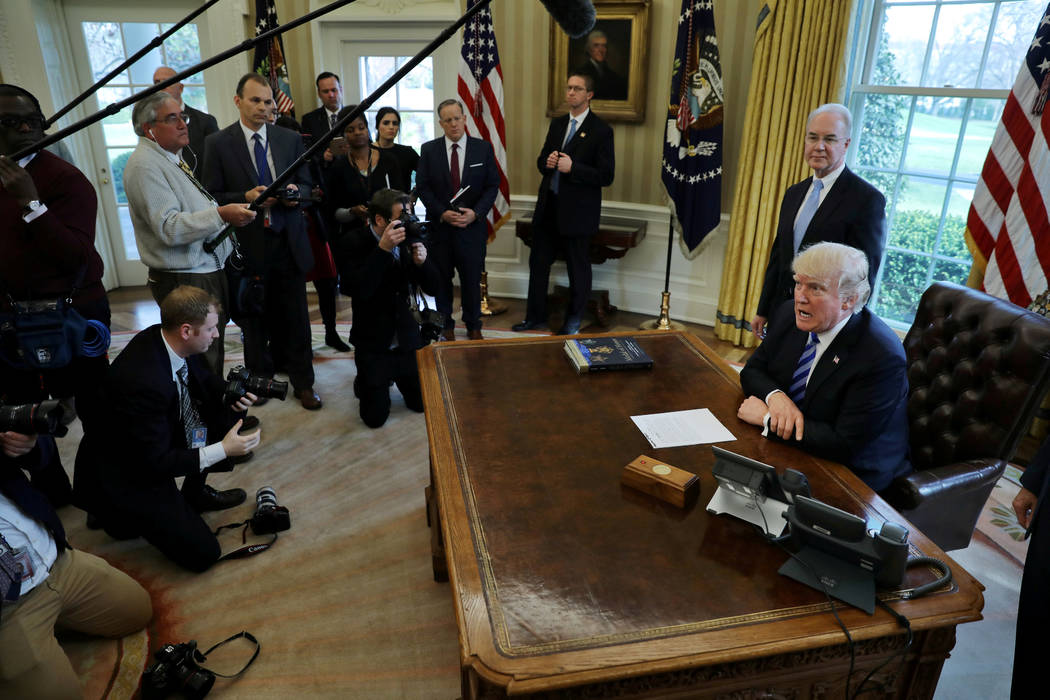 WASHINGTON — President Donald Trump and Republicans in Congress lurched between repealing Obamacare or rewriting the U.S. tax code as their top priority, with House Speaker Paul Ryan on Tuesday dampening White House hopes for a quick vote on health care legislation.
The back-and-forth raised questions over how Trump will manage to achieve major legislative goals this year, prompting uncertainty about the direction Republicans will steer government.
The failure 12 days ago to dismantle Obamacare, also known as the Affordable Care Act, was Trump's first major legislative setback. But a new attempt took off on Monday when White House officials and conservatives held meetings to discuss reviving the failed health care bill.
Republican lawmakers said the new push on healthcare would maintain Obamacare's essential health benefits clause listing services and care that insurers must cover. But in a move to attract hard-line conservatives, states could apply for a waiver if they show it would improve coverage and reduce costs.
In remarks to reporters after a closed meeting with fellow House Republicans, Ryan said the renewed health care effort, following last month's failure to repeal and replace Obamacare, was simply in the "conceptual stage right now."
He refused to give a time line for having a bill on the House floor, and Congress was set to begin a two-week recess at the end of this week.
"We don't have a bill text or an agreement yet, but this is the kind of conversations we want," Ryan said.
But senior White House budget aide Mick Mulvaney told a meeting of moderate Republicans that the administration would produce a proposal in writing later in the day, according to Rep. Chris Collins, who attended the meeting.
A mix of hard-line conservatives and more moderate Republicans sank last month's drive to pass the Obamacare repeal and replacement. That prompted an angry Trump to say that he was moving on to a tax code overhaul.
However, a source familiar with internal House Republican deliberations said that health care, not tax reform, now topped the House agenda and that the health care effort was being driven by the White House.
FREEDOM CAUCUS
Some House Freedom Caucus members, representing the most conservative Republicans in Congress, were already criticizing the revamped healthcare outline.
"It is inadequate to cause me to shift from 'no' to 'yes.' I have not seen anything in the latest White House offer that suggests to me that a skyrocketing health insurance cost would be better constrained," said Rep. Mo Brooks, a Freedom Caucus member.
Lawmakers said on Monday that the White House would like to see a revised bill come up for a vote as early as week's end, before the House breaks for its spring recess, and that the new proposal's text could be ready some time on Tuesday.
Ryan said he would not put "some kind of artificial deadline" on a revamped plan. "We want to make sure that when we go, we have the votes to pass this bill," he said.
A Republican senator playing a major role in the attempt to revive the health care bill, Rand Paul, said on Tuesday that the Trump administration and Republican lawmakers were still at an "impasse" in talks.
The latest proposals would mean that Trump is reneging on a promise to uphold one of the law's most popular provisions: that insurers cannot discriminate against those with pre-existing conditions. By allowing states to opt out of the so-called community rating, insurers could charge sicker people much more. "If they try once again to give power back to the insurance companies, increase costs, and undermine care for people with pre-existing conditions, they'll get the exact same result: a bill that would be devastating for patients and families … and one that has absolutely no path to becoming law," said Sen. Patty Murray, the senior Democrat on a Senate committee that oversees health care.