Ryan Zinke expected in Nevada on Monday for monument review
Updated July 26, 2017 - 12:29 pm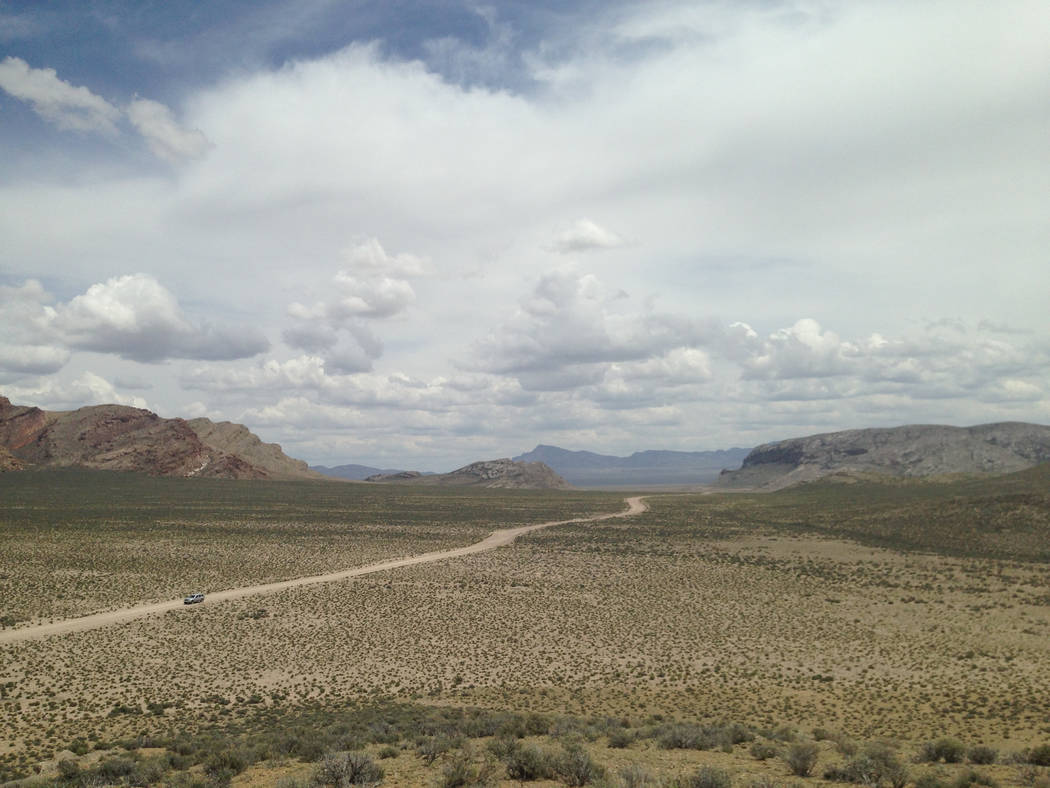 Interior Secretary Ryan Zinke will hear opposing views on two Nevada national monuments when his ongoing review touches down in the Silver State.
The Interior Department has not announced the visit, but Nye County Commission Chairman Dan Schinhofen said he and other local officials are scheduled to meet with Zinke Monday at the community center in Overton, 65 miles northeast of Las Vegas.
A congressional aide confirmed the visit, saying Zinke's schedule includes a meeting in Mesquite with the monument advocacy and stewardship group Friends of Gold Butte at 10 a.m., followed by roundtable with state and local officials in Overton at noon.
In anticipation of Zinke's visit, U.S. Sen. Catherine Cortez Masto, D-Nev., released a video Wednesday touting the wonders of the state's national monuments.
Monument review progressing
Zinke is in the midst of reviewing 22 national monuments and five marine national monuments created by presidential decree since Jan. 1, 1996, to determine if the designations should be scaled back or eliminated. The Interior Department announced Wednesday that Zinke will be in New Mexico for three days starting Thursday to tour the Organ Mountains-Desert Peaks National Monument near Las Cruces.
Two Obama-era monuments in Nevada are on the list created by President Donald Trump's review order: Gold Butte, on 297,000 acres of federal land in northeastern Clark County, and Basin and Range, on 704,000 acres of federal land in remote Lincoln and Nye counties.
Schinhofen said Zinke can expect an earful from him about Basin and Range, which he said was designated by President Barack Obama in July 2015 over the objections of Nye County officials.
"We don't object to national monuments, but to take 700,000 acres to protect private property that represents less than 1 percent of that land seems excessive," Schinhofen said. "We think it can be pared down."
The private land he is referencing is "City," the sprawling land sculpture, as big as the National Mall, that artist Michael Heizer has spent 45 years constructing on 200 acres in Garden Valley.
Schinhofen said the vast, empty monument that now surrounds Heizer's "City" was owned by the federal government and not under threat from anything. "It's so remote, they didn't even do the ribbon cutting there" for the monument, he said.
Detailing monumental benefits
In her two-minute video, Cortez Masto notes the tribal significance, historical artifacts, pristine lands and economic benefit that Basin and Range and Gold Butte provide.
The Nevada native and member of the Senate Energy and Natural Resources Committee, which oversees the Interior Department and its programs, said the two monuments contribute $156 million to the Nevada economy annually.
She said the state's outdoor recreation industry accounts for 48,000 jobs. At the end of the video, she urges Zinke "to leave these important monument designations in place."
It's unclear who else has been invited to meet with the Interior secretary in Nevada next week.
Schinhofen met with Zinke during a June 26 stop in Pahrump at which the secretary promised to return to Nevada in July to learn more about Gold Butte and Basin and Range.
Zinke is expected to make final recommendations to Trump on whether to rescind or modify national monuments by the end of August.
His upcoming trip to New Mexico includes meetings with local stakeholders and tours of Organ Mountains-Desert Peaks by helicopter, horseback and foot. Other than a press conference Thursday afternoon, all of his scheduled events are closed to the media.
Contact Henry Brean at hbrean@reviewjournal.com or 702-383-0350. Follow @RefriedBrean on Twitter. Contact Gary Martin at 202-662-7390 or gmartin@reviewjournal.com. Follow @garymartindc on Twitter.