Salvadoran immigrants in Las Vegas face 18 months of uncertainty
January 9, 2018 - 4:50 pm
Updated January 9, 2018 - 7:19 pm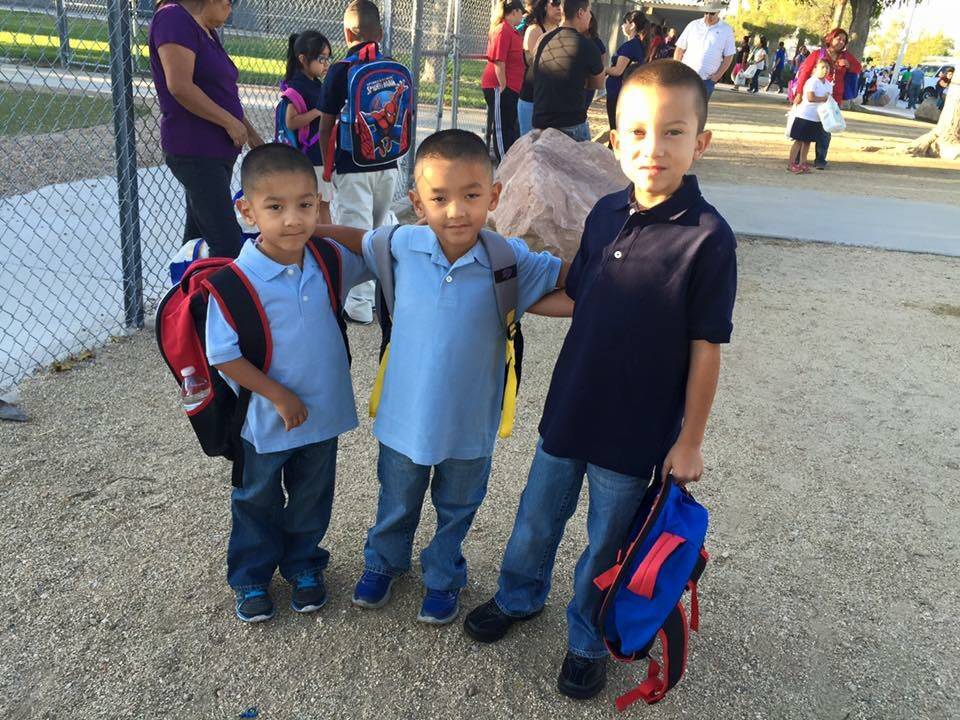 When Jose Valle was a teenager living in El Salvador in the '90s, his mother would send him to the local grocer for a couple of eggs. It was all the family of four — Valle, his mom and two younger sisters — could afford for breakfast.
In hopes of a better life, Valle, at 17, crossed several borders to reach the United States. Three years later, in 2001, he gained legal temporary immigrant status after a major earthquake devastated his homeland.
Now he is concerned he could be forced to return to a life of poverty. He is one of the nearly 200,000 Salvadorian immigrants affected by the Trump administration's announcement this week that it is ending temporary immigration protection for citizens of the Central American country.
U.S. Secretary of Homeland Security Kirstjen Nielsen announced Monday that El Salvador natives who have lived in the United States for nearly two decades would no longer be able to legally live and work in the country after September 2019.
Salvadorians are the third group of U.S. immigrants to lose temporary protected status, aka TPS, in the last several months, following Nicaraguans and Haitians. The status is awarded to citizens of countries where a natural disaster or armed conflict has made a return to their homeland unsafe.
Local concerns
Local advocates are concerned the program's termination could mean so-called mixed status families — those with legal and undocumented members — could be split up by deportation. They also warn that local businesses could face a labor shortage, as the pool of undocumented local residents increases overnight when the program expires.
That would be the worst outcome for Valle, who lives in Las Vegas with his wife, Fatima Choto, and their three kids, Alex, 9, and twins Byron and Carlos, 7.
"I don't know how hard it's going to be without the TPS," Valle said. "I haven't lived without TPS all this time."
Martha Menendez, a Las Vegas immigration attorney for the local office of the City of New York's Citizenship Now program, said the impact could spread beyond those directly threatened with deportation.
"Some of them have started their own businesses, so what happens not just to them but the people they employ?" Menendez said.
Salvadorians make up about 60 percent of U.S. TPS holders, the largest cohort of the program's beneficiaries by far. The 5,700 Salvadorian TPS holders in Nevada have lived in the United States for an average of 24 years and contribute $255.3 million to the state's annual GDP, statistics compiled by the left-leaning Center for American Progress show. About 30 percent of Nevada's Salvadorian TPS workers are in the accommodation and food industries, it estimates.
The Culinary union has sent letters to Las Vegas gaming industry executives asking for their support for immigrant workers. Geoconda Arguello-Kline, secretary-treasurer of the local, said they'll continue to ask politicians and corporations to press Congress to protect TPS holders.
Valle gained TPS protections in 2001, when a 7.6-magnitude earthquake rocked El Salvador, and has been working as an auto mechanic since. The money he is able to send to his family in Central America has helped his sisters attend college and his mother put food on the table.
"It would've been really, really hard not to have (TPS)," said Valle, now 37. Though his wife has a green card and his children, born in the United States, are citizens, they cannot petition for Valle to be granted legal status.
Few avenues for legal stay
TPS for Salvadorans doesn't expire for 18 months, so Laura Barrera, an immigration attorney at UNLV's Immigration Clinic, is urging them to see an attorney to renew their papers once renewal dates are announced.
TPS holders can apply for legal permanent stay through a green card if they have a spouse or child over 21 who's a U.S. citizen, but a minority of beneficiaries meet that criteria, Barrera said.
"People call and they want to know what their options are, and for most people there aren't other options," Barrera said. "It can be hard to have those conversations."
El Salvador has rebuilt much of its damaged infrastructure since the earthquake, eliminating the need for the protection, Nielsen said in her Monday announcement.
"Many reconstruction projects have now been completed. Schools and hospitals damaged by the earthquakes have been reconstructed and repaired, homes have been rebuilt and money has been provided for water and sanitation and to repair earthquake damaged roads and other infrastructure," read the status announcement posted to the U.S. Department of Homeland Security's website. "The substantial disruption of living conditions caused by the earthquake no longer exist."
But a new threat exists, many experts say: gang violence.
That worries Valle and his family, who says they won't stay behind if he is forced to return to El Salvador.
"I try to tell them, 'It's beautiful in El Salvador. It's so nice. You have your grandma there, and your aunts.'" Valle said, admitting he doesn't believe his own words. "I don't know where (they heard) from, but they say, 'No dad, they kill people there.'"
Contact Jessie Bekker at jbekker@reviewjournal.com or 702-380-4563. Follow @jessiebekks on Twitter.
Information for TPS holders
The El Salvador Consulate, in conjunction with Pereira Immigration Law Group, will host an information session Thursday at 6 p.m. at the Consulate, 765 N. Nellis Blvd. There, immigration attorney Kathia Pereira will answer questions regarding re-registration and avenues for becoming a permanent legal resident.
On Monday, the UNLV Immigration Clinic will host another information forum at 5 p.m. with the help of local immigration advocates at a to-be-determined location.