Senate to vote on 2 competing plans to end shutdown
Updated January 22, 2019 - 5:49 pm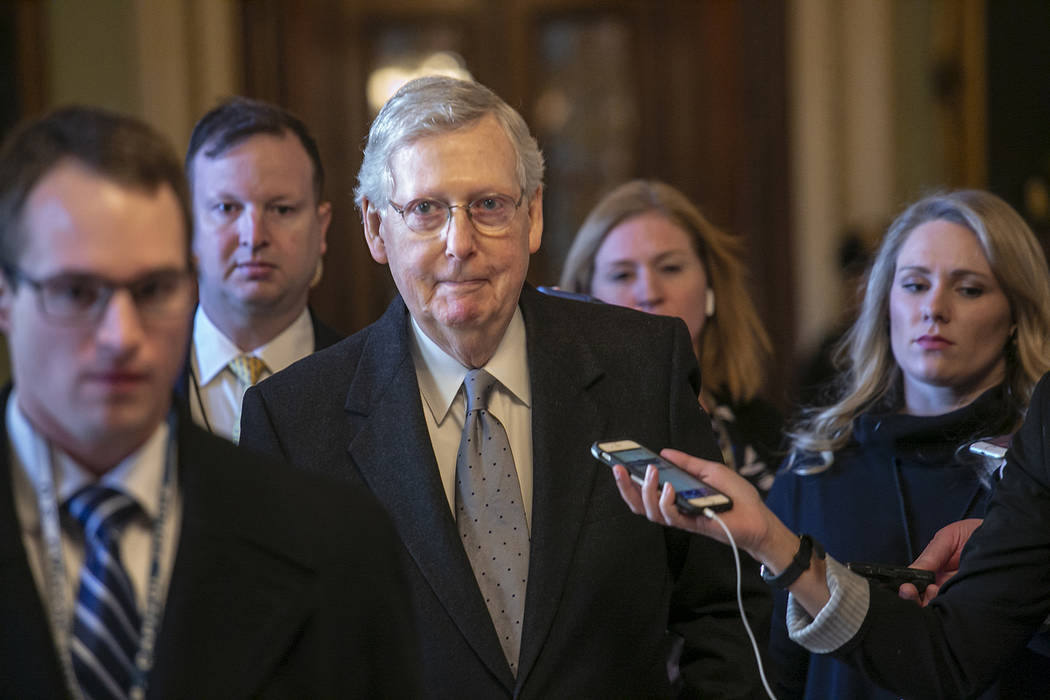 WASHINGTON — On the 32nd day of the longest government shutdown, Senate leaders agreed to vote Thursday on two bills that could end the stalemate, as President Donald Trump and House Speaker Nancy Pelosi fought over the date and location of the State of the Union address.
The first Senate bill represents Trump's proposal, presented from the White House Saturday, to provide funding that would end the partial government shutdown, fund $5.7 billion for Trump's signature border wall and extend protections for some undocumented immigrants.
The second measure would reintroduce a "clean" spending bill already passed by the Democratic-led House that would open up the government through Feb. 8 and give lawmakers time to debate border security. The measure does not include money for a border wall.
It is unclear if either bill will garner the 60 votes needed to qualify for a floor vote.
The votes are scheduled to occur a day before some 800,000 federal workers are due to miss a second paycheck.
In addition to $5.7 billion for a border wall, the Senate GOP measure would extend for three years protections provided under President Barack Obama's Deferred Action For Childhood Arrival program for some undocumented immigrants brought into the country before they were 16 years old. It also would extend the Temporary Protected Status program that grants protections largely to refugees from Central America and Haiti.
"To reject this proposal, Democrats would have to prioritize political combat with the president ahead of federal workers, ahead of DACA recipients, ahead of border security, and ahead of stable and predictable government funding," Senate Majority Leader Mitch McConnell, R-Ky., said on the floor. "Is that really a price that Democrats want to pay to prolong this episode, which they say they want to be over and done with?"
Democrats' proposal
Senate Minority Leader Chuck Schumer heralded the Democrats' measure as including language that "would renew all of the portions of the government until Feb. 8th, open them briefly," while providing workers their back pay.
"And it will allow us to then debate – without hostage-taking, without temper tantrums, without anything – how we can best do border security, get that done hopefully by Feb. 8th, and keep the government open," Schumer continued.
Trump has shown no inclination to sign a measure that does not fund the border wall with Mexico that he promised during the 2016 presidential campaign.
And Democrats have said that they will not pass a measure that includes funding for the wall, and will not negotiate with Trump on border security until after the partial government shutdown is over.
During a Dec. 11 meeting in the Oval Office, Trump told Pelosi and Schumer that he would be "proud to shut down the government for border security." Of late, however, the Trump White House has been working to shift the blame to the other side of the aisle.
White House Press Secretary Sarah Sanders said Tuesday the question now facing Democrats is, "How long are they going to continue to do nothing to actually fix the problem?"
Partisan proxy fight
Meanwhile, the squabble between Trump and Pelosi over the State of the Union address served as partisan proxy fight over border wall funding.
Last week, Pelosi suggested that Trump reschedule his speech to the nation, planned for Jan. 29 on the House floor, to "another suitable date after the government has opened."
In a two-can-play-at-this-game maneuver, Trump responded by cancelling a military jet that was supposed to take Pelosi and a congressional delegation to Brussels and Afghanistan.
On Tuesday, Fox News reported that the White House had sought a walk-through session with the House sergeant-at-arms in advance of the Jan. 29 speech.
It is not clear that Pelosi disinvited Trump, after extending an invitation for him to deliver the State of the Union immediately after she took the speaker's gavel.
On Friday, Pelosi told reporters that Trump had been invited to deliver his remarks in the Capitol. "All we said is, 'Let's work together for another date when government is open."
"Nancy Pelosi made the invitation to the president on the State of the Union. He accepted," said White House spokeswoman Sarah Huckabee Sanders. "At this point, we're moving forward."
Asked about the situation Tuesday, Pelosi did not address the White House's decision, saying only: "We just want people to get paid for their work."
"It does take an act of Congress to allow him access to speak on the House floor," said Mark B. Harkins, senior fellow at Georgetown University's Government Affairs Institute. It takes both the House and Senate to give the president access to speak on the House floor.
The White House has signaled a willingness to look at other venues, but Harkins noted they would not provide the spectacle that a president draws during a standard State of the Union speech.
"Trump enjoys speaking before an audience and he likes making news," Harkins said, adding that Pelosi might hope to use the State of the Union venue as leverage to end the shutdown.
"There's hope in my heart," said Harkins, "but I wouldn't bet more than a sandwich on it."
Contact Debra J. Saunders at dsaunders@reviewjournal.com or 202-662-7391. Follow @DebraJSaunders on Twitter.