Sisolak: Taxes, spending cuts up to Nevada Legislature now
Updated July 8, 2020 - 7:17 pm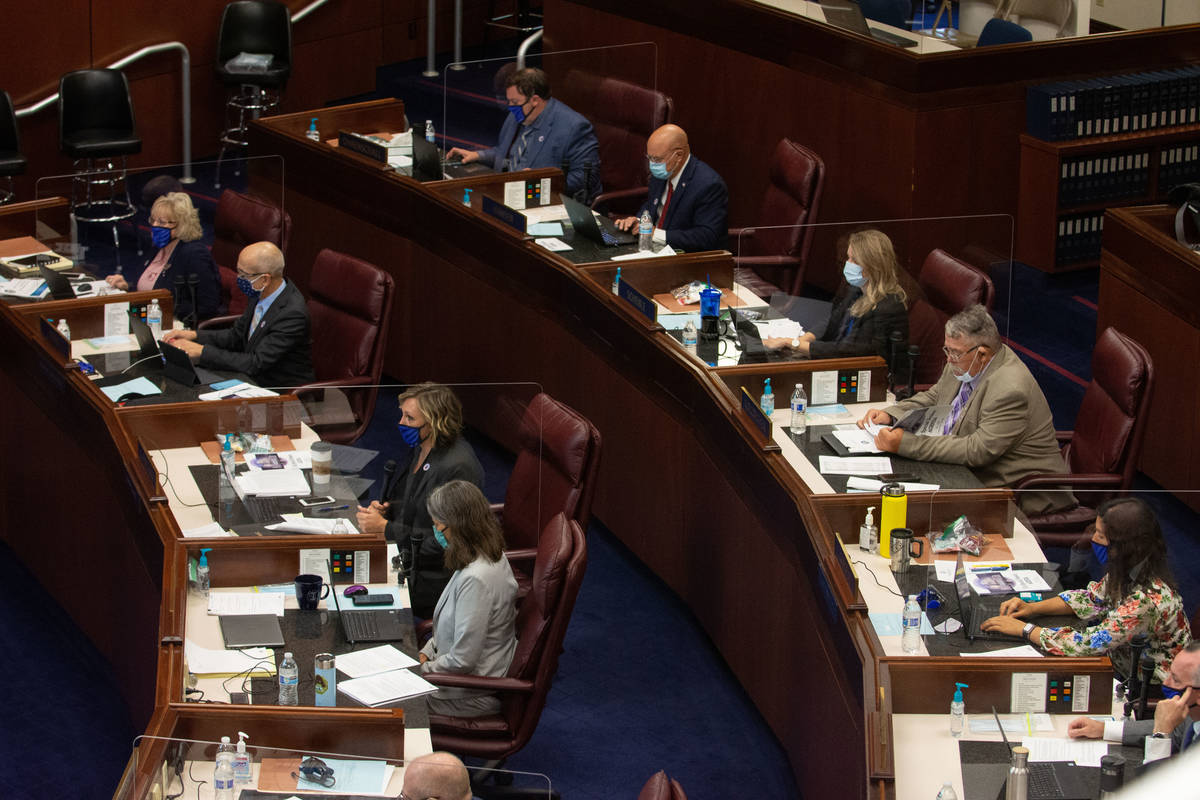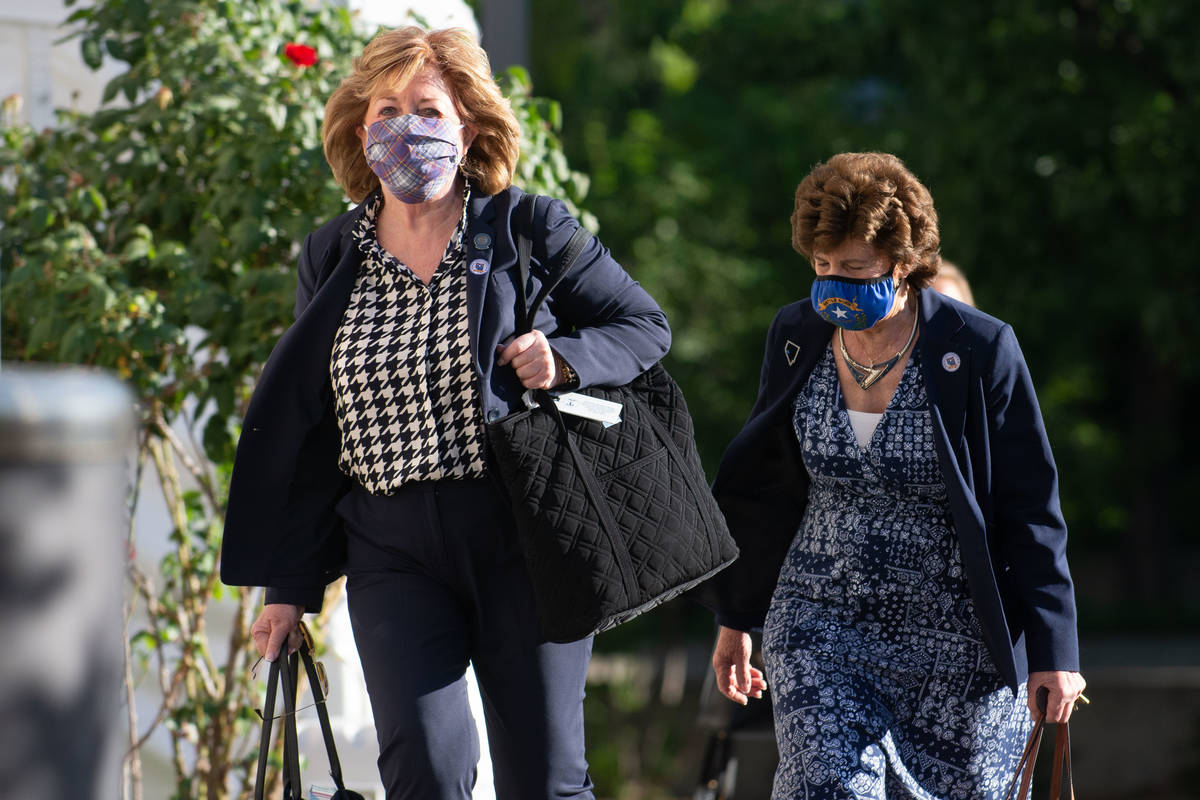 CARSON CITY ­— As legislators met in special session Wednesday to consider how to close a $1.2 billion state budget gap, Gov. Steve Sisolak said a second special session to consider "extraordinary" policy questions on spending, criminal justice and the state's social safety net could quickly follow on the first.
In a brief stand-up interview outside the Capitol on Wednesday, he also cited the political difficulty of raising taxes to address the massive budget shortfall, and said doing so also would take a long time to generate revenue when the state needs cash now.
"My staff and I looked at a plethora of taxes," the governor said in an interview with the Review-Journal. "There's an implementation time and a lot of ideas for taxes would take time to implement, to set up — and to generate and actually receive any revenue could take six months to a year. If it takes a year, it's not going to help me with this pandemic and the shortfall.
"So we looked at all the possibilities of adjustments to some taxes that currently exist that wouldn't have that ramp-up time that you could recognize revenue quickly. But it's gonna to be up to the Legislature."
A tax increase would require a two-thirds vote of both houses. If necessary, Democrats have the numbers to win party-line approval of an increase in the Assembly but are one vote short of the same in the Senate.
"I'm not naïve. I knew they need one more vote in the Senate and they need to hold everybody else," Sisolak said. "That remains to be seen, what leadership wants to do, what appetite there is. And I don't want to guess as it relates to that. I'll just wait and see what they come back with.
"I don't know how realistic, what the possibilities are," Sisolak continued. "It'll be up to them on the Republican side to see if somebody is willing to step up and want to fund education fully the way we had it funded or they're gonna just step back and keep pushing red buttons."
Education cuts
On the potential cuts to education, Sisolak said, the administration's proposals are now "in the Legislature's hands."
"They're gonna have to decide how important education is for them, if I can get somebody to step up and give me the votes necessary in order to pass some revenue," he said. "But that's totally out of my control right now.
He added: "I wish we didn't have to make these cuts. We spent countless hours just frustrated in dealing with, you know, every single cut especially as related to education but felt that this was the fairest that we could possibly come up with. If somebody in that building has another idea, I'm all ears."
Education cuts occupied much of the first day of the special session that kicked off at 10 a.m. on Wednesday, as state and local education officials described to members of the Assembly the impact that proposed cuts would have on Nevada schools.
Police, unemployment reform
As for a second special session, the governor said it "would be my hope that if things go smoothly and they deal with this budget quickly that we'd be able to immediately call a second special session and deal with any extraordinary policy issues that might be on the table."
A subsequent session could come as soon as 24 hours after the current one concludes, he said, with police reform a potential policy subject.
"Clearly with what's going on in the country, that's an extraordinary issue, social justice and police reforms," he said. "We'll come forward with what we think is most appropriate and needs our attention immediately and can't wait till the next legislative session."
Other areas could include the state's unemployment claims system, virtually crippled by the unprecedented job losses caused by the pandemic starting in mid-March.
"I'd like to get that resolved as quickly as much as anyone else would," the governor said. "And if we can come up with a way to do that, that's something definitely we'll look at," he said.
First day
The first day of the special session started with a brief debate over coronavirus-inspired rules, specifically one that would allow lawmakers to participate and vote remotely if they had to quarantine.
Republican lawmakers voiced their concern with the rule change. Senate Minority Leader James Settelmeyer, R, Minden, said people voting remotely could be outside the state, or even the country, creating "a problem of accountability and transparency."
Through other crises, lawmakers "always had the ability to meet in Carson City," Settelmeyer said. "Even now, we're still under rules and protocols (for) safety and have all done everything we can, from wearing masks to getting tested, to make sure to alleviate these concerns. I think this is improper to violate the constitution and will be voting against it."
Under Article 4, Section 1 of the Nevada Constitution, "…the sessions of such Legislature shall be held at the seat of government of the State. Article 15, Section 1 of the constitution identifies that seat as Carson City.
The rule passed on party lines in the Democrat-controlled Senate. A similar resolution to change the rules passed in the Assembly on a voice vote, with some Republican lawmakers voting against it.
Both chambers voted to suspend rules that require bills to be read three times before they can be voted on as a way to speed up the process.
The day marked the first of what's expected to be at least a few days of deep dives into the governor's proposed budget cuts as lawmakers get their first chance to publicly ask department heads and other agency staff members questions about the cuts and how they will affect services for Nevadans.
The Senate dug into the $233 million in cuts to the Department of Health and Human Services and and reductions to state capital improvement projects, while the Assembly took on cuts of $156 million to K-12 and $109 million to the Nevada System of Higher Education.
The Senate also introduced two bills Wednesday: one dealing with the capital improvement cuts and another that would allow the Board of Regents to change or waive requirements students need to meet in order to qualify for or retain eligibility for the Millennium Scholarship.
Contact Bill Dentzer at bdentzer@reviewjournal.com. Follow @DentzerNews on Twitter. Contact Colton Lochhead at clochhead@reviewjournal.com Follow @ColtonLochhead on Twitter.