Summerlin man sues MyPillow CEO for not paying out election fraud challenge
Updated May 23, 2023 - 1:16 pm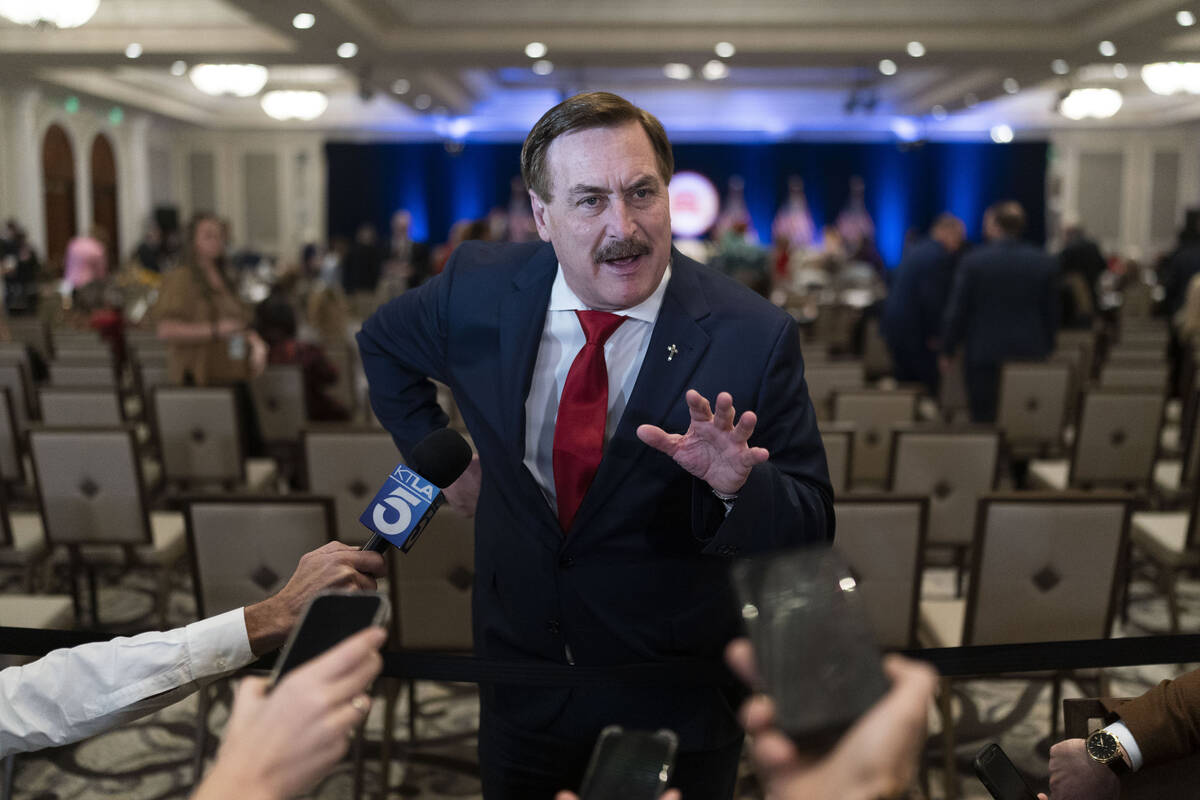 The Summerlin resident who proved infomercial pillow salesman Mike Lindell wrong about election fraud filed a lawsuit Friday after Lindell failed to pay him the $5 million award that a panel of arbitrators had ordered.
Computer forensics expert Robert Zeidman completed Lindell's "Prove Mike Wrong Challenge" in August 2021, in which Lindell claimed to have data that proved that China hacked the 2020 election and offered $5 million to anyone who could prove him wrong.
The MyPillow CEO and well-known election denier argues that Zeidman "didn't prove anything" and therefore did not win the award.
Zeidman examined the data and found that it was "nonsense," but Lindell refused to pay him the award. A private panel of arbitrators ruled in favor of Zeidman on April 19, ordering Lindell Management LLC to pay him within 30 days.
That 30 days has passed without Zeidman receiving any portion of his award, so he filed a lawsuit Friday in the U.S. District Court of Minnesota — where Lindell Management LLC is registered — asking the court to uphold the arbitrators' judgment.
Lindell said, however, that the arbitrators' judgment was a "complete sham." The arbitrators were "left wing" and "went above and beyond what they were supposed to do," he told the Review-Journal on Monday.
He filed a lawsuit against Zeidman on Thursday in the Hennepin County District Court, requesting the court to vacate the arbitration award and order a rehearing of the arbitration.
Lindell claims the panel of arbitrators exceeded its powers and said that Zeidman "didn't prove anything" and therefore did not win $5 million.
"I think it's a setup, but we'll find out in court," Lindell said. He also maintained he has good evidence "that goes from here to the sun" of election fraud, showing that electronic voting machines must be removed.
Since November 2020, former President Donald Trump and his allies instilled doubt in elections processes, calling foul on the results, filing lawsuits in multiple states to no avail and attempting to overturn results. The election doubts have led to legislators seeking more security in election systems and prompted several Republican-led states and counties to count ballots by hand and remove electronic voting machines.
As part of the lawsuits, both parties attached an exhibit of the "Prove Mike Wrong Challenge Official Rules," which states that the contest and "any dispute" arising from it will be "resolved exclusively by final and binding arbitration."
In addition to the $5 million, Zeidman is requesting a post-judgment interest to be issued at a rate of 10 percent per year until the judgment is completed, according to the petition, and Lindell is also asking for an award to cover the costs and disbursements incurred from the lawsuits.
Zeidman told the Review-Journal on Monday that from the beginning he did not think he'd see any money, but he is feeling more confident that he will win.
"Really I just want this to be put to rest," Zeidman said. Lindell is planning to hold another symposium in August where he will double down on the alleged proof he has of election fraud, which is "just really bad for our country," said Zeidman, who like Lindell, is also a conservative Republican.
Lindell will hold the two-day "Election Crime Bureau Summit" in August in Springfield, Missouri, where he will push to remove electronic voting machines and will be "revealing the plan to save our country," Lindell said.
Contact Jessica Hill at jehill@reviewjournal.com. Follow @jess_hillyeah on Twitter.
Mike Lindell petition by Jessica Hill on Scribd
Robert Zeidman lawsuit by Jessica Hill on Scribd