Super PAC plans $1 million ad buy targeting Heller
Updated June 24, 2017 - 11:57 pm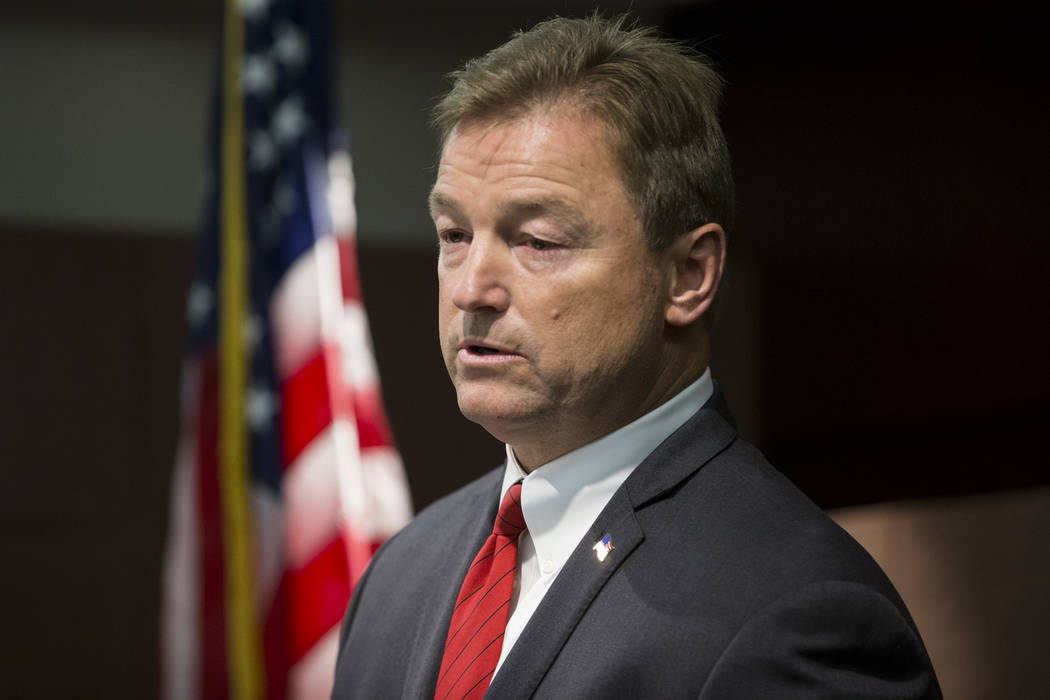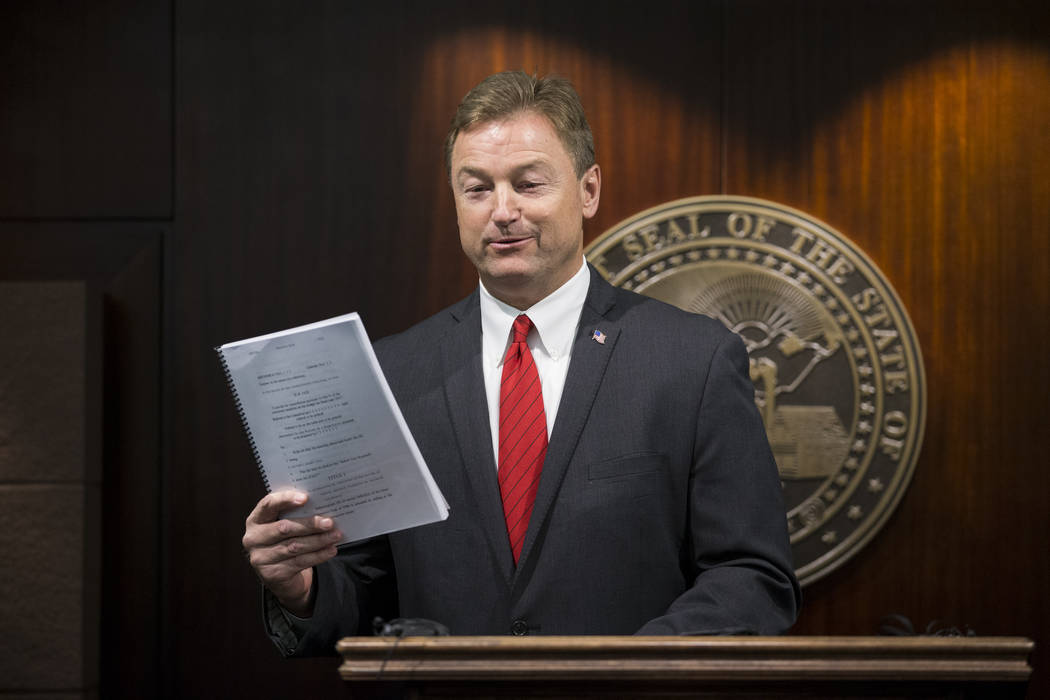 WASHINGTON — Nevada's Republican Sen. Dean Heller placed himself in the wobbly space between two tectonic plates set to collide when he announced Friday that he would not support President Donald Trump's American Health Care plan "in this form."
The beltway newsletter Axios dubbed the move a "public waffling."
Before the announcement, Nevada Democrats had blasted out emails that applied pressure on Heller to oppose the Senate version of the Trump bill as by 2024 it would end the Affordable Care Act's "federal funding for Medicaid Expansion, which covers 200,000 Nevadans." Nevada is one of 31 states that expanded Medicaid enrollment under the 2010 measure also known as Obamacare.
Before the Senate bill's release, the AARP had begun a national TV campaign — with ads in Nevada — that hit the bill for its inclusion of an "age tax" that would allow health care providers to charge older consumers higher premiums than permissible under the Affordable Care Act.
Flanked by GOP Gov. Brian Sandoval, who also opposes the bill, Heller agreed that Medicaid cuts were a major problem with the bill.
"This bill will mean a loss of coverage for millions of Americans and many Nevadans," Heller said. "It doesn't protect Nevadans on Medicaid and the most vulnerable Nevadans."
Math problem
Then came the counter jolt when America's First Priorities, a super PAC run by former Trump advisers, let it be known it was preparing to hit Heller with a $1 million ad purchase in an effort to move him into the yes column.
Heller's announcement complicated the GOP's math appreciably.
On Thursday, as Sen. Majority Leader Mitch McConnell released a working draft of the measure, four conservative Republicans — Sens. Ted Cruz of Texas, Mike Lee of Utah, Ron Johnson of Wisconsin and Rand Paul of Kentucky — announced they could not support the "draft as written" because it cannot "accomplish the most important promise that we made to Americans: to repeal Obamacare and lower their health care costs."
The Senate is comprised of 52 Republicans and 48 Democrats and Independents who caucus with Democrats. If there is a 50-50 split, Vice President Mike Pence can break a tie. McConnell needs 50 senators to pass a bill, so the four-senator announcement put the White House in a position of having to draw at least two senators from the party's right flank to reach the 50-vote mark.
In announcing he was the possible fifth Republican no vote, Heller put Trump and McConnell in a position where they may have to offer to add or drop provisions in order mollify not only Heller, but also moderate GOP Sens. Susan Collins of Maine and Lisa Murkowski of Alaska. That conceivably could force the Trump administration to reach out to Democrats.
But at Friday's press briefing, White House Press Secretary Sean Spicer confirmed that Trump does not believe he will win a single Democratic vote.
On Thursday, Rep. Jacky Rosen, D-Nevada, the likely Democratic challenger to Heller, said in a statement, "People in my district will be personally devastated by this disastrous legislation. Senate Republicans should reject this partisan repeal effort and focus on working across the aisle to lower your costs and expand access to affordable health care for all Americans."
Some handicappers list Heller as perhaps the most endangered Senate Republican in the 2018 elections, as the Silver State has turned increasingly purple. After backing George W. Bush for president in 2000 and 2004, Nevadans supported President Barack Obama twice by healthy margins in 2008 and 2012. In 2016, Nevadans gave Hillary Clinton a narrow victory with a slim lead of fewer than 30,000 votes. In the race to replace retiring Democratic Minority Leader Harry Reid last year, Democrat Catherine Cortez Masto beat Republican Joe Heck by a similar margin.
In 2011 Sandoval appointed Heller, then a Republican House member, to the seat vacated when GOP John Ensign resigned. When Heller ran for the seat in 2012, he narrowly defeated Democratic Congresswoman Shelley Berkley with 46 percent of the vote to her 45 percent.
Risky business
In such tight circumstances, Heller risks alienating base GOP voters if he helps torpedo the signature Trump health bill. While Trump lost Nevada in the general election, Nevada Republicans favored Trump overwhelmingly in the 2016 caucus.
In a Thursday statement Heller told voters he had "serious concerns about the bill's impact on the Nevadans who depend on Medicaid." He posted the measure on his website "so that any Nevadans who wish to review it can do so. As I have consistently stated, if the bill is good for Nevada, I'll vote for it and if it's not ­— I won't."
No one from Heller's office could be reached for comment Saturday.
"There is no excuse for any Republican or Democrat to oppose the Senate health care bill outright," America First Priorities president Brian O. Walsh said in a statement Saturday.
"Senator Heller, who once claimed he would focus on repealing and replacing Obamacare with a willing partner in the White House, appears to be heading down a path with Nancy Pelosi, Chuck Schumer and the radical left," the statement read."We sure hope he changes his mind as he learns more about the bill. We at America First Policies will make certain that citizens know who stood in the way of repealing and replacing Obamacare, and we will ensure the people's voices are heard."
Debra J. Saunders is the White House correspondent for the Las Vegas Review Journal. Contact her at dsaunders@reviewjournal.com or at 202-662-7391. Follow @DebraJSaunders on Twitter.