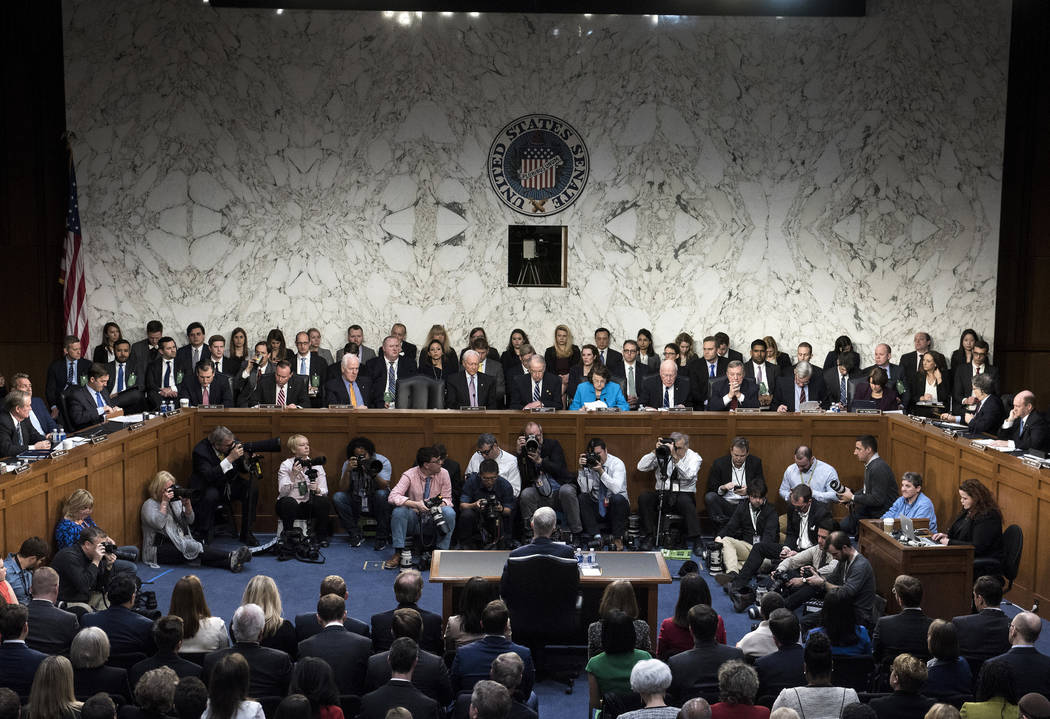 WASHINGTON — Judge Neil Gorsuch cast himself as an impartial jurist Monday and tried to climb above the partisan rancor that marred the Senate Judiciary Committee hearing on his nomination to the U.S. Supreme Court.
Gorsuch, 49, told the senators that if confirmed he would be a "faithful servant of the Constitution and the laws of this great nation."
Hearings on the presidential nomination of Gorsuch began 13 months after Justice Antonin Scalia died Feb. 13, 2016 of natural causes in Texas, creating a vacancy on the Supreme Court.
President Donald Trump nominated Gorsuch, a judge on the 10th Circuit Court of Appeals in Denver, in February.
The nomination is widely supported by Republicans who sought the appointment of a conservative jurist for the post held by Scalia.
But Democrats said they plan to question Gorsuch on a variety of issues, including judicial independence, his leanings on Roe v. Wade and concerns about numerous pro-business rulings over the past 10 years.
And they denounced their Republican colleagues who failed to act on Merrick Garland, a federal judge with the U.S. Circuit Court of Appeals for the District of Columbia who was nominated for the seat by President Barack Obama last year.
"Judge Garland was denied a hearing," said Sen. Dianne Feinstein, D-Calif., adding that "Merrick Garland was widely regarded as a mainstream nominee."
Sen. Al Franken, D-Minn., called it an "historic dereliction of duty" by Republicans and the committee.
Sen. Charles Grassley, R-Iowa, the chairman of the Senate Judiciary Committee, dismissed Democratic grumbling and praised Gorsuch for his judicial temperment and for being a constitutionalist in the mold of Scalia.
ROUGH AND TUMBLE SKIRMISH
Grassley told Gorsuch that despite his credentials, the next few days would be a rough and tumble skirmish with lawmakers dissecting his past rulings and actions.
"I'm afraid over the next couple of days, you'll get some questions that will cause you to scratch your head," Grassley said. "Truth be told, it should puzzle anyone who's ever taken a civics class."
Grassley set April 3 as the date for a committee vote on the nomination, with a full Senate vote later that week.
Feinstein said the committee's job this week is to "determine whether Judge Gorsuch is a mainstream conservative."
Feinstein said the hearings were important because the Supreme Court will determine whether a woman has the final say over her body, whether billionaires will be able to buy elections and whether corporations will pollute our air and water with impunity.
Gorsuch, who lives in Boulder, Colorado, was appointed to the appellate court in 2006 by President George W. Bush. He was confirmed by unanimous Senate vote, making it difficult for Democrats to now argue that Gorsuch is out of the mainstream.
"Not one Democrat opposed Gorsuch then," said Sen. John Cornyn, R-Texas, "because there was no reason to do so."
But Democrats, still smarting from the Garland setback, reminded Republicans that the confirmation process would not be easy.
Senate Majority Leader Mitch McConnell, R-Ky., refused to give Garland and hearing in the Senate.
And since the election of Trump, liberals in the Democratic Party are pressuring Senate Minority Leader Chuck Schumer, D-N.Y., to block the Gorsuch nomination in retaliation.
Republicans moved quickly to shield Gorsuch from the partisan rhetoric.
"What happened here shouldn't reflect upon Judge Gorsuch," said Sen. Jeff Flake, R-Ariz. And Sen. Thom Tillis, R-N.C., said the "nominee before us" was not Trump, McConnell or Garland.
FOUR DAYS OF HEARINGS
Protesters wearing red T-shirts emblazoned with #StopGorsuch filled the first couple of rows in the hearing room in the Hart Senate Office Building.
The four days of hearings began with statements from members of the Senate Judiciary Committee and Gorsuch. Senators will question the nominee on Tuesday and Wednesday, and hear from witnesses on Thursday, if needed.
Neither Nevada senator sits on the Judiciary Committee.
After the nomination, Sen. Dean Heller, R-Nev., praised Trump for the selection of a conservative for the Supreme Court seat. But the lawmaker said he would wait for the hearings to make up his mind.
Heller also likes the fact that Gorsuch is a westerner, and would be the first since Sandra Day O'Connor of Arizona sat on the high court.
Abortion rights, civil rights and rulings on business issues are a concern of Sen. Catherine Cortez Masto, D-Nev., a former state attorney general. Cortez Masto said she would wait for the hearing process to decide how she votes on the nomination.
Gorsuch told the Senate panel that his 2,700 appellate rulings have stood up to scrutiny, and that those decisions were reached by divergent views on the 10th Circuit Court.
"In the West, we tolerate different points of view," Gorsuch said.
Legal experts say Gorsuch must use the hearings to distance himself from Trump, who has attacked the judiciary over rulings on his executive orders on travel bans from citizens in predominantly Muslim countries, among other controversies swirling around the White House.
"He needs to show he is a mainstream nominee, and that he will exercise judicial independence from the president who appointed him," said Carl Tobias with the University of Richmond School of Law.
The stakes are high for both parties heading into the nomination battle.
Democrats see an opportunity to stop Trump and force a more moderate jurist than Gorsuch, a loyal conservative who was suggested to Trump as a nominee by the Heritage Foundation and the Federalist Society.
Republicans hold a slim 52-vote margin in the Senate. They need to pick up eight Democratic votes to break a filibuster and overcome parliamentary procedures to stop the nomination from reaching a vote.
Contact Gary Martin at 202-662-7390 or gmartin@reviewjournal.com. Follow @garymartindc on Twitter.
RELATED
Trump nominates Neil Gorsuch to fill Supreme Court vacancy
Nevada AG throws support behind Supreme Court pick Gorsuch
White House pushes for Senate to confirm Gorsuch for Supreme Court