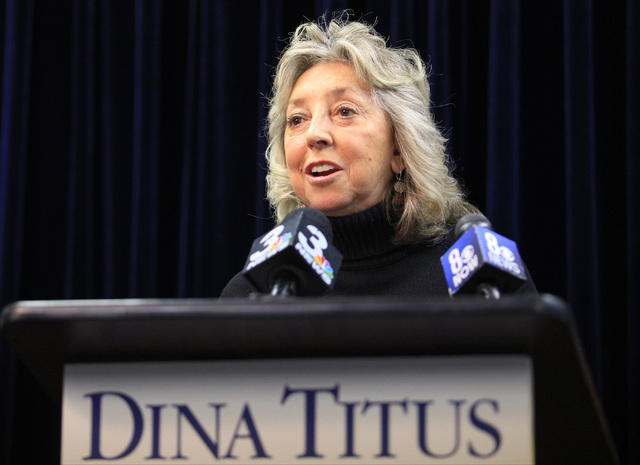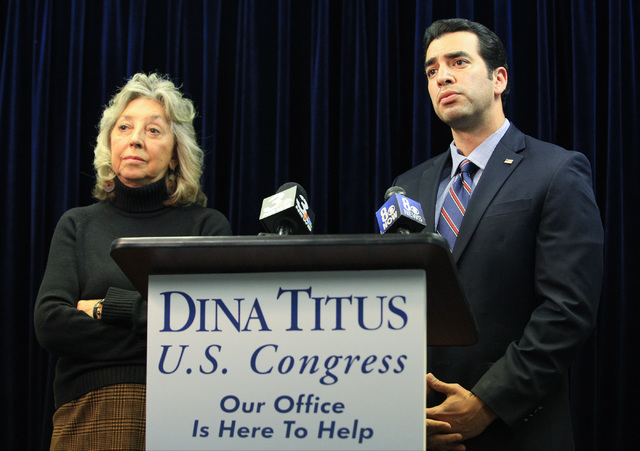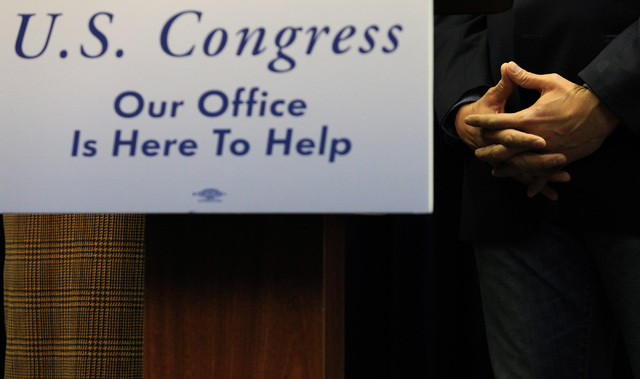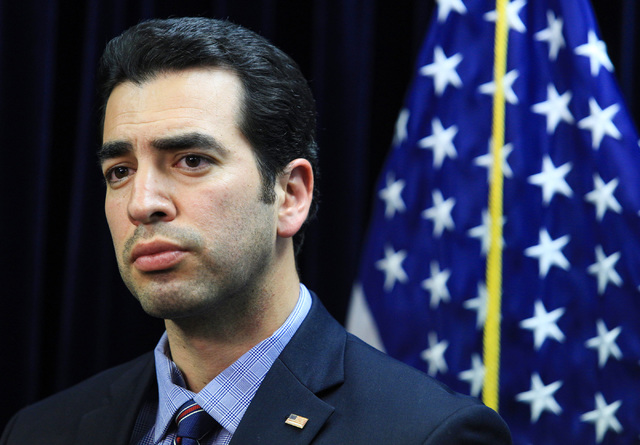 Reps. Dina Titus and Ruben Kihuen, both Democrats from Nevada, called on Republican colleagues Saturday to condemn President Donald Trump's order temporarily barring U.S. entry to refugees and immigrants from Syria, Sudan, Iran, Iraq, Libya, Yemen and Somalia.
"This is one of the most un-American actions I've even seen by an American president," Kihuen said during a press conference at Titus' Las Vegas office Saturday afternoon.
The executive order, which was signed Friday but blocked Saturday night by a nationwide temporary injunction issued by a New York judge, prevented admission to the United States for all refugees for 120 days while barring Syrian refugees indefinitely.
It also blocked citizens of the seven countries from entering the United States for 90 days, including individuals with legal U.S. residency.
Titus and Kihuen bashed the order Saturday, calling it racially motivated and the first step toward a ban on Muslims entering the country.
"These are not the people who are coming here as terrorists," Titus said of refugees, "these are the people who are coming here desperate."
Trump's executive order drew condemnation from Democrats on Friday and Saturday, but it elicited silence or applause from many Republicans, some of who view it as a necessary step to ensure national security.
During the press conference Saturday, Kihuen and Titus evoked Las Vegas' position as an international destination, arguing that the ban could portray America and Las Vegas in a negative light and cause a hit to the area's tourism.
"We run the risk of having a decrease in tourism, and we know what happens to the city of Las Vegas and the state of Nevada when tourism decreases," Kihuen said.
Titus said her office was working Saturday to assist a local professor who had been conducting research in Canada and was having difficulty re-entering the country because of the order. She declined to provide further details and a representative was not available for an update Saturday evening after the stay was issued.
A spokeswoman for Rep. Mark Amodei, Nevada's only Republican in the U.S. House of Representatives, declined to comment, and a spokesman for Sen. Dean Heller was not immediately available. A representative for Nevada's Republican Gov. Brian Sandoval also did not provide a comment.
Nevada state Assemblyman Chris Edwards, R-Las Vegas, said he viewed the executive order as progress toward keeping the country safe and rolling back immigration policies that he believes have been too generous at times.
"I think that he's made the correct move," he said of Trump. "It's long overdue."
Edwards, who said he'd support an extension of the 90-day period if the Trump Administration deemed it fit, said it's unfortunate if legal residents are barred from the country temporarily but that he believes national security is at stake.
"If for some reason the administration feels that there's some kind of a need to do a second check, then that's what we should do," he said.
He added that he'd also support the extension of a temporary ban to other countries in the Middle East and cheered Trump for living up to his campaign promise on refugees.
"I know that there's a lot of folks out there that are just plain dangerous and we just have to do the best effort that we can to keep them out," he said.
Refugees and individuals who arrived in the United States on Saturday with citizenship from the affected countries were held at airports across the country, leading to nationwide protests.
In the midst of the protests, the American Civil Liberties Union argued to a federal judge that a stay should be issued to prevent those individuals from being deported. Though that request was granted, it was not immediately clear Saturday night if all detainees would be released.
Contact Pashtana Usufzy at pusufzy@reviewjournal.com or 702-380-4563. Follow @pashtana_u on Twitter.
RELATED
Google urges staff to return to U.S. following Trump's immigration order
Canada's Trudeau tells refugees: 'Canadians will welcome you'