Trump announces fourth national security adviser
Updated September 18, 2019 - 3:19 pm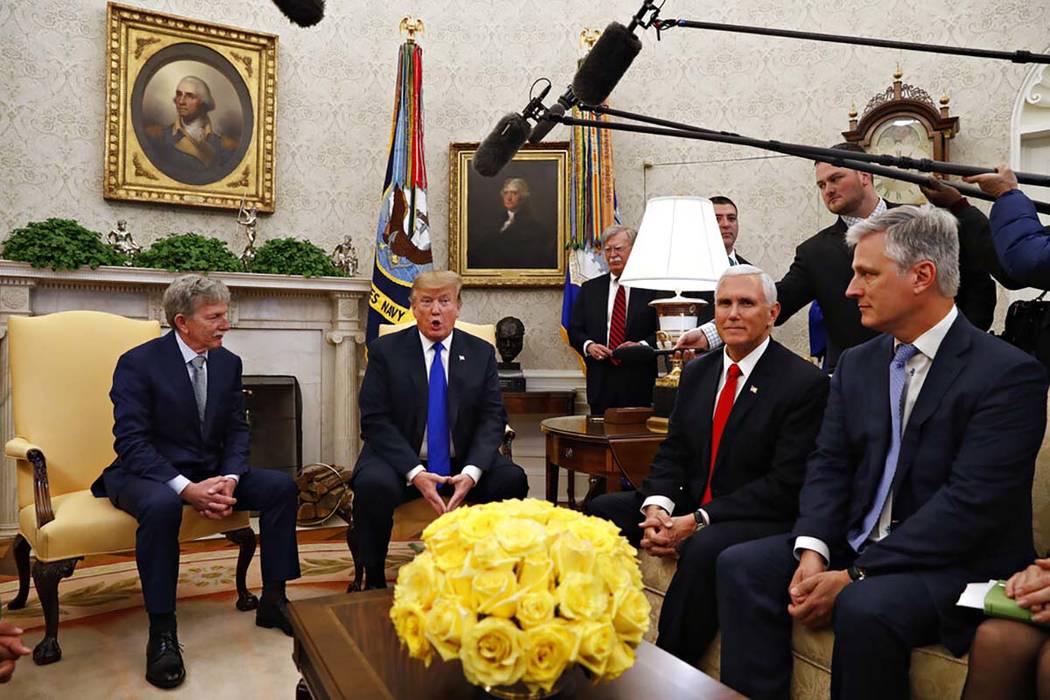 WASHINGTON — President Donald Trump named his fourth national security adviser, Robert C. O'Brien, via Twitter on Wednesday morning as he was in California for a fundraising sweep.
O'Brien, the special presidential envoy for hostage affairs at the State Department, most recently appeared in the public spotlight when he showed up in a Stockholm courtroom to push the Swedish government to release A$AP Rocky, an American rapper arrested for his participation in a street brawl.
The rapper, whose real name is Rakim Mayers, was allowed to leave Sweden at the trials' end before he was found guilty.
I am pleased to announce that I will name Robert C. O'Brien, currently serving as the very successful Special Presidential Envoy for Hostage Affairs at the State Department, as our new National Security Advisor. I have worked long & hard with Robert. He will do a great job!

— Donald J. Trump (@realDonaldTrump) September 18, 2019
"The media will focus on his A$AP Rocky advocacy and completely miss the tremendous success he's had as an advocate for hostages" and a conduit for the families of hostages, said a senior administration official.
Flanked by O'Brien, a relaxed-looking Trump chatted with reporters from the tarmac at Los Angeles International Airport hours after the Twitter announcement.
"He was highly respected by so many people I didn't even know really knew him. He did a tremendous job on hostage negotiations. Really tremendous. Unparalleled. We had tremendous success" in hostage negotiations, Trump said.
The president added later: "I think it's a very important role. It's really a role that if the president respects the person that's the adviser I think it really plays an important role."
Trump has credited O'Brien with helping him win the release of more than a dozen U.S. hostages held in foreign countries.
In March at an event to greet Danny Burch, a newly released hostage by Yemen, in March, O'Brien praised Trump for his "unparalleled success in bringing Americans home without paying concessions, without prisoner exchanges, but through force of will and the goodwill that he's generated around the world."
It was a remark to which Trump later referred as he denied paying a $2 million bill reportedly submitted by North Korea for the medical care of U.S. hostage Otto Warmbier, who died in 2017 from torture-induced trauma days after North Korea released him. Trump has denied making payments to Pyongyang.
Both Trump and O'Brien recognized that the administration had some decisions to make about Iran after a weekend attack on Saudi Arabia's oil fields. While Iranian-back Houthi rebels in Yemen claimed responsibility for the attacks, Trump directed the State Department to increase sanctions against Iran.
Asked if he would support a military strike against Iran, O'Brien said he would not share his council to the president with the press.
Asked if he would order the use of military force, Trump would not give a definitive answer. "There's plenty of time to do some dastardly things," Trump said. "It's very easy to start, and we'll see what happens."
O'Brien has a dense resume that includes extensive international service on top of his work in private legal practice.
He will replace John Bolton, whom Trump fired on Twitter on Sept. 10. O'Brien served as a representative to the U.N. General Assembly when Bolton presided as U.S. Ambassador to the United Nations.
No president has burned through three national security directors since the job was created in 1953, Kathryn Dunn Tenpas of the Brookings Institution told the Review Journal when Trump fired Bolton.
The position of national security adviser is the rare top position that does not require Senate confirmation.
For days after he canned Bolton, Trump teased the press corps with a changing list of possible successors. On Tuesday, he told reporters he had whittled his list down to five individuals, including O'Brien.
In Geneva, Switzerland, from 1996 to 1998, O'Brien served as a major in the judge advocate general corps of the U.S. Army Reserve. He received an undergraduate degree from UCLA and a law degree from Boalt Hall, U.C. Berkeley School of Law.
"He's had a lot of success in freeing hostages. Americans held against their will by foreign powers. Certainly the president likes to accentuate the positives, focus on wins," said Jonathan Schanzer, senior vice president for the Foundation for Defense of Democracies, who also noted O'Brien's depth on policy issues.
One caveat, Schanzer offered: "There's a question out there and I don't know the answer. Will he provide the president with unvarnished truth and blunt analysis in the way his predecessors have?"
Contact Debra J. Saunders at dsaunders@reviewjournal.com or at 202-662-7391. Follow @DebraJSaunderon Twitter.
"President Donald J. Trump is the greatest hostage negotiator that I know of in the history of the United States. 20 hostages, many in impossible circumstances, have been released in last two years. No money was paid." Cheif Hostage Negotiator, USA!

— Donald J. Trump (@realDonaldTrump) April 26, 2019
https://platform.twitter.com/widgets.js