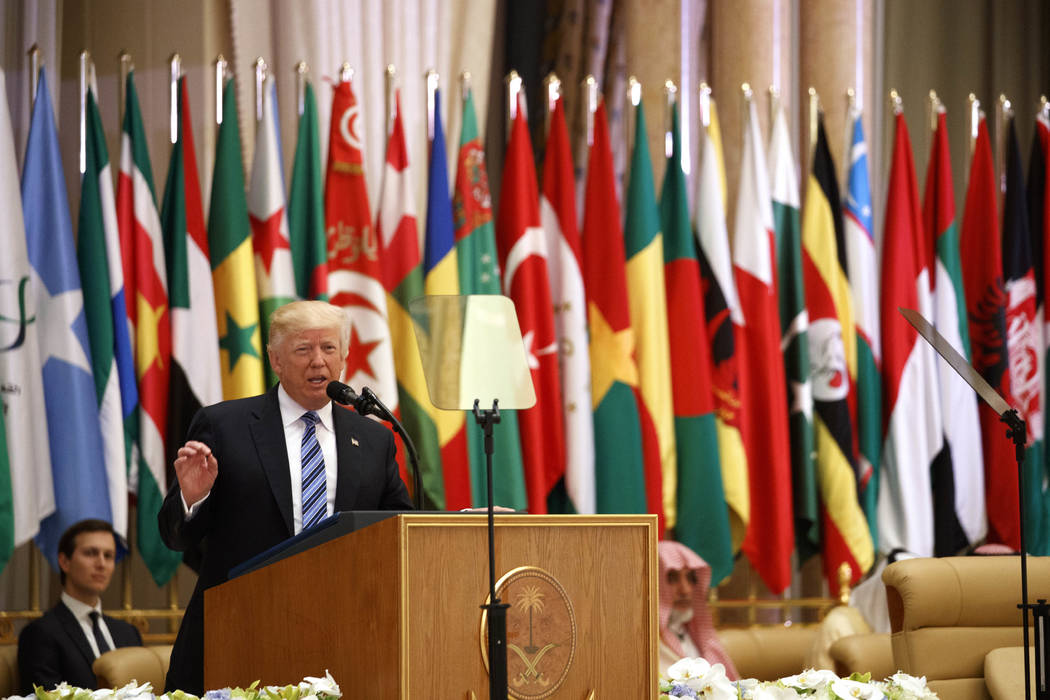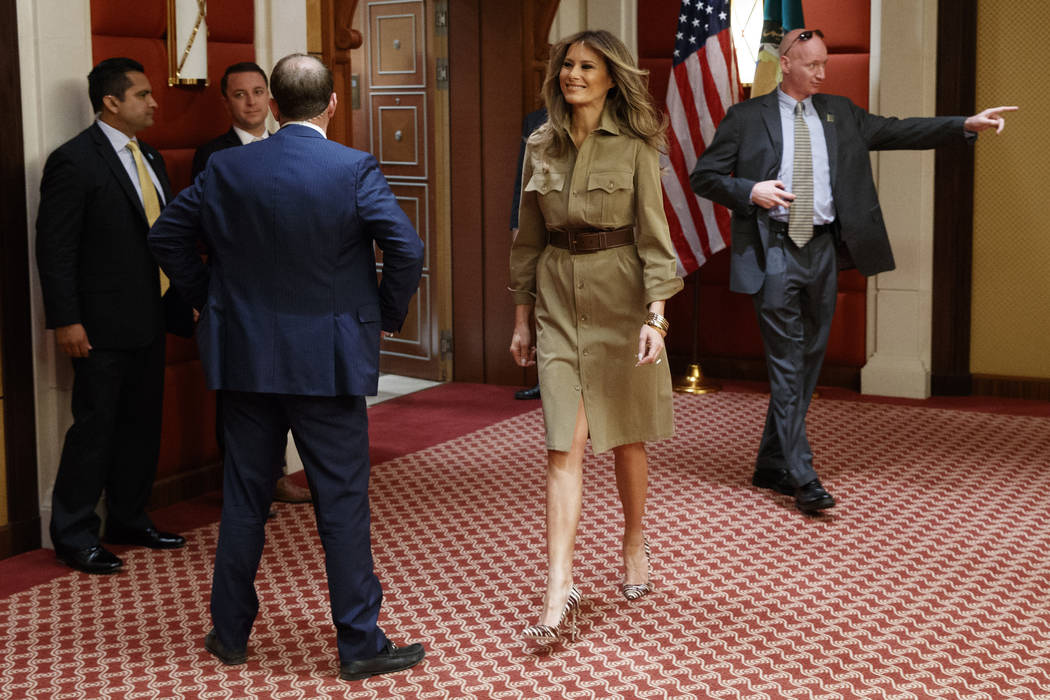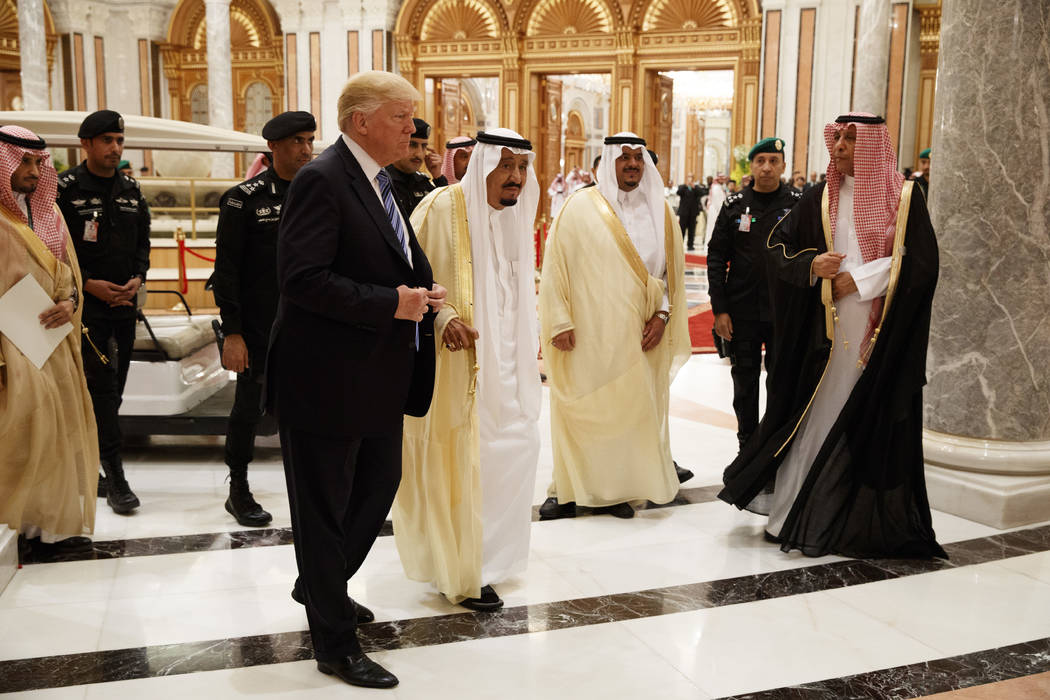 RIYADH, Saudi Arabia — U.S. President Donald Trump delivered an appeal Sunday to people of all faiths to join in "adopting a principled realism" in the fight against "Islamist extremism and the Islamist terror groups it inspires."
On Sunday, Trump told the Arab Islamic American Summit, which represents leaders from 50 Arab and Muslim countries, "We are not here to lecture — we are not here to tell other people how to live, what to do, who to be, or how to worship. Instead, we are here to offer partnership — based on shared interests and values — to pursue a better future for all of us."
The speech marked an oratorical departure for Trump, who had made a point of using blunt language, specifically the words "radical Islamic terrorism," in his joint address to Congress in February, despite National Security Adviser H.R. McMaster's attempts to steer the tough-talking president toward language less likely to alienate Muslims at home or abroad. In this forum, before dozens of Muslim leaders, Trump mostly used the political term "Islamist" in lieu of the religious term "Islamic."
After Trump's remarks, Council on American-Islamic Relations Executive Director Nihad Awad released a statement in which he said, "While the shift in terminology seems to be a laudable attempt to delink the faith of Islam from terrorism, the use of the ill-defined term 'Islamist' will only serve to perpetuate that false linkage."
The statement also noted that Trump did refer to "Islamic extremism" and "Islamic terror" in the speech.
The administration had hinted that Trump's speech would be an antidote to President Barack Obama's 2009 speech in Cairo.
"I consider it part of my responsibility as president of the United States," Obama said then, "to fight against negative stereotypes of Islam wherever they appear."
Trump offered a different approach to fighting extremism.
"We will make decisions based on real-world outcomes, not inflexible ideology," he said. "We will be guided by the lessons of experience, not the confines of rigid thinking. And, wherever possible, we will seek gradual reforms, not sudden intervention."
During the 2016 campaign, critics warned that if Trump won the White House, Muslim countries would shun the United States and America would become isolated. To rebut that notion, Trump sat down with the Saudis and other Middle East leaders who had come to distrust Obama's belief in the "Arab Spring."
But first, on Saturday night, Trump danced. With sword in hand, the president joined Saudis in the traditional men's "war dance," called the "ardah." Various male members of his inner circle — including Secretary of State Rex Tillerson, Chief of Staff Reince Priebus and Chief Strategist Steve Bannon — also participated, although with varying amounts of enthusiasm.
Trump finds allies
Over two days, Trump showed that he could find many allies in unexpected places. Egyptian President Abdel Fattah al-Sissi praised Trump as "a unique personality who is capable of the impossible." The Egyptian leader then invited Trump to visit his country. Trump responded that he plans to visit Egypt soon.
Jaber Al-Ahmad Al-Sabah, the Emir of Kuwait, called the president "my brother Trump" and invited the president to his "tiny" country to see "how much people of Kuwait like and admire the United States."
The Sunday speech followed a Saturday signing ceremony with Saudi King Salman to document an agreement for the immediate sale of $110 billion in American arms — $350 billion over 10 years — to the Saudis.
Trump dangled that same carrot before other leaders. When meeting with the emir of Qatar, Tamim bin Hamad al Thani, Trump promised "very serious discussions" about the purchase of "lots of beautiful military equipment."
Salaam Bhatti, spokesman for Ahmadiyya Muslim Community USA, responded with criticism of the arms deal.
"The underlying challenge of the summit is the $350 billion arms deal," Bhatti said. "Historically, the arms trade has resulted in more fighting, wars and extremism.
"We applaud the President on acknowledging that Muslims are 95 percent of the victims of terrorism. Rather than an arms trade, we encourage all nations committed to ending terrorism to instead invest resources into better education and a proven model of peace — like the TrueIslam.com educational initiative which is dedicated to educating Muslims and non-Muslims on Islam's true teachings," Bhatti said in a statement.
After the worst week of his tumultuous time in the White House, a week marred by revelations surrounding Trump's firing of FBI chief James Comey, Trump enjoyed a weekend of triumph.
In a late-night briefing Sunday, Tillerson explained that the White House sees the fight against terrorism as a battle between good and evil.
"It is these forces that are most oppressive to women. It's these forces that prey on those who are less able to care for themselves," Tillerson said. "So I think that in our view, and I know the president's view, defeating these evil forces is the first step on advancing human rights worldwide. And he clearly has that in his mind as well."
Hopes for historic deal
On Monday morning, Trump flies to Tel Aviv, where he has visions of brokering the "ultimate deal" between Israelis and Palestinians. There, he will meet with Israeli Prime Minister Benjamin Netanyahu on Monday. On Tuesday, Trump will see Palestinian Leader Mahmoud Abbas in Bethlehem.
"He certainly has the vision, and we believe he has the strength and the decisiveness," said Saudi Foreign Minister Adel al-Jubeir, "and the Kingdom of Saudi Arabia stands prepared to work with the United States in order to bring about peace between Israelis and Palestinians and Israelis and Arabs."
Contact Debra J. Saunders at dsaunders@reviewjournal.com or at 202-662-7391. Follow @DebraJSaunders on Twitter.
First lady visits Riyadh school
First lady Melania Trump visited the American International School of Riyadh, where she chatted with students and spoke of the value of education Sunday morning.
The first lady is accompanying Donald Trump, along with the president's daughter Ivanka Trump and son-in-law Jared Kushner, on his nine-day foreign trip.
The school visit began at 9:45 a.m. with a brief stop before a pre-school class to whom she gave Dr. Seuss books. Trump also chatted with students who were playing soccer, talked to elementary students who were learning primary and secondary colors, and clapped along as the school chorus sang a rendition of "Lean on Me."
Saudi Minister of Education Ahmed Al-Eissa greeted Trump at the school campus. Also in attendance was Huda Alameel, the rector of Princess Noura University, who wore an abaya and hijab.
Trump did not wear a head scarf.
According to the first lady's staff, this is her first visit to Saudi Arabia.