Trump betting that border security will help GOP win in November
Updated October 23, 2018 - 7:48 pm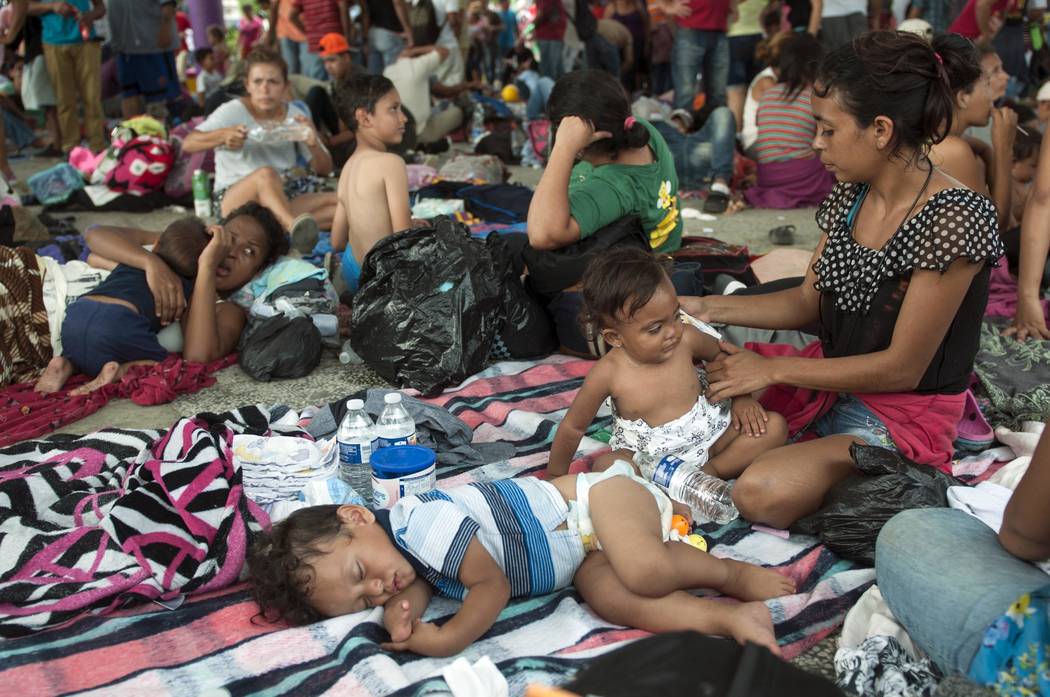 WASHINGTON — As the midterm elections loom, President Donald Trump can't stop talking about the wall he wants to build at the border with Mexico — and a caravan of migrants, largely Central Americans, headed toward that border.
Trump clearly is betting that border security, the signature issue that won him the Electoral College in 2016, will shield vulnerable Republican senators up for re-election and maybe even keep the House under GOP control.
The optics of caravan members swarming Mexican police on a bridge or crossing the river at the border of Guatemala Friday could be the next big gift to Republicans seeking federal office since Democrats began combing through now-Supreme Court Justice Brett Kavanaugh's high school and college years.
The situation is not lost on Democratic leaders. On Saturday, Senate Minority Leader Chuck Schumer, D-N.Y., and House Minority Leader Nancy Pelosi, D-Calif., sent out a statement in which they charged, "The president is desperate to change the subject from health care to immigration because he knows that health care is the No. 1 issue Americans care about and that Mitch McConnell, Paul Ryan, and Republicans in Washington are making a mess of our health care system."
Campaigning in Houston on Monday, Trump claimed Democrats "had something to do with the caravan" — a claim he did not substantiate.
Tuesday the White House held a conference call on the growing number — 521,090 — of inadmissible migrants apprehended at the Southwest border, after a dramatic drop for 2017 during the first year of the Trump presidency.
On the call a senior administration official blamed "Democrat catch-and-release loopholes" for attracting family groups and unaccompanied minors from Central America who claim asylum as soon as they cross the border.
"The Democrats aren't responsible for organizing the caravan but they are responsible for creating an incentive for these people to come here," GOP strategist and CNN contributor Alice Stewart told the Review-Journal. "It has to stop."
"This is what he does best," Democratic strategist Maria Cardona said of Trump. "He lies. He uses manufactured events. He's doing all of that on steroids with the caravans."
She cited Trump's assertion in Mesa, Arizona, Friday that Democrats will "want to buy 'em a car," maybe even a Rolls Royce. Trump told a rally in Elko that Californians are "rioting now. They want to get out of their sanctuary cities." The fact-finding group Politifact rated that statement "Pants-on-Fire" false.
NEW: Donald Trump's Pants on Fire claim about people rioting over sanctuary cities. https://t.co/SXwZo2VfyT pic.twitter.com/6z8yg8mvDN

— PolitiFact (@PolitiFact) October 23, 2018
In a Monday tweet, Trump wrote that "criminals and unknown Middle Easterners" were mixed in with the caravan, only to admit to CNN's Jim Acosta on Tuesday that he had "no proof on anything" involving Middle Easterners with the caravan.
Also Tuesday, Vice President Mike Pence volunteered that "it's inconceivable" that there would not be people of Middle Eastern descent given that "more than 10 terrorists or suspected terrorists" are apprehended at the Southern border daily. That number is an apparent mash of a U.S. Customs and Border Protection statistic for more than 3,000 "special interest aliens" from suspect countries apprehended entering or traveling within the United States during the fiscal year that just ended.
Pence also said that Honduran President Juan Orlando Hernandez told him that Venezuela was funding the caravan.
At a press conference in Foggy Bottom, Secretary of State Mike Pompeo noted that the United States grants permanent legal status to 1 million people every year. However, he said that with no "proper accounting" of who is in its ranks, the caravan presents "an unacceptable security risk."
Pompeo said he had a message for caravan members, "I can tell you with certainty we are determined that illegal entry to the United States from this caravan will not be possible."
Contact Debra J. Saunders at dsaunders@reviewjournal.com or 202-662-7391. Follow @DebraJSaunders on Twitter.