Trump breaks precedent with address at D.C. anti-abortion march
Updated January 24, 2020 - 7:06 pm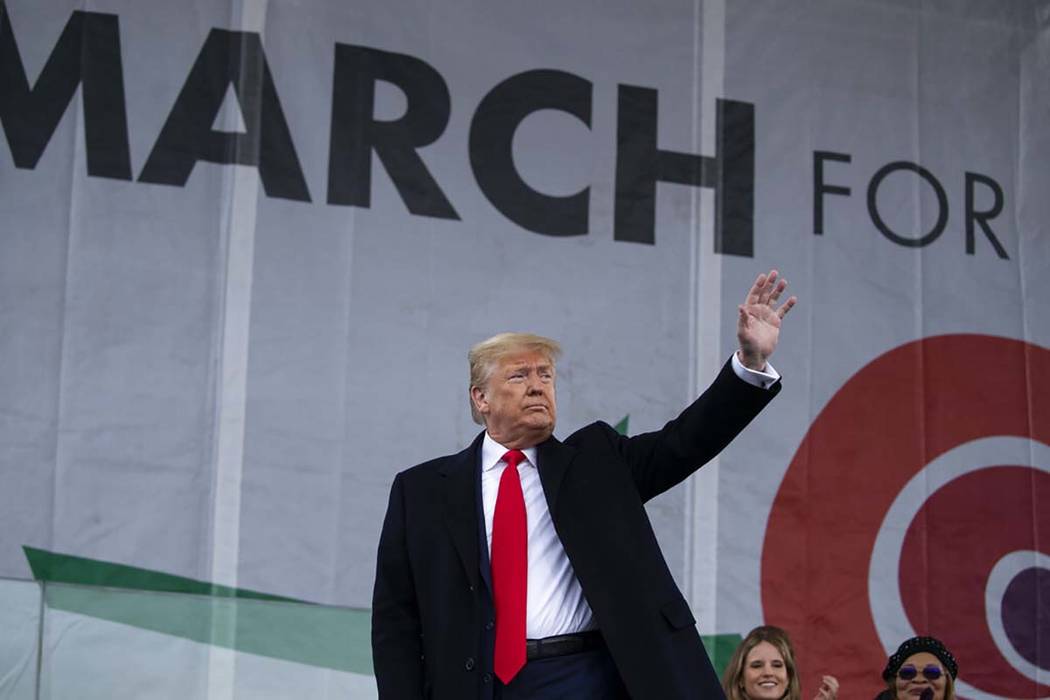 WASHINGTON — President Donald Trump on Friday became the first president to speak in person at the annual anti-abortion March for Life on the National Mall.
"Young people are the heart of the March for Life — and it is your generation that is making America the pro-family, pro-life nation," Trump told an enthusiastic crowd.
Trump's appearance followed We Are Messengers, an Irish rock band that synthesized upbeat rock with an anti-abortion message. When the band's set ended, some in the crowd chanted, "USA! USA!"
Vice President Mike Pence became the first vice president to address the group in person in 2017.
Trump spoke to the anti-abortion activists remotely in 2018 and 2019.
This year, clad in an overcoat, Trump arrived via motorcade to commune with tens of thousands of activists who braved dreary skies and cold temperatures.
"Sadly, the far left is actively working to erase our God-given rights, shut down faith-based charities, ban religious believers from the public square and silence Americans who believe in the sanctity of life," Trump said. "They are coming after me because I am fighting for you and we are fighting for those who have no voice."
Later Pence and his wife, Karen, greeted the group via satellite from the Vatican, with St. Peter's Dome in the background — an optic that can't hurt with Catholic voters in November.
Shifting stance
Trump's stance on abortion has dramatically shifted over the years.
In 1999, Trump told NBC's "Meet the Press" that he hated "the concept of abortion," but "I am pro-choice in every respect."
In 2011 as he toyed running for the White House, during an interview conducted in Las Vegas, Trump told The New York Times, "I am pro-life, and pro-life people will find out that I will be very loyal to them, just as I am loyal to other people. I would be appointing judges that feel the way I feel."
As the GOP nominee in 2016, Trump promised to install "pro-life judges" in federal courtrooms.
As the 2020 general election looms, Trump has continued to cement his ties with religious and social conservatives by pushing through a record number of conservative judges on the federal bench.
Friday morning, the Trump campaign announced that Marjorie Dannenfelser, president of the anti-abortion group Susan B. Anthony List, would serve as co-chair of Pro-Life Voices for Trump in 2020.
Trump spoke after the federal Health and Human Services Department issued a "notice of violation," giving California 30 days to comply with a federal law known as the Weldon amendment.
That law bars federal health care funding from being provided to states or entities that practice "discrimination" against a health care organization on the basis that it "does not provide, pay for, provide coverage of, or refer for abortions."
The head of the HHS Office for Civil Rights, Roger Severino, said California is violating that restriction by requiring insurance plans to cover abortions. According to Severino, 28,000 Californians had abortion-free plans before the state's requirements and have now lost that option.
Severino said in a statement that California "must stop forcing people of good will to subsidize the taking of human life."
Charging that Trump was using "the official levers of government to advance his political agenda," California Attorney General Xavier Becerra said that California "will continue to protect our families' access to health care including women's constitutional right to abortion. Nothing changes."
NARAL Pro-Choice America President Ilyse Hogue tweeted, "Don't think you are safe in blue states, friends. They won't stop until they criminalize abortion nationwide and eliminate access to contraception. This will require all of us, together, fighting to win."
'Department of Life'
In a statement praising the March For Life, Health and Human Services Secretary Alex Azar said he was proud to call his agency the "Department of Life."
"Good morning. While you were sleeping, (HHS Sec. Alex) Azar seems to have renamed the Department of Health and Human Services the 'Department of Life,' which is really rich for an agency that was a primary architect of putting children in cages on the border," Hogue responded. "There is no bottom."
Advancing the slogan, "Pro-Life is Pro-Woman," the event was the 47th anti-abortion march timed each year to coincide with the anniversary of Roe v. Wade, the landmark U.S. Supreme Court decision in 1973 that established a woman's right to abortion.
Before Trump arrived, March for Life President Jeanne Mancini called Trump "the most pro-life president in American history."
Politifact rates his pledge to deny Planned Parenthood federal money as "stalled" because courts and Congress have not cooperated with that agenda.
Marching for life
Among those attending the march were Michael Houssock and his wife, Janet, of Sweet Valley, Pennsylvania, and his sister, Catherine Barden, from Rhode Island.
Houssock, who said it was the third such march he had attended, told the Review-Journal he wasn't there so much to push for the U.S. Supreme Court to overturn Roe v. Wade, but to advocate against abortion.
"If I could come here and talk one young lady into having a baby, I've completed my mission," Houssock said.
But Barden, sporting a "Make America Holy Again" hat, said she wants to see Roe overturned.
Barden noted that Trump's past has elements that give her pause, but given his opposition to abortion and globalism, "he is exactly what we needed."
Marcher Andrea Fisher of Texas was more ambivalent in her assessment.
"We pray that he always has the best interests of the country at heart," she said.
Lisa Bennett of Texas spoke of her mother's decision to give birth at the age of 16. Because her mother "chose life," Bennett said, she was able to celebrate her 50th birthday at the anti-abortion event.
It was a scuffle that occurred near the Lincoln Monument after the march last year that attracted the attention of cable news when an exchange between Nick Sandmann, a 16-year-old student from Covington Catholic High School in Kentucky, and an activist from the Indigenous Peoples March was captured on video.
After commentators blamed the teenager for his role in the encounter and news reports got the story wrong, Sandmann filed libel lawsuits against CNN, The Washington Post and NBC. CNN reached a settlement this month.
Contact Debra J. Saunders at dsaunders@reviewjournal.com or 202-662-7391. Follow @DebraJSaunders on Twitter. The Associated Press contributed to this report.