Trump decides to withdraw US from nuclear deal with Iran
Updated May 9, 2018 - 8:09 am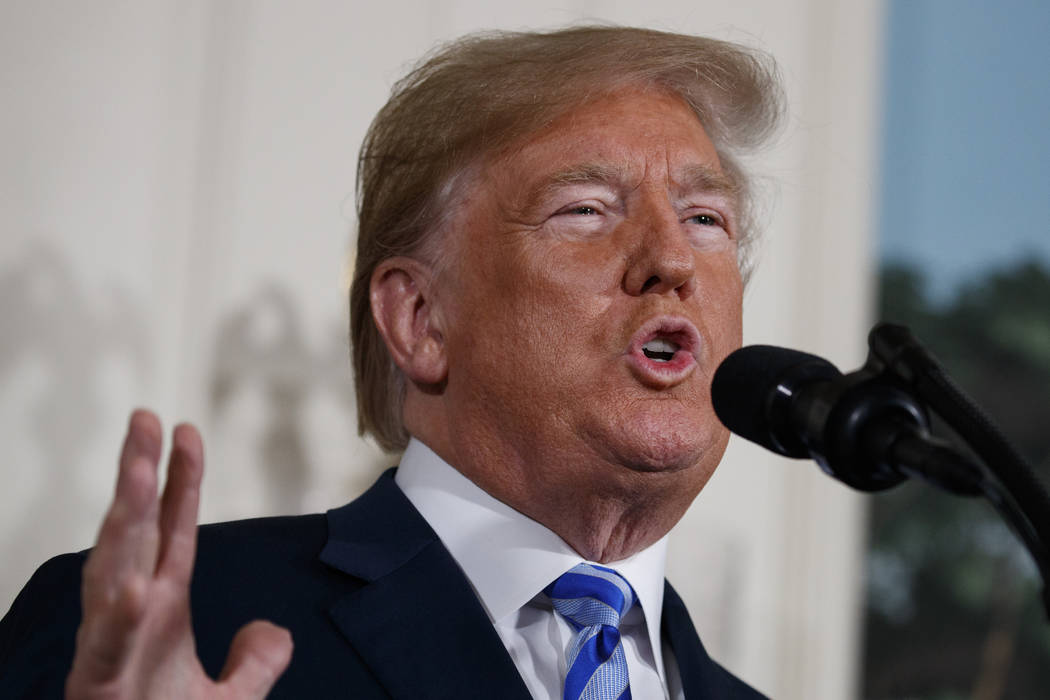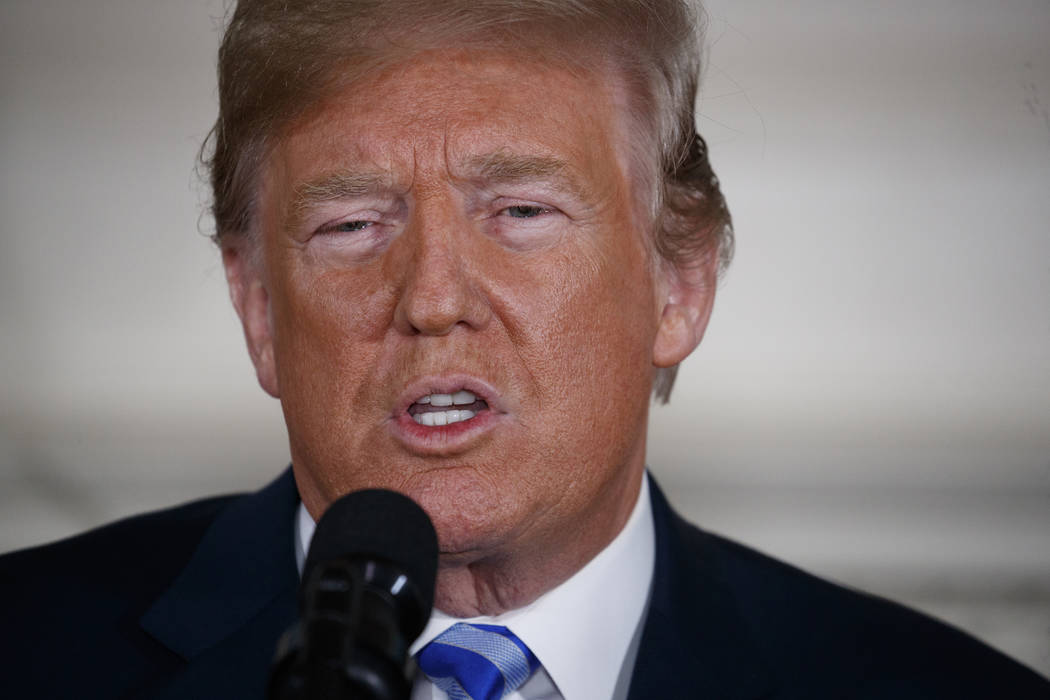 WASHINGTON — President Donald Trump announced Tuesday that he is withdrawing the United States from the international nuclear accord with Iran, a move he signaled repeatedly on the campaign trial.
"The fact is this was a horrible, one-sided deal that should have never, ever been made," Trump said.
From the White House Diplomatic Room, Trump repeated his reservations about the Joint Comprehensive Plan of Action, or JCPOA, negotiated by former President Barack Obama's administration in 2015.
"In theory the so-called Iran deal was supposed to protect the United States and our allies from the lunacy of an Iranian nuclear bomb," Trump said.
But, he added, "The agreement was so poorly negotiated that even if Iran fully complies, the regime can still be on the verge of a nuclear breakout in just a short period of time."
Director of National Intelligence Dan Coats and Secretary of State Mike Pompeo have testified that Iran is in technical compliance with the accord.
The administration said it would reimpose sanctions on Iran immediately. The sanctions seek to punish Iran for its nuclear program by limiting its ability to sell oil or do business overseas, affecting a wide range of Iranian economic sectors and individuals.
After Trump's announcement, Iranian President Hassan Rouhani appeared on Iranian television to accuse the United States of not keeping its international commitments and to issue a veiled threat to restore Tehran's nuclear ambitions.
Rouhani said he would reach out to the remaining JCPOA participants, but he warned that Iran could start enriching uranium again "without any limitations" within weeks.
In remarks that lasted 11 minutes, Trump rattled off his list of objections to the JCPOA: It was so poorly drafted that it allowed Iran to continue enriching uranium, funded Tehran's development of nuclear-capable missiles and bankrolled Tehran's "malign behavior" across the Middle East. Trump also described "sunset" language that ends restrictions on Iran's nuclear program in 2025 as "totally unacceptable."
"We're out of the deal," national security adviser John Bolton told reporters after the address.
Trump's decision follows a rush of diplomacy during which leaders from the three European nations involved in JCPOA talks tried to dissuade the American president from essentially blowing up the deal.
French President Emmanuel Macron and German Chancellor Angela Merkel appealed to Trump face-to-face, while British Foreign Secretary Boris Johnson made his case on The New York Times opinion pages.
But last week Israeli Prime Minister Benjamin Netanyahu gave a chilling presentation on Iran's "secret nuclear files," which he said showed that Iran had deceived the International Atomic Energy Agency.
On Tuesday, Netanyahu welcomed Trump's announcement as a "historic move."
After Trump's announcement, Merkel, Macron and British Prime Minister Theresa May issued a joint statement in which they said they would remain parties to the JCPOA and urged the United States and Iran to stick with the deal. The three leaders also avowed their openness to further negotiations to curb Tehran's nuclear and regional overreach.
Reaction to Trump's announcement was divided. James Jay Carafano of the conservative Heritage Foundation called the move a "mercy killing."
But Samantha Power, U.S. ambassador to the United Nations under Obama, tweeted before the announcement: "Trump has demolished America's credibility & paved the way for Iran to re-start its nuclear program. Trump has done the unthinkable: isolated the US & rallied the world around Iran."
Ellen Tauscher, former undersecretary of state for Obama, said "China and Russia are popping the champagne bottles today," referring to the other two countries that are part of the JCPOA, "because we have successfully all by ourselves isolated ourselves."
Because Trump walked away from the deal, Tauscher added, other world leaders look "at us askance as unreliable."
It is unclear if the move will weaken Trump's bargaining position with Pyongyang ahead of a proposed summit with North Korean leader Kim Jong Un.
Supporters of the Iran pact assert that Trump has undercut America's credibility in future negotiations by walking away from a deal agreed to by Obama. Critics of the JCPOA argue that Trump's decision establishes that he will not support a pact unless he sees it as unquestionably in the national interest.