Trump defiant in face of opposition from intelligence community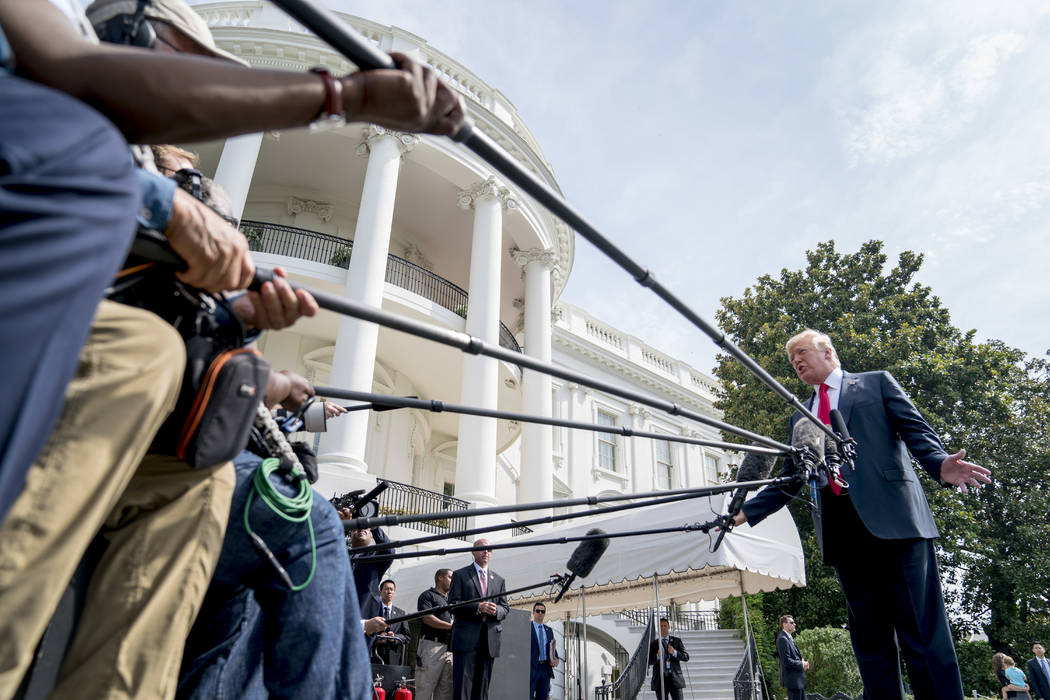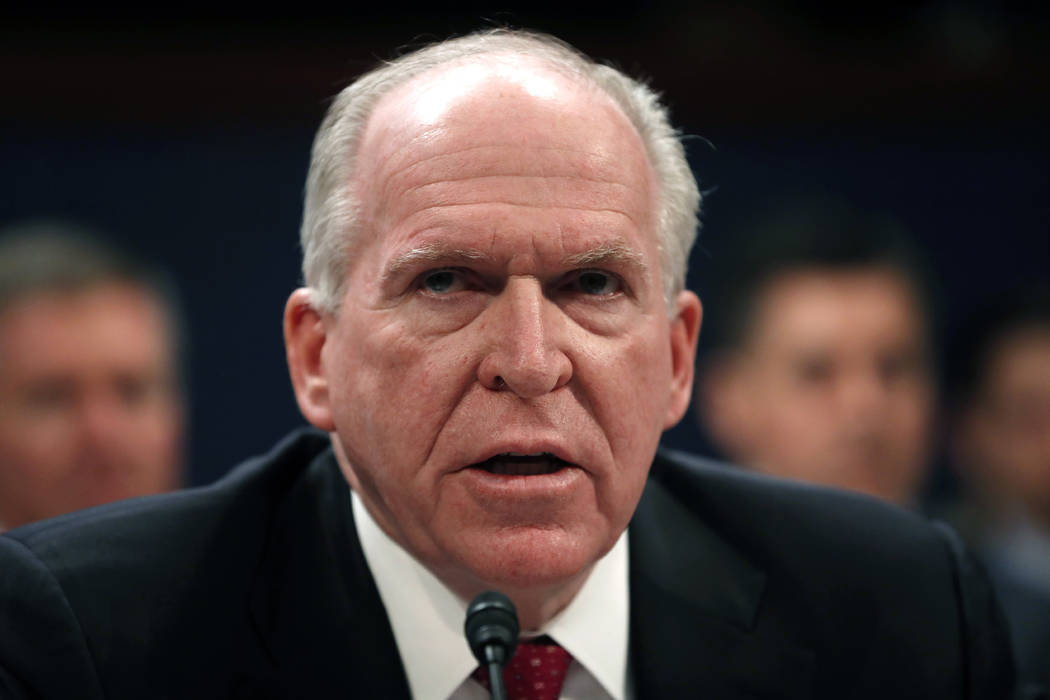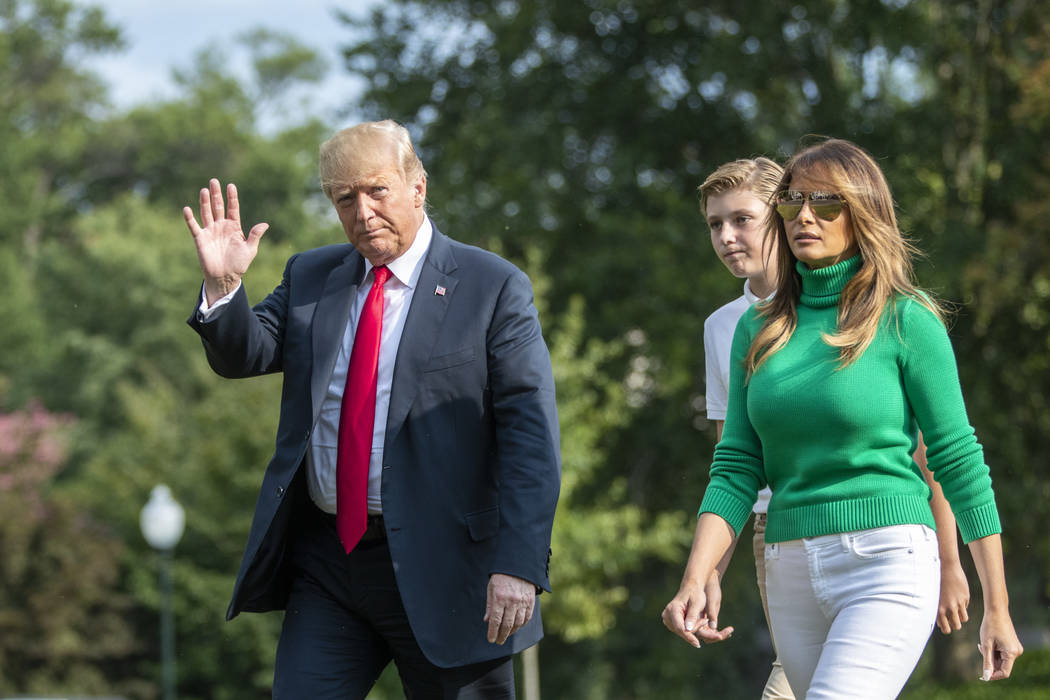 WASHINGTON — After President Donald Trump yanked the security clearance of former CIA chief John Brennan, the retired admiral who oversaw the mission that led to the death of Osama bin Laden asked to have his clearance revoked as well.
In an open letter to the president in The Washington Post, William H. McRaven wrote that he would "consider it an honor if you would revoke my security clearance as well, so I can add my name to the list of men and women who have spoken up against your presidency."
Having Trump pull your security clearance soon could become more coveted than a table at Washington's tony Le Diplomate on a Friday night.
Trump's decision to pull Brennan's security clearance prompted 12 former top senior intelligence officials to release a statement protesting a move they saw as "an attempt to stifle free speech." In a further sign that the tight community of former intelligence leaders had united in opposition to Trump, another 60 former intelligence officers issued a similar statement Friday.
Former CIA spokesman Bill Harlow, who helped draft both statements, believes Trump's goal was not necessarily to silence those who disagree with him, but to get them to "dial back" their rhetoric.
Brennan said Thursday that he believed Trump yanked his security clearance because he is desperate to end the special counsel's investigation into Russian interference in the 2016 election.
Trump himself drew a connection between the revocation of Brennan's clearance and the Russia probe, telling The Wall Street Journal the investigation is a "sham," and "these people led it!"
"So I think it's something that had to be done," Trump said.
More under review
On Friday, Trump told reporters that he had no intention of silencing Brennan. "If anything, I'm giving him a bigger voice," Trump said.
Trump also cited a statement by Senate Intelligence Committee Chairman Richard Burr, R-N.C., in response to a New York Times opinion piece in which Brennan dismissed as "hogwash" Trump's claim that there was no collusion between his campaign and Russia.
Burr argued that if Brennan's claim is based on "intelligence he received while still heading the CIA, why didn't he include it in the Intelligence Community?" Burr supported Trump's decision to cut off Brennan's access to classified material.
Press secretary Sarah Sanders told reporters Wednesday that Trump was considering revoking clearances for eight other former national security officials and a current Department of Justice official.
Sanders said Trump had decided to act because it "is particularly inappropriate when former officials have transitioned into highly partisan positions and seek to use real or perceived access to sensitive information to validate their political attacks."
The list of those who could lose their clearances includes other figures linked to the Russian probe: former FBI chief James Comey, fired by Trump in May; former deputy FBI director Andrew McCabe, who was fired for withholding information from the inspector general; and Peter Strzok, an FBI agent who was fired for sending voluminous anti-Trump screeds by text while he worked on the Russia investigation.
Former U.S. Attorney for Nevada Gregory A. Brower, who headed the FBI Office of Congressional Affairs until April, told the Review-Journal that he thought Trump's attempt to discredit the Russia probe by hitting the political motivation of Strzok and others would not work.
Strzok's texts were "incredibly unprofessional and inappropriate," Brower said, but "he has had nothing to do with the investigation for months."
Justice official on list
Brower, however, did pause when it came to another name under Trump's security clearance review: Justice Department official Bruce Ohr, the only person on the president's radar who currently works for the government.
In 2016, Ohr's wife Nellie worked for Fusion GPS, the opposition research firm that paid Christopher Steele, author of the infamous and unverified Russian "dossier" on Trump's alleged ties to Russia.
"Fox News has learned that Bruce Ohr wrote Christopher Steele following the firing of James Comey saying that he was afraid the anti-Trump Russia probe will be exposed," Trump tweeted Friday night.
Early reports on the Brennan move focused on the timing of Trump's decision – which came shortly after Brennan scolded Trump for his lack of civility on Twitter for calling Omarosa Manigault Newman, a former staffer peddling a tell-all book about her time in the Trump White House, "that dog."
Last month, Brennan called Trump's remarks alongside Russian President Vladimir Putin in Helsinki "nothing short of 'treasonous.'" He also dubbed the Trump White House a "kakistocracy," or government run by the worst, least qualified people.
Reno's Ty Cobb, who served as a foreign policy adviser to President Ronald Reagan, said the national security community was alarmed by the step Trump took.
"Almost to a person they are aghast that a president would revoke a security clearance, not based on security concerns, but the fact that an individual was critical of the president," he said.
"Certainly the president I worked for would not have taken such action against a person who criticized," Cobb added.
Even still, Cobb recognized that the decision was "completely within the authority of the commander in chief."
Contact Debra J. Saunders at dsaunders@reviewjournal.com or 202-662-7391. Follow @DebraJSaunders on Twitter.
Why the need for clearance?
Why do former officials want or need clearance to review classified information? That authority, said Harlow, doesn't mean former intelligence officials "get to go to their old offices and root through" intelligence that could damage others.
Clearance could help former intelligence pros do defense contract work or serve on boards that do intelligence work, but they also enable current officials to tap the knowledge base of their predecessors.
As an example, he offered, after former deputy director Mike Morell left the CIA, he was able to jump into an advisory board that examined the massive intelligence leaks made by Edward Snowden.
— Debra J. Saunders