Trump factor plays into SC races as 5 states hold primaries
Updated June 12, 2018 - 9:55 pm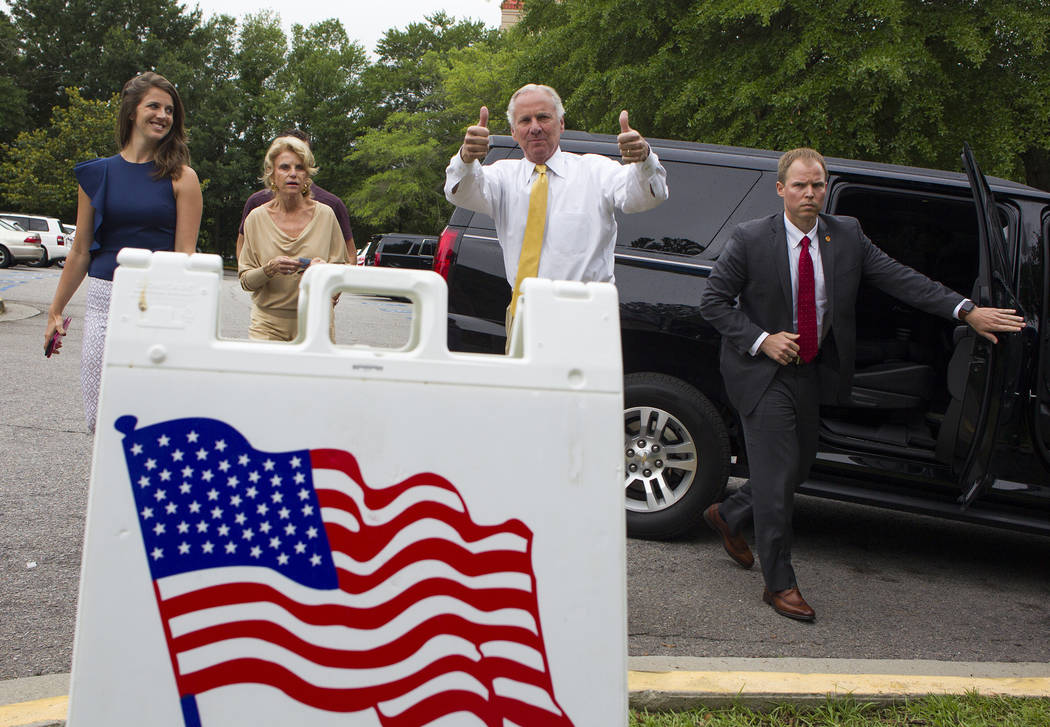 A well-financed state senator won the Democratic primary for a Northern Virginia congressional race Tuesday, setting up an all-female November election in one of the nation's most closely watched House districts.
Elsewhere, President Donald Trump has elevated Republican primaries in South Carolina, where a devout ally and a regular critic are running in separate races.
Polls have closed in both states and well as Maine and North Dakota, while voting continues in Nevada. Together, they raise to 21 the number of states having held their 2018 primary elections so far.
MAINE RACE
Republican businessman Shawn Moody has won the right to run to succeed Maine's Republican firebrand Gov. Paul LePage.
Moody won an outright majority of the vote, making him the winner of his primary. With a majority, there's no need for additional rounds of voting under Maine's ranked-choice voting system.
It's a different story in the Democratic primary.
In that race, no clear majority winner was emerging.
When there's no majority, the ballots will be shipped to Augusta for additional rounds of voting next week in which the last-place candidate will be eliminated and votes reallocated. The process is repeated until there's a majority winner.
This was the biggest test of the voting system. Before Tuesday, it had never before been used in a statewide primary election.
A HOUSE BELLWETHER IN VIRGINIA
Democratic State Sen. Jennifer Wexton was the clear winner in a six-way primary in Virginia's 10th District , and will challenge Republican Rep. Barbara Comstock.
Wexton was the best-known in the field, and was viewed as the Democratic Party's establishment choice. She had the endorsement of Democratic Gov. Ralph Northam.
Comstock, a moderate Republican who easily beat back a challenge from conservative Shak Hill, is one of the Democrats' top targets in November. The second-term House member's district leans Republican, though Democrat Hillary Clinton received more votes there than Trump did in 2016.
Though Wexton favors a ban on the sale of assault weapons, she defies what has been the tendency in some swing districts to nominate Democrats with liberal profiles on other key issues. She has not called for a single-payer, government-run health insurance system, as some Democratic House primary winners in California, Nebraska and Pennsylvania have.
Democrats need to gain 23 seats to win the majority in the House.
In another big Virginia race, Republican Corey Stewart — once a state chairman to Trump's presidential campaign who was fired for protesting the Republican National Committee — won the Republican primary to face Democratic Sen. Tim Kaine.
Stewart, chairman of the Prince William County board of supervisors, surprised many by nearly winning last year's Republican nomination for governor.
IN SOUTH CAROLINA, TRUMP POKES SANFORD, PROMOTES MCMASTER
Trump is weighing in for South Carolina Gov. Henry McMaster, an early supporter of the president's 2016 campaign, and against Republican Rep. Mark Sanford, an outspoken critic of the president who is facing a Trump devotee in South Carolina's 1st District.
Trump went after Sanford via tweet on Tuesday, calling the former governor "very unhelpful to me in my campaign." Sanford was a vocal Trump critic in 2016, when the New York businessman scored a critical victory in the South Carolina Republican presidential primary.
Trump went further, stoking the controversy that disgraced Sanford and cost him his marriage.
"He is MIA and nothing but trouble," Trump tweeted. "He is better off in Argentina."
The swipe was a reference to Sanford's disappearance from the state in 2009, which he later explained was part of the extramarital affair he was carrying on with a woman in Argentina.
Trump endorsed Sanford's challenger, state Rep. Katie Arrington, who has described the incumbent as insufficiently loyal to the president. Sanford has described Trump as untrustworthy and culturally intolerant. He has also repeatedly criticized the president for not releasing his tax returns.
Fellow Trump critic, Rep. Justin Amash of Michigan, leapt to Sanford's defense, replying to Trump by twitter that Sanford's "job is to support and defend the Constitution."
"And unlike you, Mark has shown humility in his role and desire to be a better man than he was the day before," Amash added.
In the GOP governor's primary, Trump reiterated his "full endorsement" of McMaster on Twitter over the weekend, praising the longtime Republican figure in the state for being "with me from the beginning." He retweeted that endorsement Tuesday.
Although Trump remains very popular in South Carolina , McMaster has been shadowed by a corruption probe involving a longtime political consultant. McMaster assumed the governorship last year after Nikki Haley resigned to become U.S. ambassador to the United Nations.
McMaster, who faces four GOP rivals, has led the GOP field but in recent surveys has struggled to receive support from the 50 percent of voters he'd need to avoid a runoff.
TURNING THE LePAGE
Maine voters will decide how they'd prefer to veer in their search for the successor to term-limited, conservative Republican Gov. Paul LePage.
In a state represented by moderate Republican Sen. Susan Collins and independent Sen. Angus King, voters will choose from GOP candidates who echo LePage's conservative policies but shy away from his controversial tone.
The field includes top Republicans in the state legislature, Senate Majority Leader Garrett Mason and House Minority Leader Kenneth Fredette; LePage's former state health agency chief, Mary Mayhew; and businessman Shawn Moody, who's trying to claim the outsider mantle.
Democrats, with just 16 of the nation's governorships, view the seat as one of their top pick-up opportunities.
First they must settle a seven-way primary field led by Attorney General Janet Mills and former state House Speaker Mark Eves.
NORTH DAKOTA
GOP Rep. Kevin Cramer is a shoo-in to face moderate Democratic Sen. Heidi Heitkamp. She is seeking re-election in a state Trump carried by 36 percentage points in 2016.