Trump faulted for Twitter attack on attorney general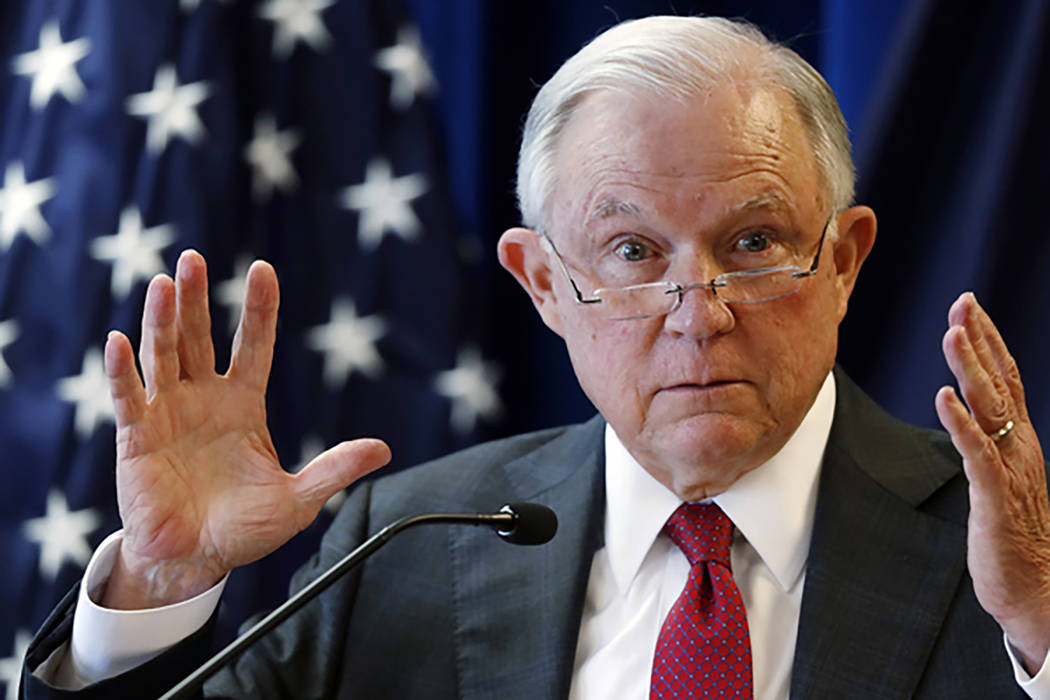 WASHINGTON — President Donald Trump's war of words with his Attorney General Jeff Sessions bled into day one of the Senate Judiciary Committee hearings for Trump's Supreme Court nominee Brett Kavanaugh.
On Labor Day, Trump complained on Twitter that the "Sessions Justice Department" indicted two GOP members of Congress – an apparent reference to Reps. Chris Collins, R-NY, who was charged with insider trading, and Duncan Hunter, R-Calif., charged with paying personal expenses with campaign funds – ahead of the midterm elections. It was an exchange that revealed a president yearning for a top lawman who sees his role as political wing-man.
"Two easy wins now in doubt because there is not enough time. Good job Jeff," Trump concluded.
Two long running, Obama era, investigations of two very popular Republican Congressmen were brought to a well publicized charge, just ahead of the Mid-Terms, by the Jeff Sessions Justice Department. Two easy wins now in doubt because there is not enough time. Good job Jeff……

— Donald J. Trump (@realDonaldTrump) September 3, 2018
Sen. Pat Leahy, D-Vt., observed at the Kavanaugh hearing, "Now we have a president who has declared in the last 24 hours that the Justice Department shouldn't prosecute Republicans."
"It was an astounding comment, even for President Trump," said University of California Berkeley School of Law Dean Erwin Chemerinsky. "It reflects a profound lack of understanding of the Justice Department and how the decision whether to prosecute never should be based on politics."
Sen. Jeff Flake, R-Ariz., told Kavanaugh, "That is why a lot of people are concerned about this administration and why they want to insure that our institutions hold."
Earlier in the day Flake tweeted that Trump appeared to want to use the Department of Justice "to settle political scores."
Sen. Ben Sasse, R-Okla., said Trump's sentiments "were wrong and should be condemned. And my guess is Brett Kavanaugh would condemn them." Sasse also released a statement earlier in which he said, "The United States is not some banana republic with a two-tiered system of justice."
Like many other Trump tweets, the Labor Day message included factual error. Trump cited "two long running Obama era investigations." The charges against Hunter and his wife involve expenditures from 2010 through 2017, which clearly include the Obama years.
But the August insider trading indictment against Collins involves actions alleged in June 2017 after an Australian pharmaceutical company, on whose board the congressman served, failed a key clinical trial. Collins allegedly alerted family members who, like him, had invested in the firm.
Collins suspended his re-election campaign, but Hunter remains in the race. Both congressmen have pleaded not guilty.
Collins and Hunter were among the earliest Republican House members to endorse Trump. Sessions was the first senator to do so during the 2016 GOP primary.
More than a year ago, Trump began berating Sessions on Twitter for recusing himself on the Russian probe when a more loyal lieutenant would have stayed on top of the investigation to protect the Oval Office.
At times, Trump has raised President Barack Obama's first attorney general, Eric Holder, as an exemplar for Sessions.
"I don't want to get into loyalty, but I will tell you that, I will say this: Holder protected President Obama. Totally protected him," Trump told the New York Times in December.
Holder promptly scolded Trump on Twitter for seeming to believe he had "absolute rights" over the Department of Justice.
Monday Holder tweeted that Trump's Labor Day tweet "is a fundamental threat to the rule of law."
Saikrishna Prakash, a law professor at the University of Virginia's Miller Center said the president has the authority to tell the Justice Department what to do. That leaves Sessions with a choice of ignoring Trump or resigning. If Sessions doesn't do what Trump wants and does not resign, Trump has the option to fire him.
"Sessions has leverage over Trump because Trump won't fire him," Prakash said – at least not before the midterm elections.
Contact Debra J. Saunders at dsaunders@reviewjournal.com or 202-662-7391. Follow @DebraJSaunders on Twitter.
Two long running, Obama era, investigations of two very popular Republican Congressmen were brought to a well publicized charge, just ahead of the Mid-Terms, by the Jeff Sessions Justice Department. Two easy wins now in doubt because there is not enough time. Good job Jeff……
-@realDonaldTrump