Trump, first lady lead 9-11 memorial service at White House
Updated September 11, 2019 - 9:26 am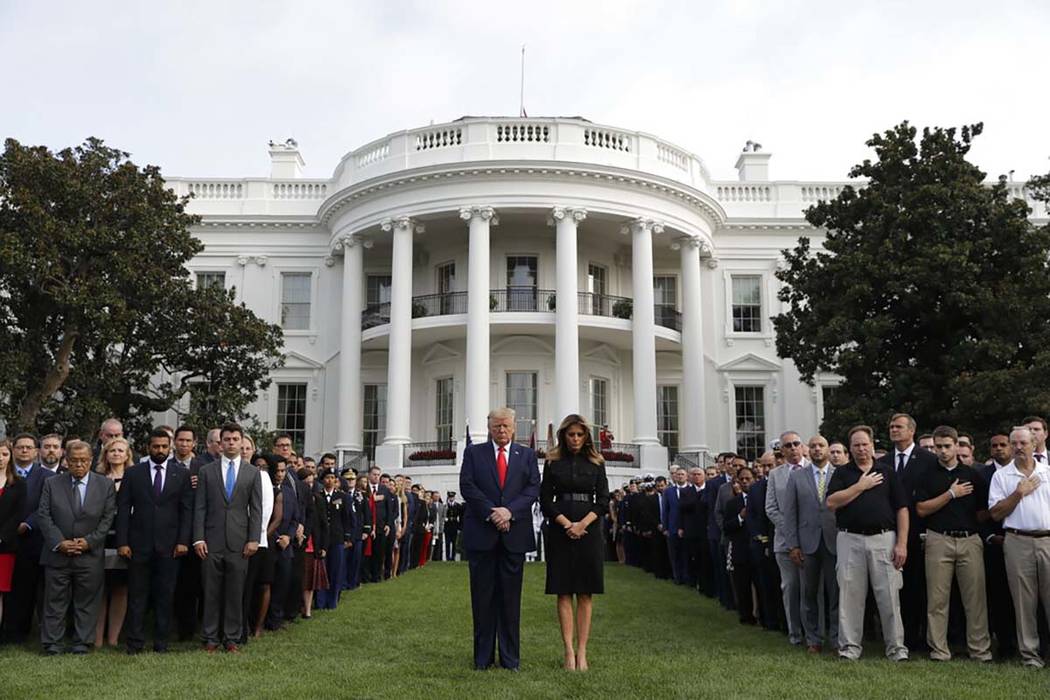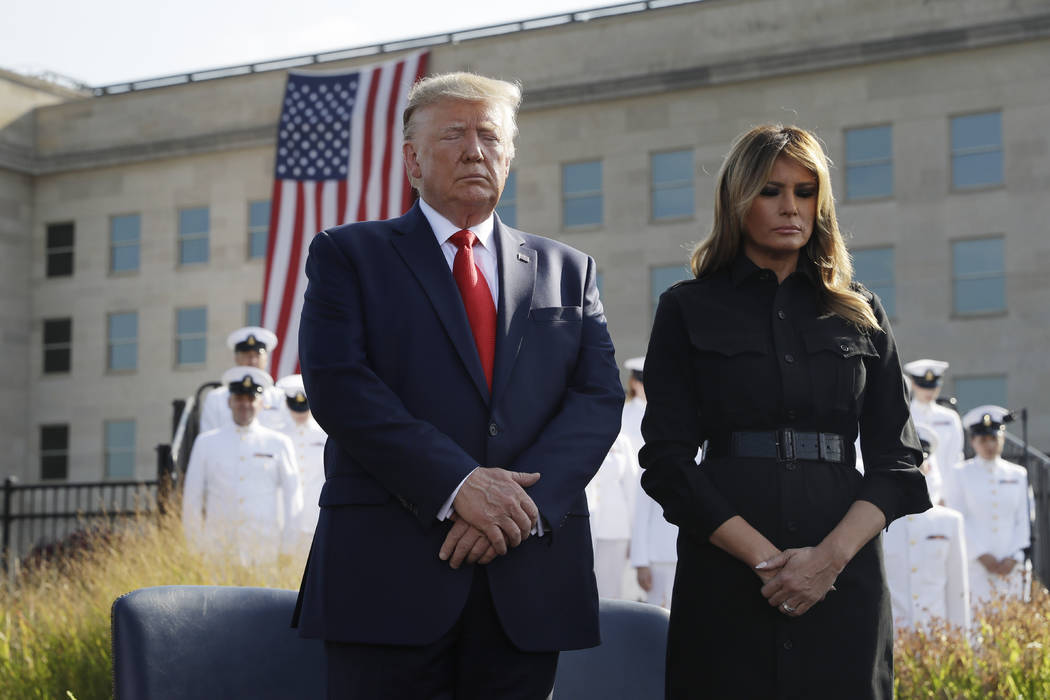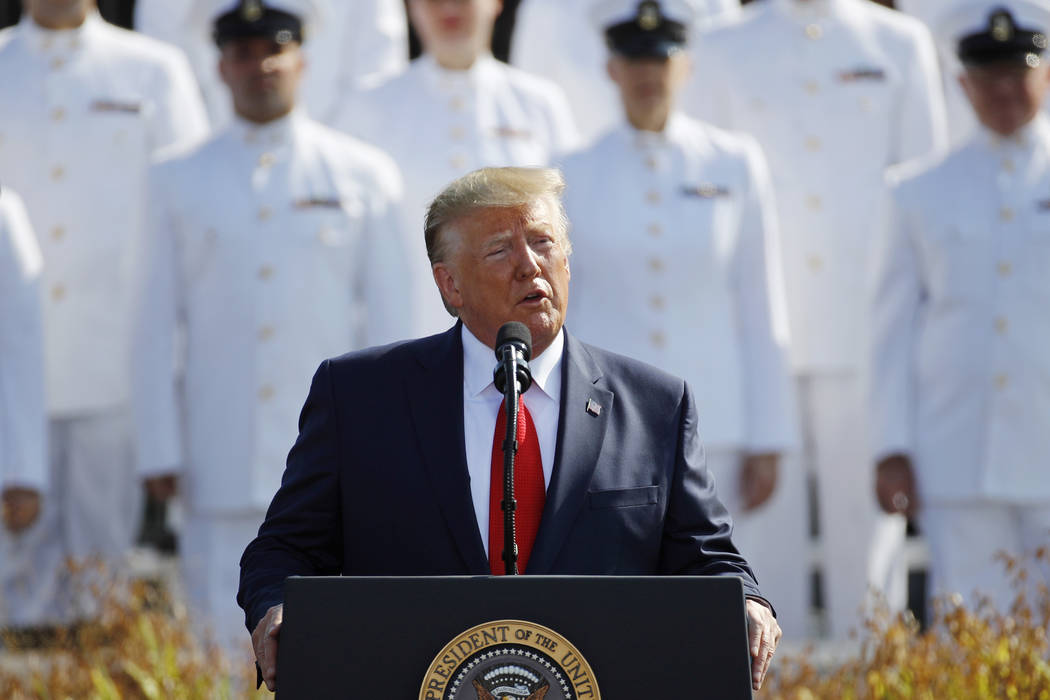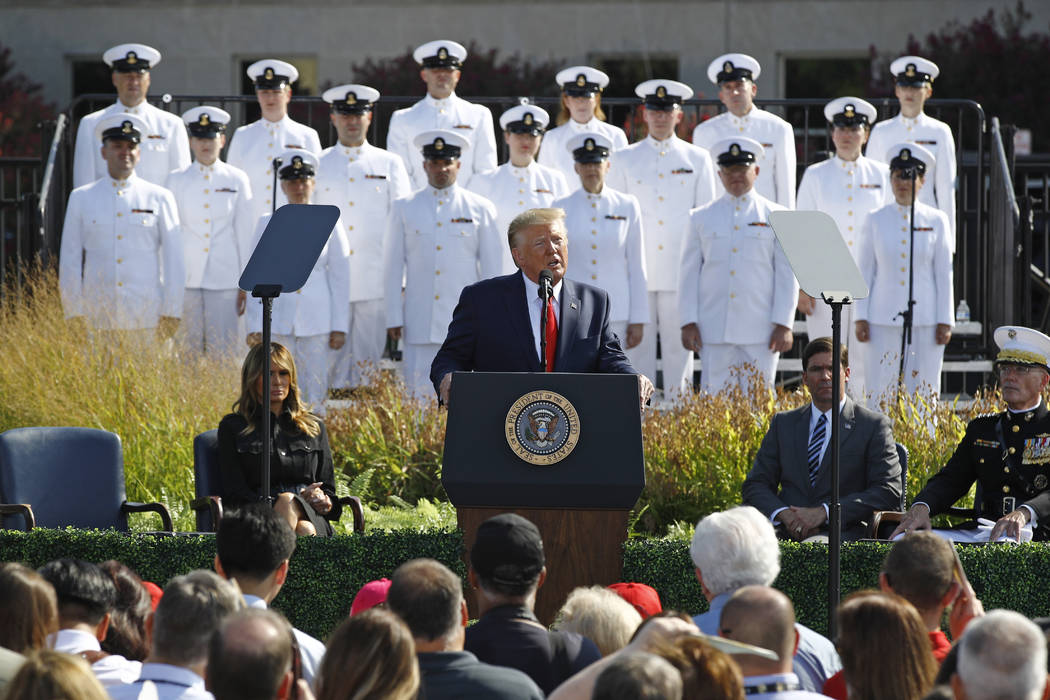 WASHINGTON — President Donald Trump participated in somber memorial services on the 18th anniversary of the 9/11 attacks with first lady Melania Trump at his side.
The White House flag was at half staff as the first couple entered the South Lawn where hundreds of families of victims stood facing the National Mall. Trump led a moment of silence that began at 8:46 a.m., the moment the first plane, American Airlines Flight 11, struck the North Tower of the World Trade Center in New York City on Sept. 11, 2001.
Trump and the first lady held hands during the moment of silence and put their hands over their hearts for the playing of Taps. No words were spoken.
It has been 18 years since al-Qaida hijackers commandeered four U.S. commercial airliners and crashed them into the World Trade Center, the Pentagon and a field in Shanksville, Pennsylvania. Like Presidents Barack Obama and George W. Bush, Trump marked the day with the war still raging.
Pentagon ceremony
In a ceremony at the Pentagon, the president remembered the victims, first responders and U.S. troops that have battled in Afghanistan, and he unleashed threats against militants contemplating another attack on America.
"If anyone dares to strike our land, we will respond with the full measure of American power and the iron will of the American spirit and that spirit is unbreakable," Trump said at the Pentagon.
"If for any reason, they come back to our country, we will go wherever they are and use power the likes of which the United States has never used before and I'm not even talking about nuclear power," Trump said without elaborating on what he meant. "They will never have seen anything like what will happen to them."
He spent most of his speech at the Pentagon remembering those immediately affected by the attacks, which killed nearly 3,000 people.
"For the families who join us, this is your anniversary of personal and permanent loss. It's the day that has replayed in your memory a thousand times over. The last kiss. The last phone call. The last time hearing those precious words, 'I love you,' " Trump said.
Members of Congress held their own moment of silence on Capitol Hill. Vice President Mike Pence delivered remarks at a commemorative service in Shanksville.
The Associated Press contributed to this report.
Related
Las Vegas fire station honors NYC comrades killed in 9/11 attacks