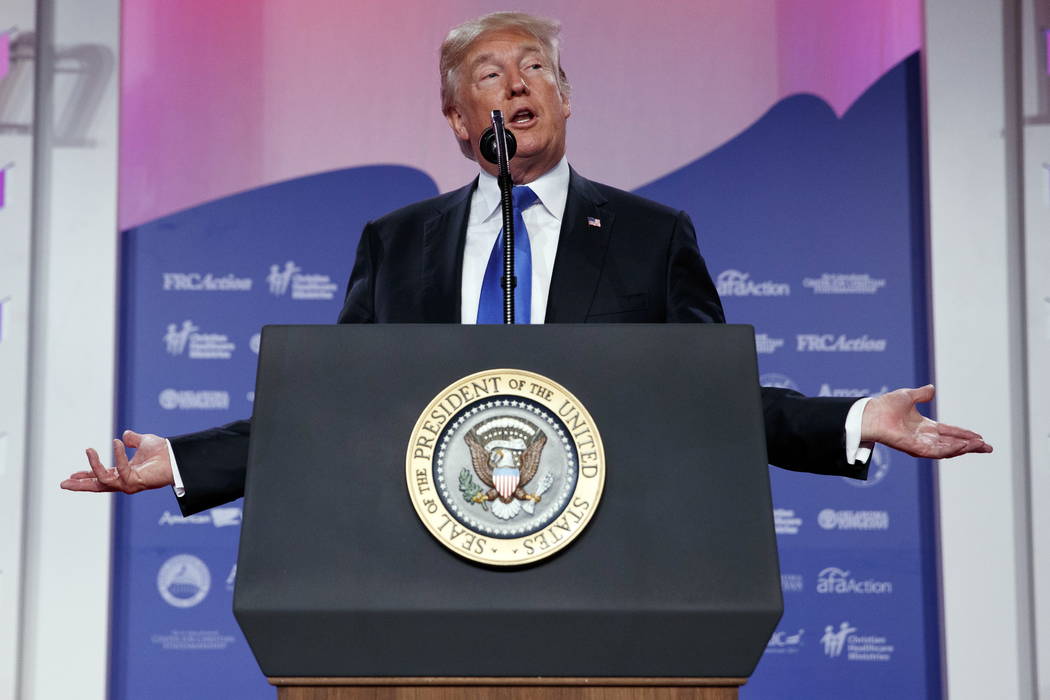 WASHINGTON — President Donald Trump made a triumphant return to the Values Voter Summit in Washington Friday, telling the energized crowd of religious conservative voters that he keeps his campaign promises.
When Trump addressed the group last year, he reminded attendees, he promised to return. On that pledge, and important policy issues, Trump said he delivered.
In contrast to the warm reception given to Trump — the first sitting U.S. president to address the group — speakers lambasted the GOP establishment, especially the Senate.
Before Trump took the stage, speakers referred to Washington as the "swamp" and berated the GOP-controlled Congress for failing to deliver on key campaign themes, like repealing and replacing Obamacare.
When Republican House members called on the Senate to end cloture rules that require 60 senators to bring a measure to a floor vote, the crowd applauded.
House Freedom Caucus Chairman Mark Meadows compared Republican politicians who fail to deliver to dud bullets. When they don't fire the first time, he said, you don't leave them back in the chamber and keep trying to shoot.
Some Republicans, he said, "have been left in the chamber too long and it's time for them to be ejected."
Hammering popular themes
In his address, Trump hammered on themes that appeal to his voter base.
— "In America, we don't worship government, we worship God."
—"We respect our American flag."
—"We're saying 'Merry Christmas' again."
— "Confront the dangers … of radical Islamic terrorism."
The crowd rewarded his rhetoric with a series of standing ovations.
"We actually have a president who is keeping his campaign promises," said Tony Perkins, president of the Family Research Council, which has sponsored the event since 2006. Perkins rattled off a list that included Trump's move to end U.S. funding for abortion counseling overseas, protecting religious freedom and ending "social experimentation" in the military.
Trump alluded to those actions, saying, "We are stopping cold the assault on Judeo-Christian values."
That drew a response from CNN anchor Chris Cuomo, who tweeted that values are what you do, "not just what you say. Charity, inclusion, mercy. These are core of Judeo-Christian ethic."
Vanity Fair's Gabriel Sherman found irony in the president's remarks, writing, "Trump, who's been married 3 times, tells Christian groups 'family is the bedrock' and they cheer."
'Down to earth'
For their part, attendees thought Trump hit the right notes. "I loved him," Kathy Morgan of Orlando said after the address. "I love how down to earth he appears to be."
Sharon Treat of Salinas, California, called the speech "fantastic. It made me proud to be an American."
"I saw another side of him you don't see on the media," Treat added, that of "a god-fearing American."
Trump alluded to the address he would give within hours that condemned the Iranian nuclear deal.
"We are returning moral clarity to our view of the world and the many grave challenges we face," Trump said. "This afternoon, in a little while, I'll be giving a speech on Iran, a terrorist nation like few others. And I think you're going to find it very interesting.
The 2017 summit signaled that the Trump base is not going to move to the middle. Other speakers at the confab, which concludes Saturday, include Steve Bannon, the former White House chief strategist, who is backing primary challengers to GOP senators running for re-election in 2018 – with the exception of Sen. Ted Cruz of Texas. Bannon has said that he will back challengers who pledge to vote against retaining Senate Majority Leader Mitch McConnell.
Another speaker is Judge Roy Moore, the Alabama Senate candidate who beat the incumbent whom Trump endorsed in the GOP primary.
Contact Debra J. Saunders at dsaunders@reviewjournal.com or 202-662-7391. Follow @DebraJSaunders on Twitter.