Trump infrastructure plan could help widen stretch of I-15
February 12, 2018 - 2:19 pm
Updated February 12, 2018 - 5:08 pm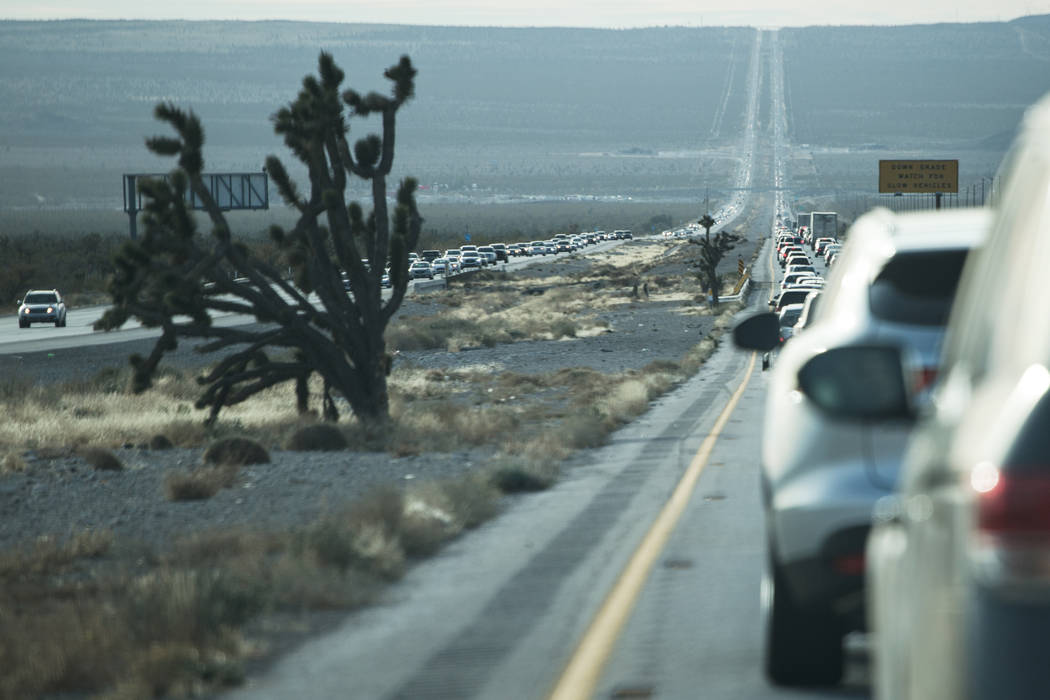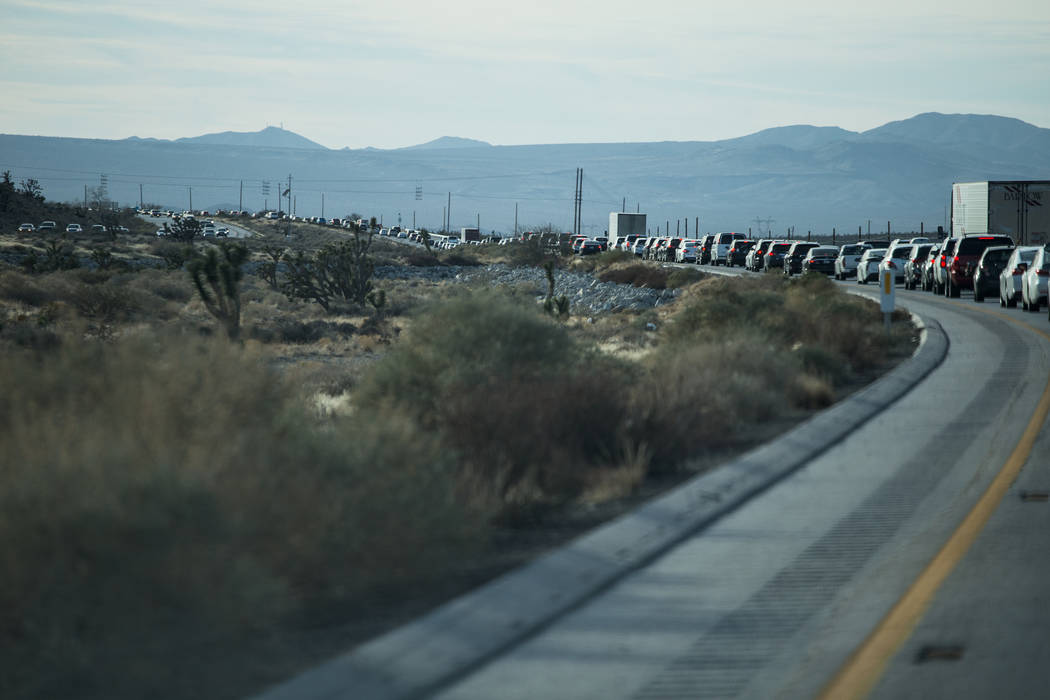 WASHINGTON – President Donald Trump rolled out his plan to rebuild the nation's infrastructure Monday — and it may run through Las Vegas.
Trump met Monday morning with state and local leaders from both parties to kick off what the administration bills as a $1.5 trillion infrastructure initiative as part of his 2019 budget. The group was heavily weighted with officials from states that went for Trump in the 2016 election and included no representative from California or Texas.
Las Vegas Mayor Carolyn Goodman was on hand to push a proposed $1.4 billion plan to widen and improve 114 miles of Interstate 15 to make for a faster road trip between Southern California and Las Vegas. The project is not specifically included in Trump's plan.
"First of all I thanked him for coming to Las Vegas" after the Oct. 1 shooting, Goodman later told the Review-Journal. "That was very, very meaningful for all of us who lived there." She said she presented him with a map of the region and explained "how important it is, how significant it is to widen the I-15 from California."
As a candidate who made his fortune building hotels, casinos, residential buildings and golf courses, Trump frequently talked about his passion for modernizing America's crumbling infrastructure.
As he talked to the group of governors, mayors and county executives, Trump referred to the renovation of Central Park's Wollman Rink, a project he took over after it was years behind schedule and millions over budget. "I did it in a few months and at a much smaller price," Trump said.
The administration's plan is centered on using $200 billion in federal money to leverage more than $1 trillion in local and state tax dollars to fix America's infrastructure, such as roads, highways, ports and airports. The administration released a 55-page "legislative outline" for lawmakers who will write the legislation.
According to a background paper, the administration wants to focus on projects that "have the potential to dramatically improve America's infrastructure."
Democrats object
Senate Minority Leader Chuck Schumer, D-N.Y., slammed the Trump plan, saying it "would do very little to make our ailing infrastructure better, but would put unsustainable burdens on our local government."
Because the initiative provides only seed money for projects, Schumer predicted private interests would profit by building roads and bridges that would require drivers to pay "Trump tolls."
Perhaps the most important part of the Trump plan is its commitment to accelerate the permit process. The administration plans to establish a "one agency, one decision" protocol to speed up the permitting process, which can stall projects for years.
During Monday's meeting, Trump listened as governors and mayors pitched individual projects in their states and described the challenges involved with gaining federal permits.
Goodman did not have a chance to address the group, but afterward she seemed in tune with the administration's focus on projects with broad benefit.
A folder that Goodman presented to Trump pitched ways that reducing congestion in the I-15 corridor would improve the shipment of American produce across the country and facilitate travel and transport between military facilities, including the Marine Corps Logistics Base in California, and the Nellis and Creech Air Force Bases in Nevada.
Representatives from Nevada and California Departments of Transportation said in December they will study costs and freight movement and try to make a case for adding traffic lanes along the heavily traveled stretch of freeway.
Fixing freeways
Trump showed interest in fixing America's freeways, when he said, "Trucking companies are complaining that they used to take trucks from Los Angeles to New York, and there was no damage. Now they bring from Los Angeles to New York, and there's tremendous damage to their trucks because our roads are in bad shape."
It was unclear whether the Nevada Department of Transportation would be able to access those funds.
"We want to dig into the details," NDOT Director Rudy Malfabon said during the agency's board meeting Monday morning.
"We're really poised to access those federal funds because between us and the (Regional Transportation Commissions of Southern Nevada and Washoe County), we want to be able to get some of that money," Malfabon said. "There's other agencies as well that could access those funds, but we don't have a lot of details."
Rep. Dina Titus hit Trump's framework for not focusing "on long-term infrastructure investments," such as completing Interstate 11. Instead, she said, Trump's plan "sets up a scenario whereby Nevada will have to complete the interstate to Phoenix with little to no help from the federal government."
Goodman said she is aware of lawmakers who are "interested in the I-11." But she said " it is not critical in the same comparison as the I-15 is to the entire country."
Contact Debra J. Saunders at dsaunders@reviewjournal.com or 202-662-7391. Follow @DebraJSaunders on Twitter. Staff writer Art Marroquin contributed to this story.