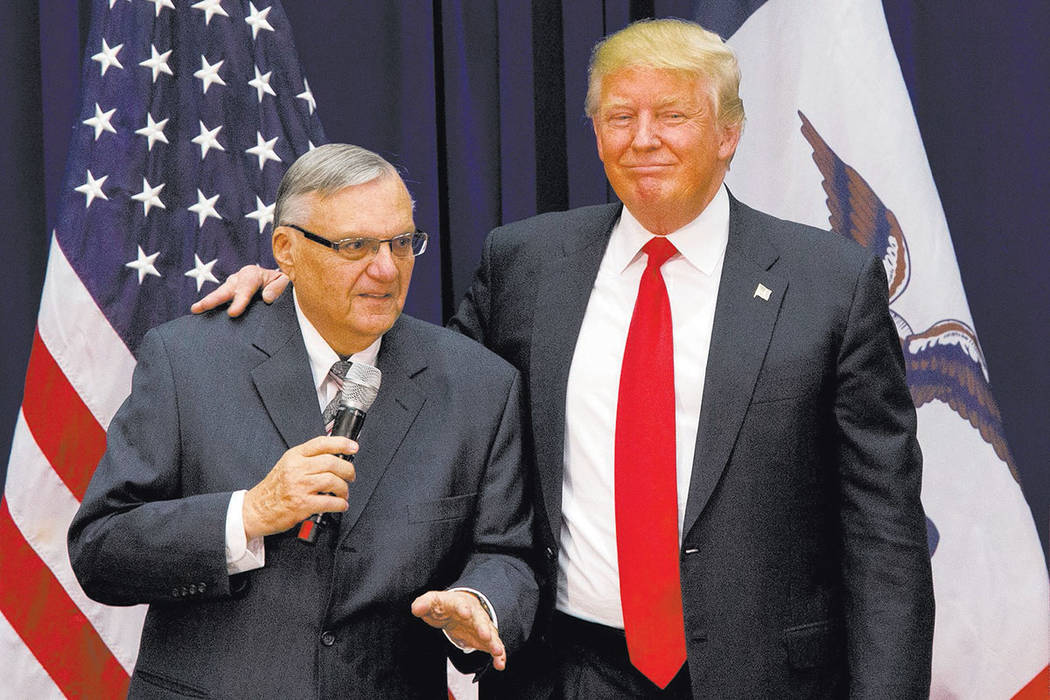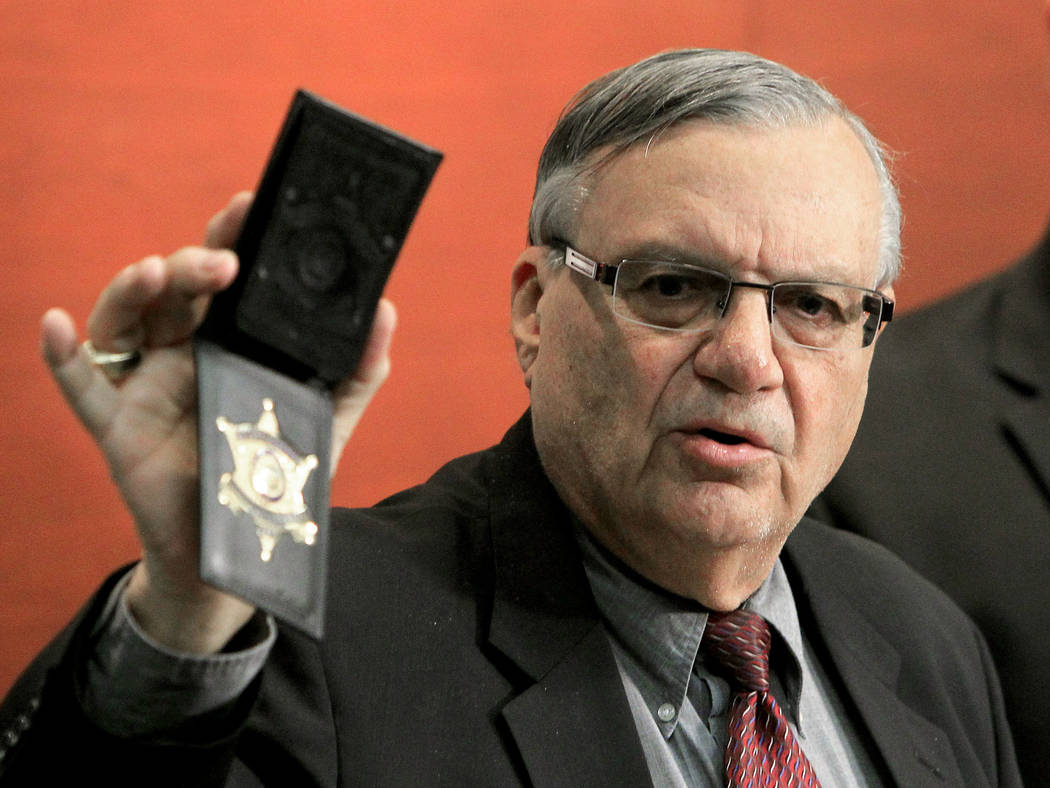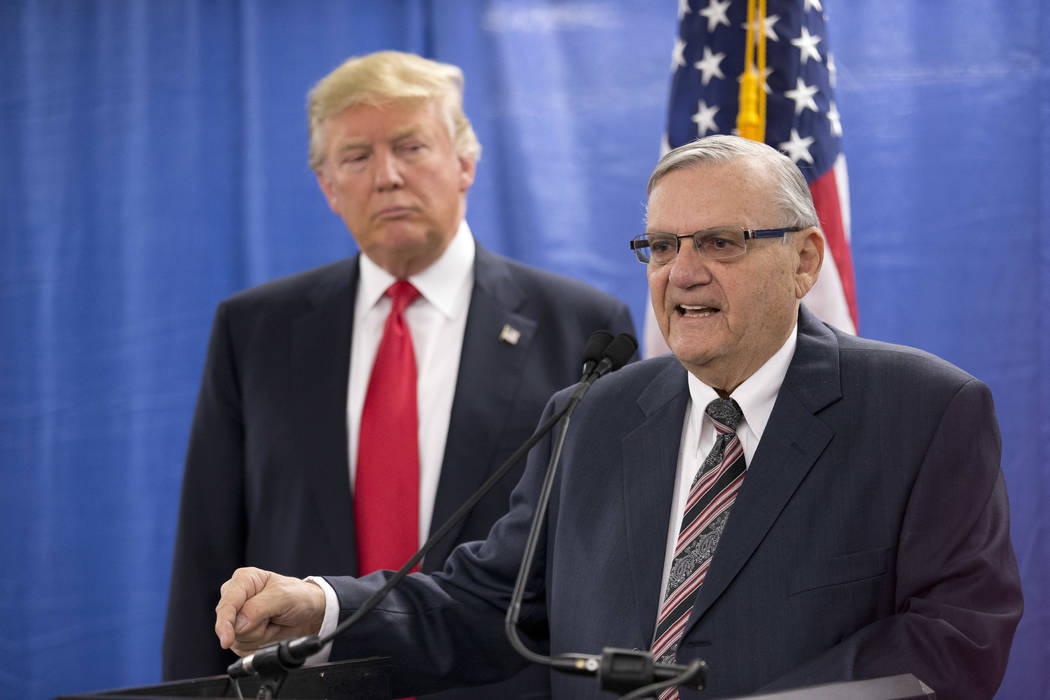 WASHINGTON — Not one to let a summer Friday pass without some drama, President Donald Trump pardoned Maricopa County's controversial former sheriff, Joe Arpaio, late Friday.
Shortly after 5 p.m. PDT, hours after the president and first family arrived at Camp David, the White House released a statement announcing the pardon. This was Trump's first use of his pardon power, and he used it not to commute Arpaio's recent federal conviction but effectively to erase it.
Last month Arpaio was found guilty of defying a federal court order that he stop apprehending undocumented Latino immigrants and handing them over to federal authorities. Arpaio's attorneys had filed an appeal because U.S. District Judge Susan Bolton issued the verdict rather than allow a jury to do so. Bolton was scheduled to sentence Arpaio, 85, on Oct. 5.
Speaking in Phoenix on Tuesday, Trump telegraphed this action. He told a crowd of supporters that Arpaio had been "convicted for doing his job." Trump then added: "I'll make a prediction. I think he's going to be OK."
Arpaio told The Associated Press he was thankful for the pardon.
"I appreciate what the president did," he said. "I have to put it out there: Pardon, no pardon — I'll be with him as long as he's president."
Arpaio's supporters hailed the former sheriff for upholding immigration law, even though he continued to do so in violation of a court order.
Arizona Gov. Doug Ducey said Arpaio "deserves credit for helping to reduce crime in Maricopa County over his long career in law enforcement and public office."
He said Trump's pardon "has brought finality to this chapter in Arizona's history."
Rep. Andy Biggs, R-Ariz., applauded Trump for pardoning Arpaio, saying that the president "brought justice to a situation where the Obama administration had attempted to destroy a political opponent."
"America owes Sheriff Arpaio a debt of gratitude and not the injustice of a political witch hunt," Biggs said.
In a statement, Trump praised Arpaio's years of service in law enforcement and noted his age.
"The reference to the age, that's a classic kind of thing. The service to the country, that's been done before," said political scientist P.S. Ruckman Jr., whose PardonPower.com blog is a leading authority. But he said that's "a double-edged sword" as it implies that public officials somehow are above the law.
"I see this as an idiosyncratic stunt with no policy ramifications," Ruckman said. "It just looks really, really bad."
"What a crock," Democratic strategist Maria Cardona said. "The president who pretends to be a law-and-order president is thumbing his nose and giving the middle finger by pardoning a criminal, racist, xenophobe national disgrace of a former sheriff."
In a statement, Sen. Catherine Cortez-Masto, D-Nev., also criticized the pardon. "The president has claimed to want law and order for our country. Yet he has pardoned a man who was sued by the Department of Justice for discriminating against Latinos, that questioned the citizenship of President Obama, and who was convicted of contempt for disobeying a court order to stop unlawfully detaining immigrants."
Friday night also saw the departure fof deputy assistant to the president Sebastian Gorka.
In a letter released to The Federalist, Gorka, a former protégé of ousted chief stragegist Steve Bannon, wrote, "Given recent events, it is clear to me that forces that do not support the MAGA (Make America Great Again) promise are — for now — ascender within the White House."
Gorka wrote he thought he could serve Trump more effectively outside the White House.
Late in the evening, the White House released a statement attributed to a senior White House official that contradicted Gorka's claim that he was resigning. "Sebastian Gorka did not resign, but I can confirm he no longer works at the White House," said the unnamed aide.
Contact Debra J. Saunders at dsaunders@reviewjournal.com or 202-662-7391. Follow @DebraJSaunders on Twitter. The Associated Press contributed to this report.
Joe Arpaio's career
1950: At age 18, he enlists in the military after the outbreak of the Korean War;
1954: Following his discharge, he becomes a police officer in Washington, D.C.;
1957: He serves a short stint in the Clark County Sheriff's Department;
1957: Arpaio joins the U.S. Bureau of Narcotics, the precursor to the Drug Enforcement Administration, and goes on tolead the DEA's branch in Arizona.
1982: Arpaio retires from the DEA;
1992: Arpaio is elected sheriff of Maricopa County, Arizona.
2016: Arpaio loses re-election to Democrat Paul Penzone;
2017: In a criminal bench trial, Arpaio is found guilty of defying a federal judge's order to stop racially profiling Latinos.